Buchanan, MI
RedBud National II
Lucas Oil AMA Pro Motocross Championship
Ty Masterpool made his pro debut at the 2019 Hangtown Motocross Classic only a few months after making the jump from 125 two-strokes to the 250 four-strokes. Instead of hunting for amateur titles in the A class at the 2019 AMA Amateur National Motocross Championship at Loretta Lynn Ranch, the Texas native jumped into the pro ranks in order to get experience. The Monster Energy/Star Racing Yamaha rider completed the entire Pro Motocross campaign last year where he recorded a 12.5 average finish per moto and finished 11th in points, with a handful of top ten finishes thrown in.
After a group decision from both parties involved, Masterpool decided to sit out the 2020 Monster Energy AMA Supercross Championship to continue to build his motocross skills. He was grinding away with his brother Jake at the family's training facility in Texas until an injury derailed his program. A broken right leg in June left him sidelined for about two months. He told our Jason Weigandt in our RedBud 2 preview video that he was doing 30-minute motos on a figure-eight track before he was cleared! Now Masterpool is finally back, after delivering some fireworks at the RedBud double header, via holeshots, a moto podium, and fast lap times. Here is Masterpool on the start to his season, his training in Texas, and even dispelling the rumor that he does not want to race supercross.
Racer X: Ty, you obviously had been out the early part of the season, came back and made your season debut at RedBud, overall I think you probably had to be pretty happy with how things went: got out front, grabbed some holeshots, led a lot of laps. Do you want to talk to us about what it was like there at RedBud for you?
Ty Masterpool: Yeah, it was an awesome first round back and all that with only getting released on Tuesday, it was pretty crazy, the main thing was just kinda go out there and ride against myself and do the best I could. Yeah, it was awesome, I grabbed the holeshot and doing the fist pump [Laughs] that stuff blew up. That was awesome. Just can't thank all the fans enough too and all that. It was awesome being out front and all that stuff.
With having so little time on the bike but having some pretty good success with having holeshots and leading laps, is that more motivation for what's to come or more frustrating that you didn't get to start the season from the start?
You know, I was doing very good before I broke my leg and the biggest thing right now is just kinda getting back up to speed. Honestly, my stamina is not as good, like I'm very good, I'm [in] physical [shape] off the bike, but physical off the bike is pretty different than physical on the bike. You can be in the best shape ever off the bike but on the bike is a whole different thing. So that's kinda just the big thing, just getting back in shape on the bike and doing as many motos as I can and all that. I was kinda bummed I didn't get to start at Loretta's. I did everything I could to try and get back sooner but the quickest I could make it back was RedBud.
Check out Masterpool's holeshot from the first moto at the RedBud 1 National in Kellen Brauer's race analysis.
I feel like you've been off the radar, there are so many young guys that have come in but we haven't seen you ride in a while. And then last year you actually debuted as a pro at Hangtown instead of maybe racing out your A class career [at Loretta's]. So take me through last year first: what made you decide to race all the nationals last year instead of racing A at Loretta's?
Yeah, I mean it was kinda a team decision and our decision, too. I did 125s at Loretta's and I got on 250s and raced 250s at Mini Os. And kinda decided right around there I mainly wanted to go pro to get experience. Amateurs, you're kinda surrounded by like three, four fast guys but pros it's just so stacked and all that and just the experience of doing 30-minute motos over and over and over, so it was mainly to get experience and stuff and all that. You know, I was small on the 250, I was only on it for like eight months and so it was mainly just for experience. I think I weighed 118 pounds [Laughs] or something like that, so definitly very light but yeah, just mainly wanting good experience and all that stuff.
I keep hearing people say, "Oh Masterpool doesn't want to do supercross," but you are willing to do it, you told me that at RedBud. So you didn't race supercross this year but you are planning on doing it in the future?
Yeah, for sure. It was mainly kind of the team wanted me just to get more time to get ready for outdoors and all that stuff. I actually did a little bit of supercross training and stuff in the winter time. I went out to California and rode with the boys and did testing out there and I felt very comfy with it, I enjoyed it a lot so yeah, definitely ready for some supercross.
Where do you think you've gained in your second year?
I think mainly just kind of speed and really just getting used to the bike. I mean 250s, they can take a long time to get used to. Some people jump on it right away and get used to them but for me, it was just mainly getting used to the bike a little better. And I got a little taller so that helped, but mainly just kinda the speed and all that stuff.
Are you weighing more than 118 now?
Right around 125-128 right now so a little more. [Laughs]
That's still not much! [Laughs]
[Laughs] I got the weight department dialed!
What is your training program? I know most of the Star guys all stay in California, they work with Gareth Swanepoel, do you do a little bit of that? I know your parents obviously know what they are doing also in Texas so how do you play all that?
Yeah, I go out there for testing and stuff. The Star guys do such a great job out there testing so I try and go out there quite a bit for testing but yeah, I train out here at our facility.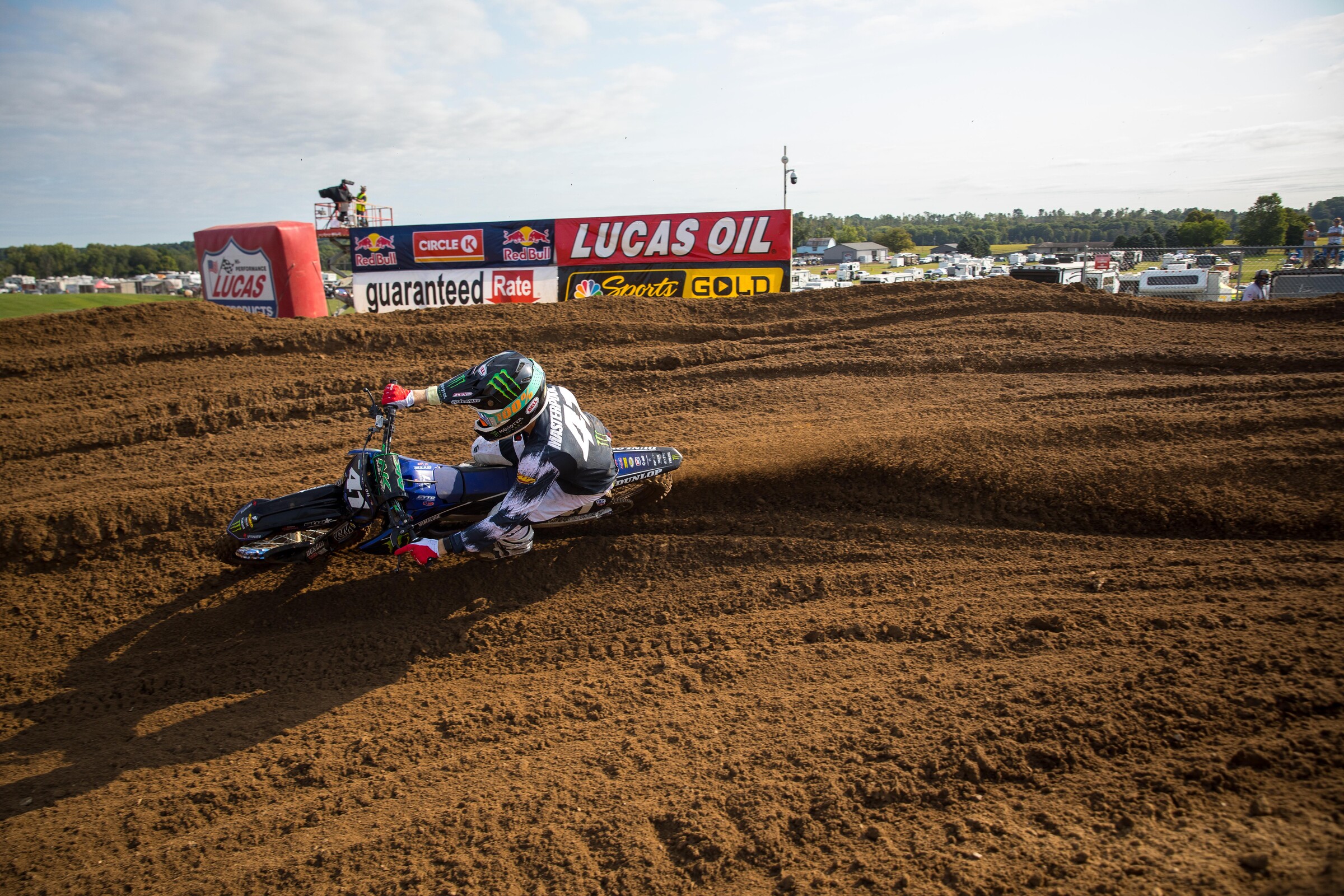 Can you give us the background, your parents were in skiing, right? What is the background there?
[Laughs] Yeah, I mean, it's hard to get it out of them, I mean I barely even hear any stories, I have to beg them to tell me anything. I mainly just hear them when people come over. But yeah, my dad was an Olympic coach for alpine ski racing for many years and my mom's like a 20-time world titles for snowboarding and skiing and all that. [Laughs] They have a good history and my dad has a coaching history and all that too.
But no bragging about this?
[Laughs] Naw, I mean they won't even tell me! I can't get anything out of them for any of that stuff. I have no idea about any of it. [Laughs] Yeah, they don't tell me anything about their history too much.
You did get a fourth in a moto last year at RedBud so you are quick there but how surprised were you with how you started when you came back?
Yeah, I kinda knew I could get good starts and stuff, I've been feeling really good on them and all that. So mainly just did that but whenever I got out front I was just trying to focus on myself and just go as fast as I can, but also save the most energy because it was like, I felt like I had a 30-minute moto in me but it was definitely hard just being on the bike for, you know, a full week from being released. I tried to just ride against myself. I actually got a little gap there for a little bit but yeah, I just gotta give everyone else props they're ripping.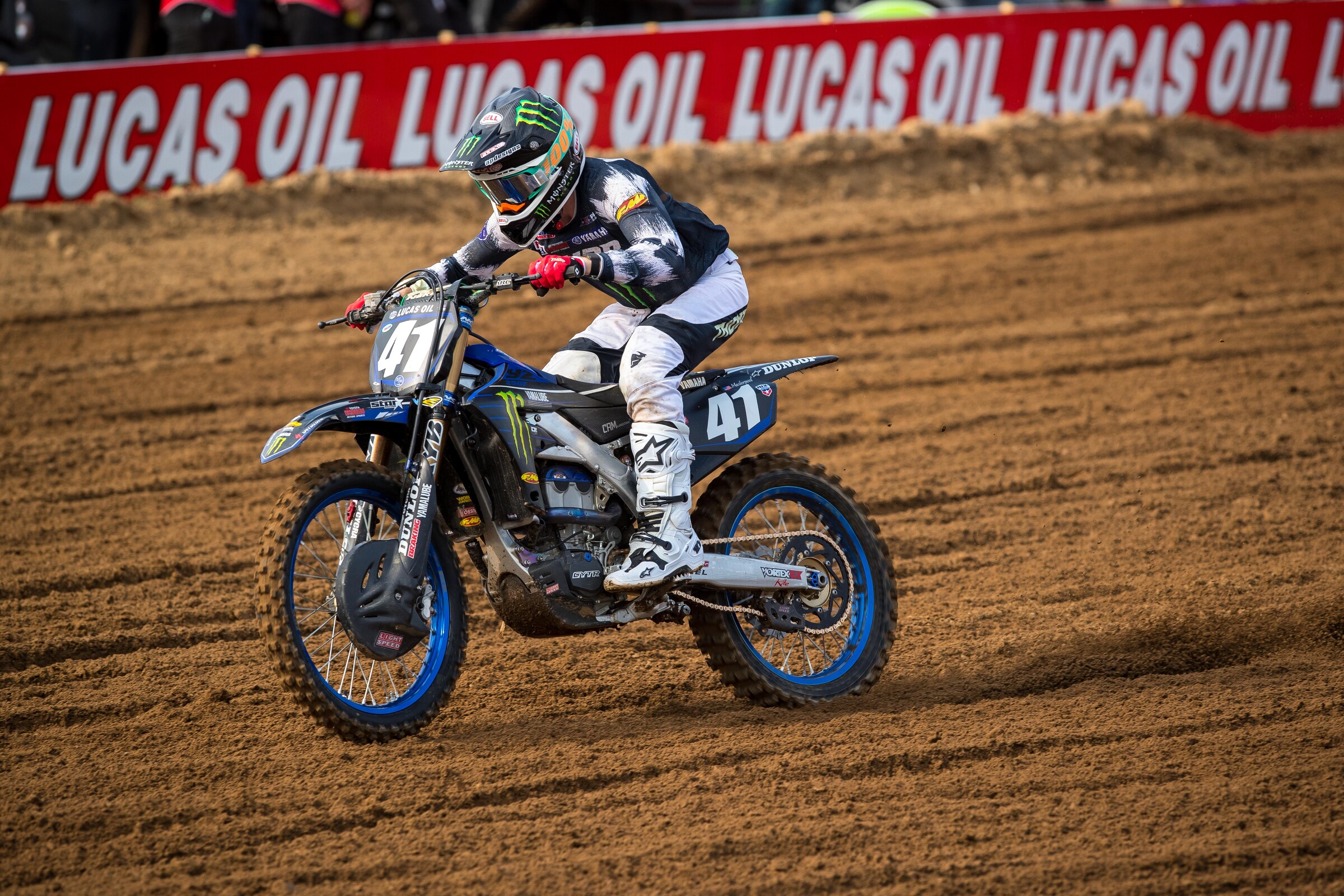 Yeah, your speed has been insane, you qualified third and then first. You ride with people obviously and you kinda knew were you were speed wise so that's probably why you ended up jumping in so quick, but are you surprised with your speed?
I mean, yeah, kinda. I'm just bummed I didn't make it in the beginning of the season, with [how] I broke my leg before the season. I was still kinda getting up to race speed training with my brother, and I know my lap times before I got hurt and now what they are. And then comparing them to everyone else I'm training with, my speed is not really there actually so I'm a little bummed about. It's still mainly just trying to catch up and stuff.
What was your recovery like there? To be like, "Hey this is my first race but I also have a quick turnaround for Monday." What was the two days off on Saturday and Sunday like for you?
[Laughs] Yeah, first round back is always pretty sore and stuff. Yeah, my legs and lower back were just pretty shot just because I didn't really put in any 30-minute motos on rough tracks or anything. I didn't do anything rough. Really the only track that I rode with jumps and breaking bumps was Tuesday before the race at Pala and stuff doing testing. So yeah, I was very sore. [Laughs] I did everything I could trying to feel better like massages and everything trying to get recovered. I felt pretty good on RedBud 2, which I think it kinda helped me let the bike work a little more.
Some of the guys were saying, "I'm feeling great entering the day, I'm feeling great." And then the results, not that they were bad but you could tell they were feeling it a little more than they thought they would. Was that kind of the same case for you?
If anything, it was kinda the opposite, I kinda felt worse off the bike but whenever I got on it I felt pretty good. Like that was mainly just trying to make the bike do most of the work and just lean on that and use the least amount of energy. I felt pretty good in practice, like second practice I was trying to not even go out there to save my energy. [The leg I had broken] was extremely sore and all that stuff so that was the biggest thing, just my leg was really sore from all the volume of all the work. But whenever the motos came around I didn't notice it too bad.
Then you had that tip over there and then Jett Lawrence ran into your bike and went down too. We saw you holding your leg, was there anything more to that?
Yeah, unfortunately, kinda my other leg just from that, I strained it pretty bad and stuff. Then the last couple of days of training it just got a little worse so I actually went to the doctors and figured out I just have a sprained ACF in my left ankle. So, no restrictions or anything, it's just swollen and all that and I still should be good to race this weekend. But yeah, I was just pretty bummed for that, I just don't want to be known for being injury prone, I truly don't feel like I am, through my whole career I've never had too many injuries at all. I mean my ankle should be good, I'm just kinda doing everything that I can right now to keep the swelling down.
When you guys went down, he kind of looked at you, was he like, "Hey are you okay?" or what? I don't know if he said something but it looked like he was motioning towards you.
[Laughs] Yeah, he just made sure I was alright and then I kinda had to move a little bit for him to pick up his bike. Yeah, he just made sure I was alright and all that. And it was pretty sweet of him.
It was fun to watch you youngsters out there battling. Awesome, thanks.
Thank you.