2020 Spring Creek Entry Lists Released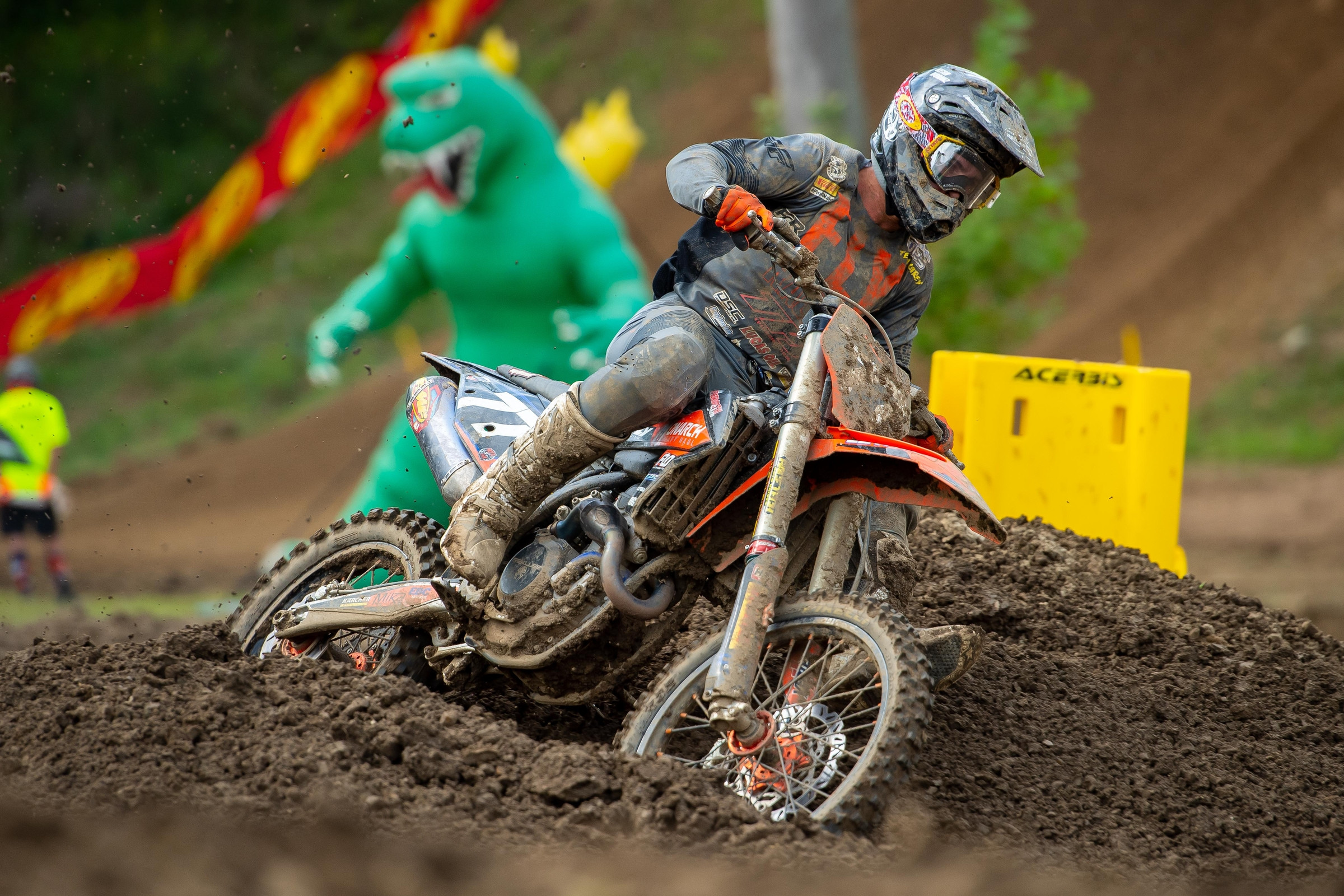 Millville, MN
Spring Creek
Lucas Oil AMA Pro Motocross Championship
The American Motorcyclist Association (AMA) has released the entry lists for the sixth round of the 2020 Lucas Oil AMA Pro Motocross Championship at Spring Creek MX Park in Millville, Minnesota.
You can view the entry list for the 450 and 250 classes below.
Below are the entry lists provided by the AMA as of Wednesday, September 16, at 5:15 p.m. ET.
250 Class
| | | | | | |
| --- | --- | --- | --- | --- | --- |
| Racing # | First Name | Last Name | Birth Place | Brand | Team Name |
| 6 | Jeremy | Martin | Millville, MN | Honda | GEICO Honda Factory Connection |
| 12 | Shane | McElrath | Canton, NC | Yamaha | Monster Energy Star Racing Yamaha |
| 14 | Dylan | Ferrandis | France | Yamaha | Monster Energy Star Racing Yamaha |
| 24 | RJ | Hampshire | Hudson, FL | Husqvarna | Rockstar Energy Husqvarna Factory Racing |
| 26 | Alex | Martin | Millville, MN | Suzuki | JGR Yoshimura Suzuki Factory Racing |
| 28 | Michael | Mosiman | Sebastopol, CA | Husqvarna | Rockstar Energy Husqvarna Factory Racing |
| 29 | Cameron | McAdoo | Sioux City, IA | Kawasaki | Monster Energy Pro Circuit Kawasaki |
| 30 | Brandon | Hartranft | Brick, NJ | KTM | Troy Lee Designs Red Bull KTM |
| 32 | Justin | Cooper | Cold Spring Harbor, NY | Yamaha | Monster Energy Star Racing Yamaha |
| 35 | Hunter | Lawrence | Australia | Honda | GEICO Honda Factory Connection |
| 41 | Ty | Masterpool | Paradise, TX | Yamaha | Monster Energy Yamalube Star Yamaha Racing |
| 57 | Derek | Drake | San Luis Obispo, CA | KTM | Troy Lee Designs Red Bull KTM |
| 67 | Jerry | Robin | Hamel, MN | Husqvarna | FCC Motosports Signation Canvas MX |
| 68 | Nick | Gaines | Ringgold, GA | Yamaha | 3D Racing Yamaha |
| 74 | Mitchell | Harrison | Brighton, MI | Kawasaki | Monster Energy Pro Circuit Kawasaki |
| 77 | Kevin | Moranz | Topeka, KS | KTM | TPJ Racing |
| 83 | Jett | Lawrence | Australia | Honda | GEICO Honda Factory Connection |
| 84 | Jo | Shimoda | Japan | Honda | GEICO Honda Factory Connection |
| 117 | Stilez | Robertson | Bakersfield, CA | Husqvarna | Rockstar Energy Factory Husqvarna Racing |
| 124 | Lane | Shaw | Alvin, TX | KTM | Ronnie Prado Company |
| 129 | Chase | Lorenz | Arvada, CO | Honda | Sun Powersports Fox FMF |
| 130 | Austin | Root | Chester, SC | Husqvarna | Root Racing |
| 134 | Jarrett | Frye | Prince Fredrick, MD | Yamaha | Monster Energy Star Racing Yamaha |
| 157 | Darian | Sanayei | Monroe, WA | Kawasaki | Monster Energy Pro Circuit Kawasaki |
| 164 | Matthew | Klann | Howell, MI | Honda | |
| 167 | Cody | Williams | Barneveld, WI | Husqvarna | Latitude Graphics Racing |
| 183 | Brandon | Yates | Ottawa, KS | Husqvarna | Yates' Racing |
| 186 | Tyler | Monks | Colorado Springs, CO | Husqvarna | M.C. Racing |
| 188 | Gage | Schehr | San Clemente, CA | Husqvarna | Grindstone Compound 5th street Lending |
| 194 | Lance | Kobusch | Newflorence, MO | KTM | |
| 202 | Luke | Hempen | Argyle, IA | KTM | Hempen Racing |
| 204 | Kyle | Greeson | Knightsen, CA | KTM | |
| 220 | Carson | Mumford | Simi Valley, CA | Honda | GEICO Honda Factory Connection |
| 221 | Mathias | Jorgensen | Denmark | Kawasaki | |
| 227 | Derek | Kelley | Riverside, CA | Husqvarna | JMC Motorsports, LLC |
| 239 | Mason | Gonzales | Fortwalton Beach, FL | Yamaha | |
| 251 | Ezra | Hastings | Aurora, IN | Husqvarna | Ezra Hastings Racing |
| 252 | Collin | Reinhart | Brownsville, MN | Yamaha | Moto 192 Suspension Fluid Tuf Oil Fluoramics |
| 288 | Parker | Smith | Rochester, IL | Kawasaki | World of Powersports Pro-Circuit Wright M.D. |
| 296 | Ryder | Floyd | Paris, TX | Honda | Manluk Racing |
| 301 | Jordan | Jarvis | Clayton, NC | Kawasaki | SGB Racing Maxxis Babbitt's Kawasaki |
| 337 | Vincent | Luhovey | Greensburg, PA | KTM | Luhovey Racing |
| 352 | Jalek | Swoll | Beleview, FL | Husqvarna | Rockstar Energy Husqvarna Factory Racing |
| 354 | Jason | Lutton | Warren, OH | Kawasaki | Motosport.com | Viral Brand Goggles | Answer Racing |
| 355 | Joey | Crown | Metamora, MI | Yamaha | ROCK RIVER RACING |
| 364 | Chad | Saultz | Batavia, IL | Yamaha | Rock River Racing |
| 379 | Conner | Burger | Monroe Center, IL | KTM | Woodstock KTM Burger Trucking Hoosier Tire |
| 387 | Joshua | Varize | Perris, CA | KTM | KTM Orangebrigade |
| 410 | Tyler | Lowe | Menomonee Falls, WI | KTM | Southeast Sales Reynard Training Complex Acerbis |
| 454 | Layton | Smail | Covington, WA | KTM | |
| 469 | Josh | Boaz | Eagan, MN | KTM | |
| 486 | Dennis | Gritzmacher | Sussex, WI | KTM | Robs Performance Motorsports |
| 488 | Nathanael | Thrasher | Livingston, CA | KTM | |
| 504 | Gerhard | Matamoros | Honduras | Yamaha | Invictus Speed Crew |
| 509 | Alexander | Nagy | Richmond, IL | KTM | Like You Live SKVI Racing Team |
| 520 | Dennis | Ponton III | Lakewood, WI | KTM | dP3 Apparel & Designs |
| 546 | Tylor | Skodras | Sussex, WI | Husqvarna | Rob's Performance |
| 604 | Max | Miller | Springfield | KTM | KTM Orange Brigade |
| 622 | Zac | Maley | Laotto, IN | Yamaha | Tom Zont Racing Mika Metals Maxima |
| 631 | Brandon | Dickson | Grand Rapids, MI | Honda | Dickson Racing |
| 667 | Jesse | Flock | Claremore, OK | Husqvarna | Privateer |
| 697 | Seth | Doeberlein | Jefferson, WI | KTM | Team Robs Performance |
| 702 | Josiah | Hempen | Argyle, IA | KTM | Hempen Industrial | Robs Performance | KTM |
| 721 | Zachary | Harris | Lincoln, NE | Honda | Starcity Motorsports D&K Automotive Fly Racing |
| 726 | Gared | Steinke | Woodland, CA | Kawasaki | Lonesome Camel Farms |
| 742 | TJ | Uselman | Willow Park, TX | Yamaha | |
| 811 | Christopher | Williams | Ortonville, MI | Suzuki | Williams Racing |
| 815 | Colton | Eigenmann | Titusville, FL | Suzuki | Suzuki Gizmo Mods Klim |
| 874 | Zack | Williams | New Prague, MN | KTM | Fusion Motorsports |
| 924 | Gage | Hulsey | Park Hills, MO | Yamaha | Hulsey Racing |
| 979 | Phillip | Maus | Albany, MN | KTM | Maus Racing |
| 981 | Curren | Thurman | Alvin, TX | KTM | Team Allsouth |
450 Class
| | | | | | |
| --- | --- | --- | --- | --- | --- |
| Racing # | First Name | Last Name | Birth Place | Brand | Team Name |
| 1 | Eli | Tomac | Cortez, CO | Kawasaki | Monster Energy Kawasaki |
| 4 | Blake | Baggett | Grand Terrace, CA | KTM | Team Rocky Mountain WPS KTM |
| 9 | Adam | Cianciarulo | Clermont FL | Kawasaki | Monster Energy Kawasaki |
| 15 | Dean | Wilson | United Kingdom | Husqvarna | Rockstar Energy Husqvarna Factory Racing |
| 16 | Zachary | Osborne | Abingdon, VA | Husqvarna | Rockstar Energy Husqvarna Factory Racing |
| 17 | Joseph | Savatgy | Tallahassee, FL | Suzuki | JGR Yoshimura Suzuki Factory Racing |
| 19 | Justin | Bogle | Cushing, OK | KTM | TEAM Rocky Mountain, WPS,KTM |
| 20 | Broc | Tickle | Holly, MI | Yamaha | Monster Energy Yamaha Factory Racing |
| 23 | Chase | Sexton | La Moille, IL | Honda | Team Honda HRC |
| 25 | Marvin | Musquin | France | KTM | Red Bull KTM |
| 34 | Tyler | Bowers | Danville, KY | Kawasaki | Triggr Tyler Bowers Racing |
| 42 | Ben | LaMay | Anchorage, AK | KTM | LBeardsleyCPA Wilde Chips Xbrand UFO Racetech |
| 43 | John | Short | Pilot Point, TX | Honda | Manluk Racing |
| 48 | Henry | Miller | Rochester, MN | KTM | FXR Miller Pasha Racing |
| 50 | Benny | Bloss | Oak Grove, MO | Husqvarna | KT Tape Truck Central Donnells Husqvarna |
| 51 | Justin | Barcia | Greenville, FL | Yamaha | Monster Energy Yamaha Factory Racing |
| 61 | Alex | Ray | Atwood, TN | Kawasaki | SGB Racing Maxxis Babbitt's Kawasaki |
| 62 | Christian | Craig | Temecula, CA | Honda | Team Honda HRC |
| 72 | Robbie | Wageman | Newhall, CA | Yamaha | Fasthouse Gasper Racing |
| 75 | Coty | Schock | Dover, DE | Honda | FXR Chaparral Honda |
| 78 | Jake | Masterpool | Paradise, TX | Husqvarna | Invictus Speed Crew |
| 79 | Isaac | Teasdale | Robbinsville, NC | Suzuki | JGR Yoshimura Suzuki Factory Racing |
| 103 | Max | Anstie | Great Britain | Suzuki | Twisted Tea Suzuki |
| 136 | Joshua | Philbrick | Ocononowoc, WI | Kawasaki | Sportland 2 |
| 139 | Nathen | LaPorte | Rothschild, WI | Honda | Sportland 2 MX-TECH LaPorte Racing |
| 141 | Richard | Taylor | Woodland Hills, CA | Suzuki | Simi Valley Cycles X Brand Suzuki |
| 144 | Nicolas | Rolando | Uruguay | KTM | RSMX Maas Brothers |
| 148 | Bryce | Hansen | Kaukauna, WI | Kawasaki | |
| 168 | Cale | Kuchnicki | Alanson, MI | KTM | Highland Trails Racing |
| 176 | Brandon | Green | Thief River Falls, MN | Yamaha | DMC Motorsports Bemidji Sports Centre Northern Crankshafts |
| 180 | Christopher | Gebken | Buckner, MO | Honda | Innovative MX Training Gebken Racing |
| 223 | Jamison | DuClos | Whitewater, WI | Yamaha | Rock River Racing |
| 243 | Hunter | Braun | Westland, MI | Honda | Supercoop MX FXR |
| 254 | Cody | Briner | Sierra Vista, AZ | Kawasaki | Briner Racing |
| 258 | Justin | Rodbell | Prince Frederick, MD | Kawasaki | SGB Racing Maxxis Babbitt's Kawasaki |
| 262 | Blake | Hansen | Kaukauna, WI | Kawasaki | |
| 269 | Dalton | Dyer | Benton, AR | Kawasaki | 3b Graphics Pro Circuit Greg Dyer Plumbing |
| 281 | Cory | Carsten | Bayville, NJ | Suzuki | Carsten Racing |
| 308 | Nicholas | Jackson | Lake City, MN | Kawasaki | Black Diamond MX Plainview Powersports Kawasaki |
| 309 | Jeremy | Smith | Marmora, NJ | Kawasaki | SGB Racing Maxxis Babbitt's Kawasaki |
| 349 | Grant | Harlan | Kailua Kona, HI | Honda | Hoosier Tire FXR Game Moto |
| 399 | Bryant | Humiston | Rocksprings, WY | KTM | Legend Services Racing |
| 402 | Samuel | Greenawalt | Jacksonville, FL | Yamaha | GMXR Worldwide |
| 404 | Carlos | Short | Charlotte, NC | Yamaha | Flyin Taco Racing |
| 412 | Jared | Lesher | Elderton, PA | KTM | Budget Blinds Maximum Powersports Blud Lubricants |
| 415 | Brendan | Grgurich | Novinger, MO | Yamaha | Grgurich Racing |
| 443 | Luke | Renzland | Hewitt, NJ | Husqvarna | Dreamland MX Racing |
| 483 | Bryton | Carroll | Vineland, NJ | Yamaha | |
| 492 | Nicholas | Neys | Edelstein, IL | Kawasaki | NPR 4 Autism |
| 496 | Dylan | Kirchner | San Antonio, TX | Kawasaki | |
| 499 | Dawson | Chesnut | Sorento, IL | Kawasaki | Chesnut Racing |
| 503 | McClellan | Hile | Atascadero, CA | KTM | |
| 512 | Austin | Cozadd | Attalla, AL | Yamaha | MXers for Jesus | FavorSwag MX Tire | Triangle Cycle Yamaha |
| 519 | Jorge | Rubalcava | Paradise, TX | Husqvarna | Husqvarna Mexico |
| 528 | Ryan | Peters | Mandan, ND | Kawasaki | |
| 529 | Taylor | Strauss | Jefferson, WI | Husqvarna | Robs Performance Motorsports |
| 550 | John | Citrola | Grand Junction, CO | Honda | Perri's Powersports | Defy Graphics |
| 553 | Brent | Rouse | Torrance, CA | Honda | Patch Master Racing Mid Cities Honda |
| 565 | Dominic | DeSimone | Las Vegas, NV | Honda | we1 Racing |
| 577 | Felix | Lopez | Mexico | KTM | KTM of Mexico |
| 644 | Brennan | Myers | Woolstock, IA | Kawasaki | SSB Motorsports |
| 647 | Matthew | Hubert | Riverside, CA | Kawasaki | TPJ Racing |
| 657 | Justin | Wolf | Franklin, WI | Kawasaki | Sportland 2 Powersports |
| 672 | Brandon | Pederson | Los Fresnos, TX | Husqvarna | |
| 694 | Nicholas | Inman | Chillicothe, IL | Honda | |
| 700 | Justin | Hoeft | Castaic, CA | Husqvarna | Team Maguas JGL Husqvarna |
| 708 | Joseph | Perron | Elko, MN | Kawasaki | Plainview Powersports | BDMX |
| 711 | Tristan | Lane | Deland, FL | KTM | Team Lane Racing |
| 722 | Adam | Enticknap | Lompoc, CA | Suzuki | Twisted Tea Suzuki |
| 735 | Tristan | Lewis | Locust Grove, GA | Yamaha | |
| 750 | Gavin | Chinn | Chillicothe, OH | KTM | Team 750 |
| 755 | Kyle | Ianuale | Gainesville, FL | KTM | |
| 765 | Zack | Archer | Moorhead, IA | Kawasaki | Yankton Motorsports |
| 794 | Bryce | Backaus | Neillsville, WI | Yamaha | All Motor Performance Feine Tune |
| 809 | Travis | Thompson | Howell, MI | Yamaha | T&M Racing |
| 824 | Carter | Stephenson | Rolla, MO | Yamaha | Rock River Racing |
| 841 | Jeff | Walker | Sylvania, OH | KTM | Walker Motorsports |
| 881 | Jerry | Lorenz | Morrice, MI | Yamaha | Ray C's MCR Suspension FXR Racing |
| 891 | Kyle | Koosmann | Mellen, WI | Yamaha | |
| 946 | Matthew | Toth | Ellwood City, PA | Honda | |
| 947 | Cody | Hutchison | Presho, SD | Yamaha | Interlakes Sports Center Seven Blud Lubricants |
| 976 | Joshua | Greco | Valparaiso IN | KTM | Team Allsouth |
| 987 | Ethan | Chesnut | Sorento, IL | Kawasaki | Chesnut Racing |
| 995 | Christopher | Prebula | Petersburg, MI | KTM | Team Imperial |
| 996 | Preston | Taylor | Hastings, NE | Kawasaki | Yankton Motorsports Tamer Holeshot Hookup Racetech |