Crawfordsville, IN
Ironman
Lucas Oil AMA Pro Motocross Championship
If you're a fan of hard racing, it's good to know Eli Tomac is still as motivated as ever to defend his 450 Class Lucas Oil AMA Pro Motocross Championship. Obviously, he was facing a steep climb after a double DNF in the mud at round two at Loretta Lynn's, leaving him a whopping 40 points down in the championship, and in a shortened series, no less.
"Yeah it was frustrating," he says. "Moto one I actually felt it going probably three laps before it stopped, it stalled once or twice and then it finally gave out. Second moto, it was out of nowhere, that was a little bit sketchy. The bikes got hot and then the miles an hour wasn't very fast there, it was just combination of everything. Yeah, just overheated. Super frustrating and some things are out of your power."
Was it out of his power, though? The Loretta's mud race molded into a swap meet, with bikes and broken parts strewn throughout the facility. Some riders were able to nurse their bikes home, and with Max Anstie, Zach Osborne and Marvin Musquin going 1-2-3 in the final 450 moto of the day, many speculated that the European/GP experience of those three helped them coddle their bikes to the finish.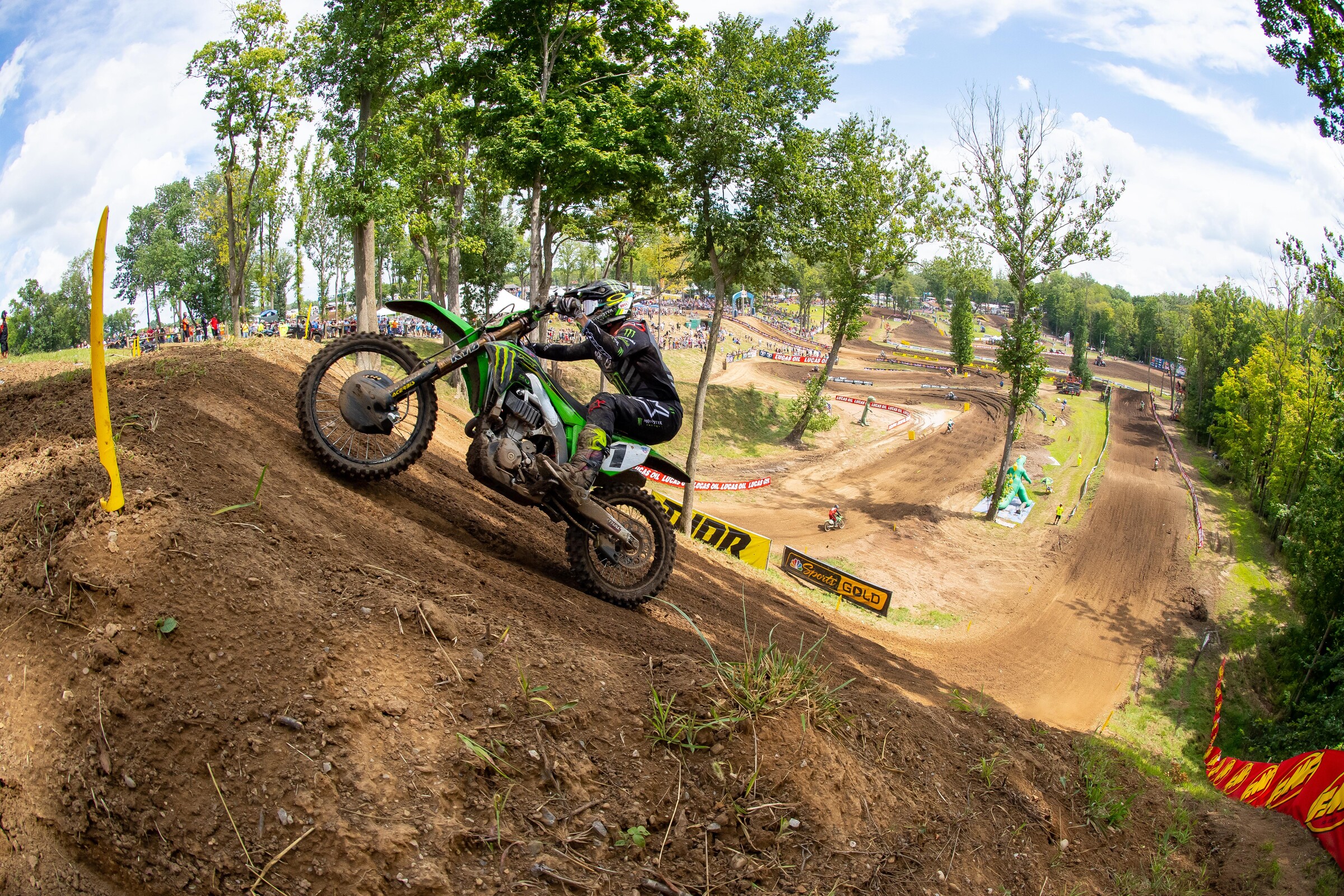 Tomac says he wasn't hammering the clutch, throttle and RPMs the whole way.
"I was doing my best to not completely blow it up," he says. "I've been around long enough to where I'm not going to not think about saving it a little bit. I don't really know what was going on there. I don't know, maybe in the second moto when I crashed in the first turn, maybe I spazzed out a little bit trying to catch up, but after I had that DNF in moto one, yeah it was in my head to try to milk the thing a little bit. But it still wasn't good enough. I don't know what the deal was there."
At that point, facing a huge deficit in a shortened series, Tomac only had two options. Fold up the tent, cruise through the remaining nationals and enjoy a year that still features his first-ever Monster Energy AMA Supercross Championship. When he qualified an uncharacteristic 13th in the morning at the Ironman National, things still seemed amiss.
Not to worry, he won't take the easy route. He's going to dig deep and try to get that outdoor four-peat.
"You know, I felt like it was my only option to stay in this: stay on the podium and stay in front of Zach," he explained.
"I'm in the position where I can't have anything happen again, plus we're in a shortened series. The only thing I can do now is try to win. With Zach being 40 points [ahead of me], that's a pretty far stretch, but definitely not over yet. We pulled 13 points out in one weekend. It's good, still a little bit early in a short series, but if I'm going to get it done I better get it done now."
The weekend's Ironman National proved there's still more than just Osborne to worry about, as Tomac rode well but ended up second behind the resurgent Marvin Musquin.
"Marvin was riding well," Tomac said. "I had a section of the track I was faster on and he had a section he was faster, and I couldn't quite get close enough on the one section to give myself an opportunity. Just too much of a yo-yo."
Still, Osborne had a bad moto with a seventh, and the second-place finish gave Tomac a good shot at the overall win. To get it, though, he'd have to dig really deep, because Justin Barcia was on his game and on Tomac's pace. While Barcia has won a few nationals the last few years, this might be the most speed he's ever shown in an outdoor moto. This wasn't Barcia holeshotting and hanging on, this wasn't Barcia using his mud-racing skills, this was just a wild, loose, fast Justin Barcia passing his way through the pack. The intensity that he and Tomac threw down together was simply spectacular to watch.
"That pace was hot," said Tomac. "Moto two, you have that carrot of the overall, and Justin was right there with me the whole way. That was a gnarly pace and we made it all the way to the end without slowing down. That second moto was just a massive effort."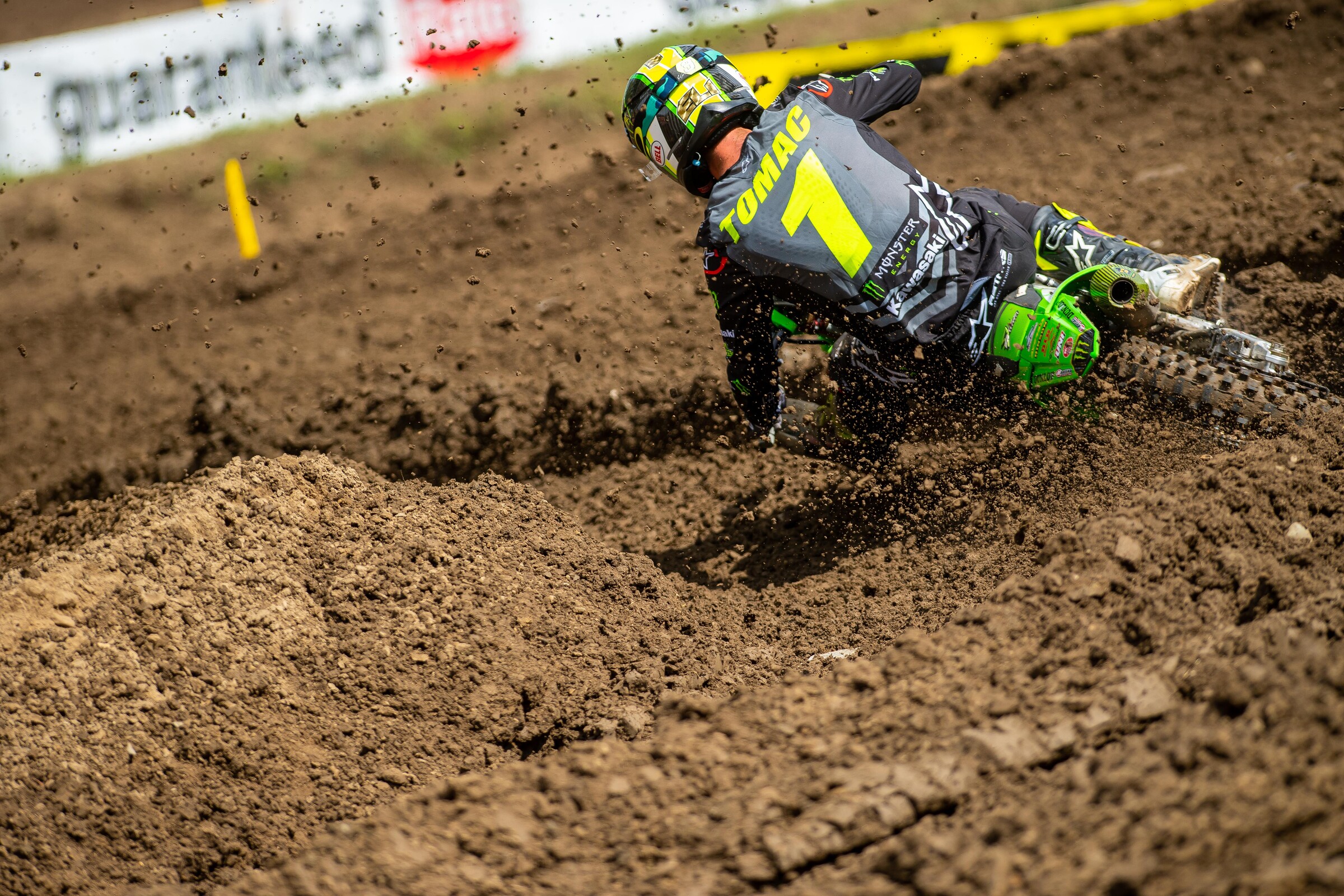 While Barcia and Tomac have had their run-ins through the years, they could only smile and show mutual respect this time.
"You know, I'm actually a little bit sore this week!" said Tomac, and as he said it, Barcia, in full agreement, smiled and laughed.
"Compared to the mud race, you can't go out there and pin it and sprint," said Tomac. "But I'm like, Alright here's the nationals now, waking up Sunday. Yeah that was a fun race. We sure gave it our all. It's just, when you're in that position I'm always thinking, 'I don't want to give this up with two or three laps to go.' Man, it was crazy. It was crazy! We were both pushing the whole way."
So, the Tomac comeback begins, and he hopes it continues through the double header this weekend at RedBud. Osborne has already said these two races could be the tale of the tape for the season. It won't be easy, but Eli Tomac just showed he has the most important part figured out: he's still as motivated as ever. Even in a shorter series with a bigger deficit, that makes him as dangerous as ever, too.