"I've done really well," Marvin Musquin said on Monday night. "I never won the championship, but I've been close. It's a bad thing and a good thing when you're close but you come up short. This year will be another year of trying to win that championship!"
Whew! That would be the most appropriate reaction for Marvin fans right now, because merely getting on the gate became a huge obstacle this year after extensive knee surgery. Even getting back into racing, though, didn't guarantee he would be fast again. Getting back in the championship hunt is a huge relief.
"I felt like I had no pressure," Marvin said about his return last weekend. "That's what I told [my wife] Mathilde. I was like, 'Man, I feel pretty relaxed!' I was actually super bummed we didn't ride press day at the first Loretta's. I was super pumped to ride and break in the race bike, and I hadn't felt that feeling in a year."
Marvin is second in points, surprising even himself. He's not back to full fitness yet, and his 4-5-8-2 moto finishes aren't quite back to his usual podium-in-nearly-every-moto standards.
"Leaving Loretta's second in the championship, right now I can't believe it," he said. "It was a tough one missing the whole year, and my knee is still not perfect, but I'm feeling pretty good on the bike, and that's the most important thing."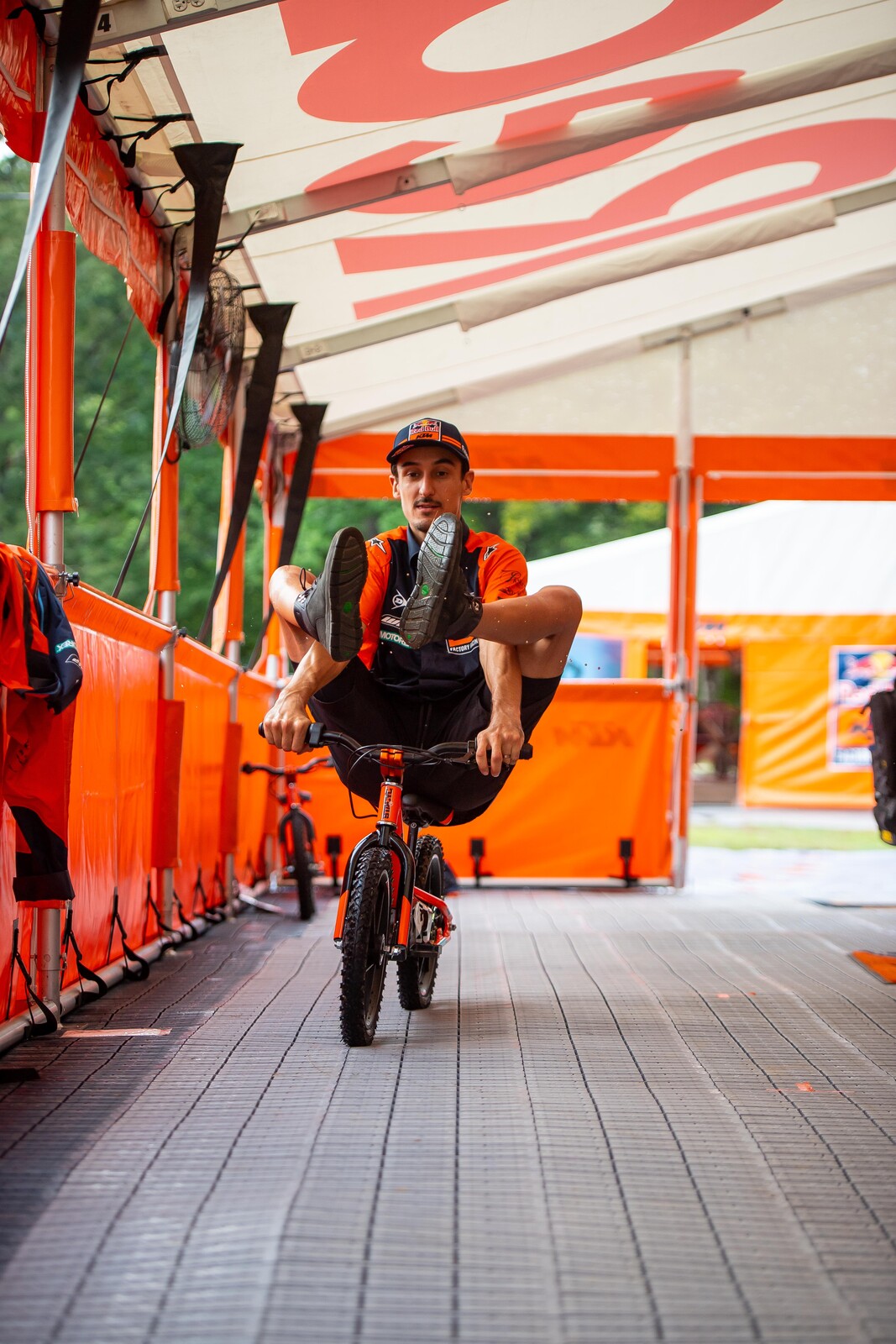 Well, a crazy mudder at round two certainly jacks up the point standings, and with Marvin merely finishing motos, it averages out to second in the points. (Big names like Tomac, Anderson, Cianciarulo, Barcia, and Sexton have all had non-points scores already.) Also, these early motos have been pretty wild for parity in the class. Even without Ken Roczen and Cooper Webb, the 450 Class feels exceptionally stacked this year.
"That's two good riders not there behind the gate, but there are eight or ten other good guys," Marvin said. "This year there's a lot of guys and a lot of guys who can win motos and get on the podium. Three motos, we've already seen three different winners, even without Cooper or Kenny on the gate. The group in the 450s is packed, and it should make for interesting racing."
At least now Musquin gets to focus on his competitors. For far too long, he could worry only about himself and that knee. It's the same leg that bothered him in the summer of 2017 (leading to a midseason slump that cost him huge points) and again right before the 2019 Monster Energy Supercross Championship, where he admits that on Christmas Day, two weeks before the season opener, he was not even riding. Finally, that knee has gotten the full fix. Could that actually be better, long-term? Marvin is not so sure.
"I mean … that was a big surgery," he explained. "A lot of things repaired inside. I'm actually better on my bike with my knee brace and my boot than I am working around the house or doing gym workouts."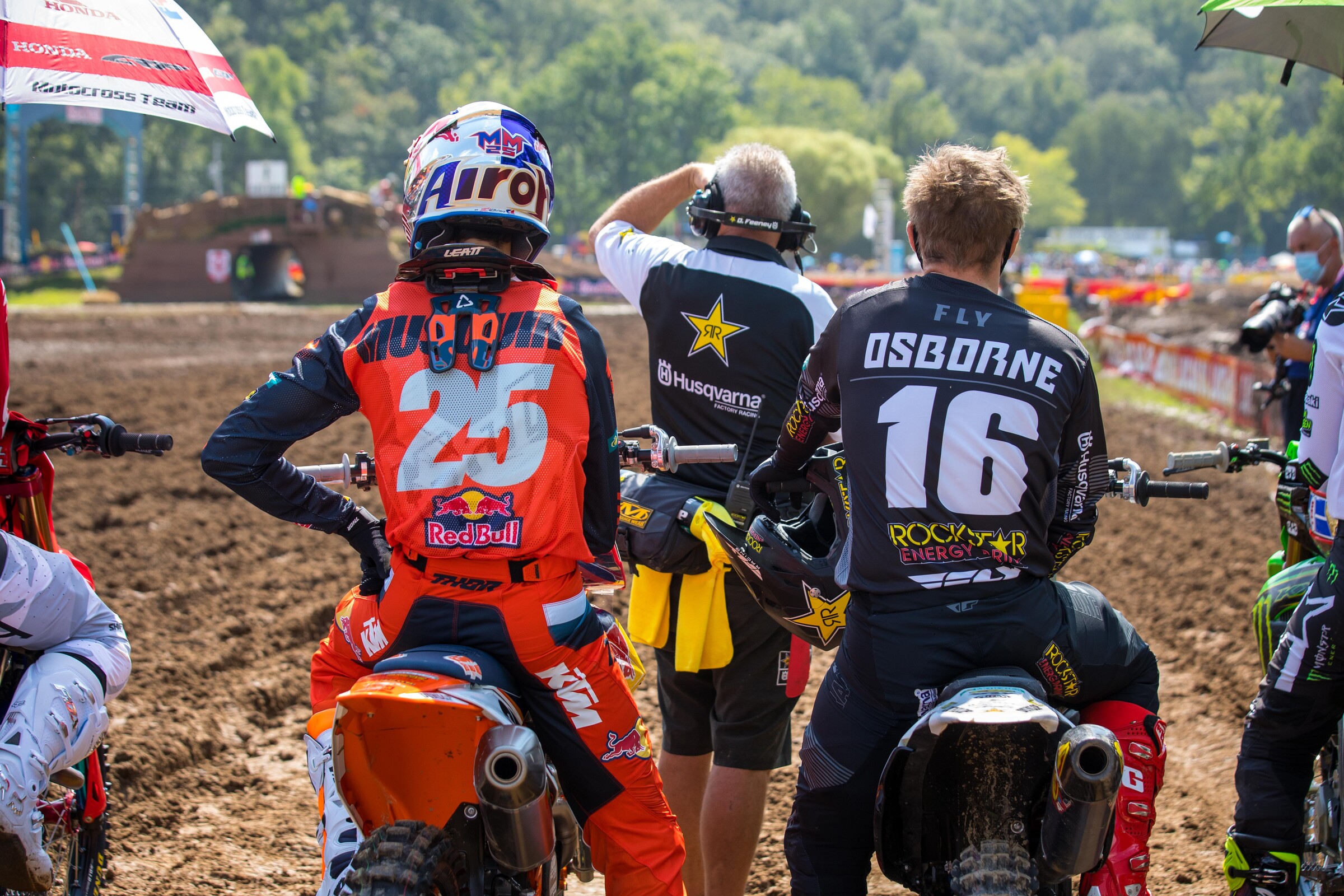 Marvin admitted he ran out of gas late in the second moto at the hot, rough Loretta's opener. He was able to go the distance at Loretta's 2 because mud races aren't as physically taxing. On the last lap of the last moto, he put in a huge charge to get close to leader Zach Osborne, who was trying to conserve his bike and stay off the clutch. Zach saw Marvin coming, so he wicked it back up in the final moments to keep his lead.
"Unfortunately, the first moto, we made a mistake on the rear tire—that didn't help me, and it didn't even help me on the start, that paddle tire, but that's why you try things, you hope it works for the best," Marvin explained of his Loretta's 2 experience. "I went down and I had to stop for gloves, stopped way too long, and I got eighth. Second moto the track was better and I was able to put myself in a good position. Zach passed me and I learned some lines. Unfortunately, I made a mistake in that left near the finish—I got stuck and I lost, like, 10 seconds. That was too much. My goal was to be competitive, and I think I was right there."
Despite all of his training, full race fitness on a rough day will take some work. Marvin's just happy to be racing. When he first went in for surgery, his doctor told him it would be a full year before he could race. In the end, he needed every bit of the pandemic schedule postponement to get back on track.
"Physically, I just started to feel a lot better two or three weeks before the first round," he said. "When I got surgery in December, my surgeon said, 'I think you're done for the whole year.' But you know, in the back of your head, you're like, 'I will do whatever it takes to come back for motocross.' May would have been impossible. Even July would have been short, it would have been tough. This is perfect.
"This year I feel like anything is possible," he concluded. "Even though, like I said, there's a lot of good guys, I feel like the last few years it was Eli and me a lot, and other guys would get injured. I think the racing will be better this year. I'm excited."