Feld Entertainment held a Zoom call with reporters today, with Feld Entertainment's Senior Director of Operations, Two-Wheel, Dave Prater fielding calls. Dave wanted to stress, first and foremost, the cooperation from the manufacturers and teams, the AMA, MX Sports, and more for helping make this all work. As Dave told us a month ago, from the start the teams all expressed wanting to get in 17 races, as that's what they signed up to do. With the hoped-for May 15 date getting reset due to difficulty getting clearance to hold a race, the May 31 date puts supercross deep up against the July 4 proposed start date for the Lucas Oil AMA Pro Motocross Championship. The teams and Feld wanted to hold a proper championship with the expected number of races—17—so that set the two-races-per-week cadence in motion.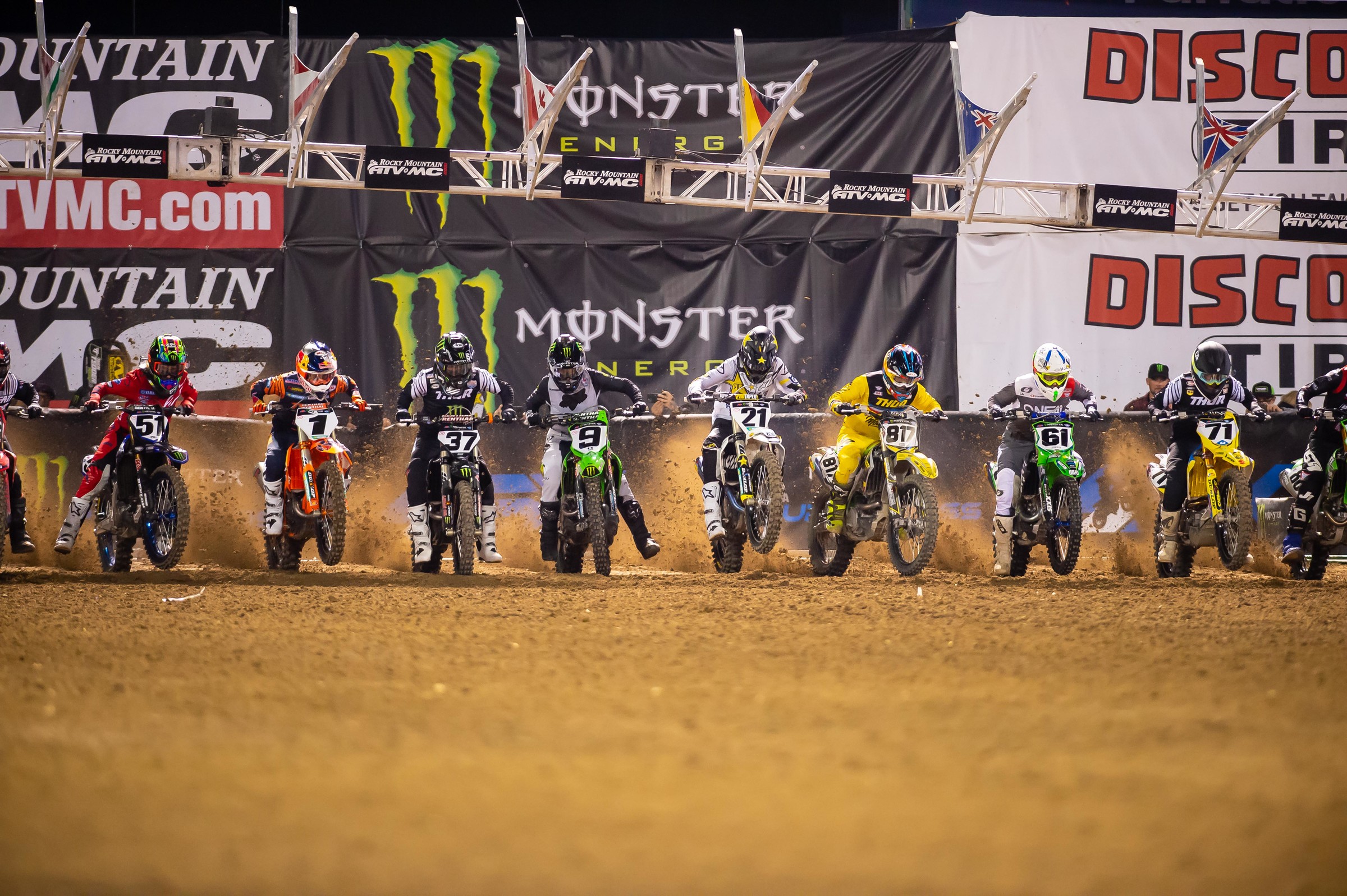 Several cities were on the table. We of course all heard Glendale, also Houston and St. Louis had been rumored, but Salt Lake City got the nod. Separately from this call with Prater, I heard other cities were at first not requiring COVID-19 tests from everyone involved with the event, but as the race dates grew closer, that began to look like a universal requirement. Since that hurdle would have to be crossed in any city, Utah, which had already required the testing but was willing to say yes to the May 31 date got the nod.
Utah will require that everyone traveling from out of state take a COVID-19 test (and testing will be facilitated at the event by the state) and be declared clear of the virus 48 hours prior to the race. So that means to race Sunday, you must be clear for 48 hours before that. If you don't leave the state, you don't need to be tested again, although temperature checks will be done on site. If you do leave the state, you must then take the test again 48 hours in advance of the race. With races happening on Sunday and Wednesday, there's really not time to do that in between races. So, although not every team and rider has announced plans, you can most likely expect everyone to stay put in Utah for the entire three weeks.
* all times
2020 Supercross Schedule
There will not be a singular official quarantine hotel. Participants in the race can stay in motorhomes or rent houses to stay in, but they will have to provide the address. The state will also release a list of approved hotels. Teams will have to designate groups of ten or less that can stay in contact with each other, and if a team has more than ten members, they will have to split the staff into separate groups of ten or less.
What if someone tests positive? They have to wait 72 hours, and if their temperature continues to go down, they can test again. But yes, indeed, if any rider tests positive for COVID-19 the rider will be held from the race and will be placed on a 14-day quarintine. There is a massive document—27 to 28 pages—being prepared with all the health and safety rules. Feld is still working on it but is hoping to get it delivered to teams either tonight or over the weekend.
It appears participation from the teams and riders will not be a problem, Prater said he would leave it to the teams to announce their plans but he does not expect any team to stay away from the events, and they've received very little pushback.
"We have been talking to teams on a bi-weekly basis, maybe a week or two with only one call, but twice a week most weeks," said Prater. "A few of those calls were, 'Hey, we have nothing new to inform you of, do you have any questions?' We've been in constant communication, there was never a time when they pushed back that hard, but obviously there has been concern on everyone's part that we do this and we do it the right way."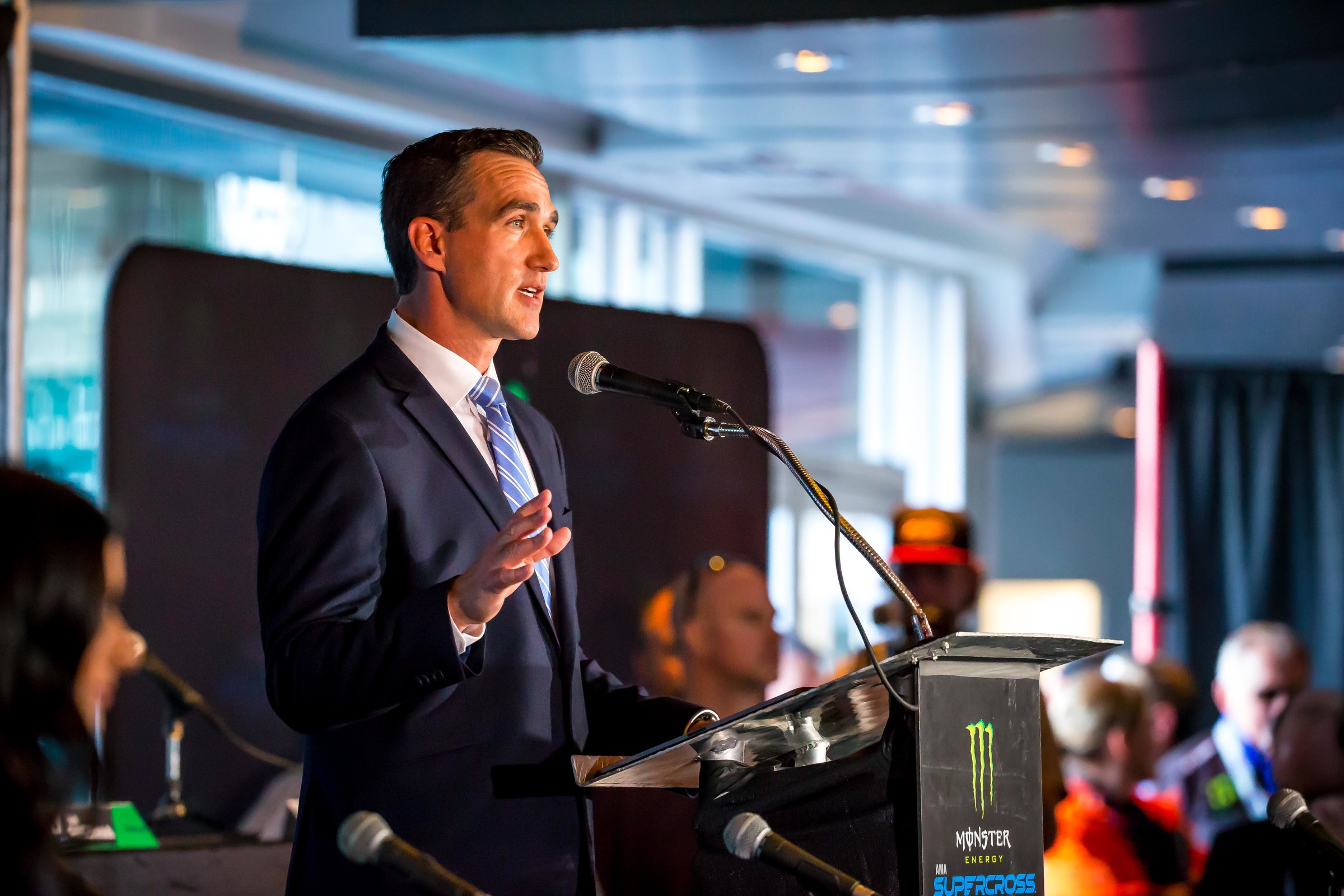 I can address this separately from what I heard on the call from Prater today. What many fans might not know is that when racing stopped, team and sponsor budgets started to wane. There are probably some riders than maintained their normal paychecks, but many saw team or sponsor deals cut, not to mention without racing there's no chance of earning bonus money. Prater mentioned that running races without fans (which is the case here) removes the biggest source of revenue for Feld at these events. Hence Feld and the AMA had to address the race payouts. The purse will be cut, the final season-points fund by about 22 percent, and at individual races by about 17 percent.
"First and foremost, we did it for the fans that were expecting 17 races, even if that just means watching on television," said Prater. "Secondly as stewards of the sport, we thought it was important to get people back to work. The industry is heavily reliant on us running races, and that kept pushing us, not just for 2020, but when we get back to normal in 2021 or 2022 or whenever the case may be."
There will be 900 people at the event in total. That's 900 people going back to their regular jobs of going to the races. It's not going to be easy to pull this off and it hasn't been easy so far, and for fans who love to attend races, it's certainly not perfect. But it's something, and that's a better job than the nothing that we could have got.