Perhaps no part of this industry is in limbo due to the complications of COVID-19 more than Feld Entertainment, the producers of Monster Energy AMA Supercross. After 10 of 17 rounds, the season was put on hold following the Daytona Supercross. Last week, Feld announced the plan is to still race rounds 11-17 at some point this year, but no other details are yet available. Considering the complication of finding venues and dates for these races, getting more events in will not be easy. On Monday morning, we were able to talk to Feld Entertainment's senior director of operations, two wheel, Dave Prater, for the latest.
Racer X: Geez Dave, how badly do you wish we could just be talking about lime in the dirt or CBD sponsorships like we were doing last year, compared to what we've been dealing with this year? That seems so easy now.
Dave Prater: You're right. That all seems easy.
From what we have heard, the main goal here for supercross is to get more races in. Can you explain that? That's the goal?
Yeah. The goal is to finish the season and complete 17 rounds of racing. That's what we went into 2020 with, that was the plan all along, and we don't want to defer from that plan. We want to get those 17 events in. We think it's important to the fans, to the teams, to the riders, to the industry as a whole. So that's our goal and that's what we're working towards.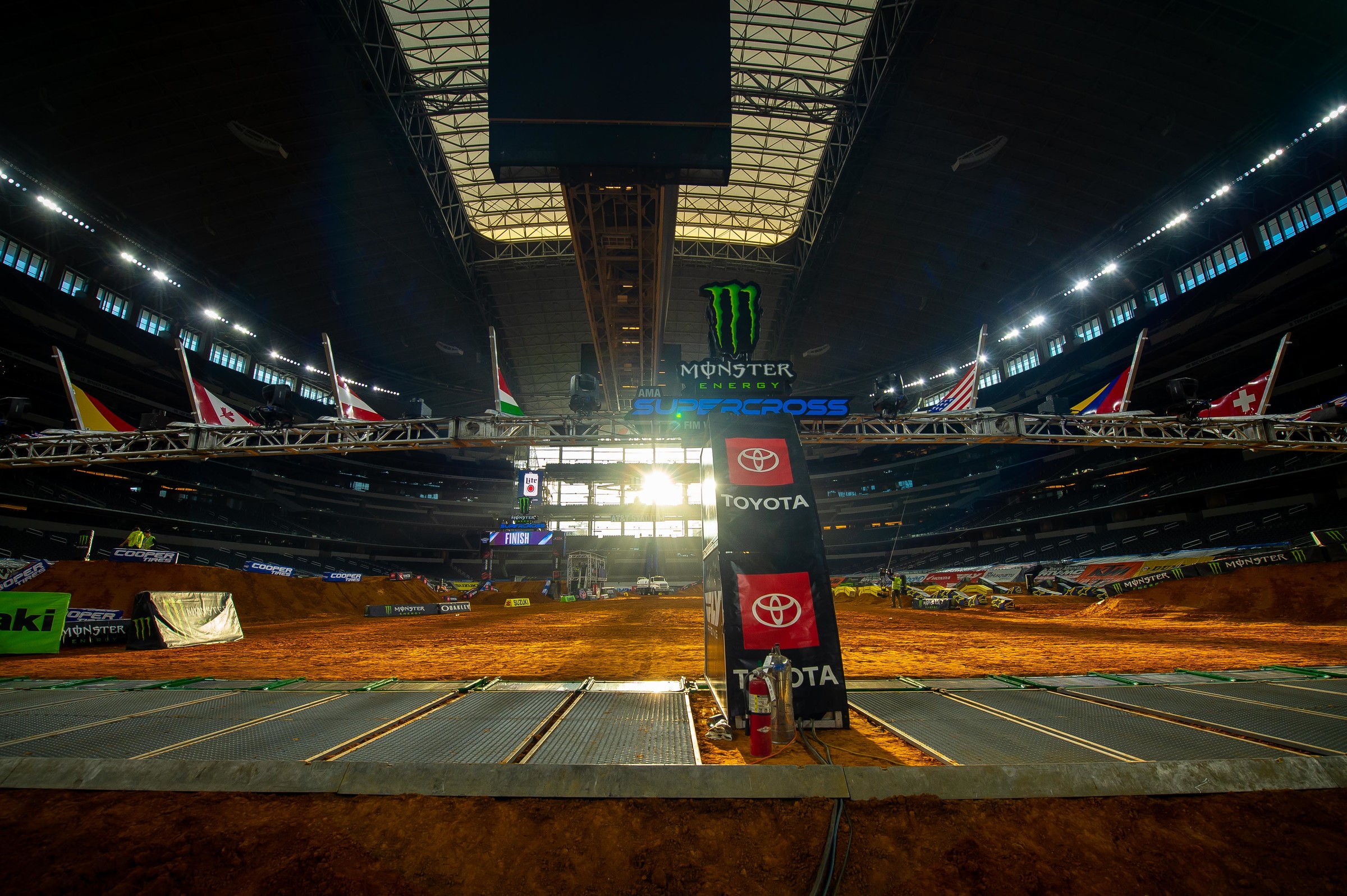 Was there any point in this where it seemed like that wasn't going to happen, where you guys were like, there's just no way and we're done?
No, I don't think it's come to that. I think that's always been the task at hand. As you know and the world knows, this thing happened so quickly and it's so fluid. Literally Thursday morning, March 12th, we had riders early in the morning in television studios doing interviews about the Indianapolis round of supercross. By 10:30 a.m. or so, we kind of saw there was going to be an issue. By 3:30 p.m., it was down to racing without fans in the stadium. Then by 4:30 p.m., 5 p.m. we had to pull the plug. It just happened so quickly that we were just reacting to everything that was coming at us, like everyone in the world was at the time. It never really crossed our mind not to finish the season. We always had that in the plan. We just knew that it was going to evolve, and it continues to evolve even today. That's the plan and that's what we're working towards. Hopefully we'll be sitting at Anaheim in 2021 talking about what a great season 2020 was.
Lucas Oil Pro Motocross has been pushed back to June 13th. Is there an attempt to get races in before that, or is that just too short of notice? We don't even know if we'll be able to race in May, heck, we might not be able to race June 13th, either. So, do you have an idea of when you're going to try to get these races in? Before motocross, after that, during? Any idea?
Again, I think it's so fluid it's hard to say. We've been working with MX Sports [Note: MX Sports is a sister company of Racer X]. We were on the phone with Carrie and Davey [Coombs]. They've been fantastic. They were able to move the start of their season back to June 13th in hopes that we could get a few rounds in prior to that. But as the things developed over the next several days, if not weeks, we realized that's probably not realistic. I don't want to say it's completely out of the question at this point, but it looks challenging for us to be able to get anything in supercross-wise prior to that first [motocross] event on June 13th.
So, after motocross is probably more likely at this point?
Yeah. We just have to work with what windows we have. At present, it looks like whenever Lucas Oil Pro Motocross finishes up, that will be our window to get those seven rounds of supercross in.
I've heard you guys were talking to the teams quite a bit, right?
Yeah. I think as our partners, they're an integral part of this whole thing. We set up our first conference call that Thursday before Indy just to keep everybody informed of what was going on. We spoke to them a couple times, maybe two if not three times that day, just as the things were developing. I know the first call was, "Hey, it looks like we may be racing in front of an empty stadium." Then my last call was, "Don't put any more people on a plane because we're not racing in Indy this weekend." So, it's been important. I think Mike Muye and myself, we set up biweekly conference calls with the teams. We're going to continue those for as long as necessary. We'll continue to keep everyone informed and get their feedback on things as well because we're all in this together. I know that seems obvious, the world is in this together, but obviously as an industry we're all in this together and we're all just watching it play out and seeing what works best for the sport of supercross and motocross as a whole.
How have the teams been? Obviously, I would imagine they're a little scared. Points are close in supercross this year, and now we might have to race another series and then come back. Did you get pushback on that, or did teams understand that May just might not even be an option? What do you get when you throw out some of these ideas?
I think like anyone, and like probably everyone listening to this interview, we've all had to adapt, and it happened so quickly that I think at first when people said, "Hey, we're going to cancel Indy Supercross for the fans," everyone was a bit upset, including ourselves. We didn't want that to happen, but then we realized that's going to be a reality and we're going to have to deal with it. So, then we were planning on racing without fans in the stadium. Then that looked like it was in jeopardy, and then ultimately, we had to pull the plug on that. So, we didn't like that at first, but had to accept it and deal with it. I think it was the same way with the teams. We were all kind of feeling the exact same way. I can tell you from our point of view, we didn't want to race later on in the year. We didn't want to go race motocross and then come back with supercross, or any of that. But as the situation developed, we realized that we're going to have to adapt and we're going to have to be as fluid as possible with this situation because, I think everybody's tired of the word "unprecedented," but it truly is unprecedented. We're going to have to roll with the punches and do what we can. So as those conversations continued throughout the week, everyone started to realize that we're going to have to make this work in whatever way we can. So, like you said, the attitude at first, and myself included, was like, "No, we've got to do it this way." Even just racing without fans at one race seemed like a big deal. Things have unfolded differently since then, though. After four or five calls, and as time passed, I think everybody was on the same page of we're just going to have to watch this situation, take a pause and step back and adjust as it unfolds and we get more information.
What I think we've learned here is from all sides, everyone wants to race. I don't know how their contracts work, but as an example, riders certainly don't get bonus money for winning races if there aren't races to win. I'm sure there's TV money or sponsor money on the line here, and that includes motocross also. We've never thought of the idea of getting in fewer races than scheduled, because it never happened before. But I think we learned that, when everybody realized how bad it would be to not race, everyone voted, "We want to race." No one said, "Hey, we'll save some travel budget by not going to the races." It seems universal that everyone wants to race from all sides.
Yeah. From the first phone call, that was unanimous. I didn't really know what to expect. When we had to cancel Indy, I didn't know what to expect. I thought maybe we'd have a fifty-fifty. Maybe half the teams who want to go to a race, and maybe half the teams want to call it. But it was unanimous from jump street. Everyone was like, "No, we need to get seven in." That was the surprising thing to me. I don't think I even heard anyone say, "No, let's just race five. Let's race two. Let's race a portion of them." So, it's been unanimous from the beginning that everyone wants to complete the 17 rounds. Like I said, that's the goal.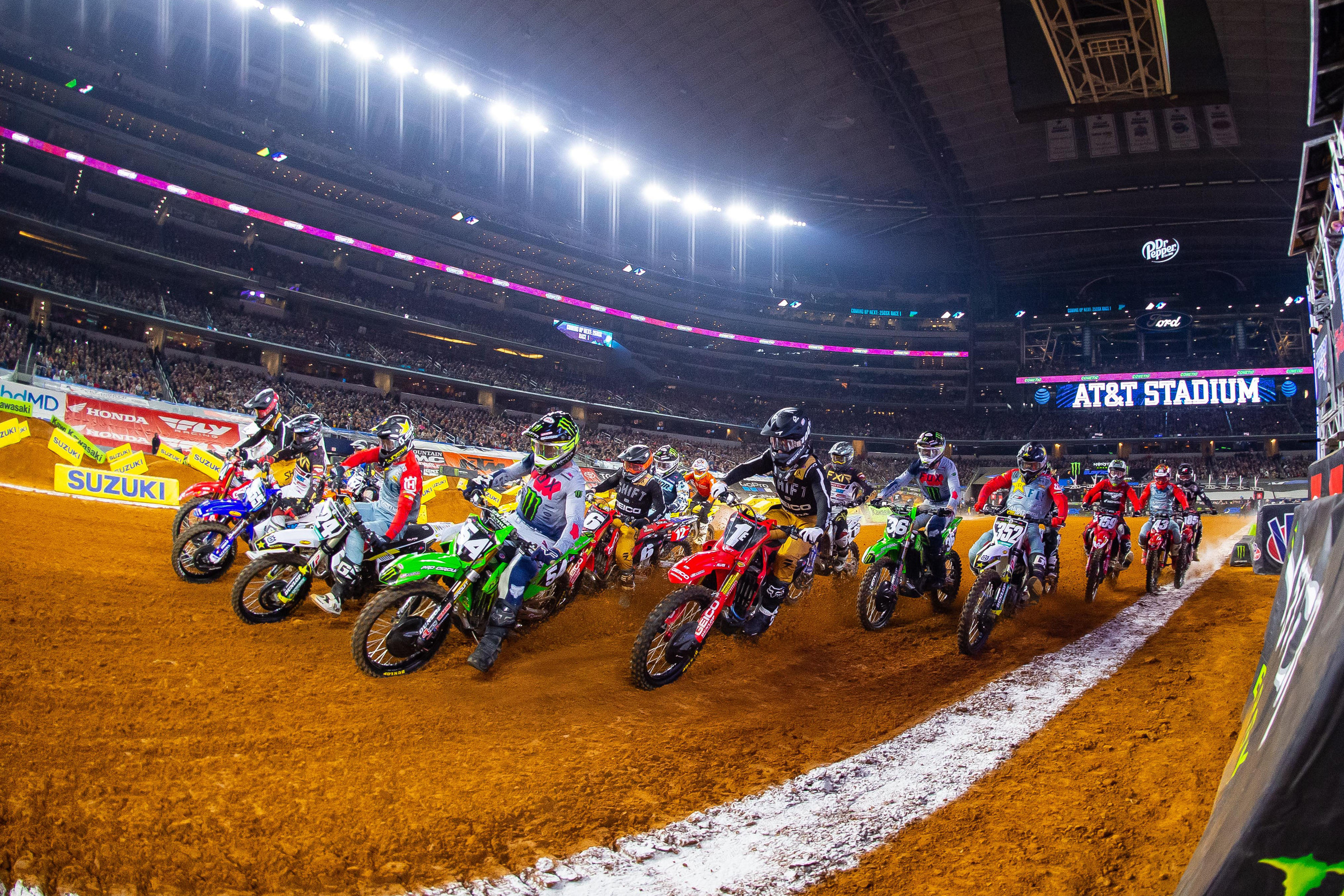 So, the hard part is, how do you find venues and not being able to nail down dates? That's obviously the whole thing that makes supercross what it is. How do you find stadiums?
That's the toughest part right now is just trying to stay as fluid with the situation and adapt as quickly as possible. So obviously it's what everyone knows that there are other tenants in these stadiums. Major League Baseball has postponed the beginning of their season. So, who's to say how that will affect the season as a whole, how long it will go? Will baseball go into November, December instead of just October? So, there's that. The NFL… We've all got our fingers crossed that it doesn't affect the NFL season, being August, September. It's going to be a challenge because you've got the NFL coming up and you've got college football, and like I said Major League Baseball. So, there are quite a few venues out there that we work with. We have great relationships with most, if not all major stadiums in the country. We literally have been going down through the list. I was joking with Sean [Brennan, supercross public relations]. Our Routing and Tour folks, we have a list of all the stadiums that we could race in. We had exhausted that list. I said, "Look." I got on my computer on Wikipedia and put "North American stadiums." So, I literally went down that list. There was a couple, maybe two or three totally that we didn't have contact with. Unfortunately, those two or three wouldn't work for us, but we've got a handful that we're looking at. We're going to have to wait on some things. The NFL's schedule doesn't come out until April 17th, so those pieces will fall into place. The other thing is we're going to have wait on these local governments and see when the restrictions on public gatherings are going to relax. So really, it's kind of a moving target, at the moment. We've got an initial plan, or plans, and as things slide into place and we learn the schedules of other leagues or other venues have solidified, we'll start going from there and nailing it down. But unfortunately, at this point, I really don't have any answers on where we're going to hold these seven events.
Are there any options that are definitely out? We had heard they could race during the week, or they could do double-headers, or they could have a bunch of rounds in the same building. Could we see any combination of things?
I think you could see any combination of things. I think the one thing that's probably out—again, I don't want to say anything's off the table, but the thing that we're trying to steer clear of are double-headers. After talking to the teams and after the teams got some feedback from the riders, we're going to do everything we can to stay away from double-headers. That's the plan there. That was one of our initial thoughts when we had to cancel Indy. I'll tell you how naive we all were. We assumed that we were going to go to Detroit the next weekend and race Detroit. So, what better way to get Indy in than to go in on Sunday and run a double-header in Detroit, like we used to do? Obviously, that did not happen. But that's where the double-header scenario came from.
But these don't necessarily have to be Saturday races?
No, they don't have to be. Who knows? Depending on what time of year we race, you've got some major competition in the NFL and college football on Saturdays and Sundays. We're keeping all of our options open. You have to at this point.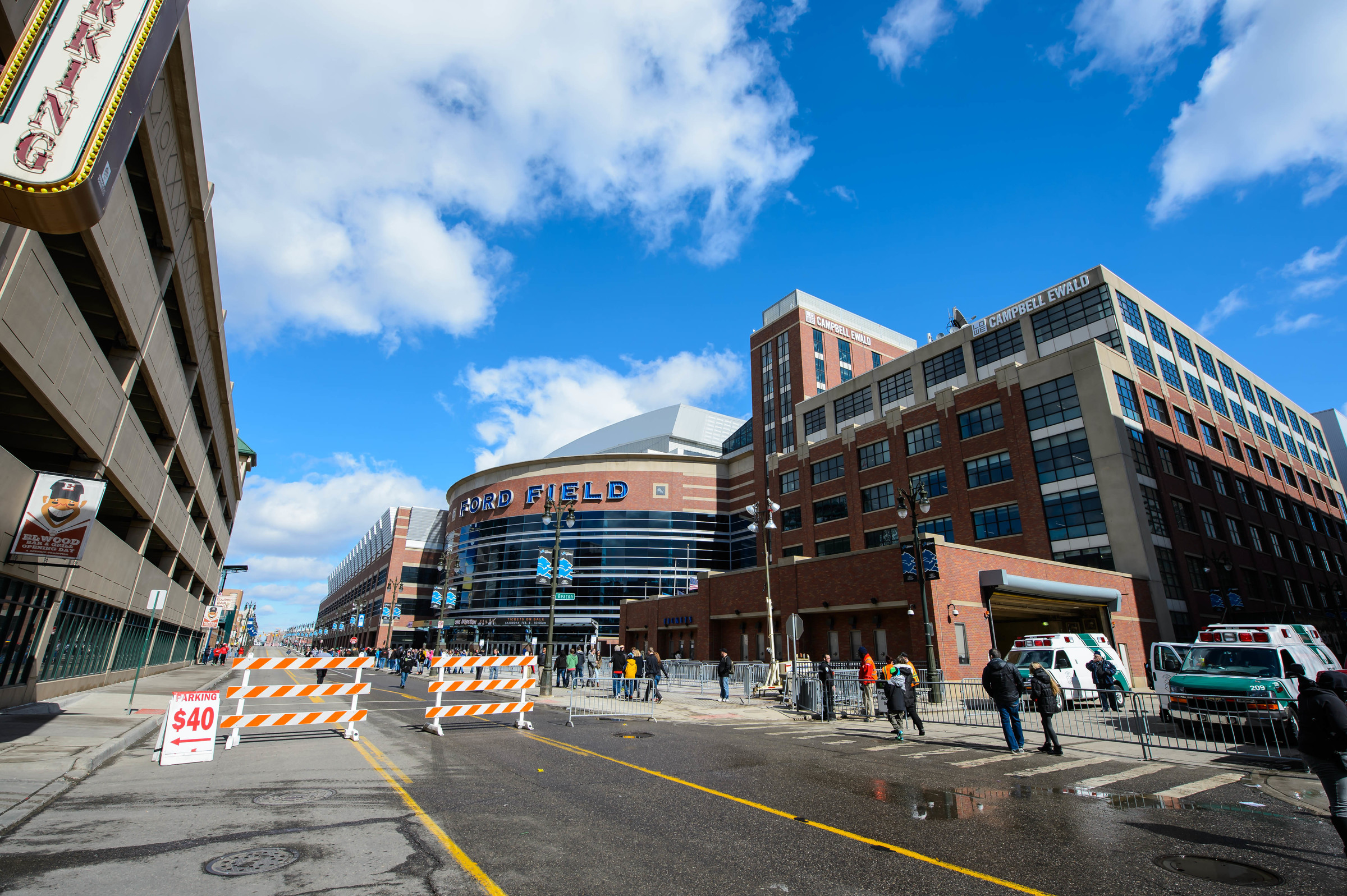 Technically an NFL team—and this is super simplifying it—they only play half of their games at home. So, if a stadium was empty on a road weekend, can you get in and out so quickly that an NFL team almost wouldn't notice?
It would depend. Doing that multiple weeks, I don't know if that's feasible. But the other part is, it depends the surface. Houston where you got in on a concrete floor, you could do it much quicker than when you have to go in and protect the artificial turf. So, there's so many variables in this thing. When you start thinking about it all at once, it can get overwhelming. Like I said, we're trying to wait for those different things to drop and solidify, one being the NFL schedule, but as those things drop, we can start narrowing it down.
So, the idea of having a couple races in the same place though, that could happen, maybe?
It could definitely happen. Again, I think we're going to be limited to the number of venues that we can race in. We have to keep that on the table.
What you cannot do, and I've actually had fans ask me this—you can't just go to the test tracks and hold races in Corona, California, or at Baker's Factory or the Moto Sandbox, right?
We can do anything. I just don't think that's what we want to do, for multiple reasons. I think we want to keep the integrity of the sport, keep supercross as supercross. Supercross is in a stadium. That's what we want to do. Not to mention just the overall cost of trying to wire a test track for a television show. It would be outrageous. So far, that's off the table. Like I said, I'm not going to say it wouldn't come back on the table, but it's highly unlikely.
Everything is somewhat on the table at this point?
Exactly.
We did hear that once the shutdown began and live events were going to stop, that Feld let a lot of employees go. So, when you get to do races, if you get to do races, how would that work? Would people be brought back? Could you do it with less people? People saw that as a sign you couldn't do races anymore. Is that as bad as it sounds, or is it still possible to do these?
It's possible for us to do races, and that's what we're planning to do. Unfortunately, with all the widespread government mandated closures on public gatherings, we were forced to shut down all of our tours, companywide. So, we had to make some difficult decisions and reduce the size of our workforce. Like I said, the whole plan is to resume operations. When that will happen, I can't tell you today. But when it does happen, we will be able to produce supercross, definitely.
So, people could be brought back, or you could just do it with fewer people? I think people don't realize how much staff it takes to do one of these races.
Yeah. It takes a lot. It definitely takes a lot, but we'll be ready. We'll have the people necessary to do it.
If you find the buildings and the teams and stuff are on board, that's not a problem running the event?
Not an obstacle. We'll make it happen.
Day to day, what do you do right now? It's got to be odd. You're usually probably hair on fire, going from one city to another. Are you more busy now? Are you less? This is so weird. What is the day-to-day for you right now?
Day to day is just working on several different scenarios. Working on basic budgets. Obviously, there are multiple factors that go into a budget depending on what city and what venue you're racing at. However, there are some costs that stay the same. So, working on multiple different budget plays, budget scenarios for finishing the 2020 season as well as last week, Mike Muye and myself got together and we're full speed ahead on 2021 as well. So, we're planning on 2021, working on that schedule with our scheduling folks here in the office. Really just keeping ourselves prepared because depending on when we do finish these seven races, depending on that timeframe, it may not allow us a lot of time to prep for 2021. So, let's do whatever we can now to get ready for 2021. If it pushes later in the year, we'll be ready to hit the ground running come January 9th in Anaheim.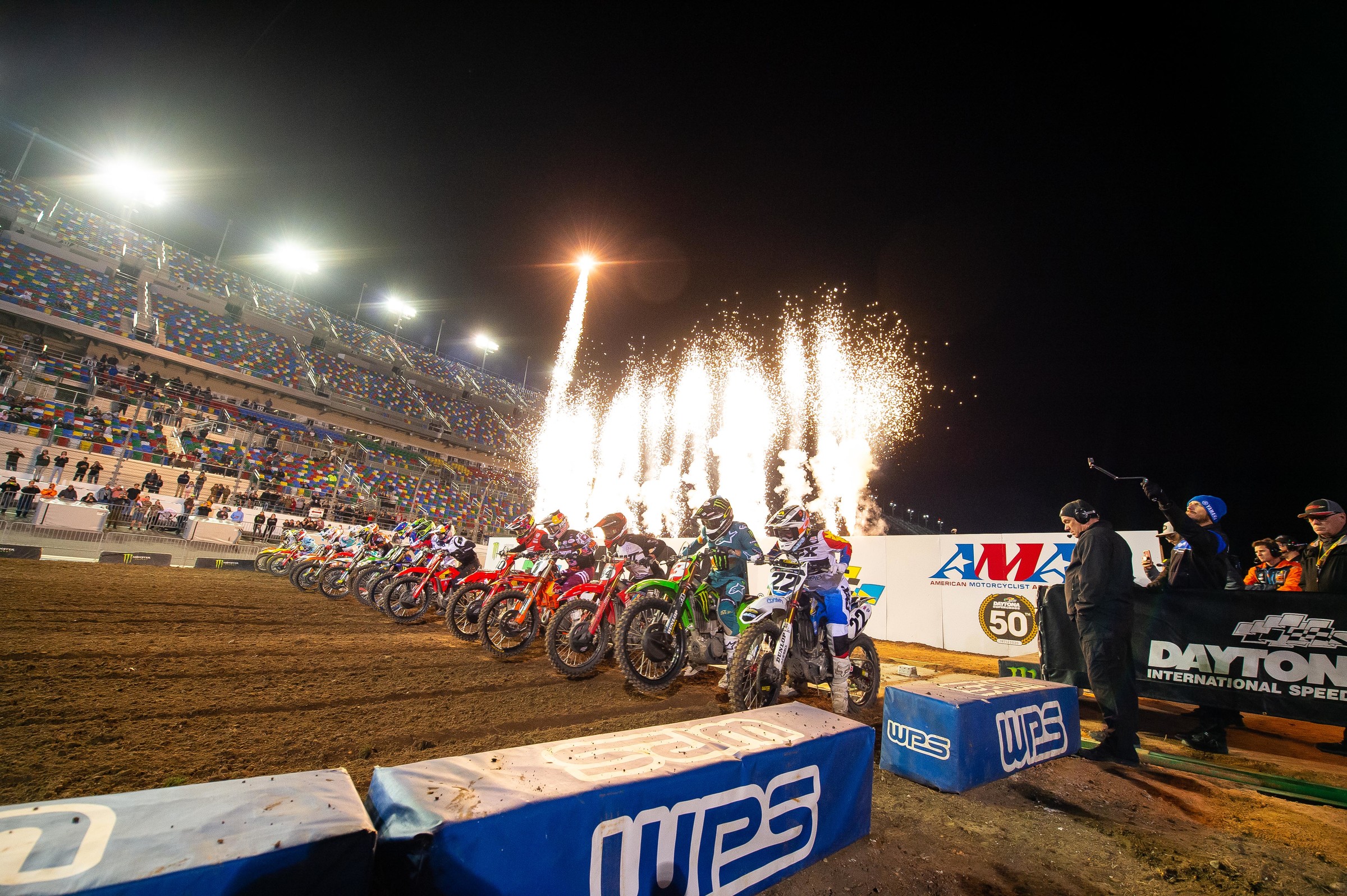 Do you know where Monster Cup falls in this? Does Monster Cup go away? Does that get used as an actual race? That's got to be one little fallback you have. At least you've got one stadium booked one time in the fall.
Yeah. That's one of those things that's on the table and it's a fallback for multiple different things. At the end it's going to depend on the timeframe in which we get these seven races in, and where we are in the country. So, it's nice to have that as a fallback and that date locked in. Depending on where we're going or where we're coming from, we'll have to see.
That's some relief, but even that doesn't make it super easy.
No, it doesn't, but it is nice to have at least one locked-in venue for the time being. Again, it goes back to scheduling. So, Dignity Health Park [where the 2020 Monster Energy Cup is scheduled to take place] is an MLS [Major League Soccer] venue, so depending on what MLS does and when they're able to start, and if their season is interrupted at all, that could adjust as well. We're in constant communication with the venue and they're going to let us know if and when anything happens with that schedule.
I've said this to several riders, and this includes myself, all of us that are used to going to races, imagine the sense of euphoria you are going to have when you're standing on the floor and a race is actually taking place? It's going to be like the happiest feeling ever. Even though we've all been to a thousand races, the sense of euphoria is going to be amazing when we're all just at a race again.
I know. It's so funny. This whole situation, not to get too philosophical, but it's teaching us so many things. For me, I've learned that you just don't take anything for granted. Like you said, I'm going to be so happy. I'll be down on track walk with a big ear-to-ear grin. The thing is, my goal is even after we've raced two, three, seven times to just remember that and remember how fortunate and privileged we are to get to do what we get to do. I wish I was sitting here talking to you about Seattle Supercross from over the weekend rather than this situation. But we're going to get through it. I can tell you that we're all going to be happy. We're all going to be loving life. We'll all realize how truly fortunate we are when we get to round 11. Hopefully that's soon.