Glendale, AZ
Glendale
Monster Energy AMA Supercross Championship
The 2020 season started spectacularly for Monster Energy Yamaha's Justin Barcia, with an Anaheim 1 win and a runner-up placing at round two, which led to red plates on his blue bike for a few weeks. Then came a disappointing Anaheim 2, with a ninth-place finish, and a fifth Saturday night at Glendale (via 6-8-7 scores). Is Barcia staying consistent and in this, or have two missed podiums set him back in the championship fight?
Aaron Hansel talked to Barcia after the race.
Justin Barcia | 6-8-7 for 5th overall in 450SX
Racer X: How did it go?
Justin Barcia: It was a difficult night a little bit, but getting out of here healthy is a good thing. This track bit a few guys. The whoops were pretty gnarly because the dirt is so hard-packed here. They got really blue-grooved and a little edgy and took a few guys down. That sucks. All in all I didn't have the best starts tonight and that put me in a difficult position on a track that was fairly one-lined. The racing was very tight and if you didn't get the holeshot it was very difficult. Everyone is riding really well right now, like always. You have to be on your A-game. I came in here with a different setting, and the way the track shaped up, in the race, it didn't work for me that great. I'll go back to where I was at A1 and fine tune that setting a little because I veered away from that quite a bit. There were some good things about it, but I think there were a few more negatives than positives for me today. Just need to keep working. I really wanted to turn last week's difficult race around. I felt like I struggled again a little bit though and didn't feel fully comfortable. I think this week is a very important week to get comfortable on my bike and get out of Oakland in a good spot.
It was a fast track tonight.
Yeah, it makes the racing difficult. It was a really fast track with a really long, fast start. High speed is a little dangerous sometimes, for sure, and the turning rhythms were a bad design, they made the racetrack very one-lined. It all funneled in and I think if you asked anyone tonight they'd all say the same thing. The turning rhythms were kind of silly. I know they try different stuff but it didn't make a great racetrack tonight. It was hard to make passes, especially with how slippery it was when you got out of that main groove. When you're on edge turning, and turning into a rhythm section, you can't really get out of that main groove. But you have to take the good with the bad. Last week was really tough, this week was medium, so hopefully we'll have a good night next week.
On that start. You know it's going to be long here, but when you show up and it's end to end, what goes through a rider's mind?
Get a good jump! [Laughs] A holeshot is so important because it's so fast. I was pinched off on every start and I think we did like five starts tonight because of the red flags. That was frustrating, and picking through the first turn, it's so slippery. There were a couple really good crashes in the first turn. You definitely want a holeshot on a start like that, but unfortunately for me it was the opposite tonight. But I'm happy to get out of here healthy. Every weekend is a good weekend when you're leaving healthy. I want to be in the championship fight. I'm still in a good position, but I definitely need to move forward, not backward.
Aaron Plessinger is in a pivotal year, as his rookie 450SX season last year was wiped out with an injury. The early returns for his sophomore season haven't been great, but Aaron does feel his final race of the Glendale Triple Crown might have been a step forward. Here's what he had to say after the race.
Aaron Plessinger | 11-9-8 for 9th overall in 450SX
Aaron Plessinger: The first Triple Crown of the year was pretty good. In the first main I was buried about 12th and made my way up to seventh or eighth I believe. Then in the second half I kind of fell apart. I got sketchy in the whoops once and that was it. I struggled in the second half. I came out in the second one and got a really good start and the whoops got me again. I was fast everywhere but the whoops. We'll go back and work on traction in the whoops. In the third main I got another good start and put myself in a good position, which helped me out. I went 11-9-8 for ninth overall. The last main was the best I rode for sure. I stayed straight in the whoops and got them down pretty good almost every lap. I kept [Justin] Brayton behind me! It was a good night. I'm progressing and it's my second top-ten of the year so hopefully we can keep getting them and pull into the top five.
RacerX: Talk about this track a little. It was a fast one.
Aaron Plessinger: It was definitely a fast track, wide open, the fastest track by far this year. Phoenix gets hard like concrete like a lot of the practice tracks do. The whoops break down differently though and it gets tough. You just have to rise to the occasion, it's just man shit. It's gnarly out there. [Laughs] You have to make decisions quick and be on your best game. The track was wild. Wide open, hard, and the roost didn't feel too good. I think it was good track overall.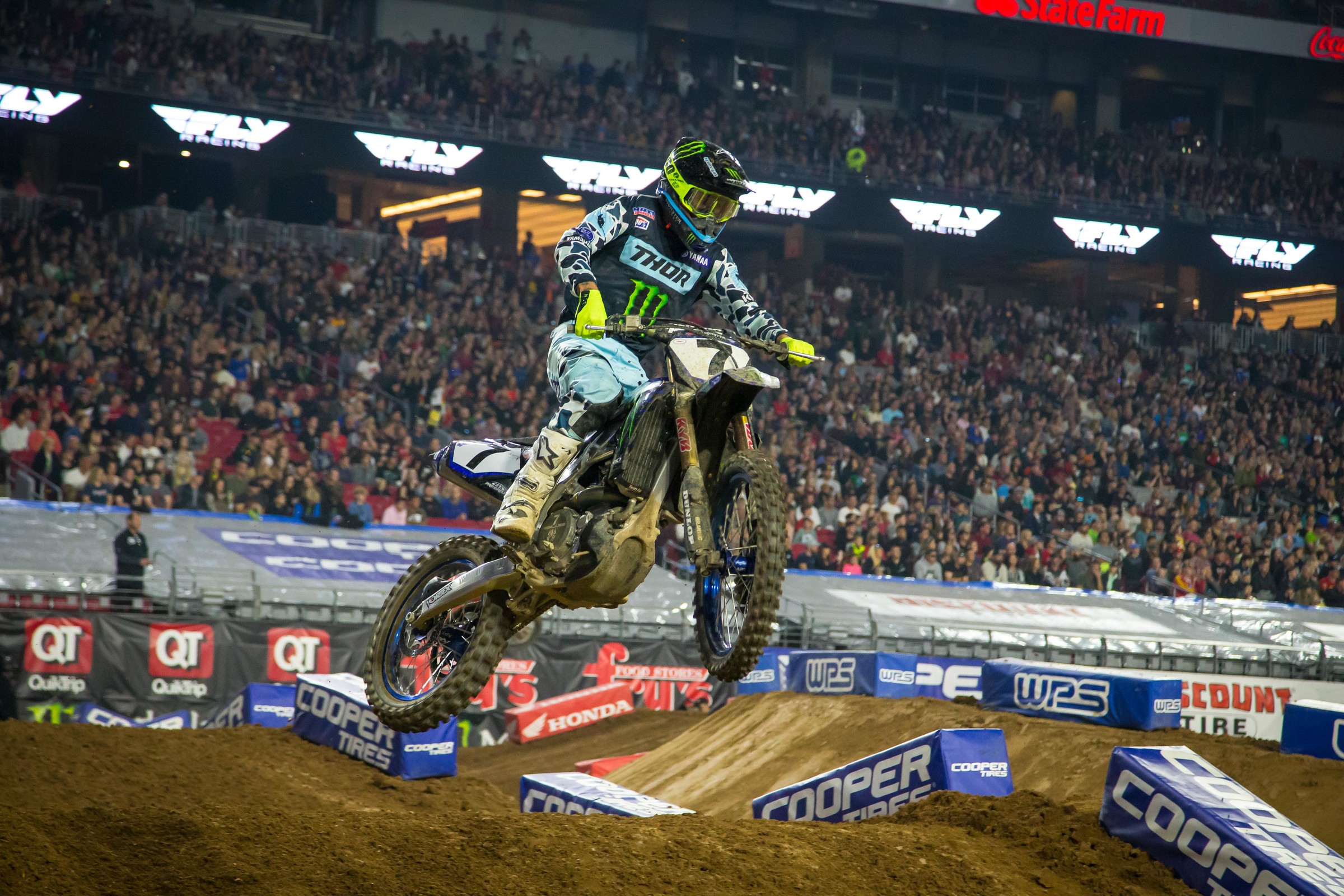 What gear were you in at the end of the start?
I was in fourth! [Laughs] I was just wide open in fourth gear. Shifted twice, leaned back, and said, "Jesus take the wheel." [Laughs] I didn't get the best jumps but I just held it on and held it around that corner and managed to get the step on every time, which helped me a lot.
Next week we're going Oakland, a track known for breaking down and getting rutted up. Of course you have a reputation for being good in that stuff, so are you excited for it?
Definitely. We actually worked on soft stuff this week actually. I guess it was kind of the wrong week to work on it with Phoenix. [Laughs] We got a fat set of whoops and we were just hitting 'em over and over again. We'll be ready for the soft stuff and we'll keep working on getting good starts and putting myself in good positions. I think that'll do me some good.