Monster Energy Yamaha Factory Racing's Justin Barcia has had an eventful off-season as he's been living and training in California preparing for the 2020 Monster Energy AMA Supercross Championship and has raced several of the big off-season races, including the Monster Energy Cup and the Paris Supercross, where he was crowned King of Paris for a third time.
Over the weekend at the Geneva Supercross in Switzerland, Barcia finished 2-2 for third overall to Justin Brayton (3-1 for first overall to become King of Geneva) and Martin Davalos (1-3 for second overall).
Following the racing Saturday night, our Steve Matthes caught up to Barcia to talk about his bike setup that impacted his racing, his winter training program, and more.
Racer X: You went 2-2 on the weekend for third. That's something that would happen to Phil [Nicoletti], by the way. How are you?
Justin Barcia: I'm okay. I've been better, been worse. I'm not letting this bother me, but I was just struggling a little bit.
I was telling you that the starts were good.
My starts kind of came around through the weekend. My riding was really well. I think we had a little issue with our suspension. I don't think, actually, I know [we did]. We got it better.
Better start yesterday. Was it right for the start?
Yeah, it was right on the start and the whoops mostly and a little bit on some jumps and stuff. Then we kind of got it better and then it was weird today. Then we went back to what we were running at home, clicker-wise and stuff like that. I don't think we were ever there. So I think something happened from home to here. We had a fresh suspension built and I think the clickers were in the wrong place.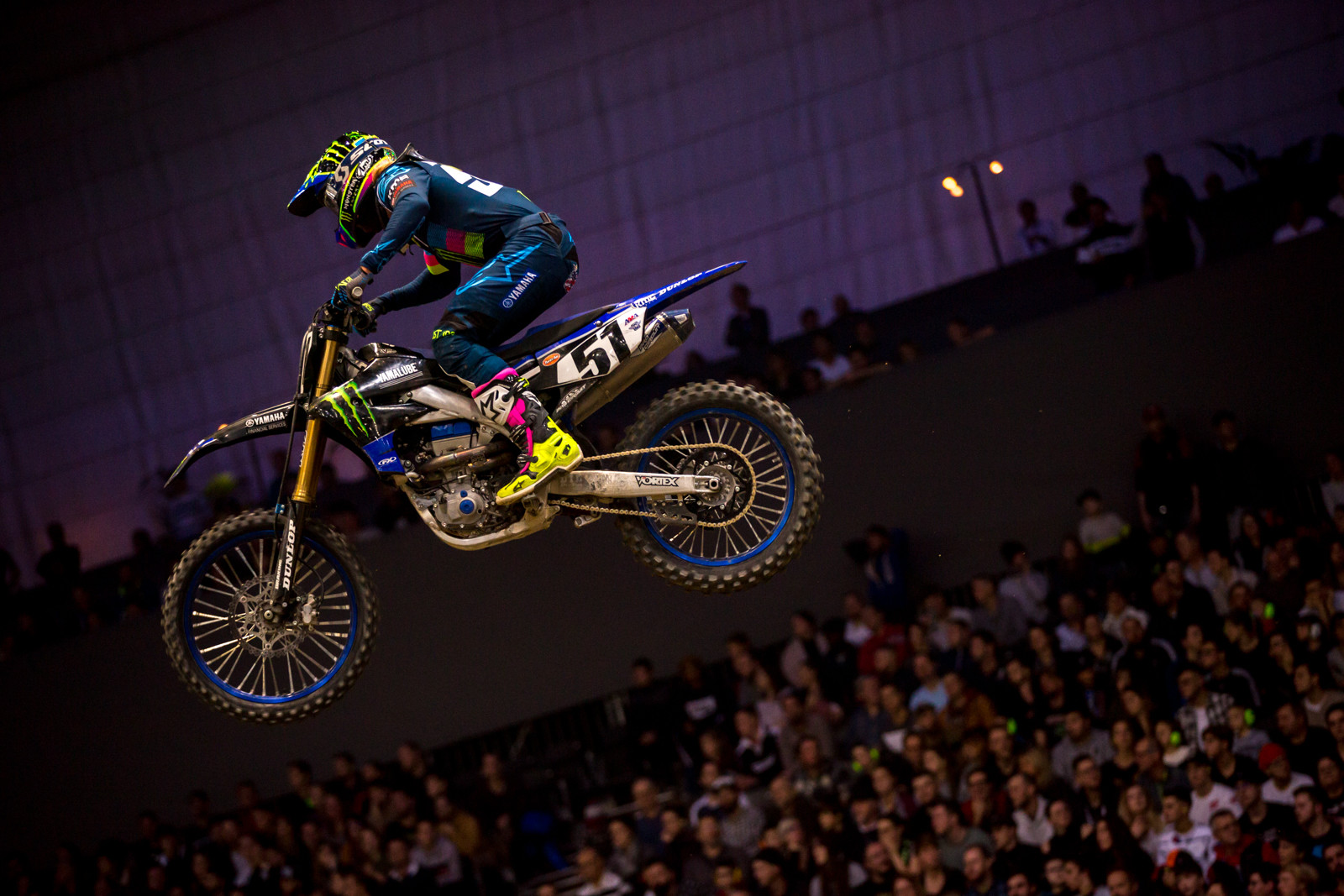 So that affected you?
Yeah, it did. I just struggled in the whoops bad. It shouldn't have been that bad of a struggle. But the last race it worked in the whoops a lot better, so obviously we had a little issue.
But you were going the right way.
Exactly.
Maybe I'm wrong because you said you were off a little bit with the bike, but don't you feel like if you had gotten a start, like Marty, you could have just taken off? Or do you think those guys had you a little bit?
The whoops. I always got my butt kicked in the whoops.
I don't know about that.
Dude, I tell you what. In the heat race, obviously bad start and then someone fell in front of me. I got stuck and fell over. Came from whatever in the pack to second and I was charging to first catching him and I had a few scary moments.
I was wondering about that a little bit. I thought maybe you just checked up.
Well, after. I was like, this is not worth it. I just backed it way down. After that was when I was like, I need to do something for the main. Obviously everything changes when you get a holeshot, so maybe I would have been able to hold off those guys, maybe not. Who knows? Me and JB [Justin Brayton], I feel like we were very similar speed in that main event, but just I didn't have anything else to give. Physically I felt awesome. I feel good, just I was a little uncomfortable.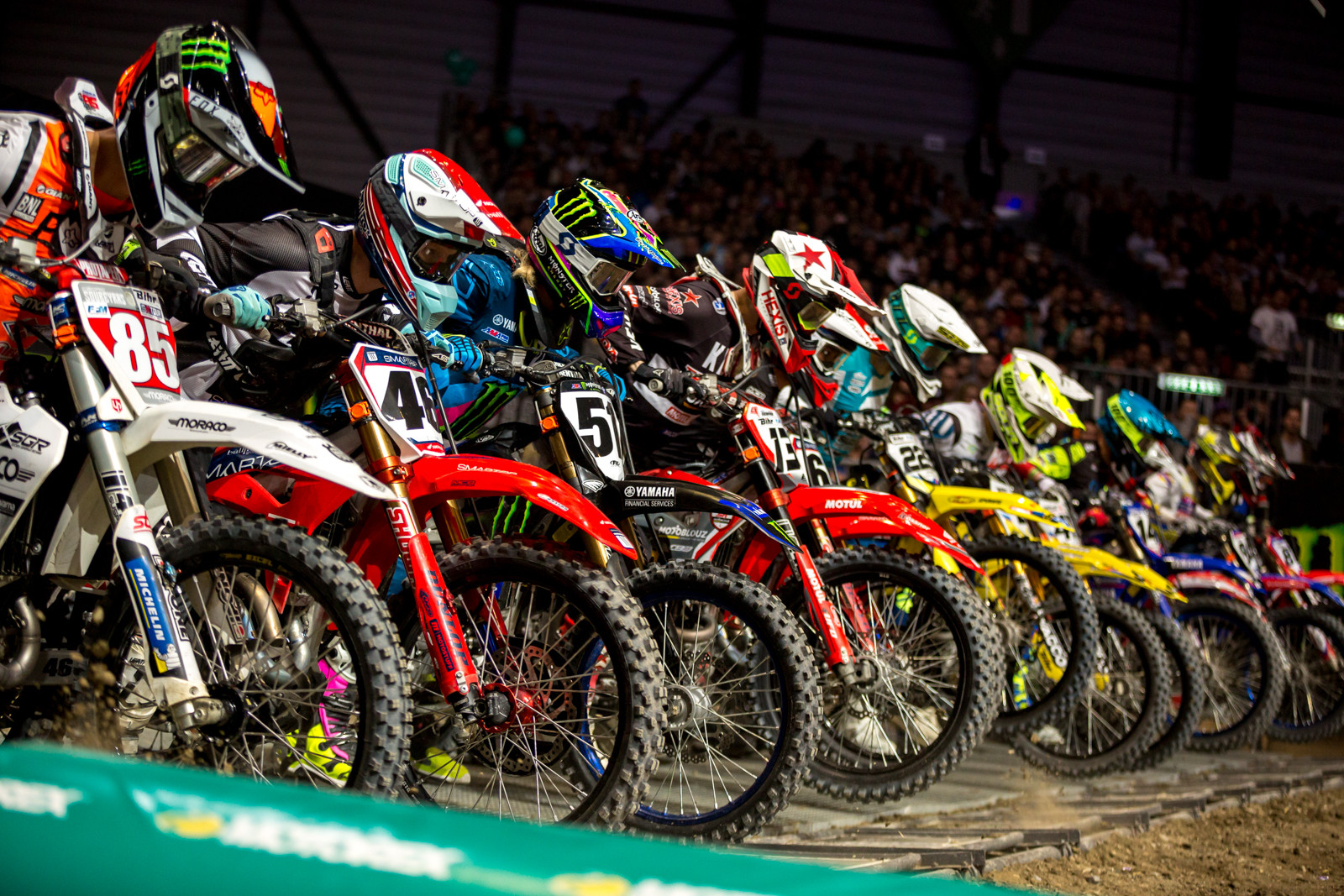 You've gone to this race a bunch. I've gone to this race a bunch. I thought this was the weirdest Geneva track. The start wasn't very good. Dirt was super soft and rutty, which never is that way normally. Just obstacles were weird. It was a different Geneva.
It was a different Geneva. The dirt was not good. The track layout was just not a good race setup. The start was so short, so that was not good. The whoops were brutal. I think everyone would agree with that. It wasn't a great racetrack, but I think when you struggle it's obviously what makes everything way harder. At certain times I felt good, but it wasn't that much fun of a racetrack.
Do you like the duel races?
I always love head-up races, but I got beat in every one except one. I got JB once, I think. It was alright.
Did Marty surprise you?
Marty's always fast. These races are really short. Marty has always been good at ten minutes. Not bagging on him, but I think if he got a holeshot, and Marty's good at holeshots, and he's good in whoops, he's good for ten minutes.
Switching topics a little bit for you. Out in California all winter with the Yamaha guys. How's that been going? How's that change for you?
It's been good. I'd like to say things are changing a little bit, and I do think that. Obviously at Yamaha things have been needing to change. I think a lot of things still need to keep changing. But it's fantastic to have Sergio [Avanto] on board. I'm able to learn some stuff off him, and he's starting to figure out my riding style and stuff like that. I called him a whole bunch this weekend. He was stressing out. He's watching and stuff and he's like, it's tough there and there. We were trying to fix stuff. We're living in our motorhome.
What are you doing living in a motorhome? You're like super loaded. Buy a house.
We are living in our motorhome, but it's not like it's that bad. We're staying at the beach and stuff in Newport. It could be a lot worse. We don't want to live in California. It's like got to this point in my career where we're not going to buy a house in California.
I like that Rocky attitude, though. You're at the beach…
It's not that bad. Our motorhome is nice. We're at the beach and we have our dogs with us. I haven't been home in, like, three months. I haven't seen my parents in ages. So it's difficult but I know what it takes and I'm putting in the work.
It's a big year for you, for sure.
Yeah, it's a big year for me. I want to give myself the best opportunity. Obviously I'd like to go home sometimes, but definitely I'm doing whatever it takes to be as good as I can be, physically, mentally. The team wanted me in California, so I'm giving it my all.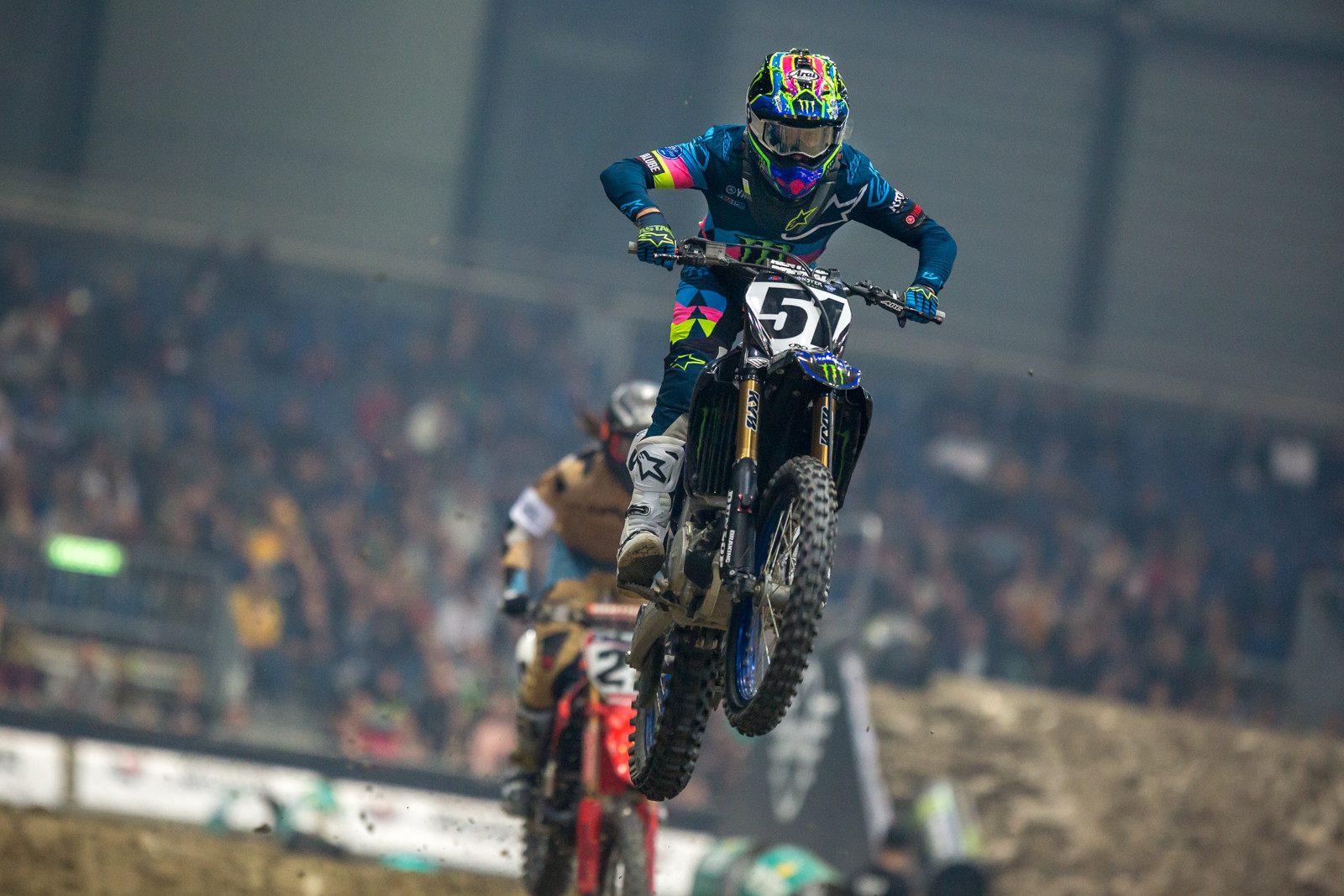 Not the weekend you wanted, but I thought you rode better than you think you rode.
I'm a lot smarter now. I just feel like I'm a more mature rider. I don't ride stupid anymore. I think JB would agree with me. He didn't have to yell at me this weekend. He had to yell at someone else. So that's good. Me and Vince [Friese] barely touched this weekend and it was only because he didn't see me and I came up the inside. It's cool. The two overseas races were awesome racing. Didn't T-bone anyone. That's great. I'm just trying to focus on myself. I love block pass racing. I love all that stuff. I'm a new—not even a new man, just maturing and enjoying the ride.
I've got to say, it's good but it's bad for us because sometimes you're very entertaining.
Don't worry. I'm sure there will be flashes. There will be flashes of Bam Bam. Everyone likes that name. It's cool. I still got that stuff.
One thing about you, even when you were ultimate Bam Bam, you owned it. You always owned it.
Yeah. If I smash someone—I got my eyes fixed now. I was blind for a while. Tried to use that as an excuse, but just as a joke. It's all fun. I've obviously done some moves that I wish I wouldn't have done, but I've moved forward from all that. I feel like it's going to be a fantastic year. I hope we keep improving and just have fun.
---
Main Image: Jey Crunch