It was a good weekend of racing in Geneva, Switzerland, this past weekend and Honda HRC's Justin Brayton came out on top in night two with the win to take the King of Geneva crown for the sixth time. I was there this weekend and although I was impressed with Martin Davalos' rides, in the end it was Brayton who came through after "we" crashed while leading night two main event.
I caught up to a bunch of the guys on the live post race show we did from the pits and this is Brayton's conversation transcribed for you.
Racer X: We were impressive this weekend. ("We" meaning Martin Davalos)
Justin Brayton: You know what I think it was? And Lars [Lindstrom] can probably attest. You should have never touched this bike.
Yes, I got a radiator cap from you guys for Marty, because we were losing coolant. Did you jack with the radiator cap? Did anything happen, Lars?
Lars Lindstrom: We put a curse on that thing.
Alright. I was thinking it was a transfer of power of some sort. When you pulled that move on us [Martin Davalos] in the duel race, that was dirty. You sent us off the track in the duel race! In our brains, we're like, we're rattled.
Brayton: I transferred power back to me right there.
I can't believe Marty washed the front end. He's barely ever done that. He rode well, but congratulations.
He rode awesome all weekend. He surprised me. What [Justin] Barcia was just saying, the guy is always fast. I feel like just because he hasn't been in the 450 class we've always kind of overlooked him. He probably should be a couple time 250 champ. The guy is legit. So we shouldn't be surprised, but we all are.
He was nailing the starts. That first turn, as we talked about, wasn't the fairest. So he was able to double in and get that gap on you. It was going to happen again. It was.
We had a strategy. We can't let you in on that. But Lars and I and Duff, and [John] Knowles [Scott goggles] was on our side too, actually.
It was a good race. Barcia got close, but lappers were a factor, right?
Lappers were so bad.
I don't know if you knew how close he got to you.
I was kind of seeing where he was. With about three to go… It was weird. I would catch them in packs. I would never just catch one of them that I could go by them right away. I would catch three or four guys at the same time and then I knew I had a pretty big gap. I'm like, I have some time here. I can just double through and take my time. Then with one to go I was like, I need to put a good lap together this last one.
The rhythm section, you went long again on it.
I went short a few times this weekend. I went long a few times.
Six times, man. King of Geneva again. Track was better today.
They really flattened the whoops for the main. They totally flattened them.
It got drier though, right? Or no?
The turns kind of did. The rhythms were so rutty. They would even fix them sometimes, and then right away just really, really rutty.
What do you think about Brayton coming back on the team, Lars?
LL: I'm super excited.
You don't really see that too often. Not too many guys circle back through Honda.
LL: I just had left, too, so I never got to work with him when he was on the team [in 2012]. Even though I had been around him and known him for a long time, now we get to finally hang out and get to know each other a little better. It's pretty exciting to have him. He's got a lot of knowledge, so I think he can help with the other guys on our team as well.
I think a great thing is he's on Showa stuff, like Ken. Last year he was on KYB. Ken we know has had some suspension, I don't want to say issues because that makes it sound bigger than what it is, but I think Justin can be like, "Dude, this is what it's doing. This is what I experience." I think that can help. Just have another guy with the same bike and the same suspension and maybe help Kenny out if he's having issues.
LL: For sure. Their style and their setup is pretty different, so I don't think that we're going to be taking any settings off of Justin's bike and putting them on Kenny's, and vice versa. But there's definitely components and things that they might do that will definitely work in the favor for both of us.
We were talking about Kenny's riding style. Just fourth gear, barely on the gas, just rolling around. He's just so fast.
LL: Doesn't even go wide open down the straightaway. How can you go fast? It's mind-boggling.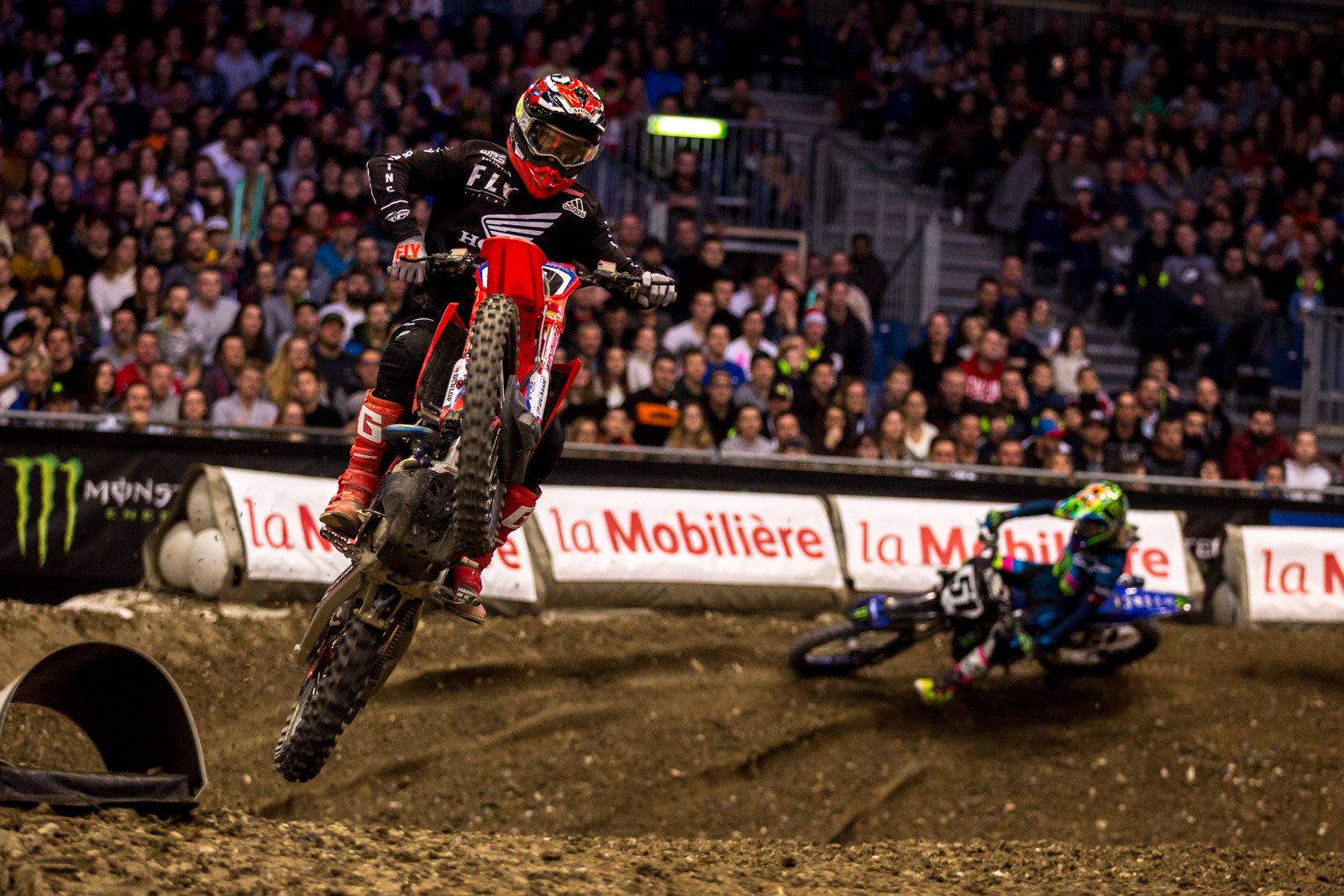 I just think he keeps going. He never brakes. He keeps the momentum or whatever it is. Motocross style from Europe, or I don't know what it is. When you ride like that too, your bike is working better. Your chassis is working better. You're not in the upper RPM's. Things aren't going crazy. So he's definitely got that down.
LL: Yeah. Actually, on the supercross track this week there was a three out of a turn that you do first onto that tabletop, and it's a first gear thing that you and Shorty and Jeremy and those guys all did in first gear, no problem. But Kenny just never does first gear. Actually neither does Cole, but he's still doing second gear. It's like, how do you do it?
JB: I don't know if I'd make it in second. That's just how much turn speed he has. He just does it in second no problem.
JB: Yeah. And I'm on the same bike. That's what crazy. I rode with him a good bit because with MCR, we're at the Honda track. But now I'm on basically the exact same bike. I'm like, dude. It makes me appreciate him even more, his riding style and how it is. It's really good for me to be at the track with him. It's only going to help us both to be riding together. Then the suspension thing, we are quite a bit different but I think where we can lean on each other is just the track. Like, "I'm feeling this on the track." "Yeah, I was feeling that." So maybe that's why I'm getting a kick or this or that. I'm excited to work with him. He's been super cool. Then with Chase [Sexton] coming on board for motocross, it will be fun to see his progress.
Absolutely. Going back to Geneva here, six times. Do you have a favorite one? Is there one that comes to mind?
JB: This one is by far my favorite. I think 2012 because I had just signed with Factory Honda. That year there was quite a few good guys coming here. I just had this mindset of, I'm on a Honda. I had never really done proper warmups and stuff here because I'm like, it's just kind of whatever. That year I did a proper warmup. I was like, I want to win everything. I was fastest in every practice, every heat and every main. There was a lot of pressure on me to come here and do that because I wanted to go home and the guys would be like, "Yeah, man. That's why we signed him." So, that was my favorite one because it was kind of a relief, too. I was stoked I won, but it was also like, that was good. Last year was cool because me and Marv were tied with four, so it was cool to do five. They're all cool. Each and every one of them is really cool. It's crazy I've won six times. It just doesn't make any sense.
---
Main Image: Jey Crunch