Over the weekend, Justin Barcia (3-2-1-4-2-3 for 15 total points) bested Malcolm Stewart (9-1-5-3-1-1 for 20 total points) and Dylan Ferrandis (1-5-8-6-4-2 for 26 points) to take his third King of Paris title, as he was crowned King of Paris twice on Hondas ('10 and '13).
Afterwards, Matthes caught up to his fellow Blu Cru member to talk about his weekend.

Racer X: I think this is three King of Bercy titles for you now. Good job this weekend. It wouldn't be the complete Justin Barcia experience without maybe taking down, pissing off some Frenchman? I thought it was fine. I thought the pass was fine, but when a guy goes down, then people are going to get upset.
Justin Barcia: Yeah, for sure. Sucked that he went down. But he took out some guys this weekend, so it's all good.
Savatgy is probably fine with it.
Savatgy, Hill… I think everyone's probably all right with it. It was a good race. No one fought this weekend, so that was cool.
It was intense all the races, except for that last one. Kind of boring. But other than that, you guys were going back and forth. You and Mookie swapped spots on the last lap twice over the weekend. It's been a good weekend.
Me and Mookie had some really good racing this weekend, so I think Geneva will be exciting for sure. It was a great race. The track was actually pretty much American spec jump-wise, but obviously it's small. It's like 40-second lap times for 20-plus laps. It's quite boring, but the racing was always close pretty much the whole weekend. Pretty exciting stuff.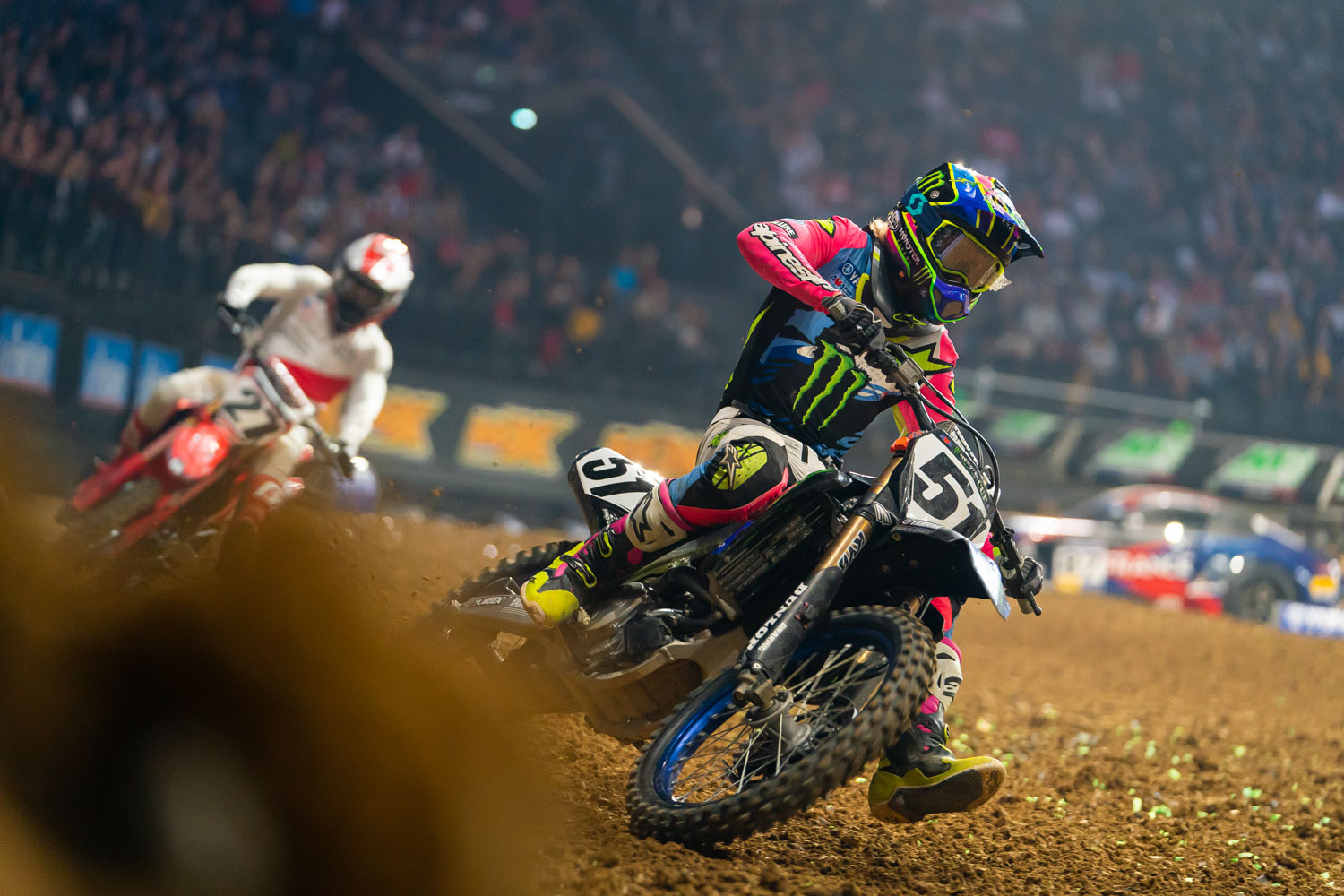 The fact that you won, obviously you're an elite guy. You're one of the favorites coming in here, but your starts were not that good all weekend. They were okay. Then you had to earn this thing. You had to really pass some guys.
Yeah, for sure. I've been putting in a lot of work on my starts and we still got a lot of work to do. It was good to come here and see where we're at. In the beginning of the weekend I wasn't quite in the fight at all in starts, and then towards the end of the weekend I was in the fight more. But I need to be better on my starts. Got some work to do on the bike as well, so all in all it was a good little test to see where we're at. I want to say thank you to Yamaha France for all the support this weekend. It was really cool of them, and obviously Monster. Saw Knowles out here with Scott, which was cool.
He just needed the air miles. Don't let him tell you that he did it out of the kindness of his heart.
He brought me goggles. I'm happy. It's good to see him here. Obviously Alpinestars always sends a guy out here, so all my sponsors were hooking up.
Normally a guy like you ships the bike. This weekend you had more of a production-based bike, and we were talking yesterday. You like it.
Yeah, for sure. American Yamaha didn't really have any interest in this race so much, so I didn't want to spend seven grand on shipping a bike. But at the same time, right now at home I'm riding stock engine, so it didn't make sense necessarily to ship a bike. Obviously there's a few more things on here than usual, but I'm quite happy with how the bike is on the track power-wise. I do think I probably could use some power in certain areas, but I know the boys at home are already working on different stuff. It was fun to ride the stock bike. I feel like I can ride it quite hard and ride it like myself a little bit, just rev the shit out of it. But I'm getting better at shifting a little, so that's good.
I just took a stock bike with just an exhaust to a 14-9 finish in 45 B class in Glen Helen, so I'm well aware of the stock potential of Yamaha.
It's got potential, man. I think Mookie was on quite a good, normal bike. Mookie was really fast in the whoops this weekend.
He was crushing it.
He's always been. The Stewart boys are good in the whoops. Got a few things to work on when we get home, but all in all it was good. I'm happy with the outcome. Would have liked to get a few more wins and better starts.
You had to know you kind of had it in the bag that last main event. You were pushing to get Martin. You probably didn't even need him, but were you kind of doing that math?
I think I could have finished seventh. But I pushed hard in the beginning and then once I got a clear track behind Malcolm and Dylan, I pushed but it wasn't really happening. The track did get quite gnarly, so I just kind of got into my race and rode my race and whatever happened kind of happened. I kept near the same. They were going a little quicker. I was good on clutches this weekend, which was crazy. One clutch yesterday and one clutch today.
That sounds pretty good.
It was good, but I fried my clutch a little the last main event, so that didn't help that much. Usually these races, you ask past mechanics, I would do probably four or five clutches in a weekend.
So we're learning.
Yeah. Things are coming around. Back to the basics. Fixing the technique and fixing the motorcycle. It's cool.
This race, you've won it two or three times. You have given some tremendous highlights of this race over the years as a guy watching them for every one, so thanks for that. What does it mean to you, this race?
To me it means a lot. It's a special race. USA won the overall again this year. There's a few French on there, but there's a lot of USA. So it's cool, man. It feels good. Obviously, it doesn't feel like at home win, but it feels good. I love Paris. I love coming here. I haven't been here in two years, so it's nice to be brought back. I hope to come back next year and win again.