Over the weekend, Chad Reed returned to the Paris Supercross for the first time in several years. The 2007 King of Paris finished 15th at this year's event, leaving banged up from a get off in the second-to-last race of the weekend, which left him unable to start the last race. But Reed left Paris healthy and will continue to check off his off-season races with his Mountain Motorsports supported effort, as he posted to Instagram earlier that he's landed in Auckland, New Zealand, for this weekend's S-X Open Auckland.
Reed has had limited seat time since the 2019 Monster Energy AMA Supercross Championship as he's had to recover from his season-ending injury and he's also spent some time behind the wheel racing Lamborghinis. When the 2020 supercross championship kicks off on January 4, Reed could line up for his 250th main event start. As you'll read below, he told our Steve Matthes post-race that 2020 A1 is in the plans. Check out what else he had to say.
Racer X: Today didn't go very well. Was it a body issue or a bike problem for not starting the last main?
Chad Reed: Body. Unfortunately, body.
You went down off the start, second main, in that rhythm.
Yeah. Man, it was freaking just the same as Seattle, just instead of a right-hand turn it was a left-hand turn. Seattle was my fault. Obviously, I was way more beat up. It's always easy to be like, "That was stupid." I paid the ultimate price, leaving in an ambulance. This one was just kind of a racing move, to be honest. I watched it on the video and even in the moment, I don't know that I could have done anything better or worse or anyone around me. The outside was coming from right to left, and the inside from left to right. Then I was perfectly in the middle. We had Friese and Hill on the outside, and then I was in the middle, and Mookie on the inside. So I just unfortunately found myself in the wrong place at the wrong time. Mookie tagged me. We collided. I think he just had momentum on his side. I was kind of coming from a little bit more going straight, where he was coming inside out. That momentum just offset me and it pretty much was all I could do to regather it up. Right as I was regathering it up, Bam Bam [Justin Barcia] got me. In the video, it's a terrible angle. It's from behind and you can't really see what happened. There wasn't a huge like, "Oh, he hit me." But he somehow grabbed me and literally ripped me off the bike and threw me out onto the flat. So, really strange, to be honest. Kind of feeling pretty beat up, but thankful that it's not worse.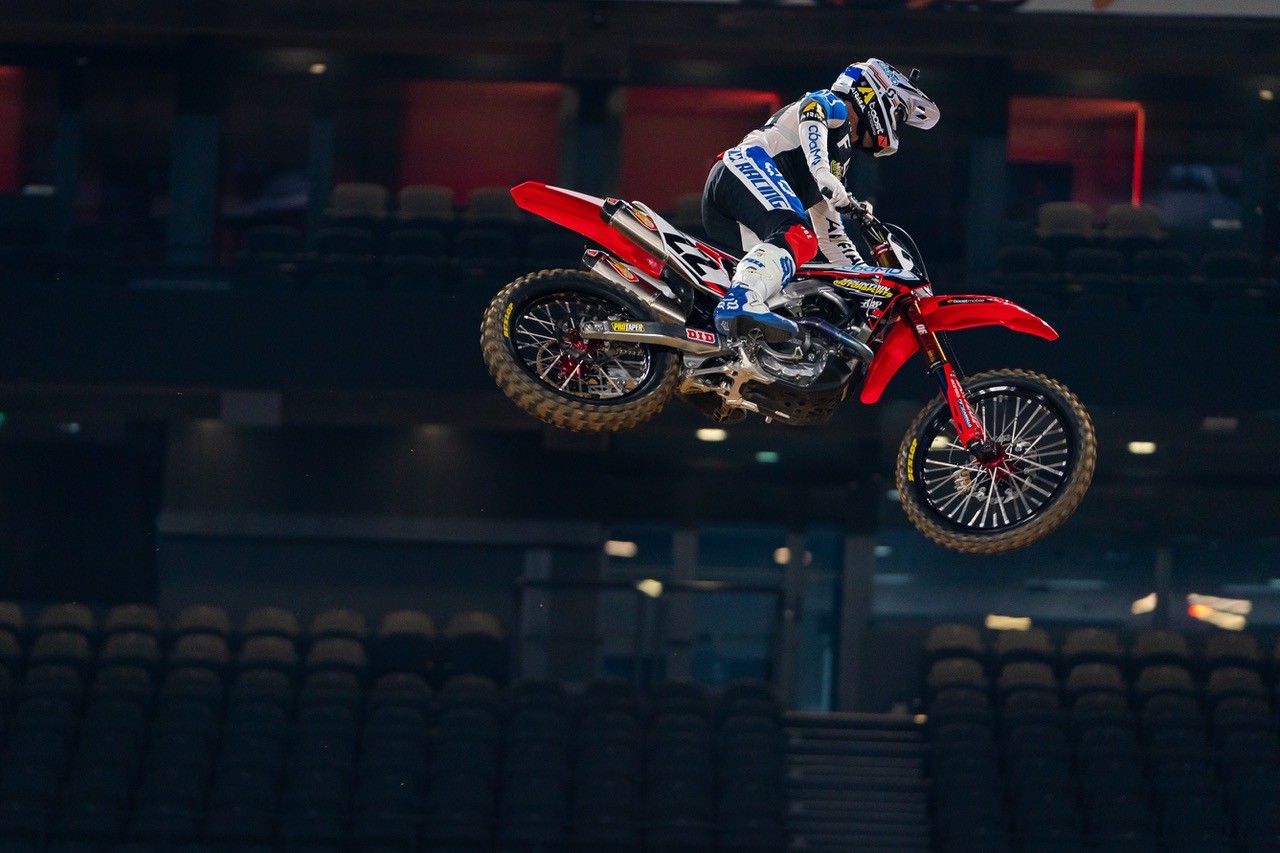 You came in. We were joking yesterday about your lack of prep for this one. You hadn't ridden a ton. So all in all, your starts were terrible, by the way. How'd you feel?
Yeah, starts are terrible. It's definitely probably the biggest thing on my mind right now, is how do we figure that out. I have some ideas, I think.
Number six [Jeremy Martin] was really good over here. His starts were money.
Yeah. I just walked away from finding out what he's doing clutch-wise. I think we need to make some changes with the clutch. I think that that will give me a smoother feel. It was really aggressive. I come from the old days of when there was no spring pressure and Yamaha slips a lot, so that's kind of where I learned the majority of my career there. So then I've always had to kind of go that direction, which is terrible for clutch wear and longevity.
I've heard the grate is different over here than America. That must affect things, too.
Yeah. The beginning of the weekend I was kind of like, we had some internal issues that were going on a little bit, but the grate is really aggressive. So then it's kind of like, okay, the grate is whatever. Maybe it's not ideal. But giving it more thought, I think we need to change it up a little bit, or at least try it. I think all in all, like you said, I didn't have the ideal prep time, but I don't feel like that's an excuse. That's just facts. That's just you can't sit here and wish it was one way or another. I'm a world Lamborghini champion, man. So you got to take the good with the bad. I've given up some moto time to achieve what I set out for myself in the summertime with the Lamborghini stuff. I had a freaking awesome weekend.
You've never been here at this arena, right?
No. Don't you think we should be here for world supercross?
Yeah, sure. Why not? They want to do it. I think we're going to Saudi Arabia or something.
Sounds amazing. I just think that an amazing stadium, French fans are always passionate. When you come to venues like this and the dirt's good, when you have that combination it's kind of like you wish that there really is bigger and better things for supercross and it would be awesome to see everybody here.
It would be cool. It's definitely cool. The worst thing is the pits being next to the track, but other than that it's fine. Fans seem to dig you being here. I was noticing the applause. I came by your pits. Fans were deep into it. I think they were cool to see Chad Reed back again. It's been 12 years or something.
For sure. Obviously, it was a busy weekend. I had a good, solid flow like always. I was probably the second most popular guy here. It's tough to compete with the French in France.
Maybe DV [David Vuillemin] was number two.
Maybe I was four because [Jean-Michel] Bayle was here, too. So I made top five. I generally was really excited about what we're taking away from here, to be honest with you. Bike was good. I was a little nervous about the Euro fuel, but in all honestly, I think the thing ran better.
Jace Owen was saying his bike didn't feel the same with the Euro fuel or whatever they were using. We've had some fun at this race over the years. You've had a lot of fun at this race over the years. It's iconic. It's the jewel of the off-season stuff. I tweeted today I first saw you here in '01. I was working for Nick. You took down Jeremy [McGrath], then he walked all across the pits to come talk to you and we were all watching.
Not only did he walk, he climbed the bicycle fence thing.
We were all watching it.
Literally the whole American pit and the Euros, and here comes my hero, literally so pissed off at me. He's ready to go rip my head off. I just looked at him. Whatever he said, I was just like, "Yes. I'm sorry."
Honestly, I remember, I was standing in the mechanics area. He was holding you up. You were going forward. I think you were just like, I can't deal with this guy. He's got to go down. We were like, who is this guy? To me, that's the first thing I think of when I think of Chad Reed.
Yeah. I think that my perspective was obviously I was trying to go forward. I definitely went in there for an aggressive block pass, and Jeremy, I think he was so used to no one really being that aggressive with him.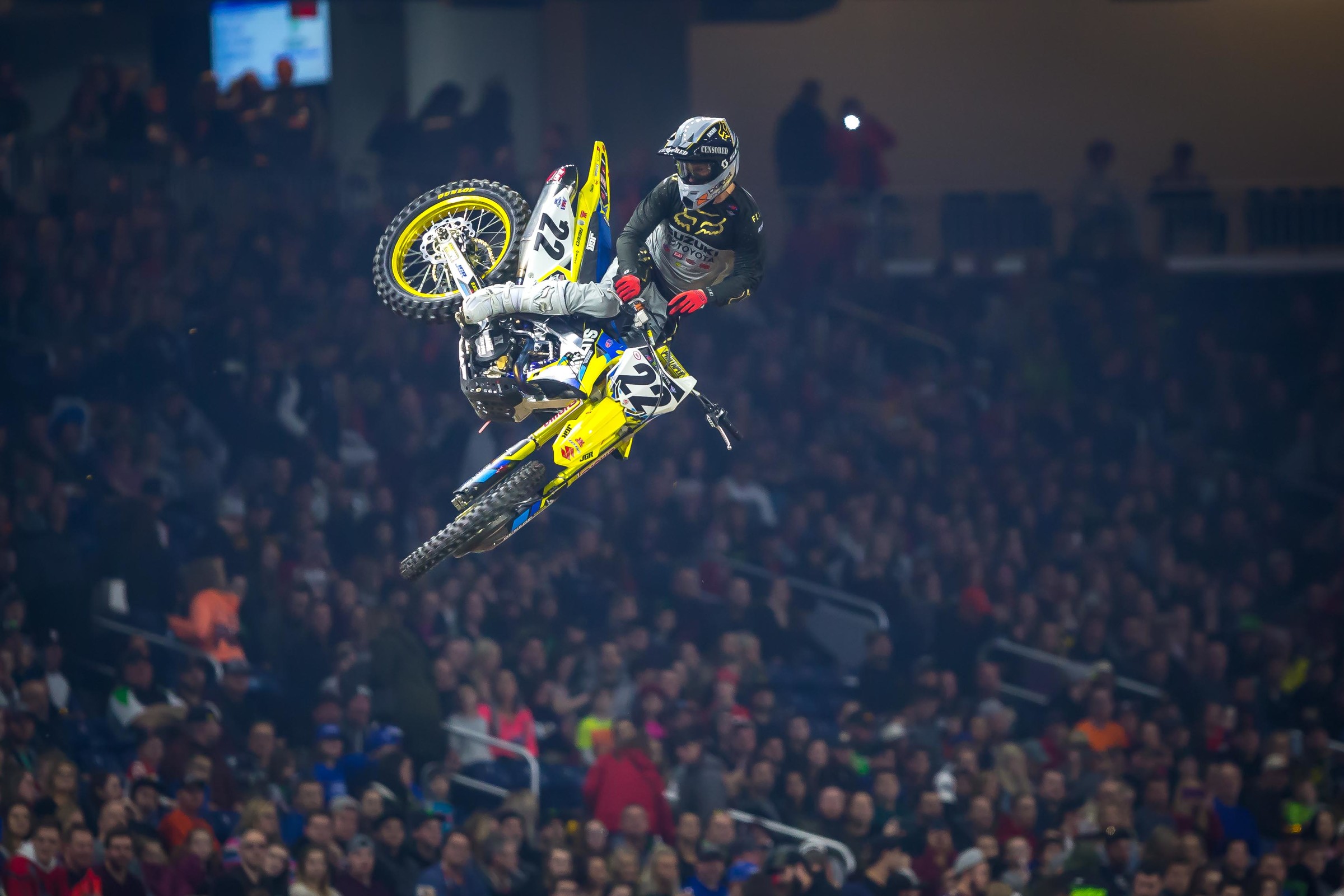 He's the King, bro.
Maybe I'm the first… Well, maybe Ricky [Carmichael] before me, but then I was like the second coming of that, somebody who was willing to go in there and make a pass. So everybody I think a long time had just, "Oh, it's Jeremy. Try to figure a way around." Or not even the fact that he never really had people on him. He just turned down, and I didn't expect him to turn down like he did. I cleaned his ass out. It was scary.
We're like, who the f*** is this Aussie guy? What does he think he's doing? F*** him. He took down the King!
Yeah. That was one thing, and then two weeks later when I finally flew straight from here to the US, and then we were at the Yamaha track and I was out. I remember there was a rhythm on the track and it needed some shovel work. I grabbed the shovel and was helping him. Basically here I am, a 19-year-old kid, and I'm like, "Hey, man. I'm so sorry." We've been tight ever since. I remember even Skip came over at that point. It was kind of like Skip was the mediator. We weren't blowing up, but…
Oscar was there?
No, this was pre-Oscar. This was YOT.
But Oscar was at Bercy with you?
Oscar was at Bercy, yes. So, a lot has happened since way back then, and we're still here. Who knows? Maybe it's my last, maybe it's not. I generally love these events. I would like to, maybe if I pull back and I don't race full-time, but it would be fun to do some of this. My goal is to not become fully just where I go away. I do enjoy racing a dirt bike and I do enjoy working out and challenging yourself. That's generally something that I would like to try to hold onto.
Two more races for you, New Zealand and Australia coming up. Then we'll see.
New Zealand next weekend, so it's going to be interesting. I feel pretty beat up right now. I'm a little bit nervous because I landed pretty hard and I have a feeling that I might have got one of my ribs again. Ribs don't feel good. Anyway, we'll rest up. I got 20-something hours of flying tomorrow. In my opinion, this is always the highest, most prestige race, and it's even higher now with this venue. But Australia and New Zealand have equaled that in my opinion. I think the off-season races, I think that this race and Australia and New Zealand is way more important to me than Monster Cup. Monster Cup is not really a supercross. I feel like all the things I learned and felt this weekend are fully relatable to what you're going to feel at Anaheim.
It was a deep field. It was competitive. It was guys going at it. I'm going to write this when I write about this race. It was one of the better Paris/Bercy's I've been to.
Yeah. The pace was high. I felt like the track was probably the gnarliest in the qualifying practice yesterday morning. Whoops were really tough. In those conditions, I generally felt pretty competitive. I think I was less than a second off of the top. I was fourth overall. So I think you got to look for the positives when there's not a lot on paper. I just think that it was a good experience for me.
What's the percent we see you on the line at A1?
I would like to say I'm confident that I'll be there.
That's not a percent though, confidence. Ninety-two percent, in honor of AC?
You're not going to like this, but I'm going to say 50/50. I really do think at this point it could go either way. I feel good with the people that I've got around me and the people that are working for me. I think everybody at Mountain Motorsports generally are excited to try to figure something out. Ryan and Justin are working really, really hard. I do have confidence in them. If it doesn't happen, it won't be for a lack of trying. So I'll say 50/50. You're asking me about Anaheim, which Anaheim is easy to make it.
True, I guess I meant more the series.
I think the series is a genuine 50/50. Anaheim, I don't have a question in my mind…
Because that's your 250 start.
It will be start number 250. If you're going to do start number 250, why not do it at Anaheim? So I think no matter what, I'll be at Anaheim.