Over the weekend, we had the opportunity to watch Jeremy Martin line up for a gate drop for the second time since his back injury a year and a half ago. Martin made his return to racing for the first time at the Monster Energy Cup in October and, like at Monster Cup, showed solid starts and great speed at the Paris Supercross Saturday and Sunday. He won the first heat on Sunday and his 4-3-14-1-3-4 scores for 29 points total landed him fourth overall in the King of Paris standings.
While Martin raced a CRF450R again in Paris, he is still expected to race the 250SX East Region of Monster Energy AMA Supercross Championship come February.
Following the race, Matthes caught up with Martin to talk about his weekend.
Racer X: Good job this weekend. Late notice again to race. Your starts were on point. A little bit of arm pump like we talked about at dinner. I think you got to be overall pretty stoked on your weekend.
Jeremy Martin: Yeah, absolutely. I don't know if I've ever got that many consistently good starts in supercross in my life, which is crazy. I felt like, dude, what's the deal here?
Even Monster Cup two out of three were good.
Yeah. Really, really good. So all in all, I had really good speed. When the track was really smooth, I could push really hard. I felt like I had the top guys' speed. Wouldn't you agree?
Yeah, I think you were real close, in the same second. Maybe a couple tenths off, but close.
But when the track got rough I could push pretty good for three or four laps, but then when you settle in, I just was fighting my setting. The rideability for when you're smooth, fast, it wasn't quite there.
It was good for you, like we talked at lunch, just gate drops are such a big deal for you now at this point. Monster Cup, this thing, it really all matters.
Yeah, absolutely. At Monster Cup I pulled the holeshot in that second moto and I was like on vacation. Ripped the turn out wide and Friese got me. I was a lot more protected today on stuff and trying to be smart and be conscious. Obviously I'm not the best guy at opening up, so you got to protect your insides.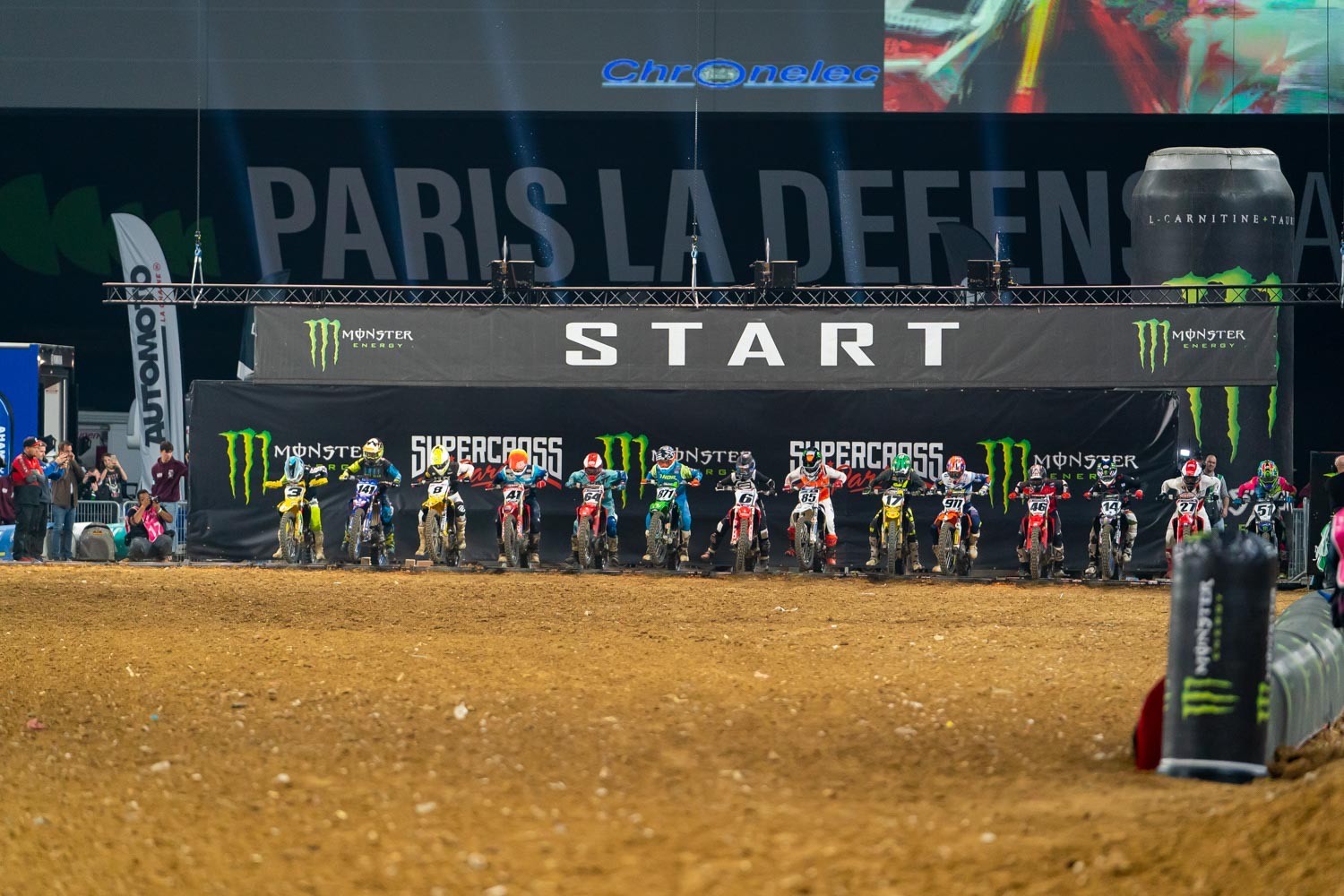 At times, there was this huge battle behind you. You had gotten a good start and there were three guys just going at it behind you.
For sure. I could just see these guys. I'm like, dude, I don't want to be near you guys.
Like Barcia and Friese.
Bam Bam came up on me. I knew that those guys, they caught me for a reason. My biggest thing was I put myself in a great position. I wasn't going to jack with Bam Bam.
I think the one he came in on you, the turn after the whoops, that's why you jacked the whoop up. You were like, "Oh, it's Bam Bam."
For sure, a hundred percent. I just said, "Just take it, dude. I ain't going to fight you." If I could win, great, but it's not going that way, and I'm just fighting.
But even getting that one win in, it's a shorter race but it's got to feel good.
Yeah. No dirt bike for a year and a half, and I was in a bad spot. To get that win, I know I fist-pumped. Pairs is rad, but it's not like in the States.
I think it counts and it matters, for a guy like you. That's a big deal.
To me, it was a big deal. A lot of bad shit that I went through. Just to get here to the line is huge.
A lot of laps this weekend, man.
Awesome. It's good. Honestly, it's good. It reminds me of when I'm pounding out turn tracks or something, repetitiveness.
I don't know if I should ask you this, but when do we stop asking about how your back feels?
I thought about that. But honestly, some people say, I want to bury it. I don't want to think about it. But to me, it was a part of life. Unfortunately, I didn't think I'd ever break my back, but it happened. Guess what? Nobody gives a shit anymore, honestly.
Does the media need to stop asking you about it?
If they want to talk about it, great. But for me, I've allowed it. You can either look at it like it happened and you're scared, but I allowed it to callous my mind. I had two options: either let it beat me, or I look in the mirror at myself and f****** beat it. I choose to move forward and just say, "Hey, it's life."
You look like the same guy to me on the bike. I'm kind of watching you. It's been a year and a half, and at Monster Cup and here, you look like the same guy to me.
I appreciate that. I don't do anything that's always really super like, "Wow! Holy crap!" I'm just solid.
You're neutral on the bike, neutral body position, but it looks the same.
Yeah.
Good to see you back again. This will be it before you decide whichever coast you're going to ride?
Yeah, this is it for off-season races. I got to get back on the 250 and focus on getting a good setup and putting time in on that beast.
I think you were the most impressive rider this weekend for me as far as going in, and then what you did on the track. I think that was pretty impressive.
Yeah, for sure. First night starts were really good, but I just wasn't quite like the race craft, protecting insides. Made some mistakes. I'd say tonight was definitely consistently better. I guess I got second overall today, but four total. Had I not had that 14th in that last main in the first night, I think I would have been third overall total.