You've probably watched Toyota's Makeup 2 Mud program during intermission of the live NBCSN broadcasts of Monster Energy AMA Supercross. You may or may not like these segments of the show, but there's something you must consider: Toyota could invest sponsorship money by showing giant infomercials for trucks. Instead, it invests in videos to expose the stories of female riders, with the goal of inspiring more girls to ride. That's good for the sport. Further, Toyota, in combination with Feld Entertainment, hosts Camp Makeup 2 Mud at Cycle Ranch in Texas. The weekend-long event encourages new riders to try motorcycles, and also encourages experienced female riders to hang out.
Feld asked Racer X to send a rider to the camp this year, so we nominated Melanie Marra, who works at our office. Mel's not a noob, she's been racing since age 5. She sure had fun riding at this event, though!
Racer X: Toyota's Makeup 2 Mud campaign held a riding weekend in Texas, and Feld asked us if we had any females in the office that could go ride. Luckily, we have two! We have twins that both ride, and luckily you were available at the last second and you were able to go. What was this experience like? You got to go to Texas for two days?
Melanie Marra: Yeah. We got in late Friday. We had a problem with our flight. But it was a blast. Just entering the facility, it was super cool. The whole weekend was amazing!
Had you ever flown somewhere to ride before?
No, never. Me and my dad were going through the airport, gear bags packed. That was a first for us!
I know you grew up riding, but how much riding had you been doing lately?
Not a lot lately because injuries and whatnot. I have been riding my dual sport bike so I got that to get my fix in.
Weren't you mountain bike racing for a while?
Yup!
Is that still going?
Nope!
So you were not at max level preparation for this?
[Laughs] No!
So the idea of this event is to try to get new female riders, I think, to participate. That's not really the case for you. You've been riding since PW days?
Since I was five, on a 50.
Then you and your twin sister Jessica waged war every weekend your entire life?
Pretty much! We were usually the only two girls racing locally, too, at least in the younger days. We didn't see other girls really start coming in until we were probably on 85s. Well, they were 80s back then! Maybe one or two on a 60, but really not until we got on 80's did we ever see any other girls racing.
At age five, did you even realize you were the only two girls out there? Or did you just go riding and just go to the track and race?
No, we just rode because my parents told us to! [Laughs]
Were there blood-feud battles with you and your sister?
Absolutely! [Laughs] As we got older where we started to actually get competitive, so probably once we were in our teens, then oh, man. My parents didn't want to walk back to our pit after some of the motos. We literally have had fights, like throwing our helmets at each other. Jessica one time, I was so mad at her because she beat me and I walked over. She was sitting on the trailer. I was like, "Oh, you think you're cool, don't you?" And I yanked her hair! She literally came up and picked me up and slammed me down on the ground. She body-slammed me!
What would your parents do when this happened?
They had to just let us cool off!
[Note: We later asked Mel's twin sister Jessica about this body slamming incident. Jessica said "Oh yeah! I don't even know what came over me that day. It was like I had super-human strength and I just picked her up and body slammed her right there in the pits!"]
Did people eventually know this? Would people be like, oh no. The twins are battling. This is going to get gnarly in the pits. Did you know this or were you in your own little world?
I don't know. Some people had to. I really didn't know!
So you raced every weekend?
Yup, every weekend, through my adult years. Jess and I attended Loretta's quite a few times. My last Loretta's I think was '95, so I 17 then. We continued racing after that for years, me. Jessica never really quit, she still rides now.
So even though you went racing because of your parents, you did end up liking it? You wanted to do it?
Oh, yeah. For sure. I remember specifically being a teenager and watching maybe a supercross on TV and being like, I really need to step up my game here and focus on what I'm doing and put some actual thought and effort into how to get better.
Did you ever get to the point where you were taking it super serious, or was it always just a hobby?
No, it was always pretty much a hobby. We really didn't have anywhere to ride during the week, so all we could do really was race on weekends.
That's what I always heard when I was going to the races in Pennsylvania and District 5. It's the opposite of most areas where people practice but then they don't race.Here it's like they race but they don't practice! Do you even have a bike right now?
I do. I have a 2000 Yamaha 125 and a dual sport. I don't get to ride the YZ much anymore.
What was this event like? You've ridden your whole life, but I know there was one group that had never ridden before in their lives.
Oh, there were absolutely brand-new riders there. It was so cool because they had gear available for them, so they went and got their gear. Then they got to go ride first before us, I think. That had to be fun for them.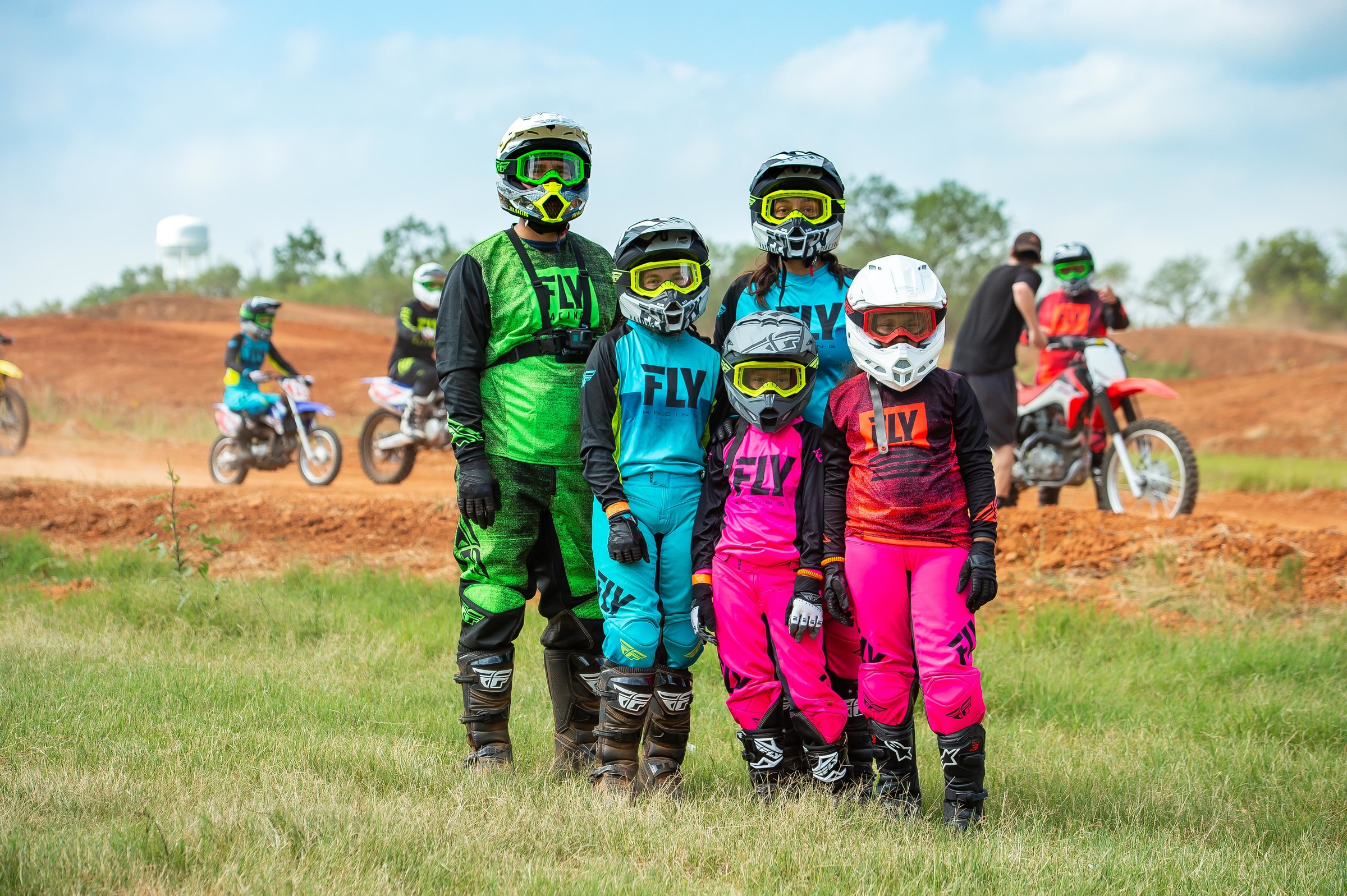 What did they do? Were they just in the pits learning how to ride?
It was set up in different sessions. One would be cornering, one would be jumping, one would be starts, stuff like that. So I think they took them out first maybe to just give them the basics of how to ride a bike.
That says a lot though. Someone could show up, having never ridden a motorcycle, and by the end of the weekend, they could ride. It wasn't that hard. Meanwhile, were you showing everybody how it's done?
[Laughs] A little bit. In my group there were beginners, so my skills were just a little…you know.
[Laughs] Right, you've ridden your whole life. But then there were other women there that had also ridden, right?
Yeah. All the Makeup 2 Mud girls were there. The same ones that were on TV every weekend for supercross.
Yeah let me talk about this. I watched these shows on supercross and I'm like, "Are these stories for real? These are real people?" Some of the stories seem so amazing they seem almost too good to be true.
Yeah. I'm telling you, there was a girl, she had her arm in a sling. I had just turned around and she was sitting on her bike. I'm like, "Oh my gosh, did you get hurt?" I didn't realize, she didn't have an arm! I just saw it in a sling! Jason, I was so embarrassed! But it was so cool because she had her bike set up that her clutch and gas was all on one side. You should have seen her ride around that track. She was fast! That dirt there was new to me because it's kind of sandy. It was not like the dirt around here. It's kind of loose. But she was just going through it with one hand. I was so amazed!
Kiana Clay didn't let a brachial plexus in her right arm in 2006 stop her from continuing to ride. Clay was an athlete featured in the 2018 Makeup 2 Mud program. Watch this video to learn about her story.
Mike Emery
I know Weston Peick was there, and all these Toyota Makeup 2 Mud celebrities were there. Since you're sharing bikes, it's not a ton of riding, or maybe not as much as everybody wanted. So was it just a lot of hanging out?
There was hanging out, for sure. They had it set up very accommodating. They had just different areas. There was a lounge area you could hang out in. They provided food from a food truck, all at no cost.
The craziest thing is, you went on behalf on Racer X, but if you have a Toyota, Toyota was just offering this up?
I believe so!
You have a Toyota truck or vehicle and you have a female in your family, come on down.
If you had a female motorcycle enthusiast in the family, yes. It was awesome. It was so cool. We wish we had some more time to ride, but it is what it is. I had a blast hanging out with everyone. It was such a cool deal. In addition to all the riding stuff, they had brought in some Toyota trucks. This was so freaking cool. So they had a course on another track that they had and you could take a demo ride in the Toyota. So it was a Toyota Tacoma I think, maybe the TRD Pro, and then the 4Runner TRD Pro. So you get in the car and I'm thinking we're just going to cruise around the track. The guy guns it! We're like, holy crap! I'm like, what the heck? So I said, "Did you just drive cars really good and just get this job?" He's like, "No, I'm a race car driver."
Were you jumping?
It was close! I think probably legally they weren't allowed to jump or something. I don't know what the intention of that track really is. He would go up to the jumps and make you think you were going to jump it, and then get on the brakes real quick. It was awesome. It was really fun.
So your dad, lifelong motorcycle guy, he went with you. When did he start racing?
In the '70s, and my mom raced too.
Is it true that your mom rode while pregnant? Kinda' before she knew she was pregnant?
I believe so!
Your dad is so into the sport. Honestly for him, he was probably as excited as you were.
He was so excited. I wasn't going to go, actually, because it was so last-minute. I thought, I'm not going to know a single person there. My mom said, let's see if your dad can go.
Honestly by the end of the weekend you were probably buddies with a lot of people.
Yeah, the girls. I made such a great friend, Natalie Perez. She was the Makeup 2 Mud girl from Hawaii. We are like soul sisters. I just texted her the other day.
And you had obviously never met before this event.
Right. We were walking and we had the same gear on and I said, "We're twinning." We just hit it off. So it was fun, to get to do some riding and also to meet all these other girls. We had to leave early on Sunday just because of our flights and everything, but we were bummed. We really had the best time. It was great.
They announced the event is back next year, so we'll see. Maybe you'll get another shot. One more thing: Weston Peick didn't yell at anybody as far as you know?
[Laughs] Not that I heard.
---
Main Image: Mike Emery