Harpursville, NY
Black Sky
GNCC Racing
As the 2019 GNCC Racing season returns from summer break this weekend, championships are still on the line with four rounds remaining. With a new venue for this weekend's return, it makes it even more difficult to pick a clear favorite. Yes, we all know that Kailub Russell and Thad Duvall are the two riders to watch but time and time again it has been proven that anything can happen in off-road, especially in unfamiliar terrain. Let's take a look at what to expect from this weekend's Black Sky GNCC.
Uncharted Territory
As mentioned, this event will see uncharted territory for GNCC racers as this marks the first-ever running of the Black Sky GNCC. This event was scheduled to take place last year, but torrential rains flooded the main pit area making it impossible for even the best four-wheel drive vehicles to enter the large field. A new road has been built to eliminate these issues, so we're officially going racing this weekend. Building a road into a facility is actually somewhat common in GNCC Racing. While many events are held at existing facilities, others are held at family farms, which are a far cry of the amenities of somewhere like the scenic Snowshoe Mountain Resort.
Building a road is just one more task on the to-do list of the GNCC track crew but most folks are amazed at how quickly one of these events can come together. The majority of this staff are full-time employees with Racer Productions and MX Sports, which means often building long off-road race courses one weekend and managing a motocross event the next weekend. This means that it's not uncommon to have a motocross event Saturday and Sunday, then travel early Monday to the next GNCC event and begin working on the course that evening. Former GNCC XC2 racer Ryan Echols and myself will do the bulk of that track layout work, with GNCC trail boss Jeff Russell handling the layout of the pit, start, and finish areas.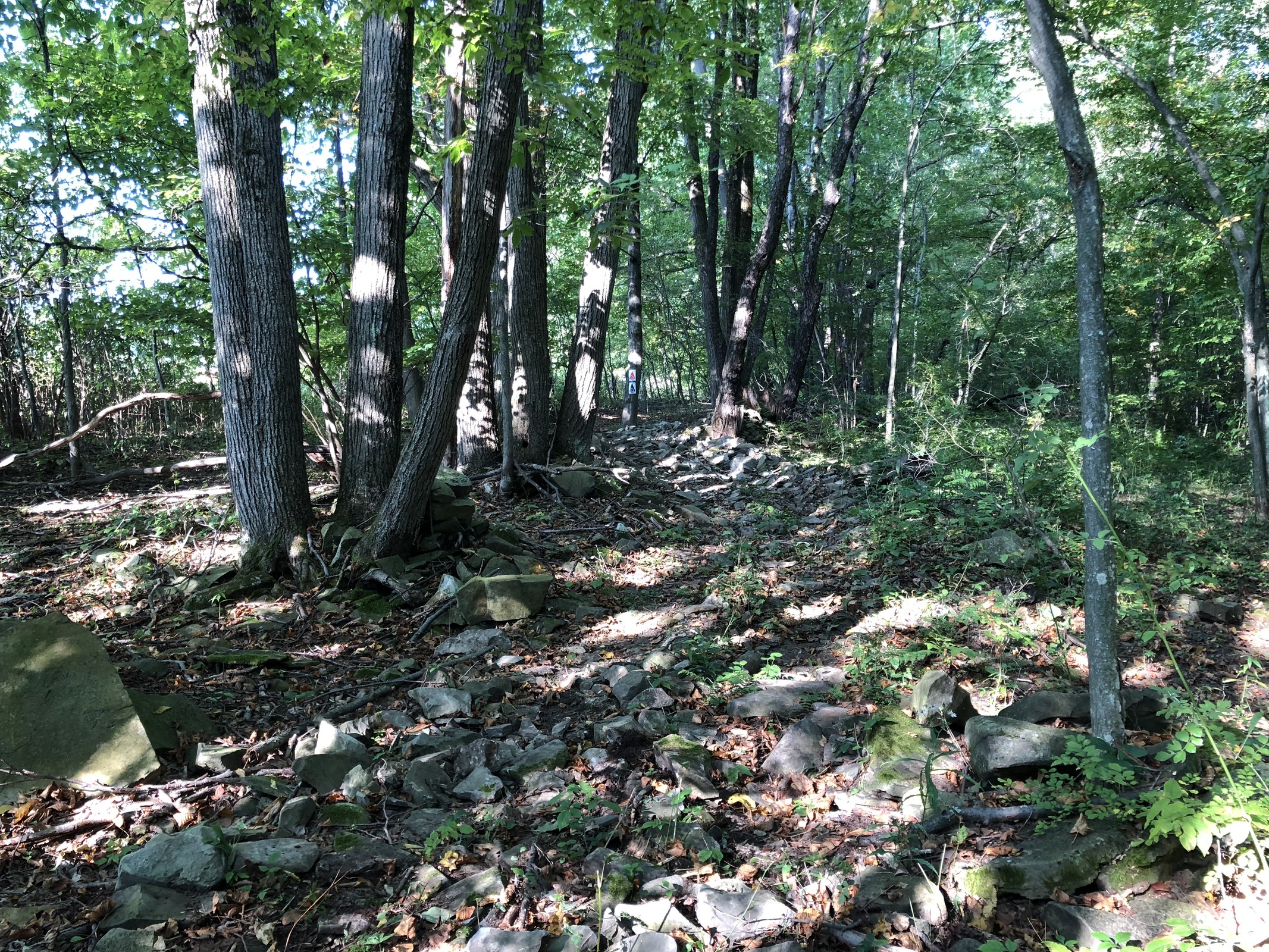 Laying out the woods is definitely no easy task. With a huge field of racers from youth, to beginner big bike riders, riders over 70 years old, professional riders and more, you really have to make a course that is passable for everyone yet challenging as well. You can add in additional sections for pro races, but the lay of the land has a say in that. You also have to stay within the confines of the property, and occasionally a landowner may have specific requests for areas to not be used. On top of all of these factors, there's just the simple fact that there are some places you look at and see nice, undisturbed soil on top but it gives way to a bottomless pit of mud! While that's a typical GNCC rite of passage, you also have to be able to make it through it, and at some places that is just not possible.
Since Kailub Russell is Jeff's son, Jeff actually stays out of the woods to avoid as much drama as possible. The setup of the woods course falls to Ryan and I, with guys like Bob "The Builder" Pierson and long-time GNCC racer Tommy Harris helping pull it all together. While this crew heads into the woods, another crew will handle the numerous tents, banners, and overall facility setup in the pit area. Jeff's other son, Trevor Russell leads the way, along with former Loretta Lynn's Ranch manager Alan Brutto and ATV Motocross series administrator Kevin Warta. These two crews grow by the end of the week, and little by little a GNCC facility transforms from nothing more than a field, to a small city packed with people, then back to a field in just a matter of days.
The Black Sky facility is just around an hour away from Unadilla, which hosted GNCC events for a number of years, but this course will be a lot different. While there will be some faster areas, the course overall is a bit tighter and more twisty than the trails at Unadilla. Also, there are several areas with lots of large shell rock that is a bit different than the small rocks you encounter at Unadilla. One similarity to Unadilla will be the length of the course. While most GNCC tracks are anywhere from 11-13 miles, this one will come in just around 10-miles. This means with more laps, so this course could get pretty rough by the end of the weekend. However, some of these rocky areas will help keep the ground together which will give some welcomed relief. Additionally, there are plans to add two sections that only the motorcycles will run (ATVs race Saturday). These will be fresh sections for the 10 a.m. amateur racers and will be good and broken in before the pros take to the track at 1 p.m.
Championship Hunt
In the past, there have been courses that favored certain riders, but lately Kailub Russell and Thad Duvall have shown that they can excel in any type of terrain. Steward Baylor is beginning to learn that game as well compared to his past reputation as a rider who excels in tough, tighter conditions. Coincidentally these are the three riders who sit atop the GNCC overall point standings. While the XC1, XC2, XC3 and all other amateur classes pay points per class; the GNCC National Championship is determined by everything combined overall.
Additionally, you must finish inside the top 20 overall to even score one point. With a three pro classes plus hundreds of amateur riders on the course at the same time, any sort of mechanical issue can immediately push a rider out of the top 20 and spell disaster for a rider's championship hopes. Duvall is known as the guy who can take it to Kailub, he has fell victim to this more than once. This year's Snowshoe GNCC was a disastrous one for Duvall as a mechanical issue left him outside of the top 20, scoring no points for the event. He rebounded with a win at the High Voltage GNCC, the final event before summer break, but Russell still holds a 43-point lead coming into this event.
Of course, a freak a mechanical incident could happen to Russell and Duvall could find himself back within striking distance. This is what makes GNCC Racing so exciting; with so many different factors coming into play across a long and grueling race (and championship), anything can and will happen. Further, you can't neglect other talents like Steward Baylor. In fact, I left him out of the season preview and he went out and claimed the season opening win in the brutal Florida sand whoops, beating both Russell and Duvall straight up. Then he called us out for not mentioning him! Especially with the potential of a rough racecourse this weekend, with some tighter trails, there is potential for another one of those impressive Baylor performances.
Sitting fourth place overall in the GNCC point standings is the XC2 (250) points leader, Ben Kelley. Ben has stepped up tremendously in the past two seasons, coming from just barely finishing fifth place in the XC2 class in 2017, to claiming the 2018 XC2 championship. Kelley has won all nine XC2 races thus far, which has never been done before. If Kelley is able to win out the rest of the season, he'll complete the only season sweep ever in the pro ranks of GNCC Racing.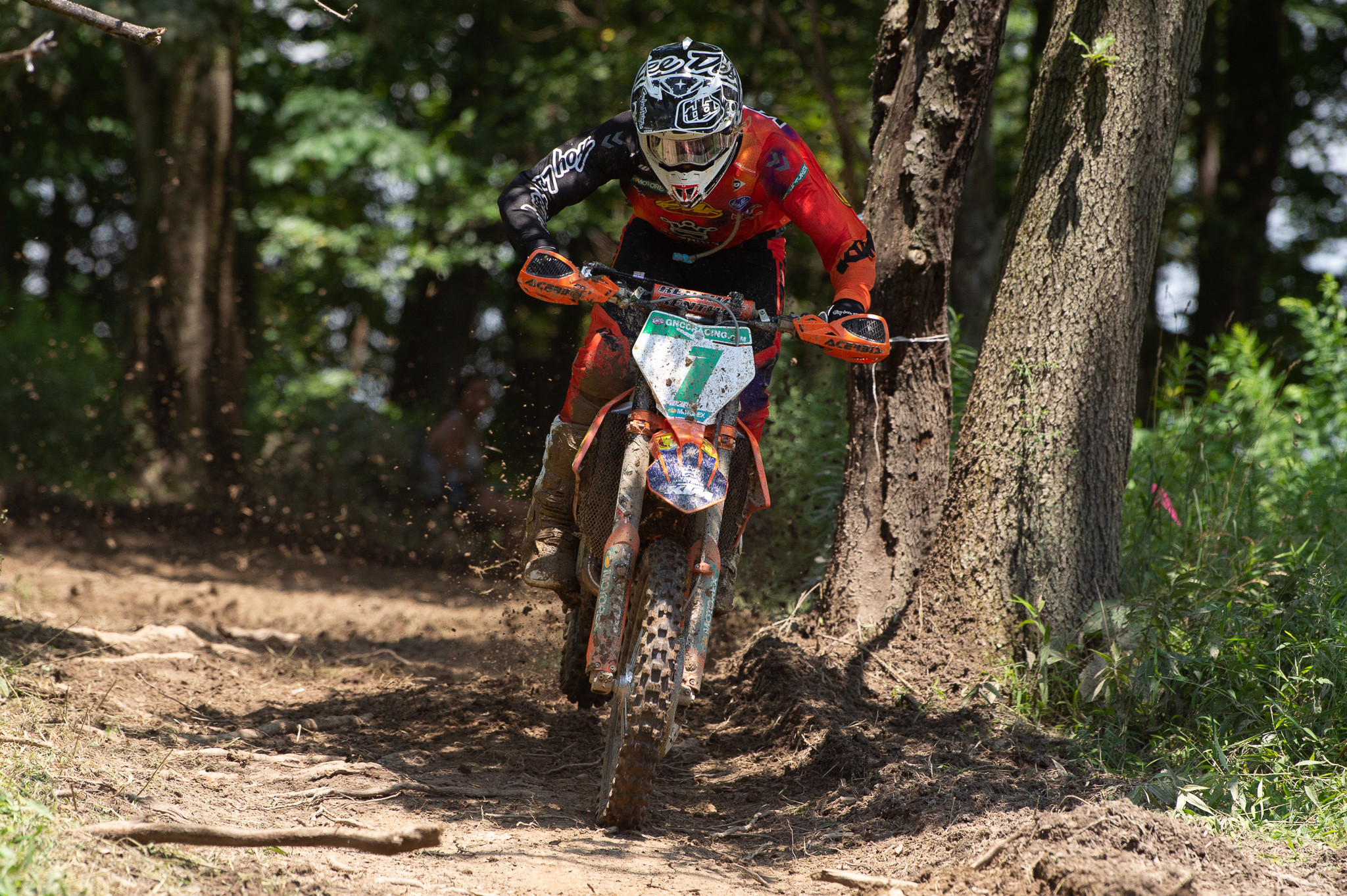 Kelley's closest championship competitor is Mike Witkowski. He sits second place in the XC2 standings, and while Kelley has the potential to wrap up the XC2 title this weekend, Witkowski still has to stay on top of his game to hold that second place spot. Evan Smith and Craig Delong are coming on strong. Delong missed the beginning of the season with an injury but has finished second place in the XC2 class in five of the six rounds he's contested. Evan Smith has been riding well throughout the season and actually has been landing overall podium finishes in the AMA National Enduro Series. With this experience, he'll ultimately be looking to improve and hope to fend off Delong's challenge.
Outside of Russell, Duvall, and Baylor in XC1, several riders have mounted podium challenges, but just haven't quite been able to be a consistent threat or have experienced injuries or illness. Trevor Bollinger landed six top five finishes, including three podiums earlier this season but he missed the last two races before summer break with a case of shingles. He's been on the mend and back to racing the popular Mid-East Hare Scramble Series in the Carolinas. That series is ran by former GNCC junior trail boss Buren Hamrick and often mimics the GNCC schedule in terms of terrain the week prior to a GNCC event. This gives a great training opportunity for many riders who base themselves out of the Carolinas.
Josh Strang, the 2010 GNCC champion, has had some rough luck over the years, but he is still out there putting in excellent rides. Strang actually landed on the podium in the last race before summer break, so with a bit of confidence on his side, this very well could be the time we see luck begin to change for Strang. The same can be said for his Kawasaki teammate, Jordan Ashburn. He's shown that he has the speed to run at the front of the pack at several points throughout the race, but just hasn't been able to stay there for the entire three hours. With a fifth and a fourth prior to summer break, Ashburn could very well mount a charge to the front in these final rounds.
Andrew Delong was an excellent XC2 class racer who suffered through a few injuries that ultimately robbed him of a class title. He moved up to the XC1 class in 2014 as part of the new Factory Husqvarna team. He claimed the AMA National Enduro title that season, but once again suffered through some injuries that kept him out of the running for quite some time. He's been back in the XC1 class in 2019 aboard a Phoenix Racing Honda and has been putting in very solid top ten rides. He's flown under the radar for much of the season, but there's no doubt that Andrew is still a very great motorcycle racer.
Then there's AmPro Yamaha's Ricky Russell. Ricky has a GNCC overall win to his credit but suffered an injury earlier that kept him out of the first four rounds of the championship. His return probably hasn't been exactly what Ricky wanted, but he's still been riding well, landing inside the top ten overall at each round he's contested, including an XC1 class podium at Snowshoe. Ricky is another rider with something to prove in the final four rounds, so he very well may be one of the more exciting riders to watch.
The GNCC season is traditionally broken into two parts, and the stretch run after the big summer break often creates a fired up and focused pack intent on improving their early-season results. Who will step up this weekend on a new track? We'll find out soon enough!
Racer X Illustrated Motocross Magazine
The November 2019 Issue
Inside the November issue of Racer X magazine: See who stood out and what our takeaways are from Loretta Lynn's and all of its future moto talent. GEICO Honda had a packed house at the last three nationals, but who's sticking around? Former factory rider Michael Byrne has made a successful jump to team management, and we find out how and why. When the AMA's 1986 Production Rule went into effect, it ended a glorious run of exotic, hand-built—and wildly expensive—bikes in AMA racing. We dig into the story of those final years. All these features and much more inside the November issue.
Read the Issue Now
Preview the Issue Now