Briar Bauman might be the nicest guy in racing today. That just makes his incredible progression even more surprising, as he has gone from friendly face in the pits to the top points-getter in his sport in rapid fashion, and yet, he's the same laid-back guy as ever on race weekends.
Briar's ascension has followed in lock step with that of his chosen sport, American Flat Track. The series has been on a rapid climb the last few years, which has resulted in more factory rides, more exposure, and more money for the riders. That includes Briar, now of the Factory Indian Wrecking Crew in the Twins Class, and his girlfriend Shayna Texter, who rides for Red Bull KTM in the Singles Class.
Bauman won his fifth race of the season over the weekend at the Williams-Grove Half Mile, and with two races to go holds a healthy points lead over defending champion Jared Mees. This title could be his as soon as this weekend's Minnesota Mile, but Bauman, still new to all this, admits he has no clue how he's supposed to strategize his next race. Go for it or just collect the points?
He's taking it all in, rapidly. We called him this Monday morning to talk about his Pennsylvania win, and more.
Racer X: So congrats on the win, I know you're not from Pennsylvania originally but has this become somewhat of a home race? You live in Pennsylvania now.
Briar Bauman: Yeah, big time. Originally I'm from California so whenever we race out there, it's big, but I've lived here on and off for seven years now, so that's pretty much a home race for me. Shayna [Texter, girlfriend] and I live together about 40 miles south of Philadelphia. I have just as many people that come see me here now as I do when we're in California. After the race it seems like this one, I always know I'm going to spend way more time hanging out with people after this one. From autograph signings to everything else, you catch up with a lot more people. It's cool.
You won it but it wasn't easy! Rarely do you see a runaway in Flat Track. So here you battled Jared Mees early, and then even Brandon Price came on strong at the end. Seems like there's always a battle!
Dude it does seem like most of my wins this year have been pretty intense. Whether I'm battling my stinking brother [Laughs] or whoever else. So this one, Jared [Mees] was pretty off all day, and the way he usually ticks is when he's off all day, he goes out and pulls a holeshot in the main event and turns into the guy! I was like "No way!" I was eventually able to get around him and get away, at one point I looked back and I had like a half lap on everyone, and then I looked back again on the white flag lap and I saw Price and I was like "Whoa! Someone is here!" It's a good thing I didn't look back earlier or I might have blown it!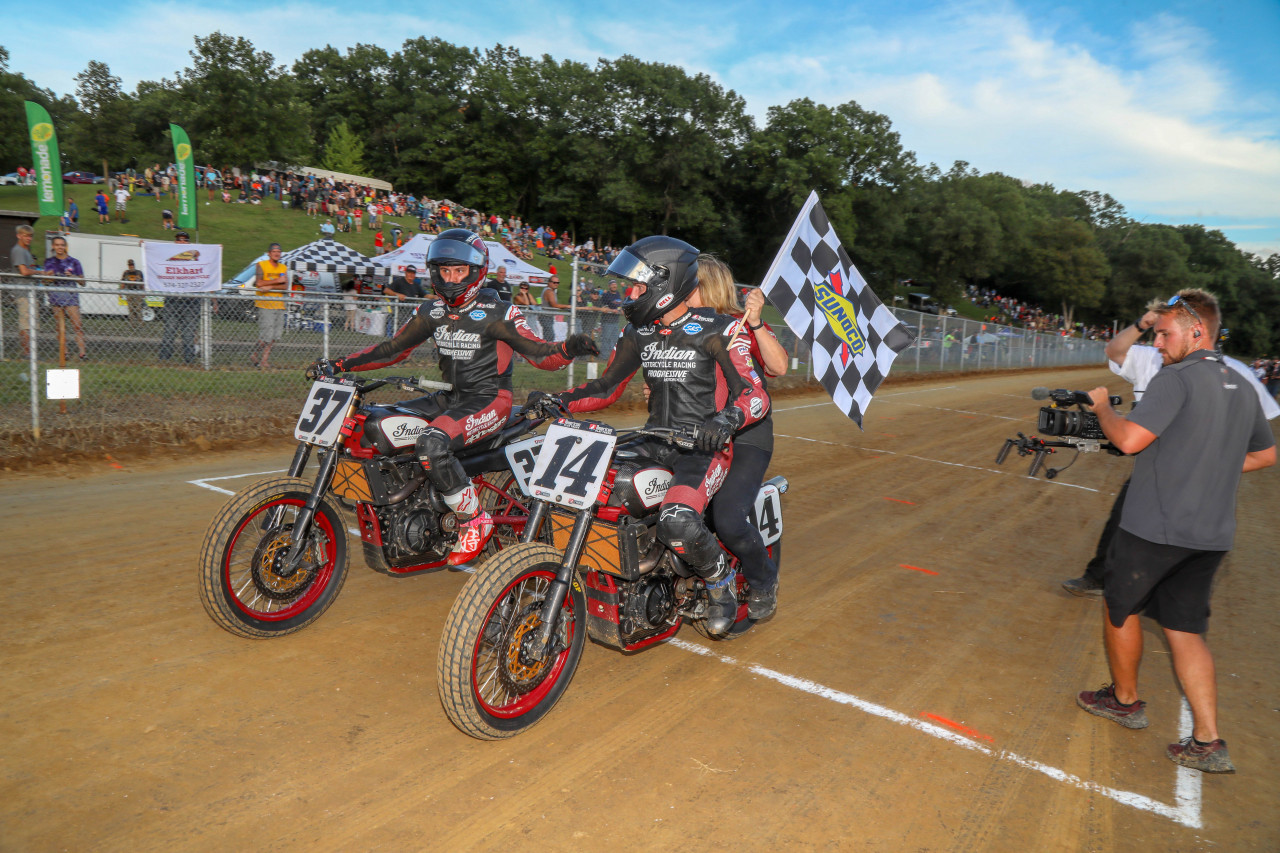 So here's the biggest question: how have you managed to manage this championship so well considering you've never been in this position before? Every time you have a bad race, you bounce back like you've done it before.
[Pause] Man, I think it's just my whole environment. Obviously there's pressure from the team and the factory to win, but really when we're there on the weekend everyone is just happy to see each other and hang out. It's so much more laid back than I would have ever imagined. I'm a laid back dude and I don't take any of this for granted. Even if I blow out a tire or crash and have a bad race, as soon as I'm walking back, I realize I'm here, and it's a blessing to be in this position. It makes it easier for me to think about it that way than go to the next race saying, "I just lost a bunch of points and I have to get those back at the next race."
On the outside it looks like you go to your next race and it's like "He has to respond. He has to win." But that's not the way you're looking at it?
I mean, when the helmet goes on there might be a little more of a chip on the shoulder, but it's not like I have to win the next race, points wise, it's more about proving it to myself, that I can still maybe be the guy. Actually during the day at the track it's not like that at all. I'm just stoked to be there, mostly! Even though the championship is obviously a really big deal, I'm just happy to be there hanging out with my buddies. After Lima [lost a tire and DNF'ed] I was pretty bummed out, but I was pretty loose at the races. It's probably different from others, maybe they're more relaxed during the week, but for me, I get looser at the races. All week I just can't wait to get back to the track and see my friends.
What's interesting is, you did get upgraded to the factory Indian Team, but it's kind of your old group right?
Yes. When I got the offer to sign with the factory Indian team, they were looking for mechanics, so I was able to bring Dave Zanotti and Michelle DiSalvo over with me. I know for a fact I wouldn't be in the position I am in now if it wasn't for that. So huge thanks to Indian for allowing me to do that, and to Dave and Michelle and everybody for all they have done. We got on an Indian last year, but that was just the stock motorcycle they sell. It was amazing already, but now that we have some factory components and everything else, it's just gotten better.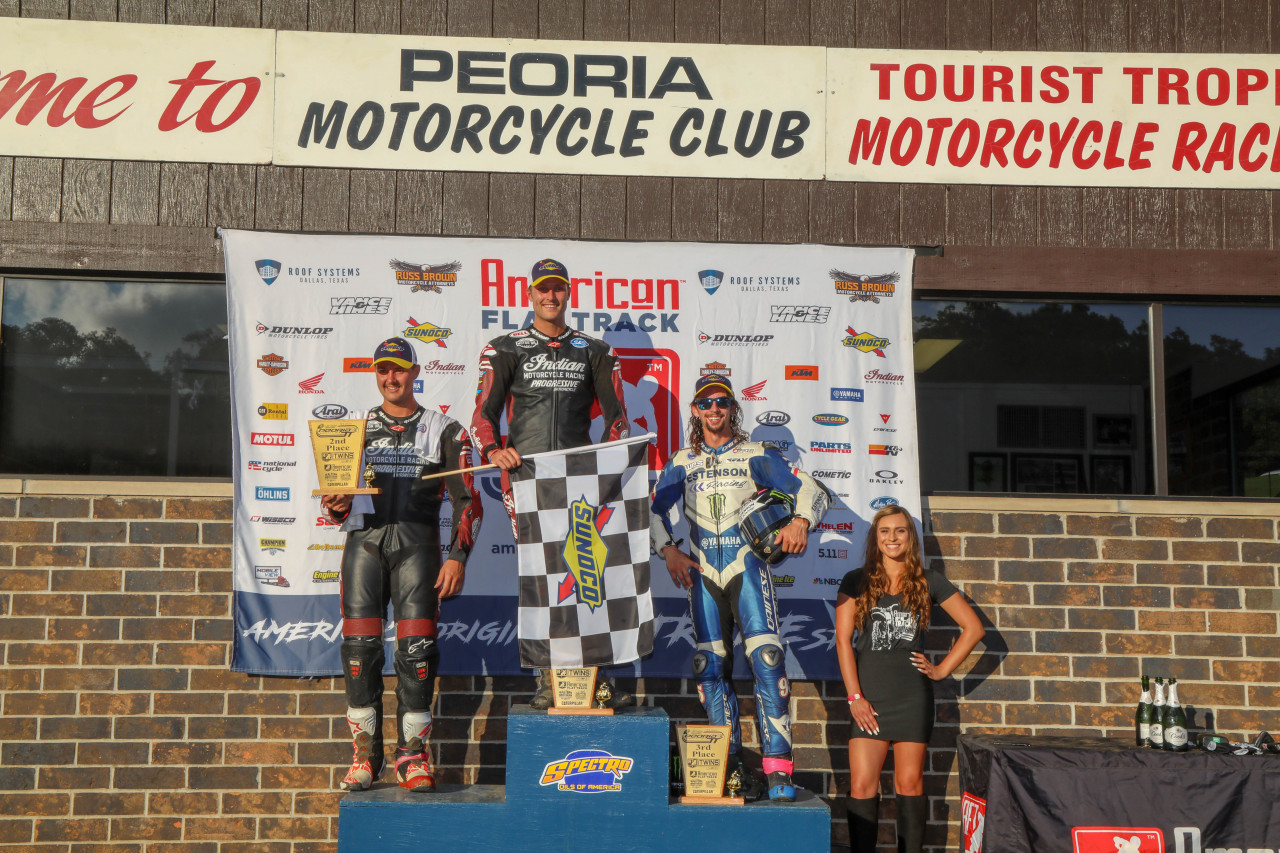 Yes, the competition has tightened, the racing has been good, other brands are improving and the store-bought Indians are also very competitive. But, in the end, we look at the points and it's 1-2-3 for the factory Indian team. So it has to be good!
Yeah it's incredible. I feel like Jared and I are riding pretty well, and then, my brother coming in [Briar's brother Bronson is the third rider on the factory Indian roster], he's soaked it all up. I was really worried that he would take that pressure and get nervous with it, just because he was so far from this position that he's in now. But yeah, he's taken it and ran with it. I've raced him for wins more than I ever thought I would, and he's been in the lead pack at almost every race.
Yes, I was wondering about that. You got on the factory team and started winning immediately, and we know Jared is great, obviously. So I was wondering if that would lead to people looking at your brother and putting pressure on him. Seems like he was able to either respond to that or actually just ignore it!
Yeah, and all of that comes right back to, again, how cool our team is. Dave Zanotti, our crew chief, he's a racer, he gets it. He's like, "Hey man, I understand you're going to have a day where something isn't right for you, and I can do everything that I can to this motorcycle and you're only going to be a fifth-place guy. I know that feeling, I know that's how this works." Bronson, he had a few races in the beginning of the year that maybe cut him back a little bit, but instead of everyone saying, "Hey man you need to step it up" the team just asked what they could do to help. When he started feeling that, he just kind of realized if he just rides the way he can, he'll be fine.
2019 AFT Twins Standings
Through Round 18 (of 20)
| | | | |
| --- | --- | --- | --- |
| Finish | Rider | Machine | Points |
| 1st | Briar Bauman | Indian | 305 |
| 2nd | Jared Mees | Indian | 270 |
| 3rd | Bronson Bauman | Indian | 221 |
| 4th | Jeffrey Carver Jr. | Indian | 195 |
| 5th | Brandon Robinson | Indian | 179 |
| 6th | Jarod Vanderkooi | Harley-Davidson | 179 |
| 7th | Henry Wiles | Indian | 153 |
| 8th | Robert Pearson | Indian | 149 |
| 9th | Sammy Halbert | Harley-Davidson | 145 |
| 10th | Davis Fisher | Indian | 139 |
To view the full AFT standings, click here.
Explain your path to this level. Today, the Singles class in American Flat Track is pretty well defined as the place for up-and-comers, but was it like that when you were coming up? I feel like you jumped into the Twins class pretty early. Were people expecting you to be the guy in this series someday?
I jumped into the Singles class in 2011, and I only did seven races, but I only won four of them. I was pumped, but it wasn't the Singles class like it is today—it's so stacked right now. But still, anyone who won races in that class, people were wondering how you would do when you stepped up to the Twins class. So instead of staying in the Singles class, I wanted to move up to the Twins in 2012. I was like, "I'm 16, I know exactly what I want to do and I'm going to do it all!" [Laughs] I moved up, and it was the dumbest thing I've ever done in my life. I didn't realize how great the riders were, how mentally tough it is, and how important equipment is. I would have some decent results, but by decent I mean I would get a top five, and then the next weekend I wouldn't even make a main, or I'd be a 17th place guy. I finally had a decent year in 2015, I won a race, I had two other podiums, and I thought things were looking up. But I didn't have much of a ride going into 2016, still. I was like, "Holy cow I thought things would really take off." I got a ride late, I had a few decent rides, but it was just terrible, really. Dave Zanotti picked me up after that. As a motorcycle racer, you don't really know much, but you have to have the belief. I still believed I could get things done. Dave helped me so much, and we were able to do a lot of things no one thought we could do. That was huge for me.
So maybe in 2011 when you won races in Singles, maybe at that point people saw you as a future star. But in 2012 and after that, in Twins, were people marking you as a future champion?
No, not at all. Maybe in 2011 people were saying, "Oh he's definitely the next guy." So that's why, maybe, I was so fired up about going to the Twins class. Honestly, though, from 2012 through 2014 was just a blur. I was riding all kinds of different motorcycles trying to figure it out, and it got to the point where I was calling people during the week and saying, "Hey man could I ride your motorcycle on the weekend?" Just one of those deals. Full on just how Flat Track worked—just going through the motions, being at the track but not even thinking about being on the podium. I don't think at that point anyone was saying, "Oh yeah three years from now this guy is going to be going for the championship."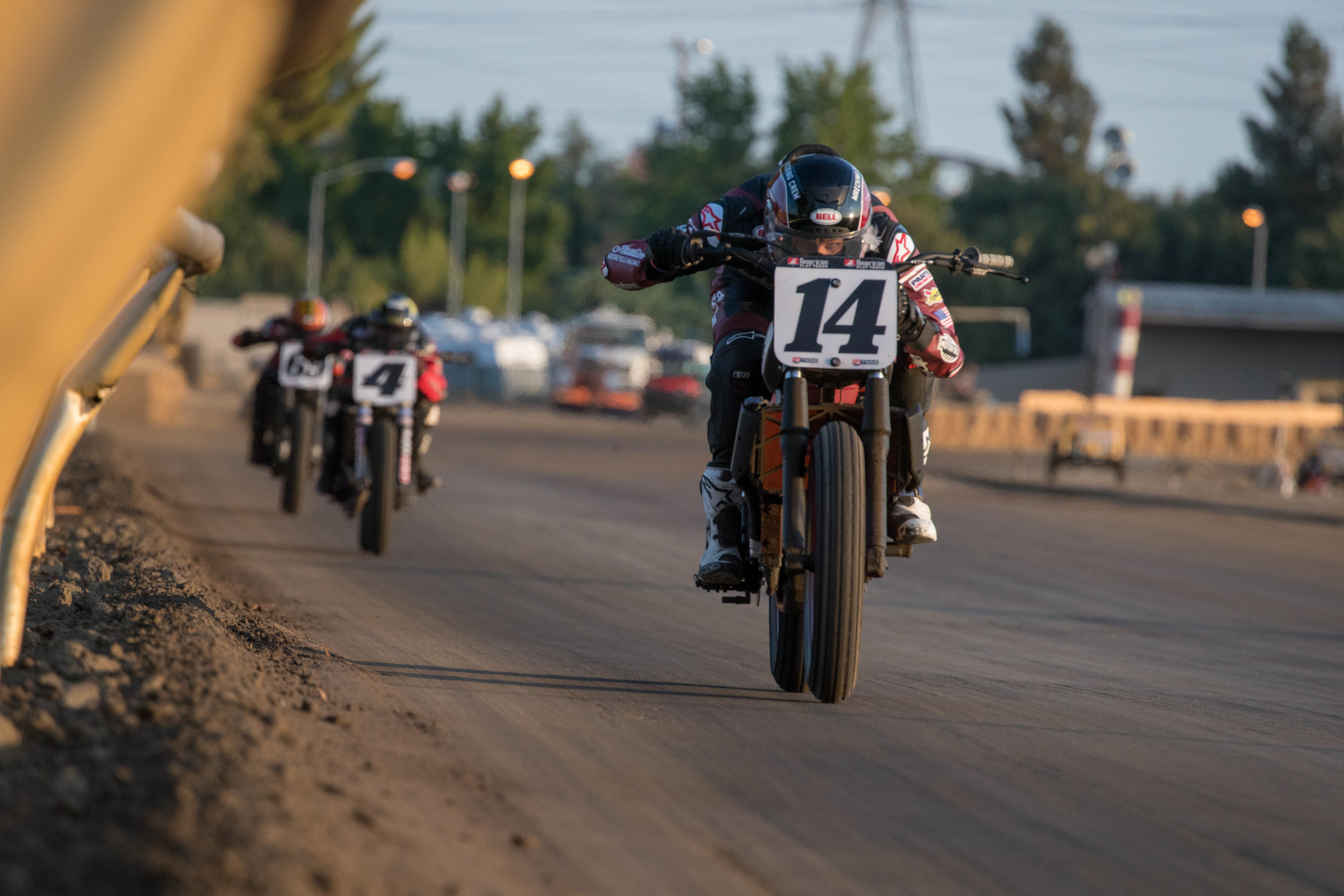 There wasn't a lot of money in Flat Track back then. How did you keep it going?
Man, honestly, just main event to main event! I was fortunate that I had a great amateur career so I had built a good base with sponsors. But the thing about Flat Track is that, depending on what you're doing, it doesn't take a whole lot of money. We all talk about loading up a van and driving cross country, or calling someone and saying, "Hey I'll haul your bike for $250" or whatever it was. The joke for a long time was, "Hey I'm just trying to make that G bar." That's $1,000 for making the main event. Everyone was stoked for making that $1,000 bucks! Yeah, I can make the next three or four races on that money! And I was young, I didn't have bills, I was making mains and making that money and we'd be like, "I'm good! I'm living the dream." There was a time when I didn't care about financials at all. We were chasing the dream not chasing the dollar. I think that's the cool thing about Flat Track. So many people have a love of just being there—just being at the track, and that's all you care about.
What's interesting about all of this is you're dating Shanya Texter, who is now a factory Red Bull KTM rider and wins races in the Singles class. I'm assuming you met at the races?
Yeah. It's pretty funny, in that 2011 year when I was in the Singles class we would battle, and we got to know each other just talking on the podium. We became pretty good friends. There's this famous story from Knoxville where she won her first race, and her and I battled the whole main event. She beat me and I got a lot of grief for that! Everyone is really close in Flat Track anyway, so it just kind of went from there. I had this claim that I would never leave California, but things change when you meet a girl! I really liked her, she happened to race, and she lived in Pennsylvania. Next thing you know, my van was parked in her driveway for most of the year! Now we own a house together and Pennsylvania is a full time deal.
You're now on the factory Indian team, and she is a factory Red Bull KTM rider. You both end up spending time training under Aldon Baker. There has to have been a time this off-season where you two looked at each other just shocked and said, "What just happened?"
Oh dude, yeah. The factory Indian ride for me, I was already kind of shell-shocked. But, like I said, at least I got to keep some of my old crew around me, so it wasn't as big of a change as it could have been. But the biggest thing for me is when Shayna started getting bikes shipped to her from KTM. We're uncrating her practice bike and taking it to Aldon's. I'm riding from track to track at Aldon's place myself. I used to watch The Moto: Inside the Outdoors or whatever videos or stories I could find to see that place, or read or watch any of the stories you did. I just never imagined I would ever actually be at Baker's Factory in person. Whether it's because of Shayna or not, it was the most insane thing for me, ever. I've followed moto as a fan my whole life. There was no path to this at all. Like I said, five years ago I was going paycheck to paycheck. Now we're both having pretty healthy careers, doing all kinds of stuff I would have never imagined being able to do. I'm able to meet and talk to people I looked up to. To go and train with Aldon? To text a guy like Zach Osborne and have him actually respond and not just say "Who the heck is this guy?" It's just a dream come true to be in this position.
---
Main Image Courtesy of American Flat Track