At each of the 12 rounds of the Lucas Oil AMA Pro Motocross Championship there was a 125 All Star race that ran during the first or second intermission. They were not part of a championship series or anything so there were no points totaled or champions named, but rather just a chance to include the 125 two-strokes and also some fast guys that were either young up-and-comers or retired ex-pros like Ryan Villopoto, Mike Brown, and Ryan Sipes. But a little further back in the pack, at all 12 rounds, was Gear Race Services boss John Ayers Jr. He loaded his bone-stock Husqvarna TC 125 up on one of the rigs in May and it stayed there all summer, giving him the chance to jump out there and race every round, so long as he got his real work done: putting up stages, signage, overhead structures, sponsored inflatables, and more. A lifelong amateur motocross enthusiast, it was the ride(s) of a lifetime.
We caught up with Ayers as he was getting ready to go help his colleagues at Gear Services set up stages and structures for the UCI Mountain Bike World Championships at Snowshoe Ski Resort here in West Virginia, and then also maybe head home to Florida to batten down the hatches while he still can as Hurricane Dorian heads to the Sunshine State.
Racer X: John, so no victory lap or ticker-tape parade this weekend for your de facto 125cc All Star championship title?
John Ayers Jr.: Ha! No, not at the mountain bike races—or anywhere else.
Yes, I imagine it's a largely ceremonial honor. But it is pretty cool that you were the one guy who got to line up in all twelve of the 125cc All Star races at the nationals this summer. That's probably a big bucket list thing for a lot of people who follow motocross.
Honestly, it was really awesome, just to get to be out there on the track on Saturdays when all of the fans are there, the signage is all up, and just getting to see and ride on all of the tracks was something. It was really cool to see how they all set up with the pros on that, which is probably much different than on any normal race day. I was also super-happy that I made it safely.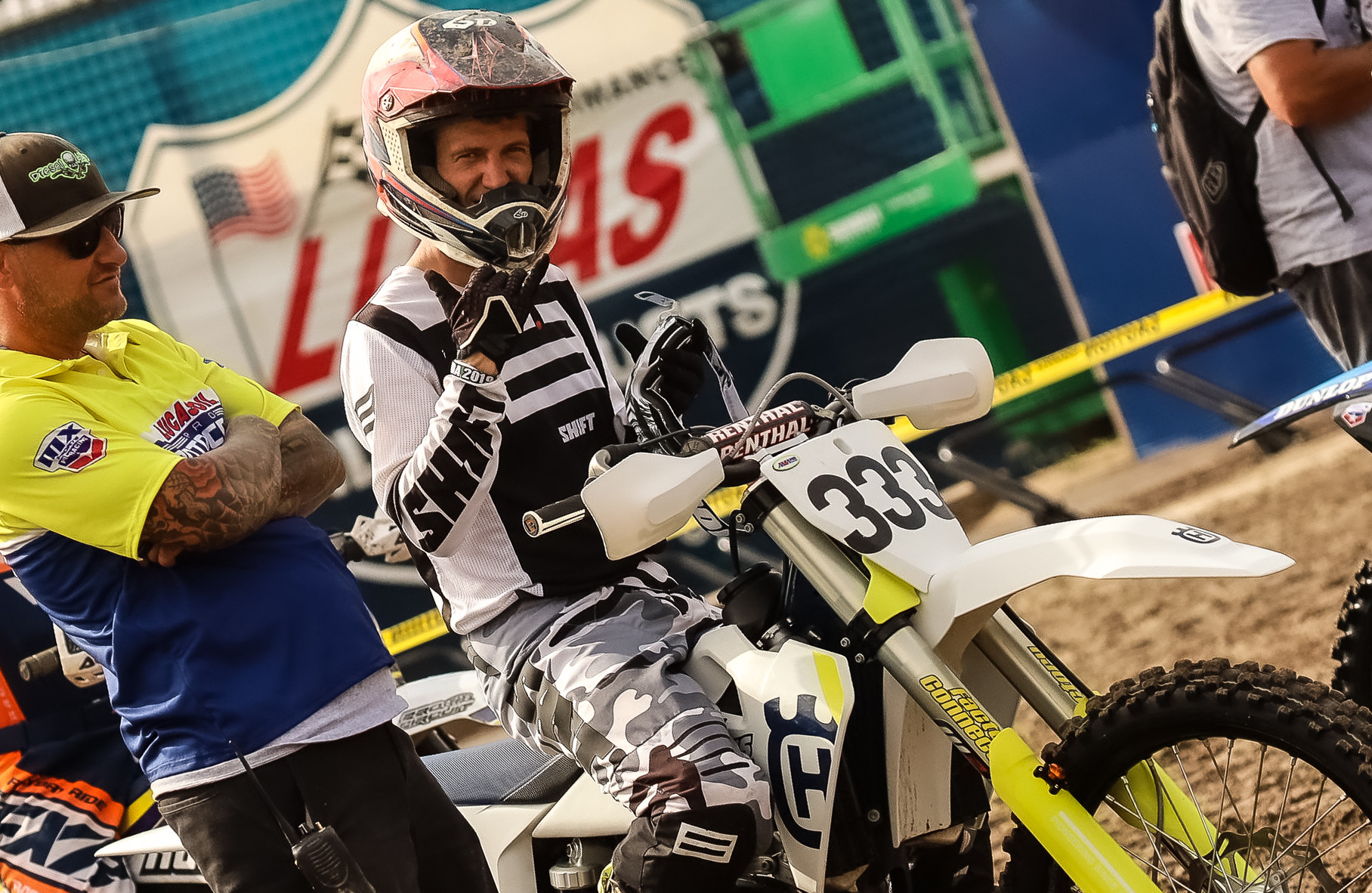 The tracks are a little rougher when you're riding on them as compared to working around them, huh?
[Laughs] Oh yeah, the tracks get a lot rougher after all those pros are out there. There were multiple sections out there throughout the season where I was just super-impressed with rough and sometimes even sketchy it was. Those tracks get brutal.
So when did you decide that you were going to try to race all 12 rounds? When did you decide to throw a bike on one of the work rigs and get out there and race each weekend?
It was right around the end of April. I went back up to Pennsylvania from my home in Florida to help prep everything for the outdoors and decided to go buy myself a Husqvarna 125 just to ride it with my friends. I have been doing a lot of mountain-biking racing, so when I got back on a dirt bike I thought, Why not just ride it at each event, even if I'm not ready to race? And that's what I ended up doing.
Okay, so you drive across the country to Hangtown and you're starting to build things out on and get roll-in going with Gear Services, what, Tuesday?
Actually, we show up at Hangtown on Monday—we start at the first event a day earlier than normal, but at all of the other events we start on Wednesday morning, and work through Sunday.
So with your bike on the rig, that means you have a pit crew of, like 12 or 15 guys that work out there on the tracks with you.
Yes, 16 actually. And they were all pretty much ready to chip in and help anytime.
I would see you guys back there in between all of the trailers in the work stations and there would be a bunch of guys in blue and yellow shirts standing around this one Husky with #333 on it! It looked like a full-blown team with only one bike and rider.
[Laughs] Yes, like I said, they were all ready to pitch in anytime. We were all obviously there to work first, and then at the end of the day it we would load my bike back up—it was like it was just one of the series assets that we hauled around all summer.
What did it feel like at Hangtown when you pulled up on the starting gate and looked over and saw #2, Ryan Villopoto, sitting there on his Yamaha YZ125?
It was very cool, but I also kept reminding myself throughout the summer that I really wasn't there to win—I wasn't 100 percent prepared to push myself and I really couldn't afford to get hurt, so I just tried to ignore everything and just focus on riding.
So you didn't sit there and think, I'm going to beat Ryan Villopoto.
Ha! No, no, that never crossed my mind. I mainly just didn't want to get in anyone's way and cause any issues out there. I just wanted to ride all of the tracks and enjoy myself.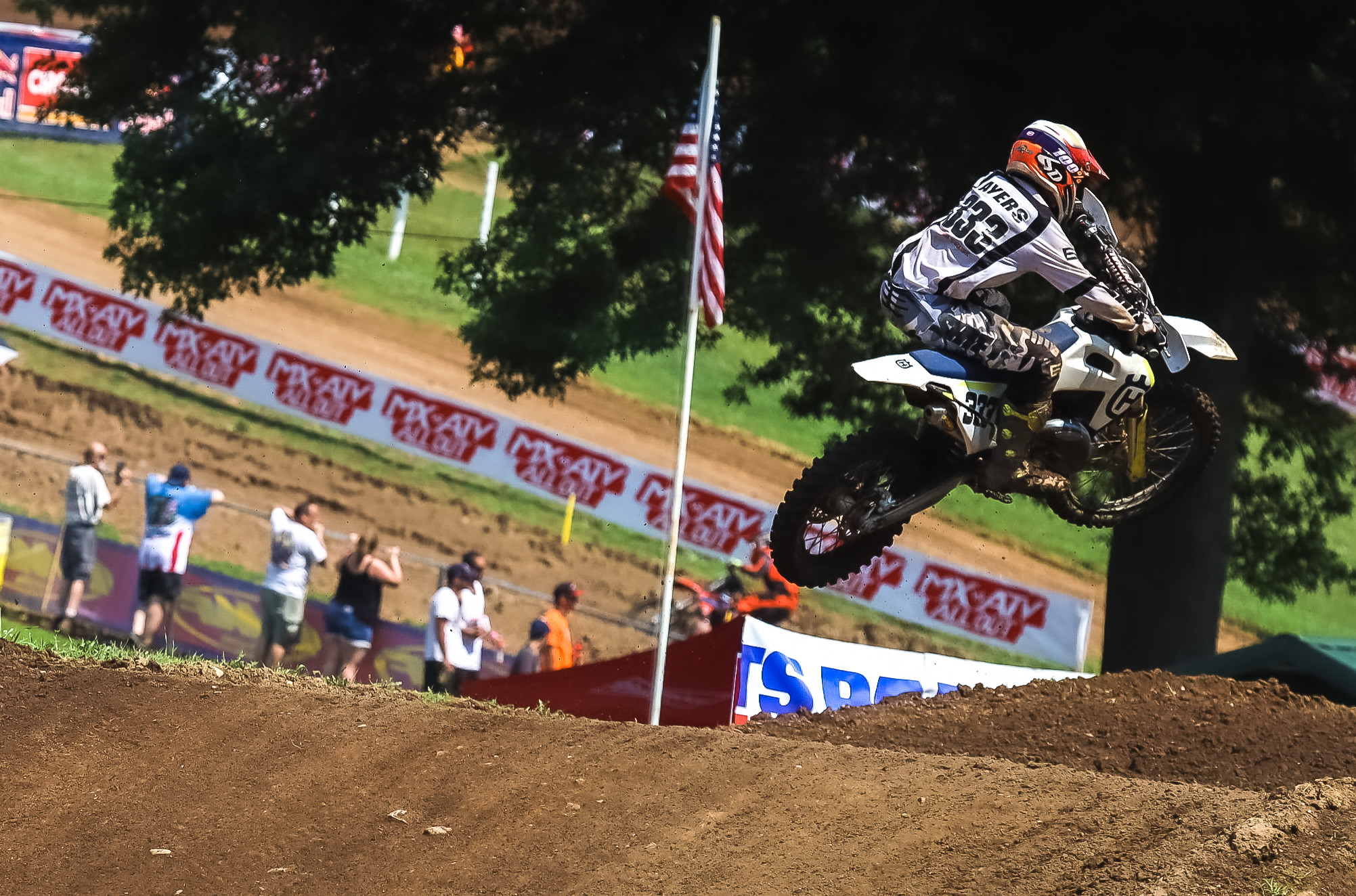 So which tracks really stood out for you? Which ones really got you thinking that you were a very lucky man to get to do all of these races?
Hangtown was actually really good, right off the bat, even though I really wasn't ready. And High Point, just having grown up there and been around it my whole life, that was super good. And then at Unadilla when I was actually able to lead for about an eighth of a lap after getting the holeshot, that had to be one of the highlights of summer. But really, whether it was Washougal, RedBud, Millville [Spring Creek]—even with all the mud Millville was still really fun. There really wasn't many parts of any of the tracks that weren't good, but they were all just really rough!
How much of a grind were Florida at WW Ranch Motocross Park, and Southwick? Those were rough tracks and hot days.
Unfortunately, at both Florida and Southwick I had some jetting issues, so I didn't really get to be up there, but with me living in Florida now for a few years, those sand tracks were probably the ones I felt most at home on.
Did you jump LaRocco's Leap?
Um, no! I did not have a chance to jump LaRocco's Leap but I did have a chance to do some of the other cool jumps there. I will say that after being away from racing for a few years, the size of some of the jumps on these national tracks can be very intimidating!
Like the Red Bull Skyscraper at Ironman?
I was not able to get over that one either! I saw all of the built 125s giving it everything they had to get over that and I didn't really feel comfortable trying to hit it on the stocker.
More 125 All Star Coverage
Did you have any help or sponsors, or was this just a personal deal, where you saw a chance to take your bike to work with you and then got out there for every race?
Yes, at first. I threw a bone stock bike on the rig and raced it that at Hangtown, and then after that first race I immediately called Factory Connection to see if they could set me up with some suspension, and then Little D over at FMF hooked up a pipe for me, and then Bevo at 100% hooked me up with some goggles every week… Those guys' help was all extremely appreciated!
So take me through what a race-day was like for you.
Every Saturday we would get to the track at 7:00 a.m. and do our safety meeting, then I would get everyone divided up on what they needed to do and where they needed to be. After that I would go out on the track and spray point locations for signage and blow-ups that needed to go up that day, and then right around 8:30, after I checked everything off my list, I would throw my gear on and then head over to the TV truck—that's when they do their practice run. I would check the track signage from the camera angles and make any adjustments from there. Then at maybe 9:30 I would cruise right up to staging area to go practice, then go right back to work on the track. But at the last few rounds I would just hop a ride up to the staging area on a mule, thrown my jersey back on, and go get on my bike, which was already up on the line.
Did you ever finish a 125 moto, go back and take your gear off and think, Oh man, now I gotta go back out there and work until dark? I mean, that's a long day.
Surprisingly, no. Just from all of the mountain-biking I've been doing, I've just had so much more energy, and I was in pretty good shape, so those four-lap sprints were not too bad, though they were on some of my muscles that I didn't otherwise use, but it never really wore me out much for my main priority, which was my work.
Finally, we know RV won a couple rounds and get second in another, and that Chase Yentzer won like two or three of these 125 races, but you rode every single one. You didn't win any, but have you added up the points to see if you might have beaten those guys in the standings?
[Laughs] No, I never went over the points or anything—I don't think I even got any points at the last race [after a first-turn crash]. And I don't think anyone was even adding any points up. But either way, I just feel really proud that I made it to the end of all 12 events safely and had a lot of fun every single time.
Well, maybe for the heck of it we will let RV keep his red plate for Hangtown next year but you can roll out the #333 with red plates on your Husky and just call it tied!
Oh no, I don't think I'm going to do anything like that! I would like to thank the series and all of the Pro Motocross sponsors and promoters for letting me get out there and ride some. The whole series and all of the tracks and fans, it's just a great thing to be a part of. It was a really cool summer for me.
Well, besides maybe an AMA official like Duke Finch, or Ken Block that one year back in '99 or 2000 when he did all 12 rounds of amateur days, or maybe even the Alessis, you might be the one amateur who got to ride all 12 of these pro nationals even though you're just an amateur.
You know, as a kid I remember seeing Scott Sepkovic always show up at the races with a perfectly prepped bike and all new gear and just getting out there with amateurs… Well, I always told myself that if I was ever in a position to do what Scott got to do, I would love to try to do it, and it finally happened.
For the Washougal National, we put the Racer X GoPro on Ayers' helmet—watch the race from his perspective below: