Ryan Sipes Wins 125 All Star Race at Ironman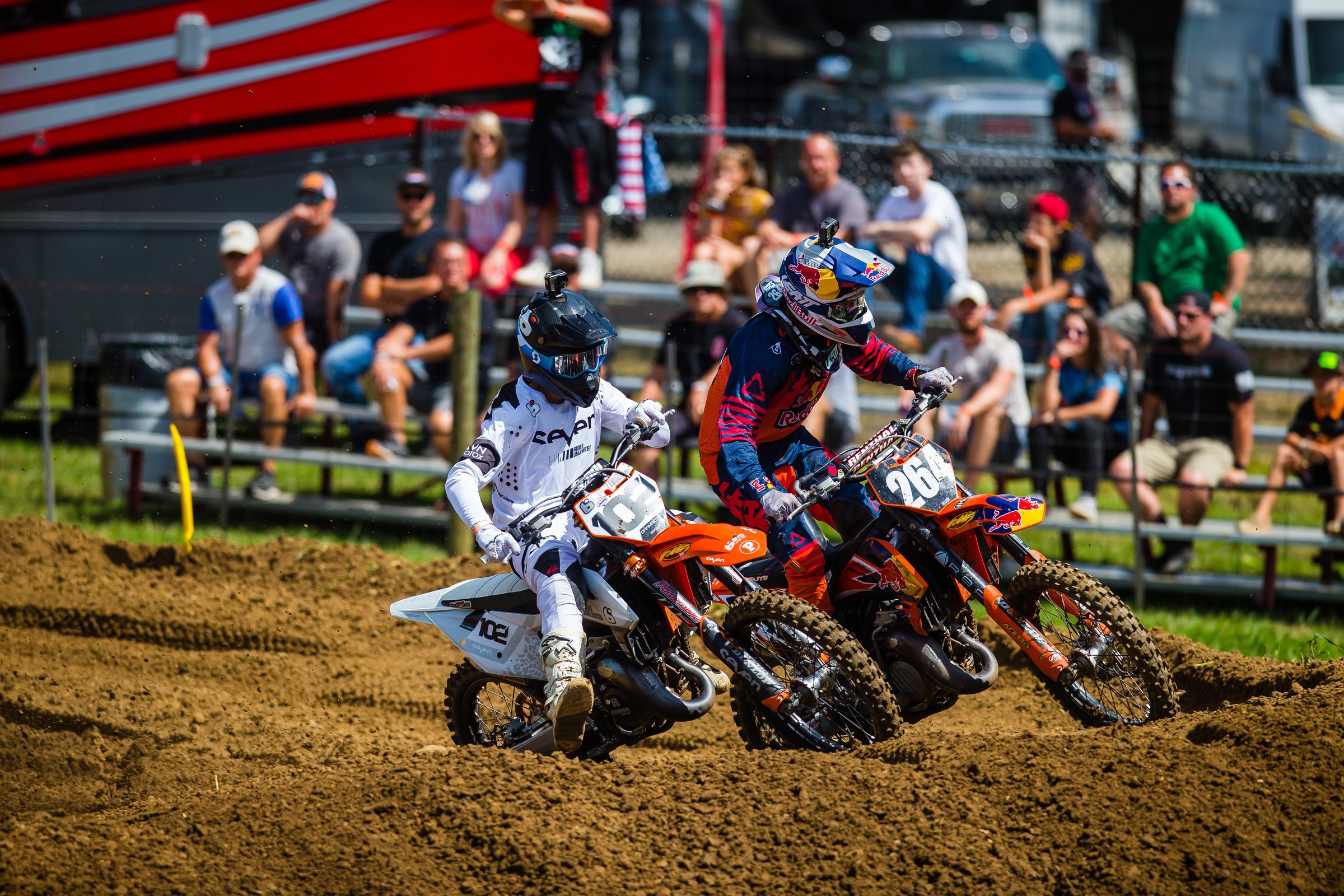 Crawfordsville, IN
Ironman
AMA Pro Motocross Championship
During the Ironman National Saturday, fans were treated to the final round of the 125 All Star Series.
Ryan Sipes, aka "Mr. Versatility," won the one and only 125 All Star race he entered in 2019. Sipes, a veteran of the sport, took the win as he lead an army of KTM riders through checkered flag.
Wyatt Liebeck (KTM) and Jack Chambers (KTM) finished second and third, respectively, as Cody Vanbuskirk (KTM) and Chase Yentzer (KTM) rounded out the top five.
Stay tuned to Racer X Online this week as we'll have full video coverage from the 12th round of the 125 All Star Series.
Motocross
| | Rider | Time | Interval | Best Lap | Hometown | Bike |
| --- | --- | --- | --- | --- | --- | --- |
| 1 | Ryan Sipes | | | | Vine Grove, KY | KTM |
| 2 | Wyatt Liebeck | | | | Ekron, KY | KTM |
| 3 | Jack Chambers | | | | Auburndale, FL | KTM |
| 4 | Cody Vanbuskirk | | | | Harvard, IL | KTM |
| 5 | Chase Yentzer | | | | Carlisle, PA | KTM |
| 6 | Christopher Blackmer | | | | Musegon, MI | Yamaha |
| 7 | Cayden Switzer | | | | Muskegon, MI | KTM |
| 8 | DJ Gritzmacher | | | | Sussex, WI | KTM |
| 9 | Brantley Schnell | | | | Denver, NC | Husqvarna |
| 10 | Noah Willbrandt | | | | Waterford, MI | Yamaha |
| 11 | Luke Vonlinger | | | | Stanford, KY | Husqvarna |
| 12 | Nicholas Hunt | | | | Fort Wayne, IN | Yamaha |
| 13 | Alex Faith | | | | Mount Holly, NC | KTM |
| 14 | Brett Greenley | | | | New Memphis, IL | Yamaha |
| 15 | Mike Brown | | | | Saugus, CA | Yamaha |
| 16 | Kaden Polito | | | | Burns Harbor, IN | KTM |
| 17 | Gatlin Combs | | | | Portage, MI | KTM |
| 18 | Mitchell Zaremba | | | | Avon, OH | KTM |
| 19 | Scott Davis | | | | Yuba City, CA | KTM |
| 20 | Konnor Visger | | | | Bellevue, MI | Husqvarna |
| 21 | Garrett Rednour | | | | Louisville, KY | Yamaha |
| 22 | John E. Ayers | | | | Grove City, PA | Husqvarna |
| 23 | Gavin Tilford | | | | Pine Island, MN | Yamaha |
| 24 | Ryan Hoover | | | | Zionsville, IN | Yamaha |
| 25 | Zennon Shain | | | | Coal City, IL | Husqvarna |
| 26 | Chase Cain | | | | Haslett, MI | Yamaha |
| 27 | John Vandezande | | | | Marquette, MI | KTM |
| 28 | Dean Taylor | | | | Dryden, MI | Honda |
| 29 | Tyler Nowlin | | | | Hillsboro, TN | Yamaha |
| 30 | Andrew Zambon | | | | Bark River, MI | KTM |
| 31 | Jack Taylor | | | | Lewistown, IL | Yamaha |
| 32 | Shane Kehoe | | | | Oakland, FL | Yamaha |
| 33 | Josh Bowman | | | | Madison, WI | Yamaha |
| 34 | Ray Ruppert | | | | Miami, OK | Kawasaki |
| 35 | Jesse Miller | | | | Maple Rapids, MI | KTM |
| 36 | Maxwell Mayer | | | | Eden, WI | KTM |
| 37 | Brian Allen | | | | Lafayette, IN | Honda |
| 38 | Andrew Bowman | | | | Madison, WI | Yamaha |
| 39 | Ryan Underhill | | | | Crown Point, IN | Honda |
| 40 | Jackson Gray | | | | Forsyth, GA | Husqvarna |
Full Results