Detroit, MI
Detroit
Monster Energy AMA Supercross Championship
No matter who you are, what you've done, and how long you've been around, there's always a different perspective to be had and a different way to experience things. That's true in racing too, something Kyle Cunningham and Blake Wharton, who both came into 2019 in different positions than they have in the past, can attest to.
Since turning pro Cunningham has been in just about every situation imaginable. He's traveled from race to race in a pickup truck with his dad serving as his mechanic and he's had both factory and fill-in rides. He's been on teams that have run out of money and he's seen opportunities evaporate when contracts haven't been honored. Heck, he's even been on a team that decided to pull up stakes and head to Canada for the summer. Think of any situation and Cunningham has probably been there, done that. Through it all he's managed to maintain pretty solid results too, including being the top privateer (10th overall) last year in the 450 Class of Lucas Oil AMA Pro Motocross, despite missing round three due to injury.
This year Cunningham's insight is expanding even farther too, as he's had to don not only a helmet, but a manager's hat to keep things going for himself after his original plans for 2019 didn't pan out.
"Now I understand what Chad Reed was dealing with, and his effort was quite a bit bigger than what I'm trying to do," Cunningham says of his new responsibilities. "It consumes everything. When I get up in the morning I make calls. Then I ride, I make calls between riding, ride some more, then I train, and when that's done I sit back down and make more calls. Putting sponsors together, booking flights, paying my mechanic, making sure the van is fueled and leaving on time, and ordering parts from the dealership, I'm handling that whole side of it. It's on me to make sure we have all the things we need to go racing. Todd Hansen has stepped up in different avenues too in order to make this whole thing possible. He's been a key player in this whole effort. Justin Amstutz, who was part of the first program, helped me retain some support too."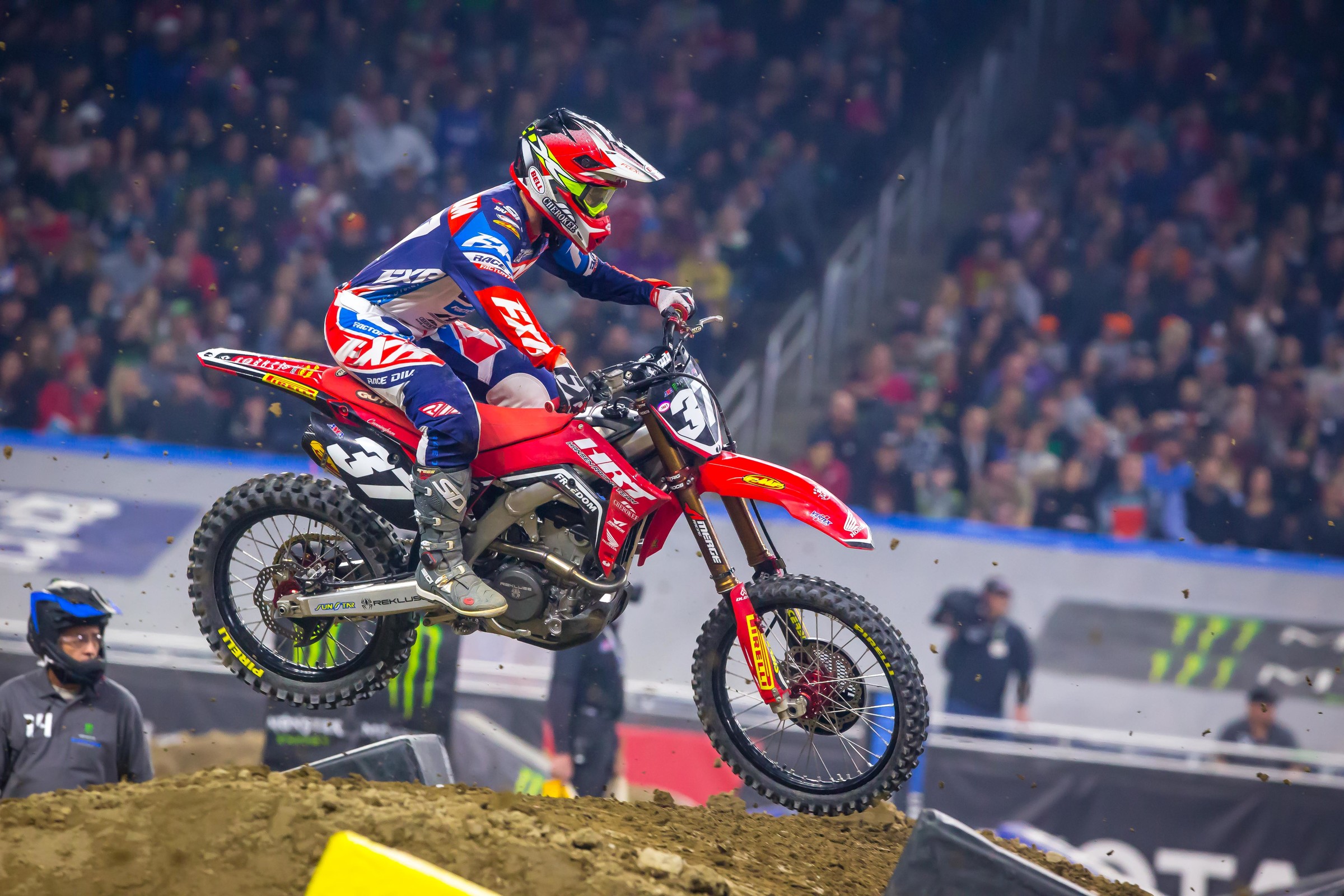 Despite the additional workload, having only six days on the bike before Minneapolis, and having a stock bike to practice on during the week, Cunningham came out swinging at the opener and landed seventh, the highest non-factory position of the night. Since then he's finished 10th (Arlington) and ninth (Detroit). Cunningham didn't make any headlines with those results, but that doesn't mean he (and plenty of other veteran riders like him), shouldn't get some recognition for the solid work they put in each and every season. If there's one thing that's defined Cunningham over the years it's his ability to get the job done no matter what situation he's facing.
"I knew going into this year it was going to be a building process," Cunningham says. "It's been a learning experience, but we've been able to accomplish a lot in a very short period of time. We didn't even we have the Sprinter van until a week-and-a-half before Minneapolis. But it's been fun. It's been more than just hopping on the bike and racing. It's a lot of work, but I'm super happy just to be at the races. I'm having more fun than I've had in a little while. I appreciate just being able to be here after wondering if I was even going to be racing this year."
Not being at the races is something Wharton knows all about. The TiLube Honda rider stepped away from the sport in 2014, and while he's made appearances here and there, this is the first time he's been able to make a run at a full season since. It hasn't gone perfectly, he experienced a few mechanical issues at the first two rounds, but it hasn't been terrible either, especially considering how long it's been since Wharton's been a full-time racer. Wharton says now that they've worked a few things out things are only going to get better moving forward.
"We're getting the bugs worked out. It's tough with a new team and bike to go straight into it and do as well as you'd like to. But at each round I think I've gotten a little better and a little closer on bike setup. I definitely feel like I've got speed at times and that I'm close to the factory guys at times. I'm getting closer to where I want to be. But also, there's some room to grow. We knew with my injury last year, that torn ACL in Salt Lake City, that time was of the essence. We didn't have as much as we would have liked. But overall I think it's going good for where we're at. We're doing battle with some of the factory guys and some of the other teams. It's not easy and we knew it'd be a challenge. But we'll hone the skills, and hopefully I'll get a good start at one of these rounds and run up front with those guys."
Getting back into the swing of things and finding the pace of the 250SX East Region's top guns isn't Wharton's only challenge in 2019. This sport evolves in multiple ways every year, and while it's still all about going fast on a dirt bike, testing, and being in good shape, not everything is the same as when Wharton left a few years go.
"There are things like the Showdown events and Triple Crowns, and racing 15 minutes instead of 15 laps," Wharton explains. "There's also been technological changes that've been made in that time, although nothing revolutionary. I think the gate has probably been the biggest thing. That mesh grate takes some time to get used to. You grow up racing on dirt your whole life you get pretty good at it. Then they switch it over and it's kind of like learning a new deal. It's a big change from dirt, for sure. That's probably been the biggest difference.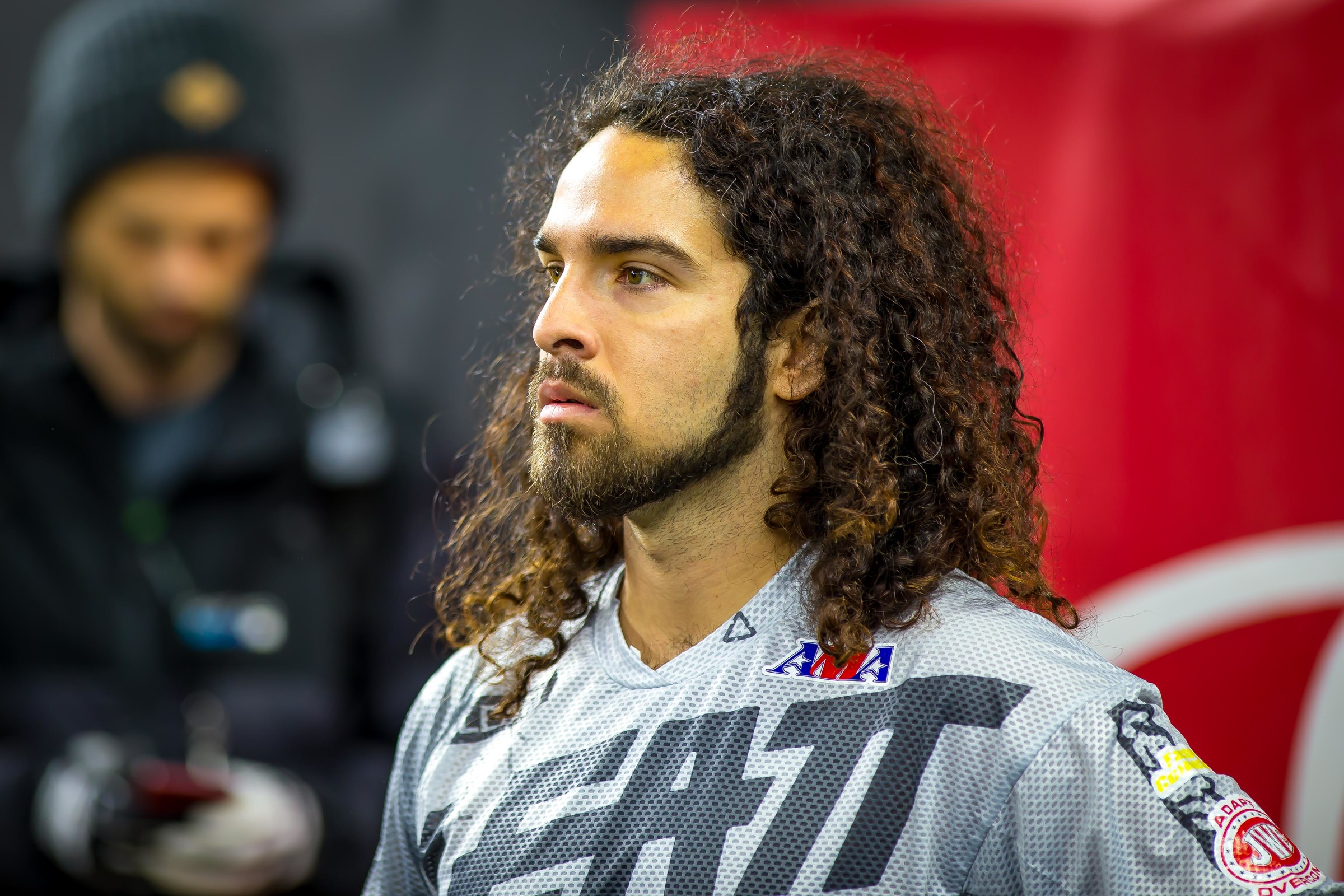 "I've been [a] factory [rider] most of my career and there are things you can learn when you step away," he continued. "You have to get better. If you're expected to beat guys who, on paper, have a bigger budget for equipment and things like that, then you have to become a better racer. You've got to make sure all your ducks are in a row when you go racing."
As far as the rest of the season is concerned, Wharton says he's taking things race by race right now. He's won races in the past and he knows what steps he's got to take before he's able to think about that again.
"We're not too worried about points right now because of that DNF. It'd be great to get into that top ten in points, but I'm more or less looking at it a per round. Cracking into that top five is the first step before you can land on the box. There are a lot of good guys on the East Coast this year, it's obviously pretty stacked. But I just need to get my lap times closer to where they need to be and get consistently into the top ten now that we've worked out some of the bugs."