Neuquén, Argentina
MXGP of Argentina
FIM Motocross World Championship
Following two impressive runner-up finishes at the 2015 Rocky Mountain ATV/MC AMA Amateur National Motocross Championship at Loretta Lynn's, Darian Sanayei wondered what was next. With no rides and no contracts in place for the future, Sanayei decided to roll the dice and take a shot at the FIM Motocross World Championship in the form of the European-based EMX250 racing series. During the ten-race series that traversed Europe during the spring and summer of 2017, Sanayei excelled, winning six motos and finishing up a fighting second in the overall championship. His reward: a contract to ride for Bike It Dixon Racing Kawasaki team in the 2018 MX2 World Championship.
It was a star-crossed, injury sabotaged racing season that really only consisted of the first three Grands Prix of the year—Argentina, Holland, and Spain. Sanayei sure as hell displayed his aptitude for GP motocross by finding his way up and onto the podium with top three moto scores at both Argentina and Spain. Still, a torn-up knee suffered at the opening round of the Maxxis British Championship in April sent Sanayei right back to his hometown in Washington to catch his breath, heal-up, and get his house in order for 2019.
The knee injury and home sickness notwithstanding, the motos Sanayei did run in '18 went pretty damn well.
"I moved to Belgium before the '18 season started and most everything has been going right," he said. "Also, everything has been improving with me and the team and I've been getting more confident. I think that's why we saw a big step for me in 2018. Hopefully, that same step I took last year, I can take another big step coming into this year. In the back of my head and stuff, back when I was hurt in '18, at my low times I would think, 'Maybe I was going really fast during those first three Grands Prix last year because those three tracks were to my liking.' At this point now, though, I think every track I'll race on in 2019 is going to be to my liking. That's the mindset I'm going into it all with."
Which brings us right on back to Lommel, Belgium, and the reality of Sanayei's old world surroundings.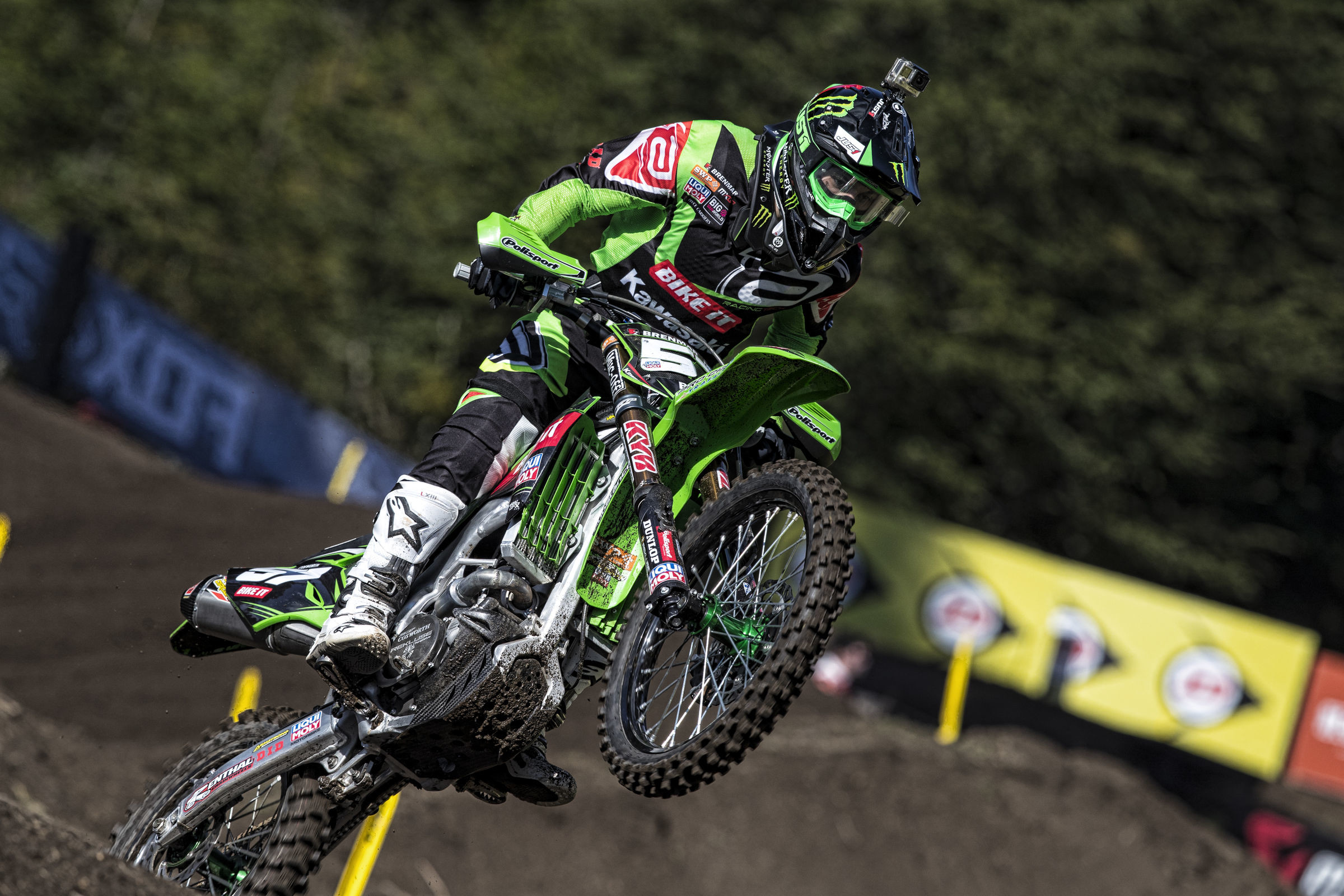 "Everything is going pretty good so far," Sanayei said. "I haven't got a lot of time on the bike. I've only rode one time thus far in '19 and that was at Lommel and the track was frozen. I wouldn't say that I'm behind or anything, but I haven't got a lot of time on the bike. I think that in the long run, though, that'll help me because it's such a long season."
It is 6,998 miles from Monroe, Washington, to the far-flung MXGP of Patagonia, Argentina, yet that's where 22-year-old Sanayei and his heavily modified Kawasaki KX250 will initiate a run at the '19 season. Sanayei elected not to run any international races leading into the season.
"With the pre-season races I sort of have a different mindset, you know? If I'm going into a race, any race, I want to be going into it with everything," he said. "In other words, I don't want to be thinking, 'Oh, this race doesn't really matter. I'm just going to take it easy.' I want to go into it planning to win. There are definitely a lot of guys that I think are going to be competitive, but obviously the main contender is going to be Jorge Prado because he won the championship last year. Thomas Kjer Olsen is super consistent. I think those two guys are probably going to be the toughest."
Sanayei is completely cognizant of the reality of his Grand Prix surroundings as well as the ins-and-outs of the Kawasaki program that will do anything in its collective power to send him to the starting gate with a championship-caliber factory 250cc race machine.
"I'm still on with the same team and I still have Monster Energy support and Kawasaki is still with me, so I'll pretty much be running everything that I have throughout my entire career," explained Sanayei. "It's really good for me to not have to worry about switching or even doing anything that differently. With my team, we're working together and talking together and I feel like our relationship is better. I also think the bike is going to be good and I'm going to be good. To be honest, a few years ago when I was first even considering coming over to Europe, I wasn't sure what to make of it all. Now, though, I'm happy that I did it and I'm happy with what I've made out of this and I'm happy with what the future holds."
In 1994, California-born racer Bob Moore won the 125cc World Motocross Championship for Yamaha. At that point his championship run in the GPs was nearly a decade in the making, but Moore, adhering to his boyhood dream of becoming a world champion, made it happen. Sanayei is full aware of all this and has been formulating his future racing plans accordingly.
"I have my plan in my head. I signed with this team for two years, but I have just one year left in MX2 as the age rule is right now," said Sanayei. "You know, for me, if everything goes to plan, I want to kill it this year. Then, after this year, I'll decide where I want to go. America is pretty cool and I haven't raced there. I'm eager to be racing over there in the States, but I just have to see what's best. This year I'm more excited that I'm the one that gets to try and hold it down over here for America. I can't wait for Argentina this weekend!"