Riders Upset With Drying Agent in San Diego Dirt [Update]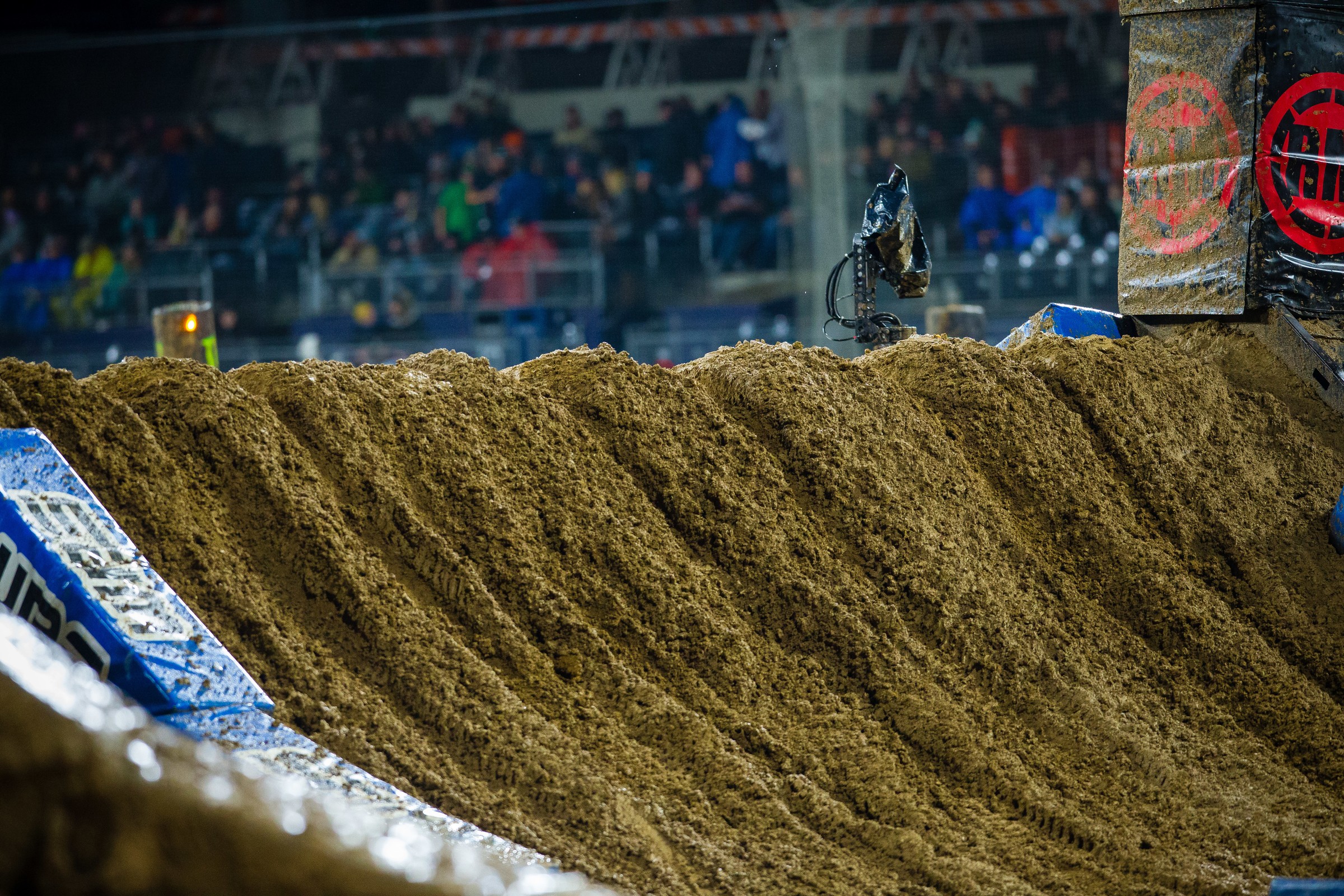 It spread quickly on social media on Saturday night, and continued through Sunday afternoon and today. And they all had similar symptoms: burning skin. A whole host of riders have now cited strange and painful burns after the race, and they all seem to think it comes from a drying agent, which riders have cited as lime, mixed into the muddy San Diego Supercross dirt. Ken Roczen was already feeling the burns during the post-race press conference and showed some folks before the conference started, and again in the elevator on the way back to the pits.
He later shared this thought on Instagram:
It soon started coming in quickly, like the outspoken Tyler Bowers writing in two Twitter posts:
Soooo are we going to do something about these chemical burns on our bodies and our destroyed bikes or we just going to act like nothing happened?

— tyler bowers (@tbowers911) February 3, 2019
Because now I look like I have leprosy and I have to literally scrap my bike. Lime will not dry up a track that is already a full pond. Just destroys all of our equipment and now the riders

— tyler bowers (@tbowers911) February 3, 2019
Later, in a Twitter post, Bowers added:
Also not a jab at the track crew boys, they do a great job and work their tails off every week. And they do an amazing job keeping these tracks together in some nasty circumstances

— tyler bowers (@tbowers911) February 3, 2019
Some of the stuff out there is pretty gruesome, like privateer Vann Martin or Smartop/Bullfrog Spas/MotoConcepts Honda's Vince Friese.
Today, we called up popular HEP Suzuki rider Alex Ray, who rarely has a bad word to say about anyone or anything (besides his own riding), to get his timeline.
"Yesterday [Sunday] was really not good for me, just coughing… it all started Saturday night," Ray said. "Before the LCQ I noticed I was getting some burning in my groin area. I was like what is going on? Am I chaffing? I was wearing different shorts than I normally do and thought maybe it was just that, but then the LCQ was bad. After the LCQ, I was stripping my clothes off in the middle of the pits. My skin was burning, literally burning so bad. It looked gnarly, and it was blistering up. Then I did the main event, and on the way home it was so bad I was spread eagle in my truck, I could barely walk.
"Yesterday I couldn't walk, it hurt to sit down, it hurt to sleep. I was coughing, too, I don't know if it got in my mouth or what.
"It was excruciating pain. I don't think I'll be able to train this week, on a bicycle that's exactly where it hurts, and I don't know if I'll be able to ride. So my week is kind of jacked, not to mention my bike…."
The bikes have taken a hit, also, as privateer Bubba Pauli showed here.
But there have been mud races before. Why was it different this time? No one knows for sure yet, and we have reached out to the Feld Motor Sports PR staff to see if there's a statement or explanation coming from its side. If we hear anything, we will be glad to tell that side of the story. For now, several riders seem to think all the standing water on the track was a big problem.
"The reason being is, I think, there was so much water on the start straight," Ray said. "They put the lime on the start straight, and when we took off, we all got splashed full of water. You could see the lime on you when you took the jersey off, it was soapy and it was on your skin. I've never had issues like this before.
"When you're riding you kind of zone out and you don't think about what's going on, but after the main event, suddenly I was like 'It's back, and it's way worse!' Because obviously you're just do paddling around the track, and just rubbing on the seat."
We'll have more on this story as it develops.
[Update: Feb. 5]
Feld has released a statement regarding the track conditions. You can read more here.
On Saturday, February 2nd at Petco Park in San Diego, Ca., Supercross riders were affected by a drying agent applied to the dirt track, which may have caused skin irritation and damage to their bikes. The wellbeing of our riders, their teams and our crew is always a top priority for us at all Supercross events. Given last week's forecast of rain for Saturday's event in San Diego, the track crew took normal precautions to ensure a safe and raceable track. Prior to the qualifying rounds and main events, they removed the protective tarp and applied a drying agent, a lime and sand mixture, to treat two areas on the track to try and remove moisture from the dirt. This process has been used safely for decades at Supercross to dry dirt and thereby reduce the risk of accidents for the riders. It appears that the unprecedented amount of rain on Saturday prevented the lime from mixing with the soil as usual. This resulted in splashing of the riders and their bikes, which may have caused skin irritation to some riders and damage to their bikes. We are currently reaching out to each rider who participated in Saturday's race to assess the extent of the impact, ensure their welfare and get them back on their bikes racing. We are also reviewing our existing processes to deal with excessive water on the track to prevent a recurrence.
[Update: Feb. 6, 4:30 pm EST]
Yesterday in their statement, Feld Entertainment said they were going to reach out to "each rider who participated in Saturday's race to assess the extent of the impact, ensure their welfare and get them back on their bikes racing."
Racer X has learned from two privateer riders that Feld has reached out with an offer of $5,000. At this early stage, we don't know if all the riders that competed in San Diego have been contacted yet, or how much will be offered to each.
It is still very early in the process, but we will continue to monitor this story and provide updates once we know more.
---
[Update: Feb. 7, 2:00 PM EST]
Riders continue to share photos across social media of the problems they are having due to the lime used in San Diego.
Privateer AJ Catanzaro wrote on social today that he has been experiencing problems with his eyes.
"My eyes were barely bugging me (didn't even take my goggles off Saturday night during race), and they progressively got a little bit worse as the week went on," he wrote in part. "Thank god I decided to go to the eye doctor just as precaution, because it turns out the ph level in my eyes was DOUBLE what it was supposed to be. It is very possible that there are small particles in your eyes that will continue to cause damage if you don't get them looked at. This post is not designed to bash the promoters or anyone involved, I just want to raise awareness of this so everyone can get checked out."
You can read his post below: