The end of 2017 and first half of 2018 was tough for Alex Martin. He missed the last four rounds of Lucas Oil Pro Motocross last year after he injured his collarbone and scapula while practicing leading up to Washougal. He rebroke that same collarbone at the opening round in Anaheim, which forced him to sit out a month. Shortly after he returned to racing, he injured his wrist at the San Diego Supercross and missed more time on the bike.
With all these injuries and with his two-year contract with Troy Lee Designs/Red Bull KTM team up, Alex needed to produce some results to have some negotiating power when it came to signing a new deal. Sidelined for the rest of Monster Energy Supercross, he shifted his focus to prepare for Lucas Oil Pro Motocross, where he was able to turn his bad luck around by getting some podiums in the early rounds that helped land him his new two-year deal with Autotrader/Yoshimura Suzuki. After the season concluded at Ironman, Alex ended up with five overall podiums and finished second overall in the series.
This is basically the third year in a row that Alex has finished second in outdoors—he finished eighth last year, but was second in points before a practice crash that forced him to miss the remainder of the season. We caught up with Alex last week to talk about his time at TLD/Red Bull KTM, how the JGR deal came about, and more.
Racer X: You were at Troy Lee Designs/Red Bull KTM for two years. How was that experience?
Alex Martin: I had a lot of fun the two years I was at the TLD KTM team. We got a lot of podiums—a dozen podiums in two years. I kind of viewed those guys as a family. I loved working with my mechanic Jordy, and it was fun working with TK [Tyler Keefe, team manager] and Wayne and the suspension guys. It was a fun team to be a part of. A lot of cool sponsors. It introduced me to training in Florida at Baker's Factory, so that was kind of cool to be able to have that opportunity. I think all in all, it was a good learning experience for me.
How was training at the Baker's Factory? What was that experience like? Was it pretty eye-opening for you?
I've always viewed myself as a self-motivated guy. I don't necessarily need someone to wake me up in the morning and make me train, but it was really cool to be at a facility where it's very professional. You basically just show up and do your job and then leave. You don't have to worry about track maintenance or anything like that. It was cool to be around Aldon [Baker] and to see how he operates—his mentality towards training. There comes a point in time when, as athletes, we all kind of struggle, I guess, with motivation when we're tired, especially in boot camp-type situations. It's kind of cool to see the mentality in those types of situations where we're tired and we don't want to do the training. They're there to kind of try and get that extra 2 percent out of that athlete. It was really cool.
You had a pretty big group of guys down there training. What was that like?
Yeah. For the majority of my career, I always trained either by myself or I was at Club MX with Phil Nicoletti or some of the guys there, or with my brother. Just my brother and O'Show [Johnny O'Mara] or something like that. Then, when I started training with Swanny [Gareth Swanepoel] and his crew, then it was [Justin] Cooper, [Aaron] Plessinger, and a bunch of other guys, so that was my first experience with the group effort was with Swanny. Then to be at Baker's Factory, there's like eight or ten guys in a given week that are down there. It's fun. I think for longevity it really does help to be around a group of people versus kind of solo by yourself doing the grind. That could be pretty hard mentally, just to get through it when you're by yourself all the time. So having a group really does help for longevity and kind of makes it an overall more enjoyable experience.
How did the whole JGR deal come about? How long has that been in the works?
I was a little nervous after supercross because I didn't basically get a chance to race. I only finished one main event at Oakland and finished fifth, so I knew that with my contract on the line this year, I really needed to come out swinging in the outdoor series. I was fortunate that I was basically on the podium three out of the first four rounds, basically three second-places. I was in a good position basically by High Point. I was talking to JGR, so it was pretty early on. They had given me an offer. It was honestly an offer that was just too good to refuse. I'd known the guys over at JGR basically since my Club MX privateer days. I always felt I had a good relationship with that JGR crew. So it just seemed like it was an exciting opportunity that I couldn't pass up.
From my understanding, you were almost pushed out of being able to renew your contract with TLD/Red Bull KTM because of the amateur guys moving up to pro with contracts locked in place, so you were kind of left out in the dark a little bit, right?
It was kind of unfortunate. There were some amateurs coming up and they had been signed for two or three years out, so there wasn't really a spot for me, I guess.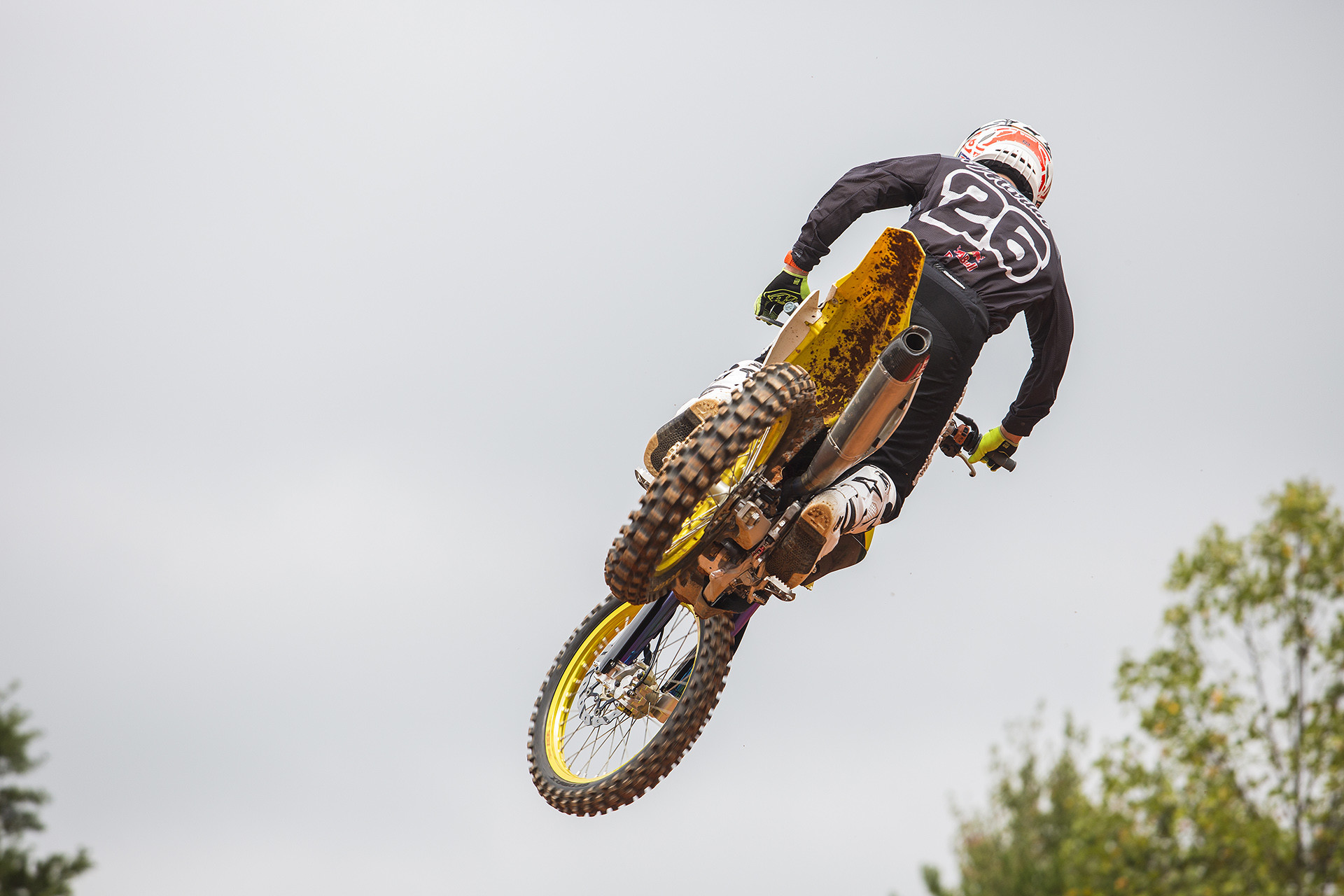 You and the TLD/Red Bull Team seemed to gel pretty well; it just seemed like their hands were tied with the amateurs situation.
Yeah. I had this opportunity from JGR, which is a great opportunity that I couldn't pass up, but at the same time, even though I loved my two years with KTM, with all the amateurs coming up, it just made it pretty tight on the budget. So it just didn't seem like the best fit for me going forward.
Like you were saying with your supercross season, your collarbone and wrist injuries didn't give you a chance to show your colors in supercross.
Yeah, it's frustrating because two years in a row, really three years in a row—I guess the last good year I had was '15 with [CycleTrader.com/Rock River Yamaha], where I had a couple podiums and was top five almost every race. Then '16 it was crashes and tough luck with Star [Racing] Yamaha. Then in '17 I had the podium in Atlanta, my best-ever race, actually, and then I had another podium going at Indy when I crashed with a couple laps to go and ended up fourth. Then Christian Craig punted me off a berm in Detroit and ended my season prematurely. So that was a bummer.
Then I was obviously looking for some redemption in 2018 and running sixth in the first main at A1. I kind of struggled all day, so I was looking to just get through that one and build as the season progressed, and with a couple laps to go in the main event, I just crashed again and hurt my collarbone. So I haven't been able to catch a break, it seems, in supercross the last couple years. Training-wise, it seems like I've had the speed during the week and fitness and all of that, so for me it's just kind of about staying healthy and trying to put it together on race day.
You've been down in Florida training at the Baker's Factory, where you've also got a house now. JGR is up in North Carolina. What's your game plan as far as where you'll be living and training now?
That's one of the cool things with JGR, is they have their own facility. It's 20-30 minutes from the shop. So it will be kind of fun to utilize that. I like to kind of not be in one place for too long. So even with TLD, I was in Florida, but then we'd go to California for a little time, and then come back to Florida. So with JGR, I'll be training at the [Moto] Sandbox with Ken [Roczen], Adam [Cianciarulo], and Chase [Sexton] and those guys. Then also testing and spending a fair amount of time up in Charlotte with the JGR group, too. So it will be kind of fun to mix it up and kind of hop back and forth and just take advantage of different dirt and different scenery.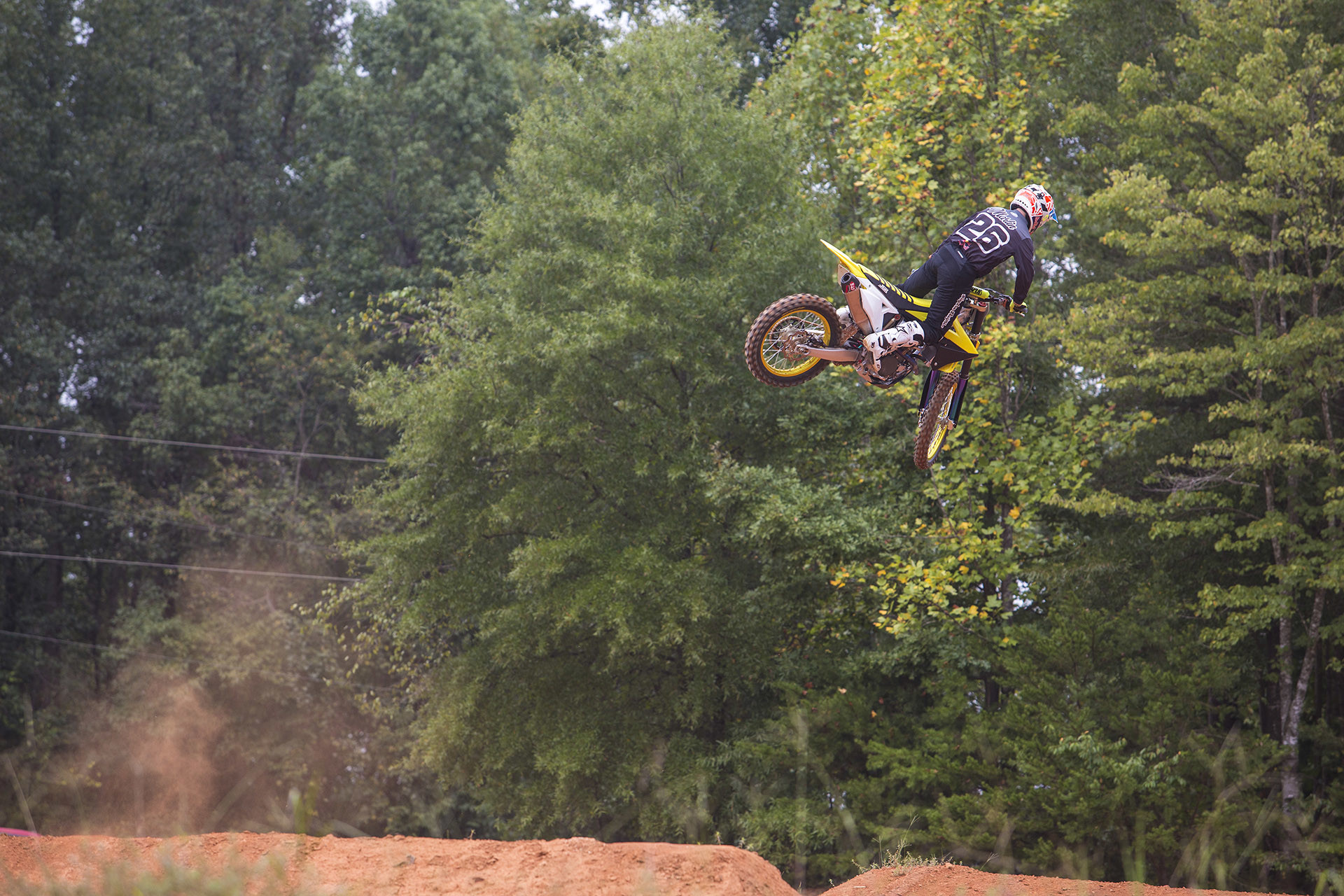 At least it will be a lot easier flight up to North Carolina from Florida than to California.
Oh, yeah. There's probably five or six nonstop flights from Orlando to Charlotte a day, so can't beat that.
How's the off-season been treating you so far? What have you been up to?
To be honest, after Indiana we just did a lot of golfing, eating junk food, and having a little bit of beer and hanging out on the beach. Went with my wife to Saint Augustine beach and spent Labor Day weekend more or less, I guess you could say, blowing it out. But I only had about a week in me. As athletes, we're so conscious of what we eat and train and all that stuff year-round, so I had about one week of not really being careful what I eat and drink and I was just like, I can't do this anymore. So I'm back to eating pretty healthy and clean again already, week two.
What's your junk food go-to and your beer of choice?
I'd say I'm probably a fan of Bud Light Lime at the moment. Definitely been hitting the pizza pretty hard—pizza and ice cream. A little too hard, maybe, but it's only one week so it's fine.
When does the grind start again for you?
Actually, I've kind of been training a fair amount this week just because I'm going to do Montreal Supercross September 15. I'm going to do that. I'm flying up on Monday to Charlotte. I'm going to ride the JGR bike. I'm really just going to ride for like three or four days and go up and race the supercross, then take the rest of September off. Then I'm going to fly back up to Charlotte October 1 and that will be kind of the official start to the off-season. I'll do some testing for a week or two up there with the JGR boys.
How is it over there at JGR? They're a pretty cool group of guys.
Yeah. Obviously it's new, so I haven't necessarily started. Next week I'll have a better idea of everything. Like I said earlier, I do know pretty much all the guys in the team from my Club MX privateer days. I think actually when I was CycleTrader in '14, we had JGR suspension and engines, so that was four or five years ago at this point, but that kind of allowed me to get to know a lot of the guys. I feel like I have a decent relationship with those guys. So I'm kind of looking forward to growing those relationships and really just kind of shaking down the new RM-Z250F.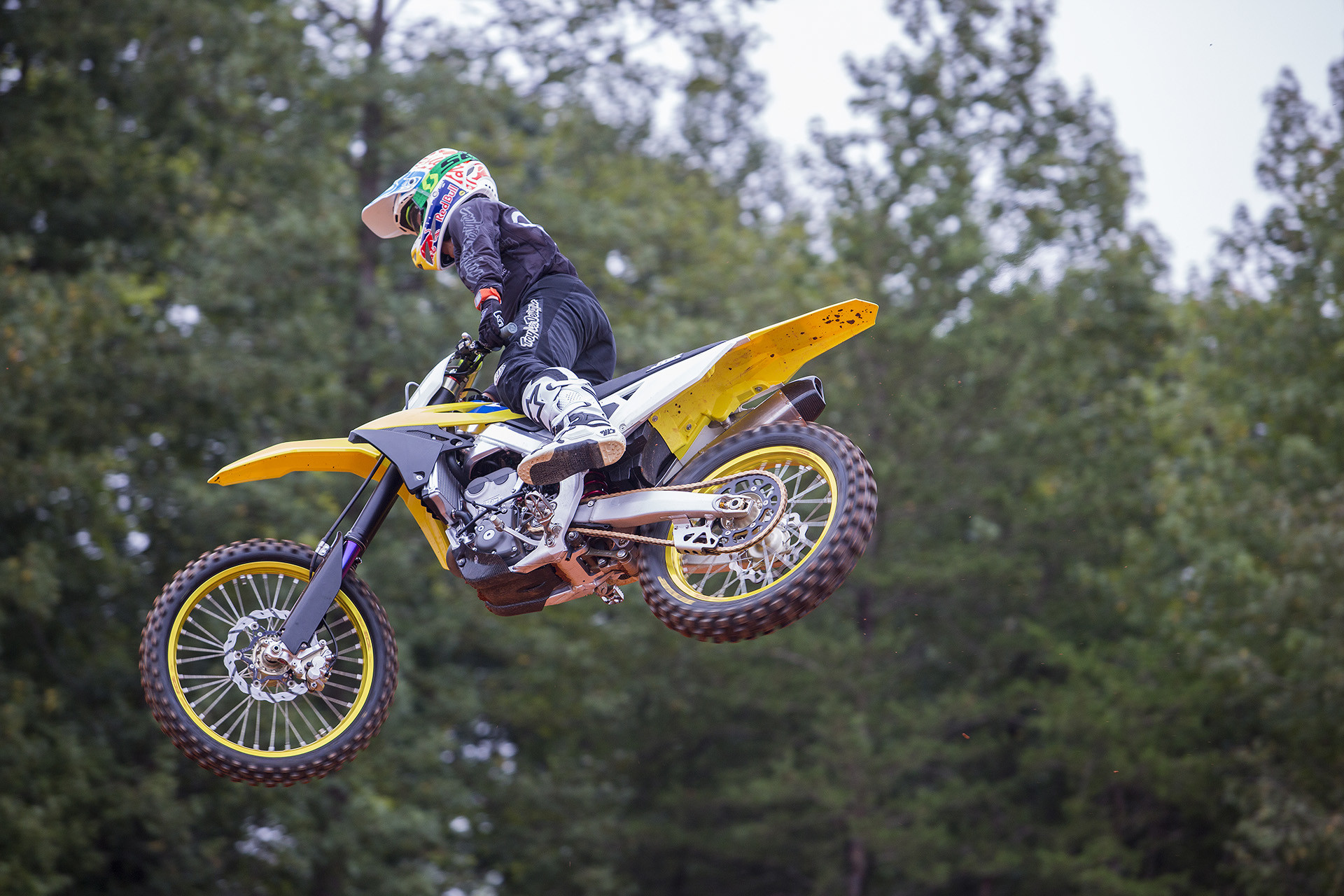 It's pretty amazing, all the resources that they have over there with the NASCAR team and the machine shop the motocross team uses. Have you gotten a tour of all that yet?
Yeah, just the NASCAR shop alone is mind-blowing, but then they have their gym for the JGR guys and the facilities and the track—supercross, outdoor tracks. It really is pretty crazy, all the resources that JGR has for their athletes. I'm looking forward to taking advantage of that.
Everybody is going to want to know: How's your brother Jeremy doing with his back injury? Do you guys talk much?
Yeah, I've been talking to him pretty regularly. At this point, the good thing is the infection is pretty much not an issue, so he's healing, on the mend. He's kind of doing stationary cycle stints every day. I don't think he's probably going to get the approval to actually start getting back to training probably until Thanksgiving. But most importantly, he's able to basically kind of do the day-to-day activities with no pain. That was the hardest part for a while. For three or four weeks after the crash at Muddy Creek, he was just in extreme pain day-to-day. That's when they found out that he had an infection, before RedBud. He had to go in for like a three-hour surgery and clean that out. He was on painkillers and stuff for probably four to six weeks. Since then he's been able to get off that stuff, so that's really helped everything as well, to get off of pain pills and just enjoy life.
Good luck at Montreal Supercross. That should be exciting. You've never been there before, right? Who's all going to be up there racing?
No, never been to Montreal. Looking forward to it. I think Cole Thompson, Matt Goerke, Phil Nicoletti, RJ Hampshire. I know there's a list of guys going up there, but not sure exactly the whole list. There should be some decent guys up there, definitely.