Welcome to Racerhead, coming to you from the home office in West Virginia. After a couple of weeks at Loretta Lynn's Ranch, we finally got to start rolling home on Sunday. The 2018 Rocky Mountain ATV/MC AMA Amateur National Motocross Championship was a blast, with lots of good racing, lots of bench racing, and lots of good, hard work. We've gone over the race all week, so I won't rehash things here, except to say the future of American motocross is in very good and capable hands—the next generation of little rippers is impressive.
Tomorrow, three graduates of that race will be named to Team USA for 2018 before the Unadilla round of Lucas Oil Pro Motocross. It seems like everyone has a pretty good idea of who it will be—we even put one of our guesses on the cover of the brand-new issue of Racer X Illustrated. With our AMA Supercross #1 Jason Anderson injured, as well as our AMA 250 Motocross #1 Zach Osborne, plus former champion Jeremy Martin and former Team USA member Cole Seely, there weren't a lot of options for Team USA team manager Roger Decoster.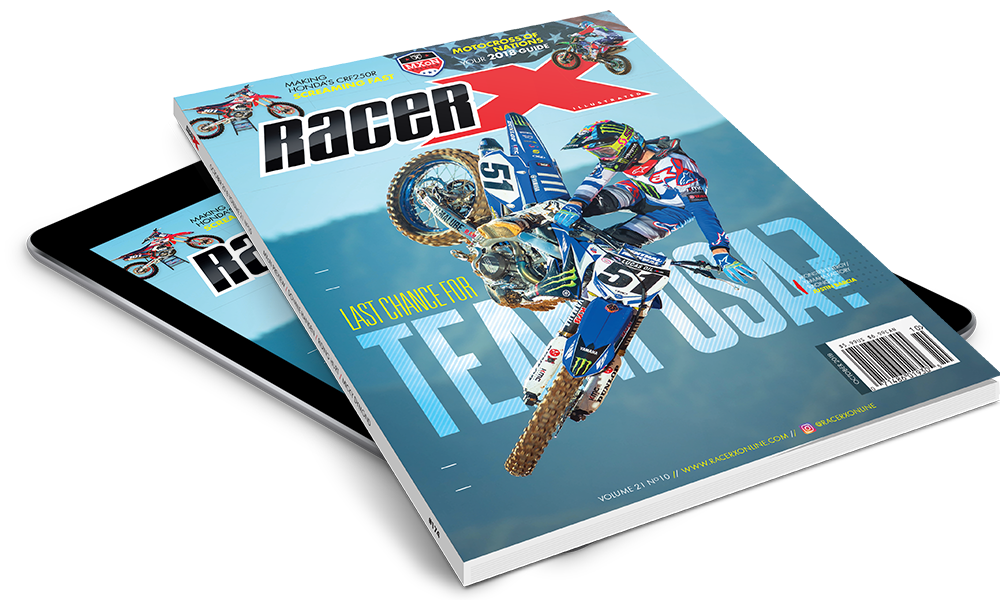 Not so in France, where they have something of an embarrassment of riches when it comes to choices for their second 450 rider. Having won the last four years on the trot, the French are starting to feel a little bit of the pressure that built up around Team USA when the years started adding up on our epic winning streak that lasted from 1981 through '93. It was like we couldn't lose, no matter who we sent, nor what the situations were—muddy, sandy, bad gate picks, injuries, top riders turning down the duty, whatever. The French seem like that now. Just last year in the heavy rains of Matterley Basin, they won with an enduro rider in MX2, the former MXer Christophe Charlier!
Last month I asked my friend Jordan Labbe of Moto Verte which two 450 riders they might pick: the veteran Gautier Paulin, the former MXGP champion Romain Febvre, or the U.S.-based former two-time world champ Marvin Musquin. He answered, "For a French guy, this question sounds like asking a kid, 'Do you prefer your father or your mother?'" Febvre has been faster this year but Paulin is thought of as the captain of the team—he's been the mainstay for nine years now. He is also the only rider who has been part of each winning team.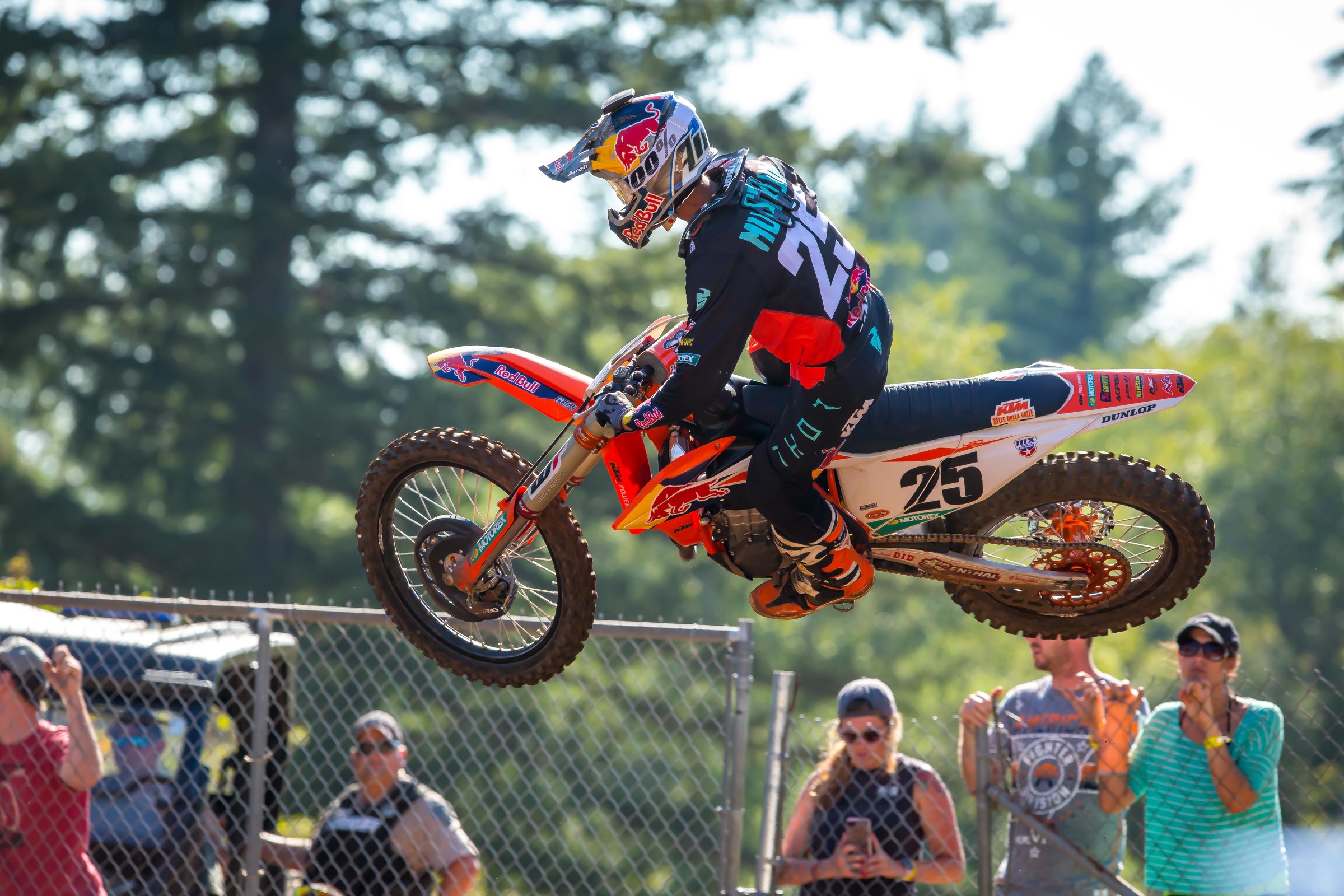 Still, when the French Motorcycle Federation announced this week that they were taking Paulin and Febvre, not Musquin, it really surprised me. The French team manager was at RedBud to watch Marvin, as well as Dylan Ferrandis. In that race, on pretty much the same track on which they will be racing the MXoN, Musquin went from dead last to second in the first moto, then won the second moto and the overall. For his part, Ferrandis went 3-4 for third overall in the 250 Class. Yet Ferrandis got the call for Team France; Musquin did not.
Was it payback for Musquin not racing every other time he was asked? That would be like cutting your nose to spite your face, or us not asking Tomac on the team because he passed last year. Was it a lack of respect for the AMA's level of competition? Couldn't be, because they picked Ferrandis. Or was it just that gut feeling a team manager or coach might get in picking a team? That could be it as well, though the president of the French Federation did imply that they had questions about Musquin's focus and motivation, which is honestly ridiculous—anyone who knows Marvin knows he rides with passion and elan always. And remember, he had the Ironman win in the bag over the superb Jeffrey Herlings last year until he crashed while out front and all alone with less than two laps to go.
For his part, Marvin released a statement where he addressed the president's comments, which Chase Stallo has below, but he didn't appear to burn any bridges. He simply stated his disappointment in being left out of a race on a track he's been racing on the past eight years, with the full support of the Red Bull KTM team also based here. I also feel bad for Marvin and his wife Mathilde. I know there's been talk of somehow getting him on Team USA, or even Puerto Rico, but the only team he wants to be on is France. Maybe he will use it for motivation in these last three nationals and try to get those 15 points back on Tomac. In fact, that would be the best way of all for Musquin to show the French Federation that they may have just made a big mistake.
Unadilla Press Day (Jason Weigandt)
We're live here at the famed Unadilla Valley Sports Center, and press day riding is a wrap. It seriously feels like a month since we've had a race in this series, by the way. Today's press teams included Monster Energy Yamaha, Rockstar Energy Husqvarna, Red Bull KTM's new motocrosser Kailub Russell, and a variety of privateers. New Yorkers Justin Barcia and Phil Nicoletti were both quite popular today with the press and looked pretty strong out on the track. Of course, Phil would probably tell you he was riding terribly. As for Barcia, it's just hilarious to see how hard he rides even when doing laps for press that mean basically nothing. I watched him hit the left-hander before where the track hooks onto the start straight with feet off the pegs, wide open, and not backing off at all. When Barcia makes mistakes, they don't even seem like mistakes because he completely shrugs it off. A few moments later, he was sending it out of Gravity Cavity and whipping it on the next double. Barcia looked really, really fast today.
So five-time and defending Grand National Cross Country Champion Kailub Russell is looking to make his pro MX debut tomorrow. (Fun fact: Kailub once tried to make RedBud years ago on a stock 450 and it didn't go well, as he crashed at the bottom of the ski jump, if my memory serves me right). Kailub has been motoing down with the boys at the Baker's Factory for the last month, and today he was happy to hang out with riding buddies like Michael Mosiman, Jordan Bailey, and Mitchell Harrison. I've heard that he wouldn't be here if Aldon Baker didn't sign off that he was ready. I talked to Aldon back at RedBud about this, and he said he doesn't want Kailub to come out and merely qualify, then struggle in the motos—that's not good for anyone. From people I've talked to, he should be fine, but I would imagine Kailub doesn't want to put any expectations on his shoulders, at least not for his first race. That would be fine, but at Unadilla there's always a chance of rain, and if that happens, everyone is going to start looking at the off-road guy.
A few riders are experiencing Unadilla for the first time. Mosiman missed this race last year with injury and Bailey is a rookie. Mosiman said he's been dreaming of riding Unadilla since he was a kid, and he was pretty happy with the track today. Bailey said it was better than he expected—on TV he couldn't tell if the track had a nice flow to it or not, but he liked it once he got out there. Bailey said the hardest part is realizing some of the jumps have turns at the bottom, and you've got to be ready to pick your rut. Mitchell Harrison commented on the ruts, too. He said in 2016 the track was super rutted and super difficult; last year it was flatter. Harrison feels his rut skills have improved since '16 and if it gets deep and nasty this year, he thinks it will help him. A lot of that is going to depend on the weather, though.
That's it from press day. Looking forward to the Motocross of Nations team announcement tomorrow, as well as the induction of a new member of the Unadilla Hall of Fame. Unadilla is a special place for motocross history—we'll see if we can add some more tomorrow.
By the way, the second 450 moto tomorrow airs live on NBC. That's our final network show of the year, and these usually deliver a big rating and great exposure for the sport. Let's hope the boys put on a good show this time. The previous NBC shows this year—Musquin versus Tomac at High Point, and then the crazy day at RedBud featuring a Roczen moto win and Musquin's surprise move into the points lead—have been thrillers. Let's keep it going!
Motocross of Nations Rosters Rounding Into Shape (Chase Stallo)
Tons of news dropped this week regarding rosters for the 2018 Monster Energy FIM Motocross of Nations at RedBud. We covered it all week on Racer X Online, so we'll provide a quick recap here in case you missed it. Team USA will be announced tomorrow at Unadilla, so stay tuned to Racer X Online.
When France goes for a fifth straight win this October, it will be without Marvin Musquin. As DC mentioned, the French Motorcycle Federation shocked the industry when they left Musquin off, instead going with a team of Gautier Paulin, Romain Febvre, and Dylan Ferrandis. Musquin, currently second in 450 points in Lucas Oil Pro Motocross and winner of RedBud in July, was not pleased with the decision. He wrote a lengthy post on his Facebook earlier this week.
Hello everyone,
As you might have heard already thru the video posted by the French Federation today, I've had the unpleasant surprise to find out that I wasn't picked to race the MX of Nations for Team France.
I think it's now important that I say a few words about what Jacques Bolle, President of the French Federation, said at the team announcement were the reasons and factors they looked at in selecting the team this year.
First of all, the motivation… For the record, the French coach came to America for the Red Bud National and spoke with me there to make sure I was motivated and available to race Des Nations. I confirmed I was 100% motivated and that being teammate with Dylan Ferrandis would be great! Also, what greater motivation is there for me to perform than to race in front of the world here in the US, on a track I just won? If that's not motivation enough then I don't know what would be!
Jacques Bolle also talks about the importance for the rider to be healthy and performing good around this time of the year. Seriously, what do you want me to say to that… ? My results speak for themselves. I finished 2nd in the AMA SX Championship this year and I'm currently a title contender for the outdoor championship with three races left! I won Red Bud this year and I've been racing at Red Bud for the last 8years…..
I'll save everyone time and not go into details about the planning and logistics that have already gone in to be part of that race from either my side, my Red Bull KTM teams side, the factory, my sponsors and or the rest of my crew….
To me it's sad to be overlooked again especially given the race is going to be here in the US where I compete almost every weekend for the last 8 years now and against many top riders that I am sure will be selected on the US home team. But I do really want to thank everyone who has and continues to support me and thank all the French, American, and all the other fans who have shown their support for me after this announcement. It means a lot to me.
The Netherlands have finished runner-up to France the last two years and will once again be a favorite this year. MXoN veterans Jeffrey Herlings and Glenn Coldenhoff will led the team, with South African Calvin Vlaanderen in MX2. Controversy arose earlier this year between Vlaanderen, who holds a Dutch passport and a Dutch license, and Motosport South Africa. According to an interview Vlaanderen conducted with MX Vice, the MSA complained to Youthstream about Vlaanderen having a South African flag. He told MX Vice that MSA has never helped him.
"MSA have never helped me in my career, never once. Now, I am really proud to represent South Africa and to put them on the top step of the podium, and also on the podiums before that. When I hear that they complained because I did not ask them for permission to ride with the flag, that is just ridiculous. I am really pissed off about it. I am obviously still a South African and I am proud to be South African, but I am also half Dutch and now I am also proud to be half Dutch."
Ken Roczen, who hasn't raced the MXoN since 2013 due to injury and team changes, returns this year to captain Team Germany. He will be joined by Max Nagl and Henry Jacobi. Roczen led Germany to its first MXoN victory in 2012. In '13, Roczen went 1-2 in his class, but Germany finished seventh due to a bad weekend for Dennis Ullrich. Kenny rides RedBud very fast and may be looking at this race as a chance to re-establish himself on the short list of the worlds' best motocrossers, as the past couple of years have been injury-riddled.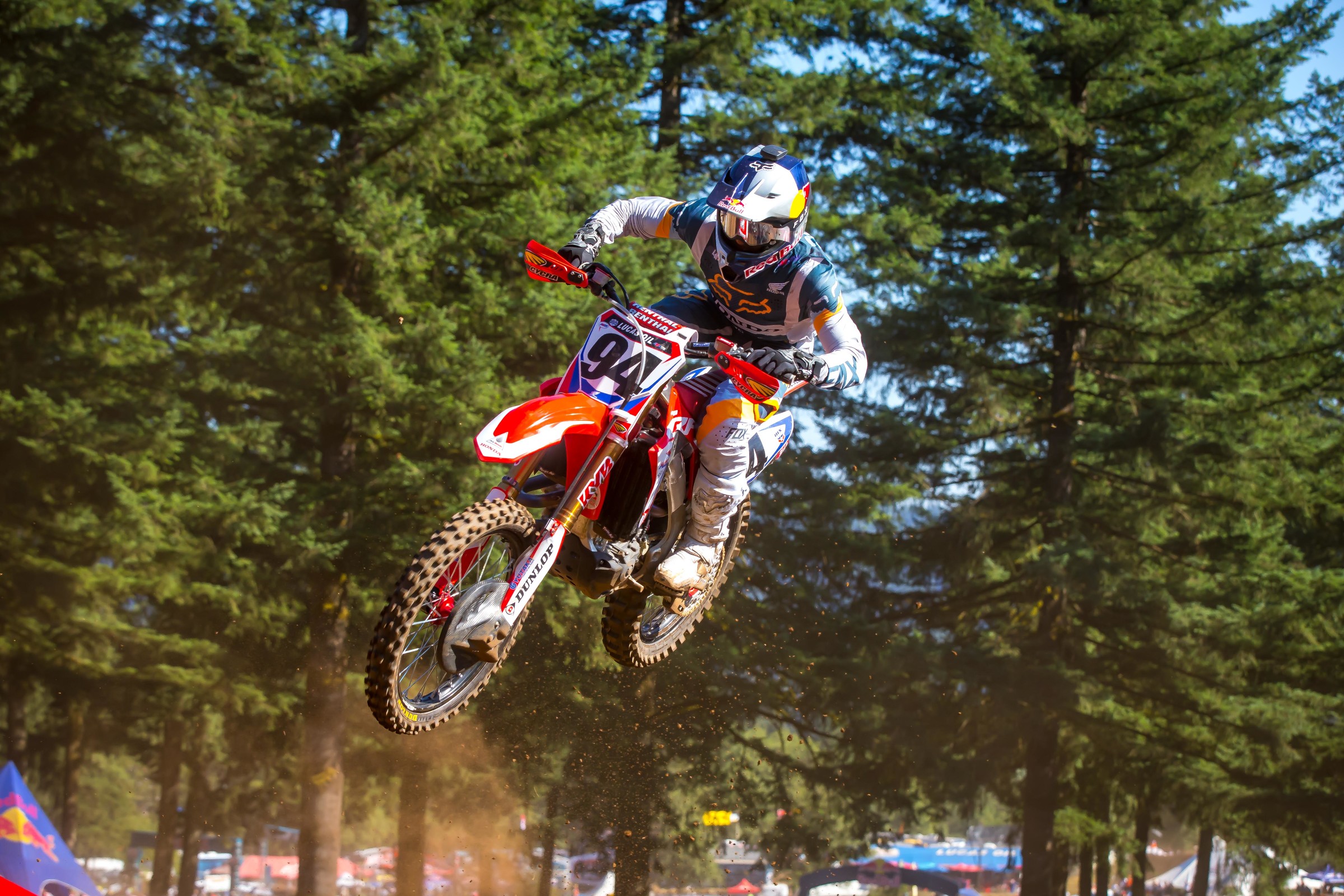 The Red Knights will once again feature a strong team. Clement Desalle, who has not competed since 2013, will lead the team. The veteran Jeremy Van Horebeek and Jago Geerts round out the team. (This will be the third MXoN on U.S. soil for Van Horebeek, who also raced at Budds Creek in '07 and Thunder Valley in '10.)
#FINDINGSTEW (SteveMatthes)
Hello from sweaty-ass humid Orlando, Florida, as I prepare to head up to Unadilla. I came down here to hang out with the close-to-getting-back-on-his-bike Adam Cianciarulo and try to find James Stewart. This was an idea hatched during SX when AC called into the PulpMX Show and was fully formed when he co-hosted the Monday after his Vegas SX win. We just wanted to get some closure from a man that has thrilled us for so long but has completely dropped off the map. The search was on!
Helped out by some guy with a camera named Pancake, AC and I went to Haines City, Florida, among other places, to see if we find JS7 to just give us a few words about how he's doing and if he'll ever race a dirt bike again. It was two solid eight-hour days (that's a lot for me) and the emotions we went through were something else indeed. There were a lot of laughs, smiles, frowns, tears, and maybe even a punch or two thrown in there. The journey was emotional, let's put it that way. I'm not going to give away what happened, but Cianciarulo and I may have found more than we expected to, and heck, maybe even that closure.
Stay tuned, and hope you like the two-part vlog when it drops.
Week in Review (Chase Stallo)
According to MotoOnline.com.au, three-time Australian Motocross Champion Dean Ferris has informed CDR Yamaha that he will not defend his title in 2019 and has committed to racing in the U.S. Ferris, 28, will not race Monster Energy Supercross, focusing solely on the 2019 Lucas Oil Pro Motocross Championship. Read more…
Autotrader/Yoshimura Suzuki's Justin Bogle underwent successful submuscular ulnar nerve transposition surgery on Monday to repair a damaged ulnar nerve in his upper right arm and will miss the remainder of the Lucas Oil Pro Motocross Championship.
The Racer X Maine Event is coming back! It will once again take place at MX207 in Lyman, Maine, on September 14-16. Read more….
Adam Enticknap announced on Instagram that he sustained a broken femur at Fox Raceway (formerly Pala Raceway) this week and will miss the remainder of the season. Enticknap said recovery is expected to be eight to ten weeks.
Following an 11th overall finish over the weekend at Lommel, American Marshal Weltin announced on Instagram that he has parted ways with Vamo Honda and will finish out the FIM Motocross World Championship season with F&H Kawasaki.
Julien Lieber has re-signed with Monster Energy Kawasaki in MXGP for the 2019 FIM Motocross World Championship.
This Week On Exhaust (Chase Stallo)
We have a new site. Go check it out. It's great (at least, we think it is). Here is a recap of the week.
Ryan Sipes won an American Flat Track Singles Class event last weekend… in just his second-ever attempt!
Last week, while speaking to Bloomberg TV, Volkswagen AG CEO Herbert Diess laid out the groundwork for two options for the brand: VW will either expand or sell Ducati. Read more about it.
We're still a few months away from Red Bull Straight Rhythm, but the smack talk has already begun—and it's great.
Weege didn't know he announced supermoto races for the USA Network TV show The Sinner.
Tracking the Track (DC)
If you are a regular reader of Racerhead, you probably know that the last two came from Tennessee, where I was helping get things ready and running the big race. When I got down there, the track was covered in grass, having not had a motorcycle on it since last August. It made for some cool photos, and I was totally tempted to jump out there on another 125, or maybe the new Alta, but that idea got shut down. But it was cool to see how the race and event slowly took shape, and an empty pasture with permanent jumps was transformed into the roughest, most technical racetrack most people will ever get to ride. I found a spot on the corner of the announcers' tower to shoot the pics and video below. Next year we need to mount a time-lapse camera up there and stream it!
Hey, Watch It!
Monster Energy/Pro Circuit Kawasaki's Adam Cianciarulo returned to Loretta Lynn's, where he won 11 championships as a minicycle racer—only this time he was doing his vlog for Kawasaki.
Troy Lee Designs KTM rider Pierce Brown had a remarkable moto where he crashed off the start in the turn before the Ten Commandments, then came all the way back to win the Schoolboy moto against some very fast competition. Check it out from Pierce's point of view right here:
And here's one of Jo Shimoda doing likewise, edited and posted by Mike Vizer Photo:
RACER X FILMS: GARAGE BUILD 2018 HONDA CRF250R
RACER X FILMS: 2019 KTM 450 SX-F INTRO
Head-Scratching Headlines of the Week
"Dunlop Riders Sweep Every Title at Loretta Lynn's for Second Consecutive Year" —Dunlop PR
"Outdoor fun dwindles as smoky haze hangs over California" —apnews.com
"Trio Of Future Defendants Film Themselves Riding Atop New York City Subway Cars" —Thesmokinggun.com
Random Notes
Great quote for DAG on Vital MX: "Mike Brown uses cryogenics to freeze himself right after the week and then thaws for the Qualifers the following year. While he had been on earth 46 years his internals are essentially that of a 21-year-old."
Have a look at Roddy MacLeod's gallery of the Grand Prix of Belgium at Lommel, the roughest motocross track of all, right here.
Racer X Brand | Patriotic Collection Now Available
Make sure you to head to Racer X Brand and pick up a tee from our Patriotic Collection to show your support for Team USA at the Motocross of Nations this year, taking place on October 6-7 at RedBud.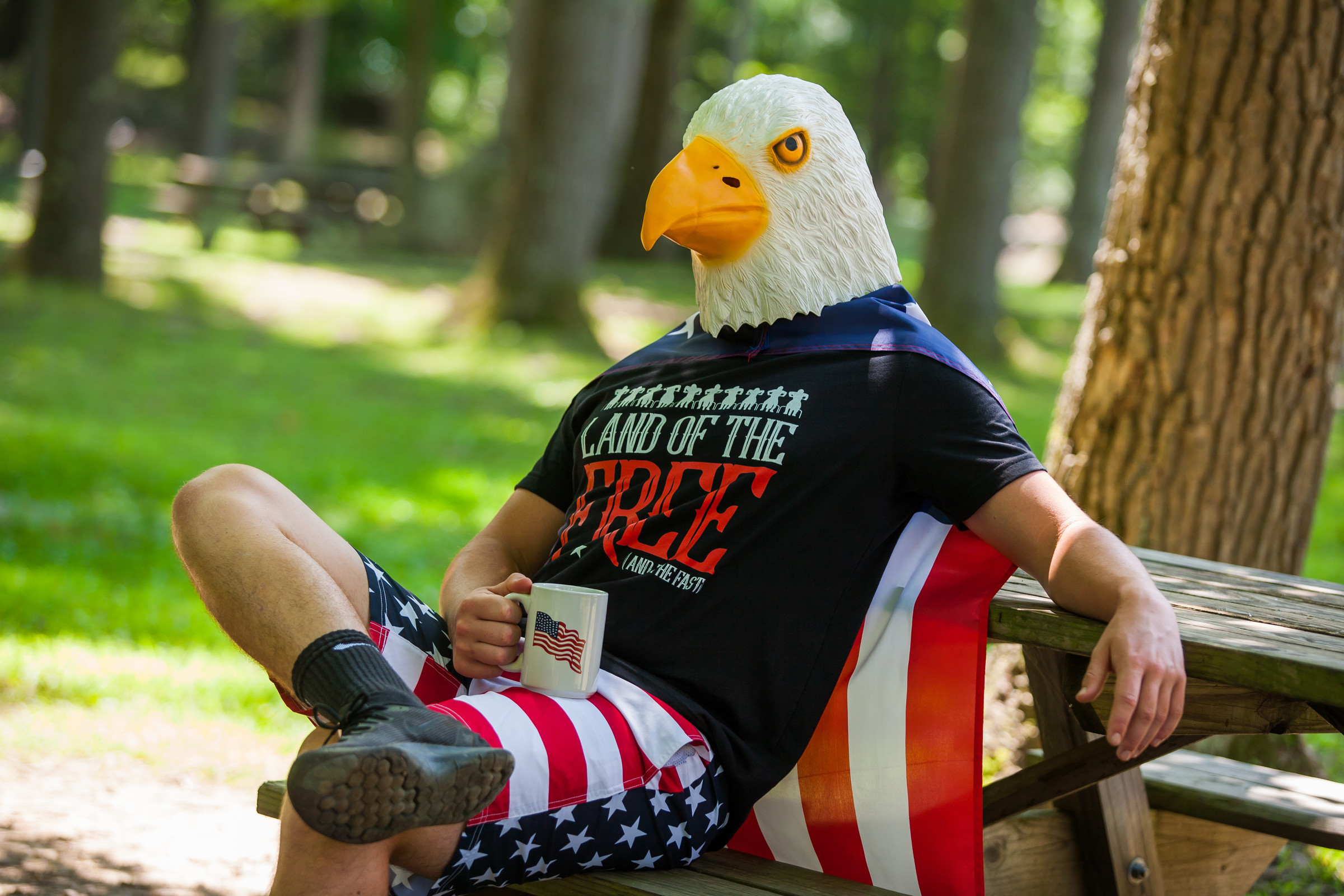 Subscribe at Unadilla and Receive a FREE Set of All 12 Official 2018 Racer X Event Stickers
Are you headed to the Unadilla National this weekend? Make sure you stop by the Racer X booth, located in Sponsor Village, and subscribe for as low as $10 and receive ALL 12 Official 2018 Lucas Oil Pro Motocross Racer X event stickers. You will also receive a complimentary magazine and free Racer X stickers. Be sure to check out our Racer X Brand items on display and grab some gear. See you at the races!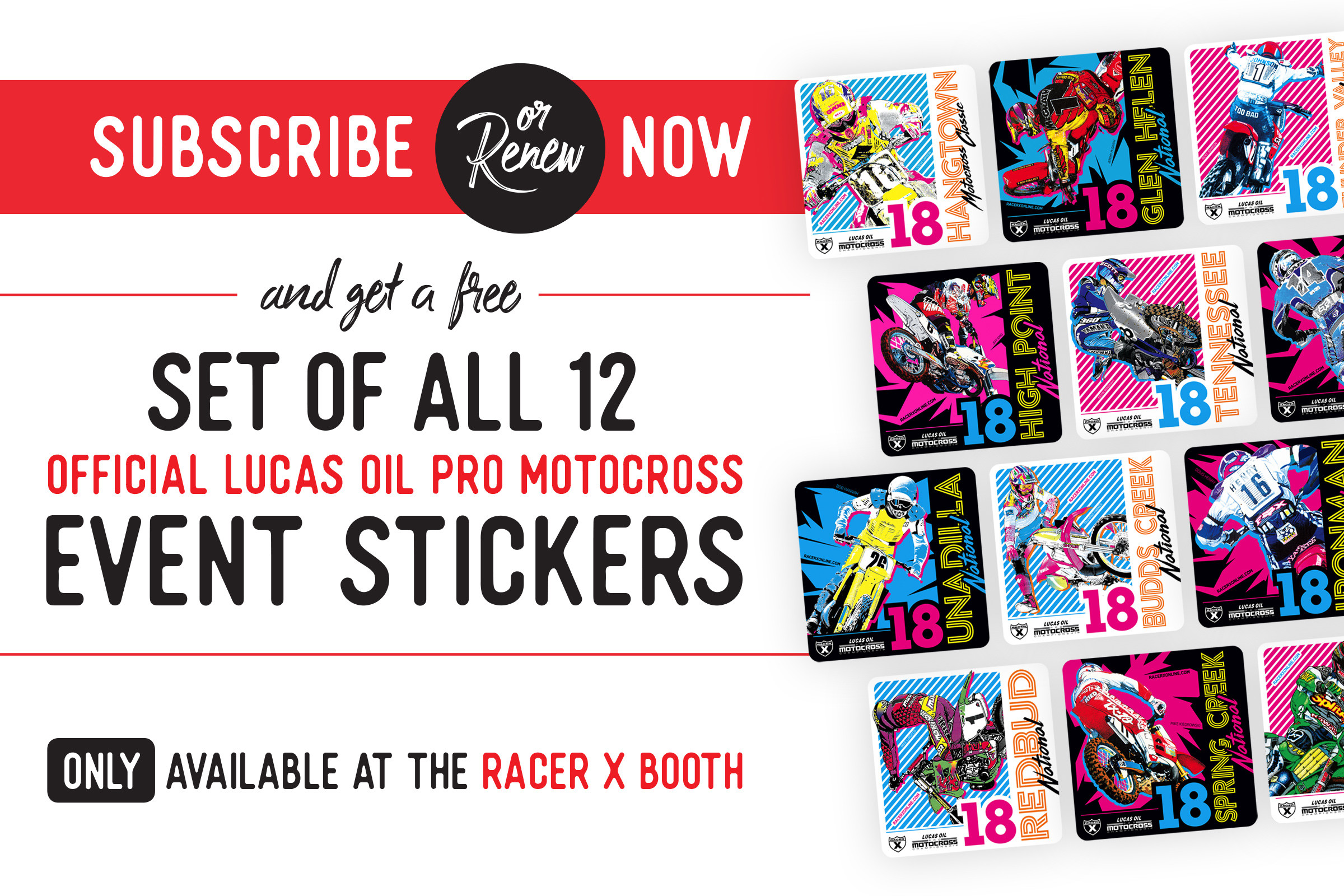 Going to the Unadilla Motocross National this weekend? Want to be able to get into the pits all day?
The only way to cruise the pits whenever you'd like is with the Racer X All-Day Pit Pass, but quantities are limited! Make you stop by the Racer X Pit Pass Booth, located in Sponsor Village, and purchase your Racer X All-Day Pit Pass while they're still available and receive all-day pit access, plus a one-year subscription to Racer X Illustrated, for just $50.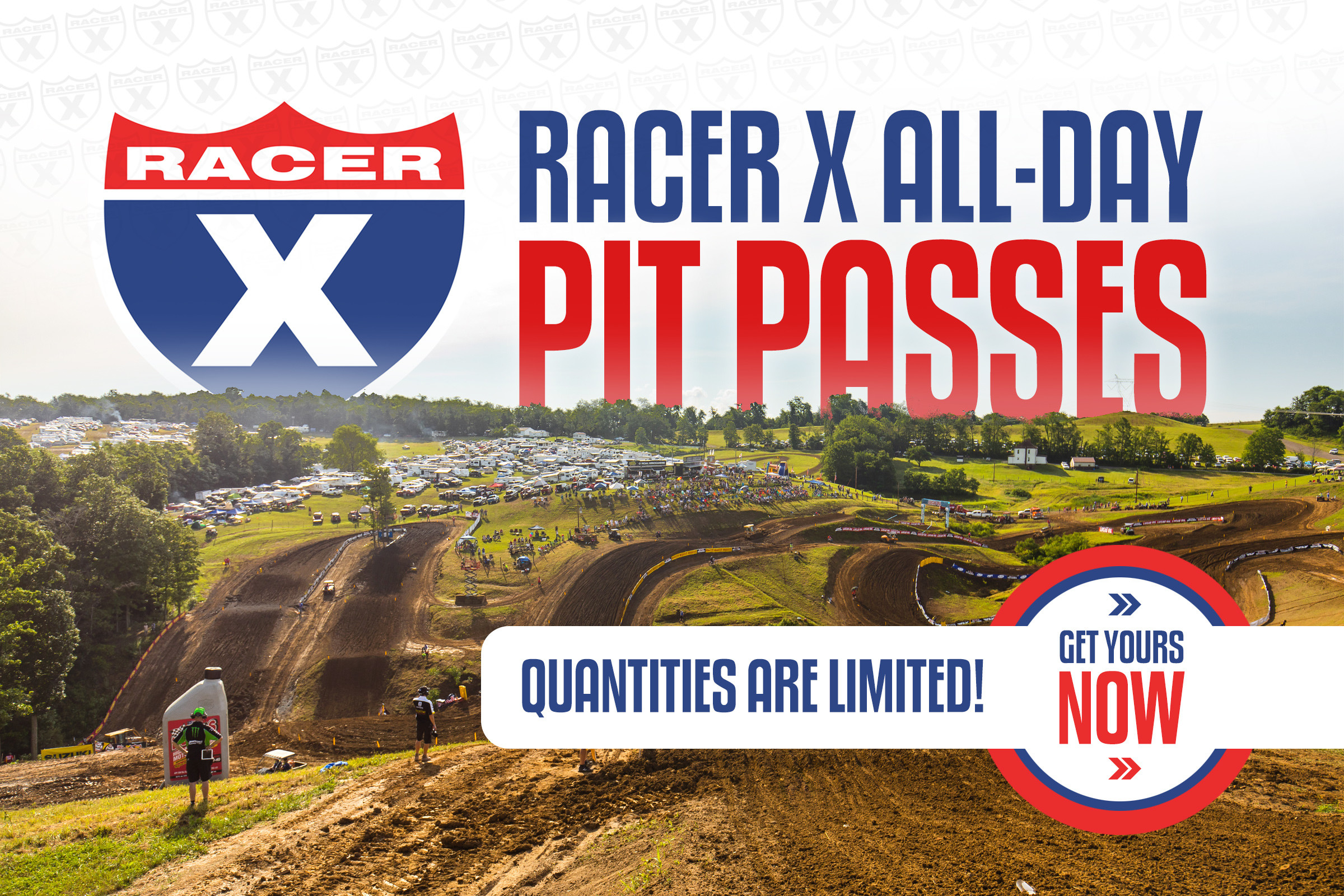 Subscribe or Renew Now for Your Chance to Win an All-New Electric Bike from Stacyc
Subscribe or renew now for your chance to win an all-new electric bike from Stacyc! Two winners will be chosen and given their choice of the 12" and 16" models. The winners will be announced on Racerxonline.com on September 19, 2018 and will also be contacted directly.
Every person who enters will also receive a FREE pack of all twelve official 2018 Lucas Oil Pro Motocross event stickers.
See official rules here.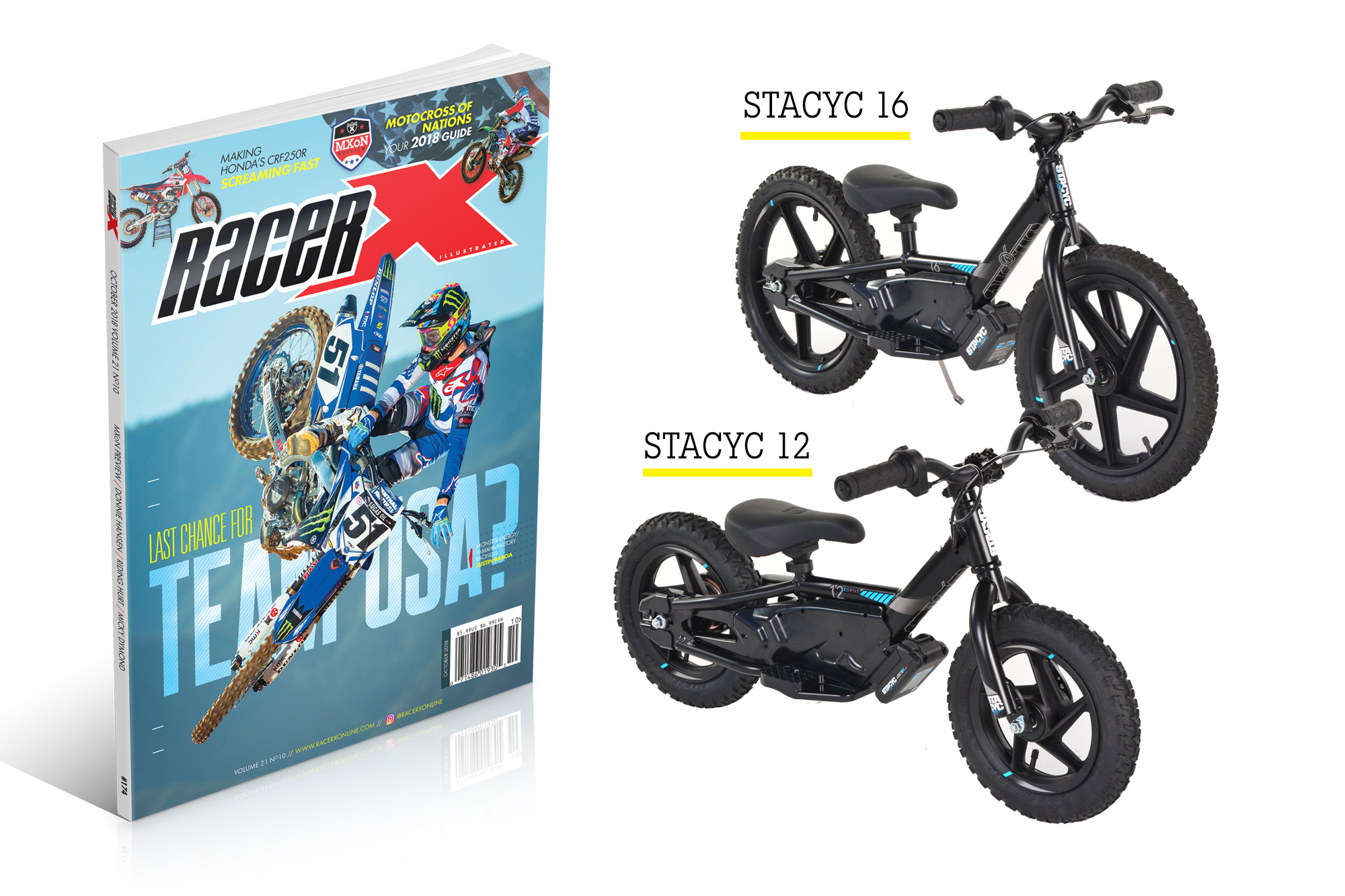 That's it for this week—thanks for reading Racerhead. See you at the races.