Blountville, TN
Tennessee (Muddy Creek)
Lucas Oil AMA Pro Motocross Championship
Approximately one month ago, Jacob Hayes had just wrapped up the 2018 Amsoil Arenacross 250AX Championship. Upon learning that the series he called home was closing up shop, he was left with nowhere to go and unsure of his future plans. This weekend, Hayes will make his return to Lucas Oil Pro Motocross to contest the 450 Class in hopes of putting up results good enough to land him a ride with a factory team for 2019.
Still unsure of where his future in professional racing is headed, the 250AX champ heads to Muddy Creek Raceway to prove to his peers that he is not just an arenacross guy. We caught up with Hayes to get his thoughts on the weekend to come.
(Note: This interview was conducted via iMessage and has been lightly edited for clarity.)
Racer X: The last time we chatted, you were up in the air on your future plans, but you're going racing this weekend at Muddy Creek.
Jacob Hayes: Yeah, I'm excited to get outdoors and sweat a little. It should be fun. I haven't raced a U.S. national in five years, so I'm a little nervous. But I've had a fun month doing motos so it should be okay.
How's the preparation been going? What have you been doing since we last spoke, just pounding motos?
For the most part, yeah. I haven't had the most time to prepare, but I've made the most of the days I've been on the bike. It's so much different preparing for this than AX, but I had a pretty solid base to begin with. Seth Rarick has fine-tuned my program the last few weeks, and I think I'll be good enough to show some things.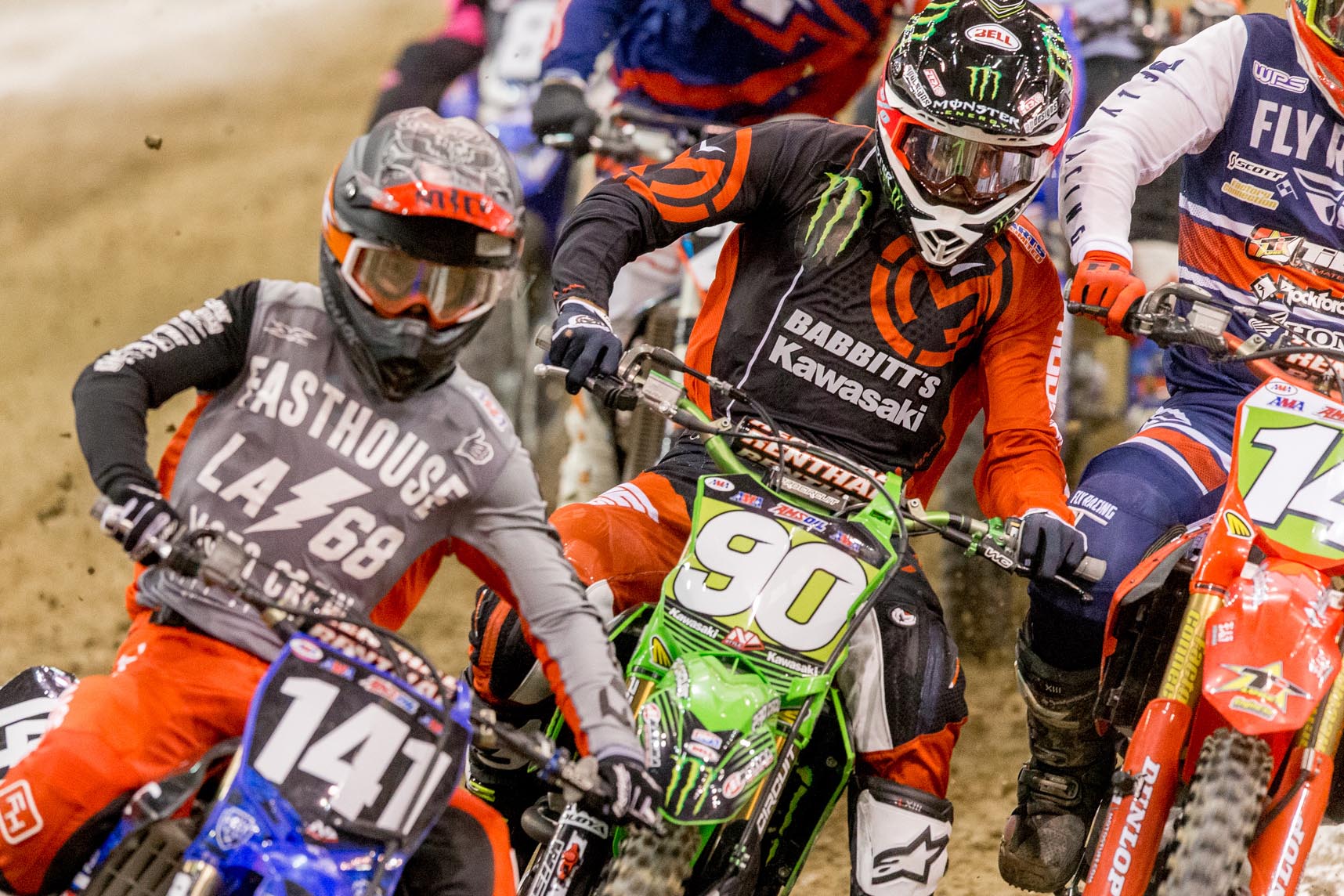 In your mind, how do you picture the weekend going?
That's a hard question to answer. I'm the kind of person that expects a lot of myself and is very confident in what I can do. I won't be happy if I'm outside the top ten. I need to show the industry that I'm not an AX guy; I've just been stuck there for four years. I want to be taken seriously, and it's up to me to prove I deserve to be.
This isn't a "for fun, let's see what happens" situation for you, is it? You want and need results?
It's a combination of both. I'm having so much fun riding my bike right now, but at the same time, I'm tired of every team having interest in me but choosing other people because I'm an AX guy. I know that I can win in SX. But just believing in yourself isn't enough to get you on a factory team. I need to prove to these teams that under their program, I'm a legit contender. I'll be riding a 450 this summer, but I hope to show the potential of what I could do back on a 250. If I had a competitive engine package I'd race 250, but since this summer deal is a solo mission, I gotta prove something on the big bike.
It has to feel good to be able to stretch your legs a bit and pin it on an outdoor track.
Yeah, it does now. The first two weeks, I felt like such a goon. I was braking early, falling over in ruts, and had a day or two where I thought maybe I should skip the summer. But once I found my groove, it all kind of clicked. I feel great now. It's been a while since I've been on a national track, so hopefully I get comfy quick. It's gonna feel pretty surreal to sit on that gate, though. I miss the feeling of lining up 40-wide, so all I can say is, let's hurry up and get to Saturday so I can race my motorcycle.
What's the plan for the rest of the summer? Tennessee, then what?
Not sure yet. We'll see how this weekend goes, then decide. I'll keep my options open. But hopefully I'll be able to do a few more rounds. I didn't pound all these motos to just do one race, ya know?
Cool, man, looking forward to seeing how this weekend goes. Anyone you'd like to thank before we end this?
First and foremost, I'd like to thank my family and friends who support and believe in me endlessly, along with Babbitt's, Monster Energy, Kawasaki, Moose Racing, Bell Helmets, Scott Sports, N-Style Motocross Graphics, and Cycra.