Blountville, TN
Tennessee (Muddy Creek)
AMA Pro Motocross Championship
Eastern Tennessee hosts round five of Lucas Oil Pro Motocross. Muddy Creek Raceway is a legendary track for those who live in the Southeast, and it was almost a certainty that amateur racers would cross paths with Muddy Creek somewhere along the way. Loretta Lynn qualifiers, the Top Gun Showdown, Mega Series events, etc., all brought thousands of racers from across the region.
I always looked forward to my own trips up from Florida, getting to race on a much different track than I was used to. The dirt composition and infusion of wood chips and mulch was a great warmup for Loretta Lynn's in August. In short, this race was a staple for most racers' yearly calendar.
Nowadays, Muddy Creek is in the big spotlight. Debuting in 2013, the South let out a collective cheer when Pro Motocross returned to the area after 16 years away. This track has weathered its share of criticism, working through growing pains. Widening the track was a priority for most, as the increased speeds of pro riders changed the flow of the track and shined a spotlight on deficiencies. The mulch mix wasn't a favorite for everyone (although I always liked it) and some complained about qualifying practice being a muddy mess (typical for amateur racing). Basically, the change from a thousand amateurs racing the track to 80 professionals racing it took a bit of learning.
Fast-forward to 2018 and big strides have been made. I don't hear the criticism anymore, or at least not as loudly. The track moisture is managed more evenly, with the understanding that qualifying can't be a slop-fest. The water truck lanes have been rethought to allow for a wider track and faster riders. The track that so many amateur racers grew up loving is slowly growing on the professional world.
Watch for the first turn to play a pivotal role in the results column. The hard 180 at the top of the hill is notorious for pileups. Last weekend in Pennsylvania saw several of the elite on the ground, essentially ruining any chance of a podium. I don't consider this start "unsafe" in any way; it just has a tendency for crashes. Wild point swings and varying results often stem from these first-turn melees.
Questions I Want Answered
Can Aaron Plessinger capitalize on the Jeremy Martin misstep?
Can Kenny bounce back after being a touch off the leader's pace at High Point?
Can Blake Baggett get through the first turn unscathed?
Will Joey Savatgy finally break his bad luck streak?
Will we see our first mud race of 2018?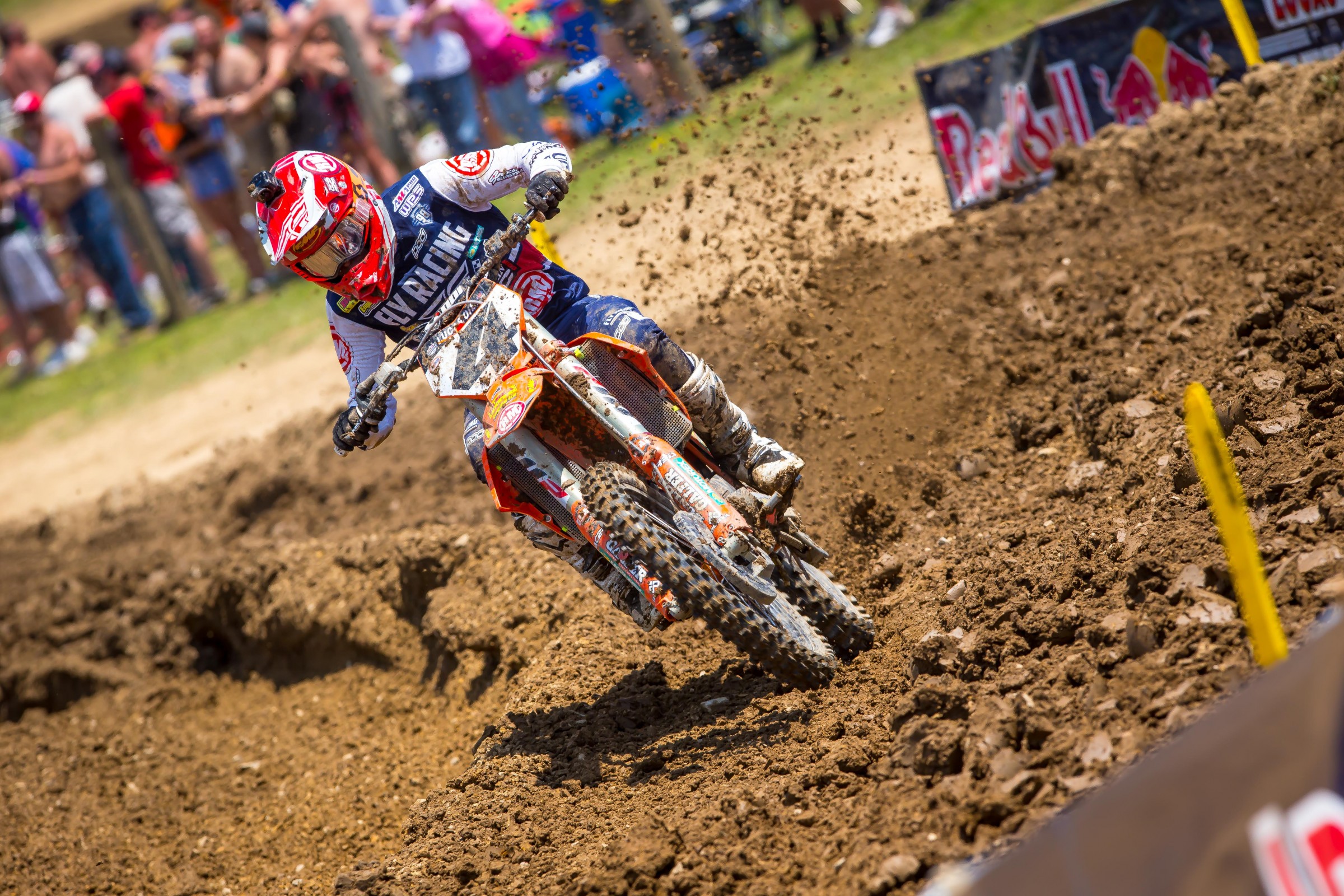 Who's Hot
Marvin Musquin won his first moto of 2018, and although he lost the overall, it was his best performance of the outdoor season.
Aaron Plessinger's 1-1 score put him right back into the title mix.
Justin Cooper continues to run up front from start to finish.
Justin Hill's move to the 450 Class proved to be a prudent one. His 4-6 moto finishes were by far his strongest this season.
Cody Cooper went 8-10, and say what you want about the state of the 450 field, but that's a good day.
Who's Not
Joey Savatgy can't buy a break. He should have already won a moto this season. His second-moto DNF was more of the same.
Rookies: Enzo Lopes, Garrett Marchbanks, and Jordan Bailey left High Point worse for wear after big crashes.
GEICO Honda had a rough day with three DNFs.
Bold Predictions
Justin Cooper holeshots the first moto.
Eli Tomac sets the fastest lap in qualifying.
Blake Baggett makes it through the first turn without crashing.
Benny Bloss skips Muddy Creek after being drafted by the Orlando Magic on Thursday night.
Joey Savatgy knocks on wood, crosses his fingers for the entire moto, picks a four-leaf clover, stays up all night to wish on a shooting star, picks up a lucky penny, wishes on a wishbone, and roundhouses someone about to open an umbrella inside his hotel room.
Jeremy Martin dominates the field as he predicted last weekend.
My Picks
250
Jeremy Martin
Aaron Plessinger
Alex Martin
450
Eli Tomac
Marvin Musquin
Ken Roczen