Las Vegas, NV
Las Vegas
Monster Energy AMA Supercross Championship
Last week, we took a look at the numbers to see what it would take for Jason Anderson and Aaron Plessinger to clinch their respective titles in Salt Lake City. Things looked pretty good for Anderson, and we all but handed him the title. After all, all Anderson had to do was just keep finishing where he's been finishing all season, which, excluding Daytona, was fourth or better. And if Marvin Musquin didn't win, he didn't even have to get fourth! Well, as you know by now, Eli Tomac's footpeg ruined Anderson's spokes and hopes, and as a result, it's time to take another look at what might—but probably won't—happen in Vegas.
The Situation — 450SX
Anderson leads Musquin, the only other 450SX rider still in contention, by 14 points with one race left. They each have four wins, four second-place finishes, and three third-place finishes. We'll explain why those numbers are important in just a minute.
The Likely Outcome
Anderson wins it, plain and simple. Yes, we know anything can happen, and that was made resoundingly clear last week not even a lap into the main event. But c'mon, how many times in a row is Anderson going to give up a ton of points? Last week was the first time it's happened all season, and Anderson would have to give up a whopping 14 points to Musquin to throw this one away.
In other words, if Musquin wins, all Anderson has to do is take tenth or better. We're pretty confident he can make that happen. If Musquin gets second—which could easily happen because, you know, Tomac—Anderson would still win by finishing 13th or better. Even with a first-turn crash and subsequent broken spokes, which put him a few laps down right away, he still finished 17th. Anderson could literally use the pyrotechnics to light a cigar while sitting on the gate watching the pack rocket down the stretch, blow a few smoke rings, casually strap on his helmet, and still get 13th.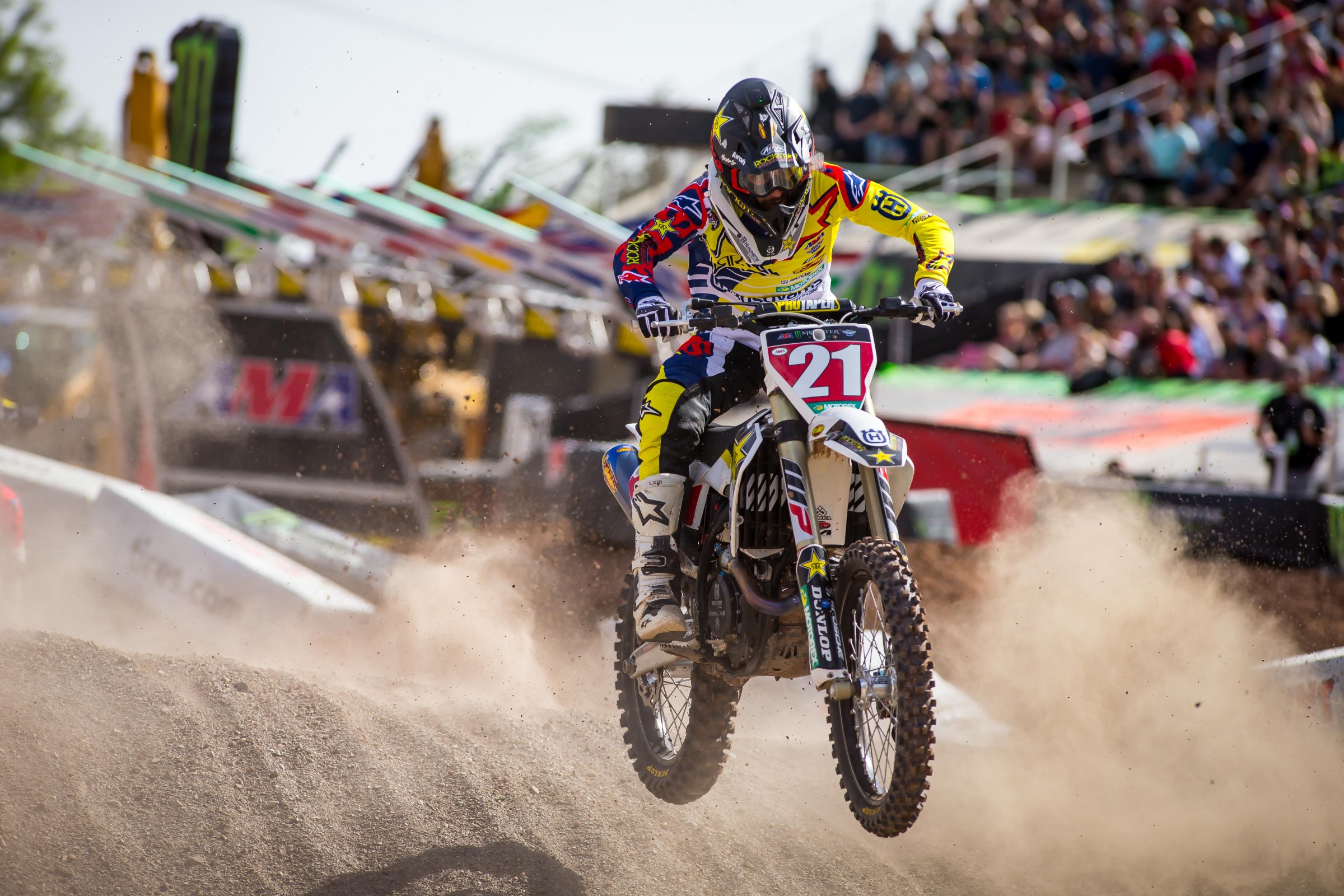 If, in the second example, Jason Anderson took fourteenth, the two would tie in points. Usually the number of main event wins is the tie-breaker, but in that scenario they've both got four. It then rolls over to number of second place finishes, where Musquin would have the edge. We talked about this last week too, following it up with, "None of this matters because it's not going to happen anyway." Well, after last week's madness we're not so sure!
The Nuclear Option
Anderson gets into Tomac in the first turn, breaks a bunch of spokes, and is forced to pit for a couple laps while his mechanics swap his front wheel. Hey, it's happened before! Musquin goes onto win the race while Anderson miraculously makes his way back up to 11th. The two end up tied in points, but Musquin gets the championship for having five wins to Anderson's four.
The Situation — 250SX West Region
Aaron Plessinger leads second-place Adam Cianciarulo by 13 points. Two other riders, Joey Savatgy and Shane McElrath, are also still in contention. Plessinger leads them by 22 and 24 points, respectively. A tie for main event wins is impossible, as Plessinger has four to McElrath's two and Savatgy's one.
The Likely Outcome
When we ran this piece last week, we overlooked Shane McElrath, who hadn't been eliminated. Well, guess what? McElrath won, stayed in contention, and made this writer look dumb. He now has an outside chance of winning this thing! Of course, when we say outside, we mean way, way outside, looking through bulletproof glass. Not only would he have to make up 25 points on Plessinger (McElrath wins and Plessinger finishes dead last), he'd have to make up two points on Savatgy (they'd be tied, but McElrath has more wins), and 11 points on Cianciarulo (again, that'd be a tie, but McElrath has more wins). One, maybe two of those things could happen, but all three? You'd see Anderson's crew rolling to the gate without spare wheels before that.
Pretty similar story with Savatgy. He'd have to make up 23 points on Plessinger and nine on Cianciarulo. Unless Plessinger somehow doesn't qualify for the night show (Savatgy would still have to get at least second and hope Cianciarulo had some bad luck), it's a must-win situation for Savatgy, and Plessinger would have to finish 20th or worse. Plessinger doesn't do 20th place.
Cianciarulo has the best shot at catching Plessinger, but it's still pretty unlikely. He's beat him four times this season, but not by enough positions to make up 14th points. If Cianciarulo won it, Plessinger would have to finish 11th or worse. Considering it's a Showdown race, it's not completely nuts to think that if Plessinger went down in the first turn or something, he might have trouble picking his way through a stacked class, but it sure doesn't seem likely. Cianciarulo would have to win, too, which he hasn't done yet this season. As long as Plessinger finishes tenth or better, he wins no matter what.
The Nuclear Option
With four riders in contention, there are a ton of different scenarios that could unfold. But for the sake of keeping this thing within an acceptable word count, we'll just pick one and run with it. But be forewarned, the likelihood of the following scenario unfolding is almost zero percent.
Aaron Plessinger experiences a weird mechanical problem right before the parade lap. His team gets it fixed just in time for the main, but Plessinger misses his chance to roll the track and get one final look at how it's changed since his heat race. That's actually happened to him once this year. When the gate drops, a rider gets squirrely, initiating a game of motorcycle pinball and eventually claiming both Plessinger and Cianciarulo. Cianciarulo is able to get going immediately in about 13th, but Plessinger's bike is completely tangled up with several others. It takes him forever to get rolling, and when he does, he's so far back that the leader, Joey Savatgy, would have to be shooting off flares for Plessinger to see where he is. In a panicked rush to get up to tenth, his magic number, he doesn't see a treacherous hole that's developed in a rhythm lane and wads spectacularly. He's okay, but his bar mounts are broken, taking him out of the fight.
Up front, meanwhile, Shane McElrath has caught Savatgy and the two are putting on the best battle of the year. Every time McElrath tries to run it in on Savatgy, Savatgy anticipates the move, checks up, and knifes back down to retain the lead. This goes on for several laps and the crowd is roaring so loud nobody can even hear Lurch, the floor announcer, belting out his patented screams. Zach Osborne, intent on claiming his own title, is slowly catching the two, and when he gets close enough, it doesn't take long for the opportunity to present itself.
Right as Savatgy is knifing back down the inside to stay ahead of McElrath, Osborne comes screaming in hard and completely takes out Savatgy, who then whiskey-throttles into McElrath. All three riders go down in a heap, with McElrath getting up first just as Cianciarulo squirts by. Savatgy is so incensed by having Osborne get in the way of a 250SX title for the second year in a row that he decides he's going to return the favor and tackles him, somehow rips Osborne's helmet off, and tosses it into the stands. Jordon Smith later pays Savatgy's fine, and all members of the Rockstar Energy Husqvarna and Monster Energy/Pro Circuit Kawasaki teams are arrested after engaging supercross' first equivalent of a bench-clearing brawl.
Up front, Cianciarulo and McElrath are locked in an absolute dogfight. When Cianciarulo scrubs past McElrath over a triple, McElrath uncorks a quad in the next rhythm lane. The action is incredible, but a crazed McElrath fan who's had a few too many decides to put a stop to it and launches his plate of nachos at Cianciarulo as he races by. It's a direct hit, and Cianciarulo's entire helmet and goggles are covered in cheese sauce (hey this kind of thing used to happen in Europe—sort of). He pulls a tear-off, gets cheese sauce all over his glove, making it slicker than Washougal in a rainstorm right as he's about to enter the whoops. Unable to hold on, he goes down, sending his bike cartwheeling. He's unhurt, but his bike is mangled beyond repair. McElrath takes the win—and the championship—in what goes down in history as the craziest 250SX East/West Showdown of all time.
Okay, so that's an absolutely unrealistic situation, but we had no choice! Plessinger's got this title on lock, and to envision a situation in which he throws it away, we had to get a little crazy.
Since there hasn't been a 250SX East race since we posted the first edition of this article, there haven't been any changes in that situation. Below is the same text from the previous article.
THE SITUATION — 250SX EAST REGION
We won't see these guys again until Vegas, but we might as well talk about what might happen in their one remaining race right now. Defending champ Zach Osborne leads Jordon Smith by 15 points and Jeremy Martin by 23.
The Likely Outcome
Like Savatgy, Martin's technically in this thing, but at the same time, his chances of winning a title this year are about as likely as Tomac and Musquin partying together in Vegas after the finale. It could happen, but it ain't gonna. You'd catch Ryan Hughes eating a Double Bacon Whopper with a side of chicken fries first! Osborne and Smith would both have to have absolutely disastrous nights (Osborne would have to give up 24 or more points, Smith eight or more). Smith is a bit closer, but it still doesn't look great for him. Smith would have to win the Showdown and hope Osborne finishes 13th or worse, something Zach hasn't done since Detroit last year. Right now, Osborne's looking mighty good to defend.
The Nuclear Option
Just to make it fun, let's say Jeremy Martin wins Vegas, giving him and Zach Osborne three wins apiece. That gives him 183 points. Smith takes fifth, which ties him in points with Martin. Martin will then beat Smith on a tie-breaker due to more main event wins. Let's insert Osborne into the above scenario and say he has problems that for, whatever reason, cause him to finish in 20th in Las Vegas. That ties him and Martin for the championship lead, main event wins, and second-place finishes. Osborne still gets the championship, though, thanks to his single third-place finish to Martin's zero. If somehow Osborne finishes 21st or 22nd in Las Vegas, or doesn't qualify, and Martin wins the race, and Smith finishes fifth or worse, Martin will pull off the most unlikely last-round title scenario in history.
Don't laugh. Last year we listed out all the Las Vegas title scenarios and even included Cianciarulo's ridiculously low odds of winning the 250 East crown. We wrote, "Should he win, he'll need Smith to finish 11th or worse, Osborne tenth or worse, and Savatgy ninth or worse."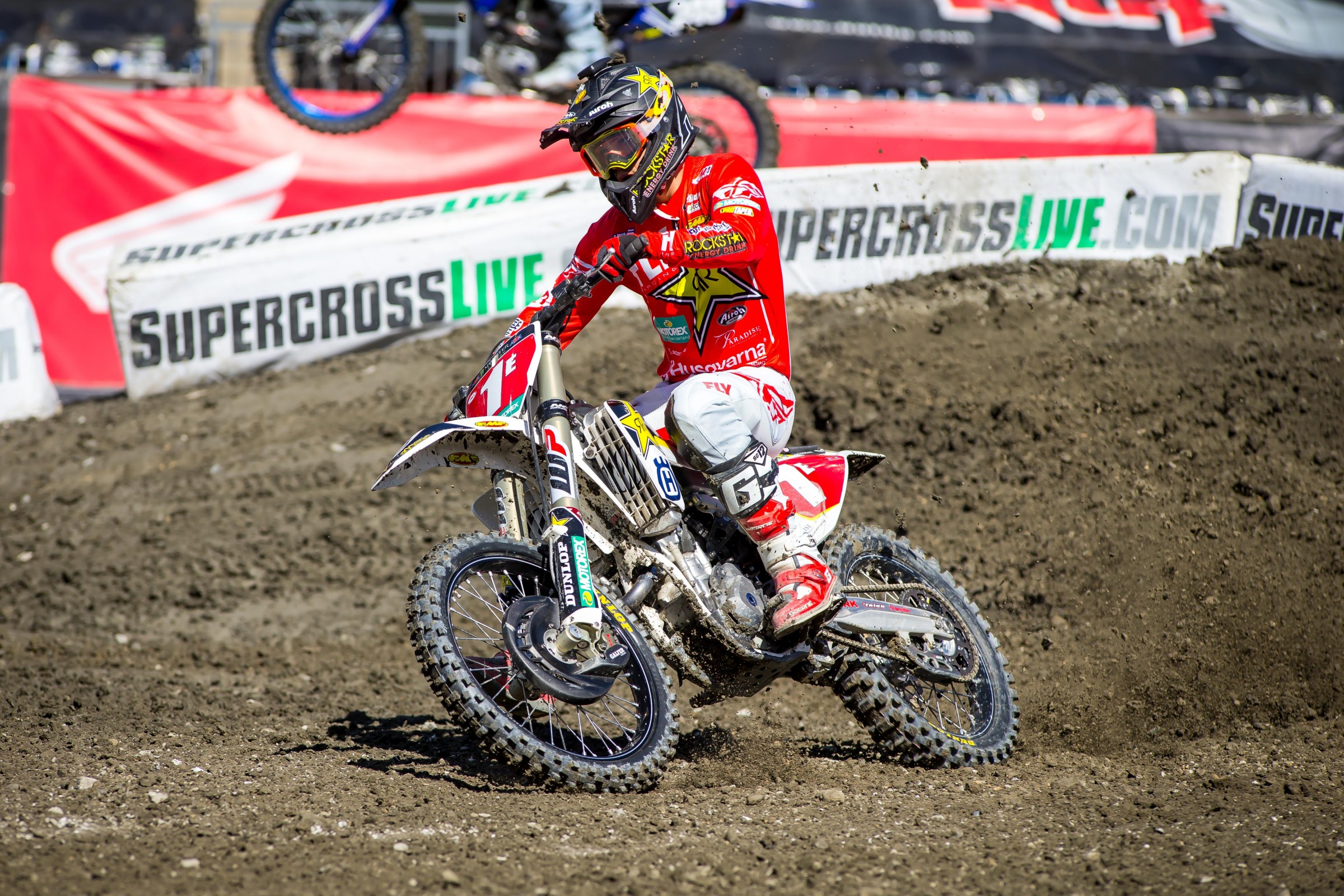 AC read this and sent us a text saying, "Haha can you imagine?"
Well, with about three laps to go in the Vegas race, this scenario was no longer imaginary, it was practically becoming reality! Cianciarulo led while Smith crashed out, and Savatgy and Osborne had crashes of their own. Only Osborne's final mega-charge (and Savatgy getting block-passed into the heartbreak hotel) prevented AC from grabbing the crown. He only lost the title to Osborne by two points.
In other words: you never know!