Salt Lake City, UT
Salt Lake City
Monster Energy AMA Supercross Championship
They say all good things must come to an end, but in Monster Energy Supercross, at least for the eventual champions, the best part comes after the title chase concludes. With just two rounds remaining, we're looking at a situation where we're likely to see at least one championship get clinched this weekend in Salt Lake City. Here's a look at the title scenarios.
The Situation — 450SX
Since Eli Tomac was mathematically eliminated last week, only two riders—Jason Anderson and Marvin Musquin—remain in title contention. Anderson, with four wins to his credit, leads Musquin (who has three wins) by 34 points heading into Salt Lake City.
The Likely Outcome
Anderson is in a situation where his cushion is more than 26 points, the amount awarded for a win, and he doesn't even have to beat Musquin to clinch the championship. He can give up seven points to Musquin and still clinch it in SLC. In other words, if Musquin wins again, Anderson still takes home the championship with fourth or better. He's only finished worse than forth once this year, a seventh in Daytona, so don't count on it happening on Saturday night. Anderson's got this.
The Nuclear Option
Stay with us on this one, it gets a little tricky. In the event of a tie, the rider with the most main event wins gets the nod. Right now, Anderson's got four and Musquin is packing three. If Musquin wins the final two races (something Tomac will almost assuredly have something to say about), he'd have five wins to Anderson's four. He'd also need to gain at least eight points in SLC and hope for someone to go all Tonya Harding on Anderson in the Las Vegas pits before to keep Anderson from qualifying for the main event. That'd result in a tie in points, with Musquin taking the championship due to five wins to Anderson's four. If this happened, someone would have to be sure to keep Tomac and his SEVEN wins away from all ledges, sharp objects, and firearms.
As it stands, if for some strange reason Musquin and Anderson both end up tied in points and wins, Anderson still gets it on account of having more fourth-place finishes than Musquin. Say what?
In the event of a championship tie and main event win tie, it goes to number of second-place finishes. Right now, they both have four. That rolls it to number of third-place finishes. Currently, THEY BOTH HAVE THREE! Thankfully it ends there, as Anderson has three fourth-place finishes to Musquin's one. None of this matters because it's not going to happen anyway.
The Situation — 250SX West Region
With two 250SX West races remaining, Aaron Plessinger leads Adam Cianciarulo by 17 points, and Joey Savatgy by 24. Everyone else has been mathematically eliminated.
The Likely Outcome
Plessinger is in the driver's seat, but he's probably still a couple races away from pulling into title town. Savatgy is technically still in it, but c'mon, Plessinger isn't going to cough up 24 points to him. Yes, there's a chance it happens, but it won't. Cianciarulo's situation is only slightly less bleak, although his bid for a championship will probably live to see another race. If Plessinger wins, Cianciarulo will have to finish fifth or better to keep it going. He's been doing that almost all season, so it's unlikely that Plessinger will clinch in SLC.
The Nuclear Option
Since a tie in main event wins is impossible (Plessinger has four, Savatgy one, Cianciarulo zero), there isn't a whole lot of drama to imagine here unless Plessinger steps on some broken glass in a Mexican restaurant and badly cuts his foot, crashes during practice and has to go to the hospital, suffers a freak mechanical DNF, trips over his gear bag and hurts himself so badly he can't ride, or injures his arm while playing pool (these are all things that have happened to other riders!). Honestly, don't expect anything too crazy to play out.
The Situation — 250SX East Region
We won't see these guys again until Vegas, but we might as well talk about what might happen in their one remaining race right now. Defending champ Zach Osborne leads Jordon Smith by 15 points and Jeremy Martin by 23.
The Likely Outcome
Like Savatgy, Martin's technically in this thing, but at the same time, his chances of winning a title this year are about as likely as Tomac and Musquin partying together in Vegas after the finale. It could happen, but it ain't gonna. You'd catch Ryan Hughes eating a Double Bacon Whopper with a side of chicken fries first! Osborne and Smith would both have to have absolutely disastrous nights (Osborne would have to give up 24 or more points, Smith eight or more). Smith is a bit closer, but it still doesn't look great for him. Smith would have to win the Showdown and hope Osborne finishes 13th or worse, something Zach hasn't done since Detroit last year. Right now, Osborne's looking mighty good to defend.
The Nuclear Option
Just to make it fun, let's say Jeremy Martin wins Vegas, giving him and Zach Osborne three wins apiece. That gives him 183 points. Smith takes fifth, which ties him in points with Martin. Martin will then beat Smith on a tie-breaker due to more main event wins. Let's insert Osborne into the above scenario and say he has problems that for, whatever reason, cause him to finish in 20th in Las Vegas. That ties him and Martin for the championship lead, main event wins, and second-place finishes. Osborne still gets the championship, though, thanks to his single third-place finish to Martin's zero. If somehow Osborne finishes 21st or 22nd in Las Vegas, or doesn't qualify, and Martin wins the race, and Smith finishes fifth or worse, Martin will pull off the most unlikely last-round title scenario in history.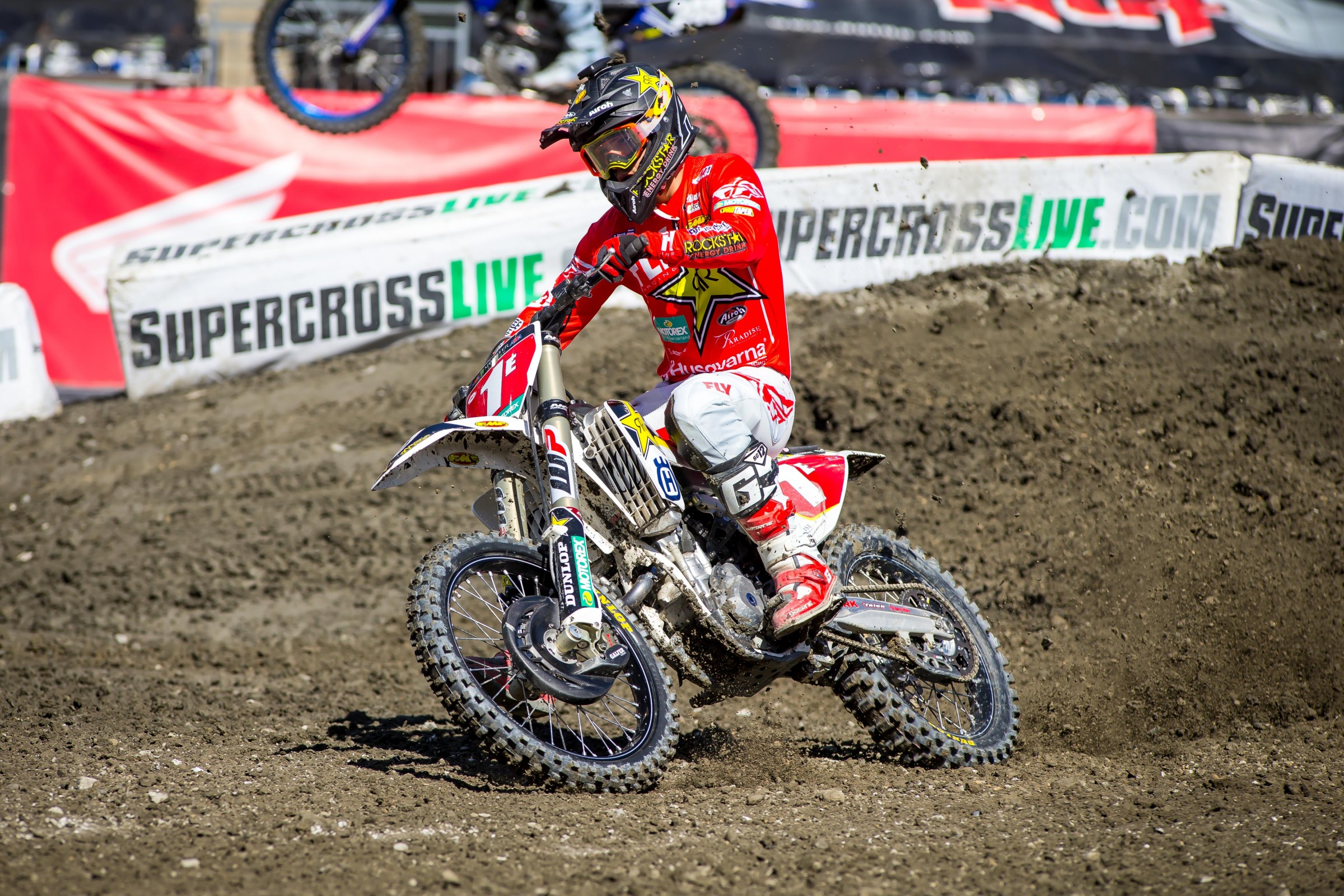 Don't laugh. Last year we listed out all the Las Vegas title scenarios and even included Cianciarulo's ridiculously low odds of winning the 250 East crown. We wrote, "Should he win, he'll need Smith to finish 11th or worse, Osborne 10th or worse and Savatgy ninth or worse."
AC read this and sent us a text saying, "Haha can you imagine?"
Well, with about three laps to go in the Vegas race, this scenario was no longer imaginary, it was practically becoming reality! Cianciarulo led while Smith crashed out, and Savatgy and Osborne had crashes of their own. Only Osborne's final mega-charge (and Savatgy getting block-passed into the heartbreak hotel) prevented AC from grabbing the crown. He only lost the title to Osborne by two points.
In other words: you never know!