Welcome to Racerhead on a very busy week. Monster Energy AMA Supercross is in the stretch run and, thankfully, indoors this weekend after last Saturday night's mudder in Seattle. Rockstar Husqvarna's Jason Anderson is closing in on the title, and after his runner-up finish to Eli Tomac in Seattle, he's now 37 points ahead of Red Bull KTM's Marvin Musquin. Unless he makes a couple of colossal mistakes, Anderson could be crowned as soon as the Salt Lake City race in three weeks. In the meantime, he's got Minneapolis and Foxboro in Massachusetts to work his way through, beginning in Minnesota tomorrow. And since it's Friday the 13th, probably a good idea to expect something unexpected and unlucky today….
While the supercross set was happening in Seattle last weekend, I found myself on the crowded and insanely beautiful hills that surround the Arco Trentino in the Dolomites of Italy. That was the setting for the fourth round of the 2018 FIM Motocross World Championship. I was back at the track where Ryan Villopoto raced professionally for the last time, looping out his Kawasaki and bringing an end to his MXGP misadventure. That was an interesting day, to say the least. This year, however, was maybe just as interesting. The fans in Europe and really all over the world who watch the races via MXGP-TV.com are getting to see a rare season where two great champions are practically on the same level, albeit at different points in their careers. The Dutchman Jeffrey Herlings is no doubt still ascending in his career arc, while the living legend Antonio Cairoli is nearing the twilight of his remarkable career. But on any given day they can take down one another, and on this day it was Herlings' turn. Jeffrey swept both motos in Antonio's home country, in front of his partisan fans. In the process, he seized the red plate and the points lead. Cairoli versus Herlings is the kind of rivalry we really haven't seen here since the days of RV versus RD (Ryan Dungey), or maybe even James Stewart versus Chad Reed. MXGP fans probably haven't see this in a while, either, maybe all the way back to Stefan Everts versus Sebastien Tortelli, or Everts versus Greg Albertyn.
Speaking of Herlings and Reed, I watched the start of the first MX2 moto with Jeffrey and his mechanic/advisor, Reuben, and like a lot of people over there last Sunday, what he wanted to talk about was that crazy video of Reed's bike melting down and him pushing it to the finish line in Seattle! It was one of those moments where few may remember the winner of the race, like Steel City '95, but they remember the guy busting his ass at the end of the race to get to the finish line with a broken bike—in that case, Ryan Hughes.
One other thing we did talk about was the Ironman last year, and what a cool deal that was for U.S. fans and, of course, Herlings himself. He said he was bummed when he saw the schedule and there was no U.S. MXGP round due to the Motocross of Nations being here, because he was definitely wanting to come back for another round of the Lucas Oil Pro Motocross Championship.
On Saturday during practice, I wandered into the Rockstar Husqvarna tent and found the always-friendly and -polite Thomas Covington sitting there with some team personnel. He was stoked to see another American at the races and even got up and made me an americano cup of coffee. He explained that the knee injury he suffered last fall was tougher to get over than he expected, and he wasn't off to nearly the start he wanted for the 2018 MX2 championship. But then on Sunday, after slipping back from third to seventh in the first moto, he caught fire the second time out and rode a brilliant race to get the moto win. We also talked about his plans to come home in 2019 after four years on the Grand Prix circuit, which he has enjoyed a lot. But he said living in Lommel, Belgium, the hub for the MXGP set, was not exactly ideal. It's good for riding in the sand, but there is not really much else around to do.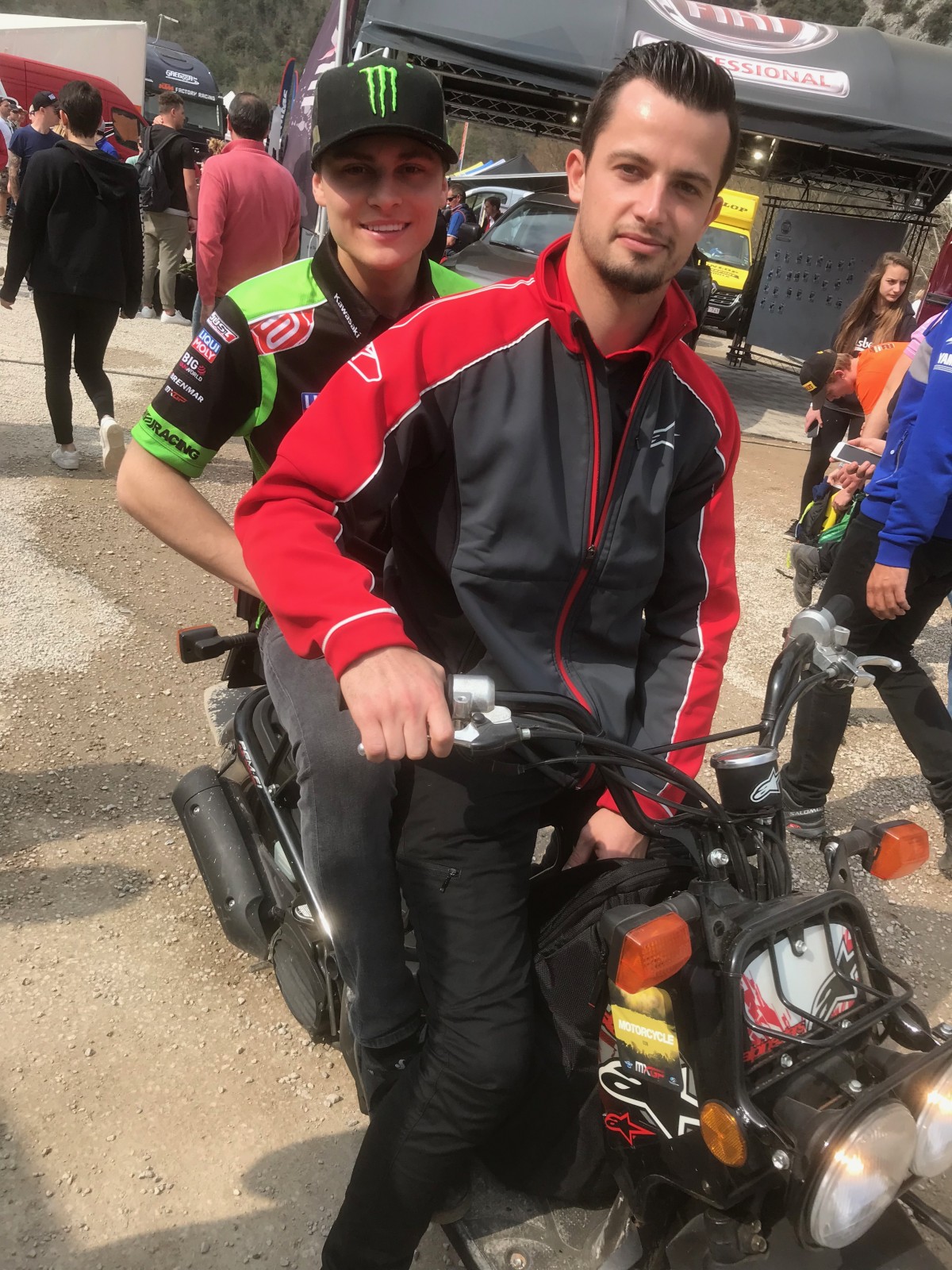 The other American in MXGP, Darian Sanayei, was coming off a great race in Spain, but he injured his knee and had to scratch from the GP in Italy. Like Covington, Darian is an extremely nice young man, and I think both of those guys will get some overall wins away from the KTM duo of series points leader Pauls Jonass and Jorge Prado, who got the first moto and overall win from Jonass in Italy. All of those kids over there are fast!
Everyone over there wanted to talk about RedBud! (Exclamation point necessary to display the level of enthusiasm about the Motocross of Nations being there). David Luongo of Youthstream told me that they are 25 percent ahead of the best pre-race ticket sales they've ever had for the MXoN, and that was back in 2015 for the return to Maggiora, Italy. They also wanted to know if Tomac and Anderson and friends would ride for Team USA this time, and I told them if they are healthy and chosen, I can't imagine anyone who would pass on it. And after watching Herlings and Cairoli and friends, we're going to need our very best riders to get back on top after Team USA's long losing drought.
As usual, the hospitality was exceptional over there, as both Italy-based Alpinestars and everyone at Youthstream were very welcoming and gracious. Heck, even MXGeoff did a little bench-racing interview with me, after the customary busting of one another's chops. All in all, it was a good visit and a fun trip to distant shores, and a really well-done and crowded motocross race.
Meanwhile, back here in the States...
Tickle Me, Uh-Oh (DC)
Just as we were getting ready to hit "send" on this column, we got word that Broc Tickle just got notified of a provisional suspension for using a banned substance, methylhexanamine. The Red Bull KTM rider, who finished fourth last weekend in Seattle, was tested in San Diego back on February 10. While we're still trying to sort through this, it appears that the substance is a bronchial dilator that weight lifters and body builders often use. Historically, it can be used as a nasal decongestant, but is also found in dietary supplements.
I have a friend in the body building and fitness business who knows a little about this, and I just asked him how this might help an athlete and why it's banned. His response was that "it's like the outlawed ephedra, only retooled synthetic version for diet supplements and pre-workouts. In other words, it helps you breathe by allowing you to breathe out deeper and push harder. It's not an enhancer like caffeine. Rather, it helps you to breathe better because you can breathe out CO2 quicker, which helps you in turn to increase your VO2 max, especially your anaerobic exercise performance."
Here's more from a simple Google search.
In 2012, road racer Anthony West tested positive for this, and was suspended for 18 months. Unfortunately, the rules have changed and penalties have gotten harsher…. Stay tuned.
SOUBS GETTING SOME HEP! (MATTHES)
A real cool story in Seattle was Frenchman Cedric Soubeyras getting helped out by the H.E.P. Motorsports Suzuki and AutoTrader/Yoshimura Suzuki squads to get him to a season-best 13th in the 450SX main event. You see, Cedric's team, Nut Up/LVN 100 Suzuki, was actually at Seattle to help Soubeyras (who was filling in for Matt Bisceglia), but when they couldn't park inside the pits because they had more than one-fourth tank of fuel (fire marshal regulations and emails were sent to every team about this, but it's unclear whether the team read it). Rather than dump the fuel ($600, according to people I talked to), the orders were from management to head back to SoCal and strand the Frenchman. They didn't unload his bike and leave it, they didn't leave his helmet and boots that were in the rig for him—nope, they just headed home.
So, thanks to Stephan Legrand from LeBigUSA.com talking to some people, the H.E.P. guys reassembled a bike they had torn down for parts for Cedric with a subframe and throttle body from the Autotrader/Yoshimura Suzuki guys, and they used Henry Miller's Race Tech suspension. Cedric got some Sidi boots (that were one size too big) and his practice helmet and went racing in the mud. Real cool story from the race, and get this, Soubeyras beat all the H.E.P. guys and one JGR guy! These teams came together with the H.E.P. guys busting their asses for no real reason to help out a guy that, frankly, got screwed. Nice to see everyone rewarded for their efforts.
But it gets even better for Soubs! Because he's been doing so well, the H.E.P. guys decided to keep Soubs on for the rest of the year. He doesn't even have to conform to all the sponsors because it's so late in the season. Golf claps for everyone all around for this deal.
Hey 19 (Andras Hegyi)
Eli Tomac has reached a special number—19. It's a number he now shares with the "Beast from the East," Damon Bradshaw. Back in the early nineties, Bradshaw got 19 victories in the premier class. This 19 is the greatest number of wins that anybody has won without becoming a champion in AMA Supercross.
Damon Bradshaw was prodigy of sorts. In his maiden season, being only 17 years old, his very first AMA Supercross was actually in the premier 250 class in San Diego, and he finished third. Then he went back home to North Carolina and won the 1989 AMA 125cc East Region title. That title was also a historic success because it was the first small-bore SX crown for Yamaha. Bradshaw entered the premier class in 1990 with huge expectations, and he partly fulfilled those hopes. In fact, he won the first two round of the season. Between 1990 and '93, Bradshaw would win a total of 19 main events. He continued racing SX through 1997, though he never won the title. Damon took part in 95 races in all. His last victory came in his 58th race, in Atlanta in 1993.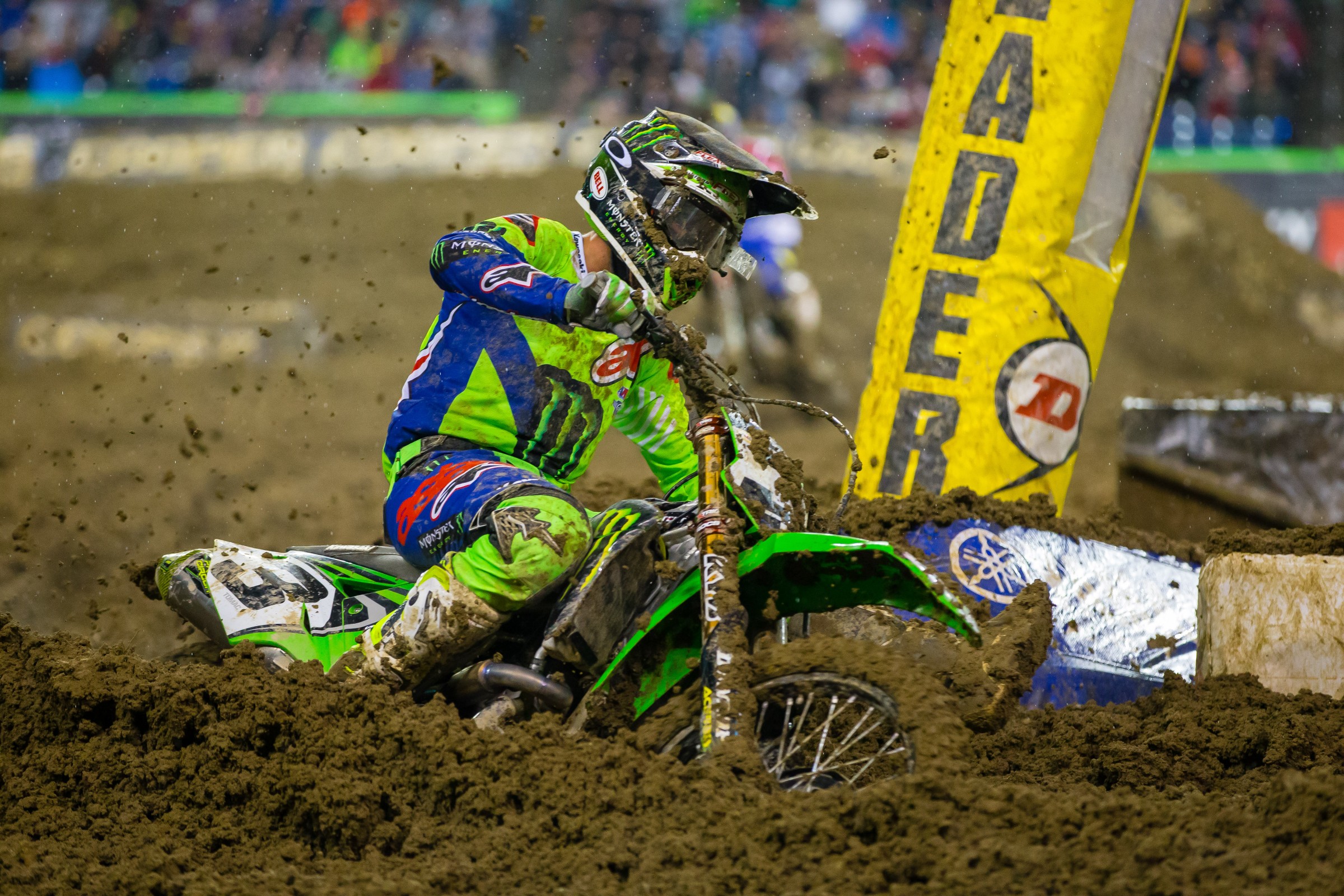 In the course of this year, regarding the number of wins, Kawasaki's Eli Tomac has so far overtaken Jean-Michel Bayle, Mark Barnett, Jeff Stanton, and Kevin Windham on the all-time wins list, and he has just caught up Damon Bradshaw. Tomac debuted in the 450SX Class in 2013 and has been a regular rider since 2014. He got his 19th win in his 77th race. But Tomac has been as inconsistent as Bradshaw was, throwing away big points hauls with untimely crashes and injuries. Like Bradshaw, most believe Tomac is the faster rider in the field, but his mistakes keep sinking his title hopes. If Tomac wants to not repeat Bradshaw's career and finally become champion, he must become consistent.
MXGP of Portugal Preview (Adam Wheeler)
I'm sitting on the plane waiting to take off from Barcelona to Porto for the Grand Prix of Portugal and round five of 2018 MXGP, and Sebastien Tortelli has just walked through the aisle. The last we heard the former double FIM Motocross World Champion and AMA Pro National race winner was looking to set up his own training operation near the Catalan capital (corroborated by a quick chat waiting for baggage upon landing). A trip to the rough and red soil of Agueda means the second round of the FIM Motocross World Championship to take place on the Iberian Peninsula this season and is a relatively short hop for the Frenchman. It is somehow apt to see him attending this race. Back in 2006, Tortelli's duel with Stefan Everts in the first moto of the MXGP class (then MX1) was sensational: Both riders separated by less than a second until the last lap, with a wonderful contrast of styles between the Belgian on the factory Yamaha and the returning Seb on the wild KTM. Everts would prevail with a typically calculated and precise move on the banked first turn after the finish line jump. It was one of the most watchable and enjoyable motos I've seen.
Current Red Bull KTM MX2 team manager Dirk Gruebel—the man overseeing the progress of Jeffrey Herlings, Glenn Coldenhoff, and world champion Pauls Jonass—said that Tortelli's 450 SX-F was not the finest piece of equipment to emerge from the halls of Mattighofen.
"That bike back then was not the best 450," the German recalls. "The models afterwards received much more effort in terms of building a pure motocross bike. That one was like the twin brother of the enduro bike when you looked at the frame and the geometry. We had different concepts and views of things at that time. We were running a PDS and nobody had the same system. It worked in its own way but it was more difficult to set up and some riders loved the PDS—like Max Nagl and he still does—but there were more possibilities with the link bike and it was more forgiving on certain tracks."
In the second moto at Agueda, Tortelli would hit the ground through the small waves section and dislocate his hip, effectively ending a decorated and spectacular career.
Speed through the years in Portugal (past the Grand Prix debut of a certain #94 just after his 15th birthday in 2009) and now the situation for KTM is vastly different. From four fixtures and eight motos, the orange army still hasn't been defeated. Rockstar Energy Husqvarna's Thomas Covington is the sole victor of one moto in the MX2 class to disrupt the harmony of Jonass and Jorge Prado (who will count on decent Spanish support this weekend).
Agueda vanished from the calendar from 2014 up until last year, and the 2017 edition of this race ended with a Tony Cairoli-Jeffrey Herlings 1-2. Herlings brings the red plate to a venue that has been battered with heavy rain this week and is sure to mean a first mudder for the series. The Dutchman also has good previous form at the circuit, with MX2 wins in 2011, 2012, and 2013—the last three incarnations before the GP hiatus.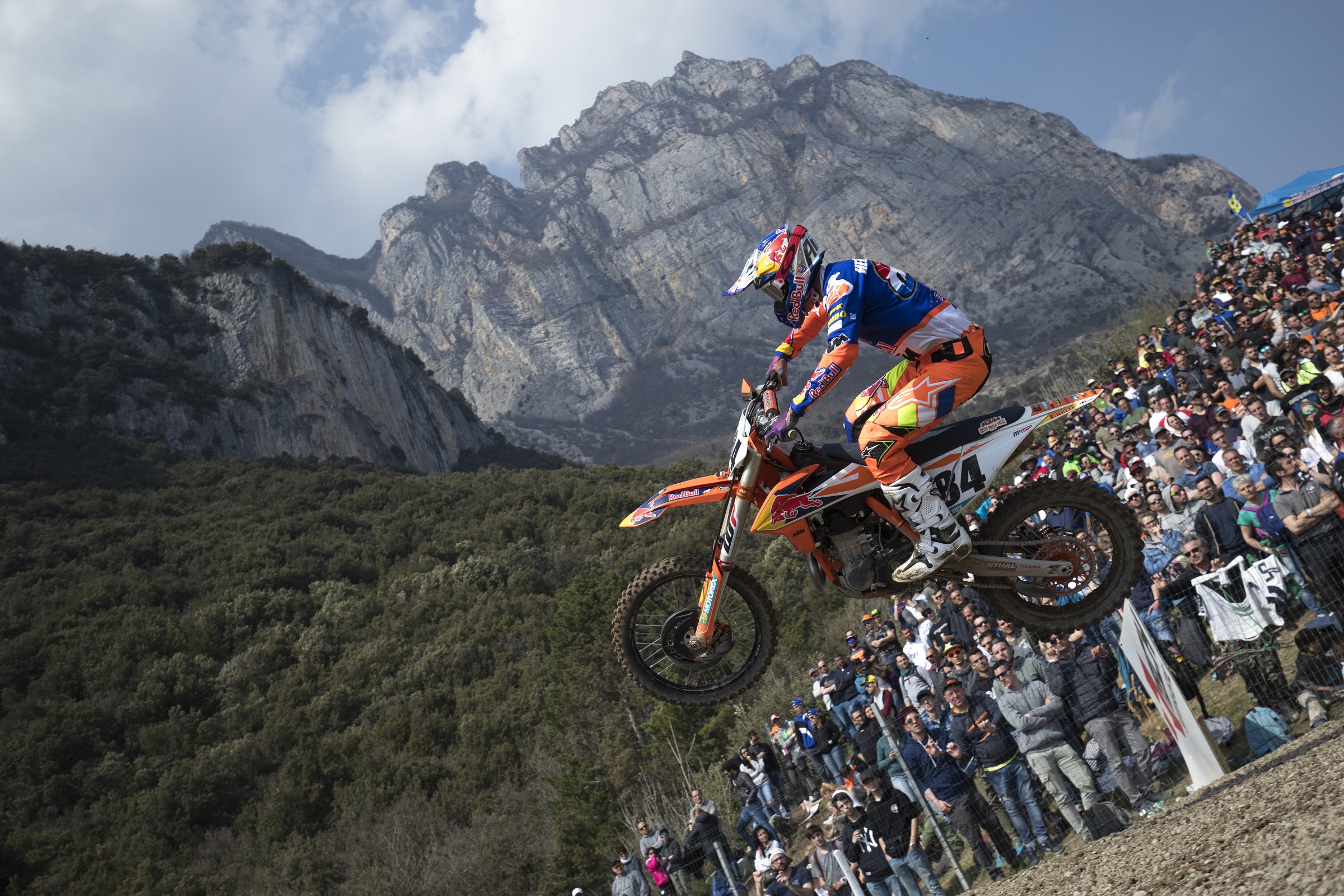 A rider to watch come Sunday could well be Monster Energy Kawasaki's Clement Desalle. The Belgian won at the site (which has undergone only marginal changes) from 2010-'12 and was runner-up in 2013. Desalle is a firm third in the current standings with three podium appearances and is clearly the closest challenger to the KTM hegemony. Depending on the climate and circumstances, this Sunday could see the Austrian 2018 spell finally broken.
There is an interesting addition to the entry list this weekend. Portugal's most successful ever motocrosser—Rui Gonçalves, the first rider from his country to win a GP—will come out of GP semi-retirement to make what could be a farewell world championship appearance racing a YZ450F. The #999 started a part-time role as advisor/mediator/consultant for Youthstream last year while still part of the MXGP Class that has now branched into a full-time gig, and some of the notable track alterations and adjustments from practice and qualification on Saturday to the motos on Sunday this season have been partly thanks to the smart and multilingual 32-year-old's influence.
Gonçalves began his GP career in 2001, and his technical ability and sensitive feeling on the motorcycle made him valuable acquisitions for factory KTM and HRC teams. The highlight was most certainly the campaign where he finished as MX2 championship runner-up in 2009 on the 250 SX-F with six victories. The veteran's poor luck with injury was his undoing, and costly crashes seemed to constantly interrupt the hard work and persistence he applied to his Grand Prix racing. Gonçalves, still in trim and a viable replacement option for MXGP teams, could well make his final bow in front of rapturous support this weekend…but his knowledge and perception of the sport is still being felt regardless.
Going Up (Andras Hegyi)
Monster Energy/Yamalube/Star Racing Yamaha's Aaron Plessinger is marching toward his first AMA title. He is also on the march up the Yamaha ranking list. Thanks to his win in the Seattle sea of mud, he took huge steps toward becoming champion in the 250SX West Region. It was also his sixth 250SX career victory, and he entered some Yamaha elite companies.
Becoming mud master in the Emerald City, Plessinger has increased his points lead in the overall table. With the last two rounds on the horizon, Plessinger has a 17-point lead over second-place Adam Cianciarulo. That lead means that only two fifth-place finishes in Salt Lake City and Las Vegas are enough for Plessinger to be champion.
In addition, Plessinger climbed up the Yamaha winning list. He became the eighth Yamaha racer in the 125/250SX class who could win at least four victories in a season. In the past, only Jeff Emig was not champion while getting at least four wins in a series on Yamaha. AP also became the seventh Yamaha rider in the small-bore class who could get at least six wins in all. So far, every Yamaha supercrosser who got at least six wins have all become champions in the 125/250SX class.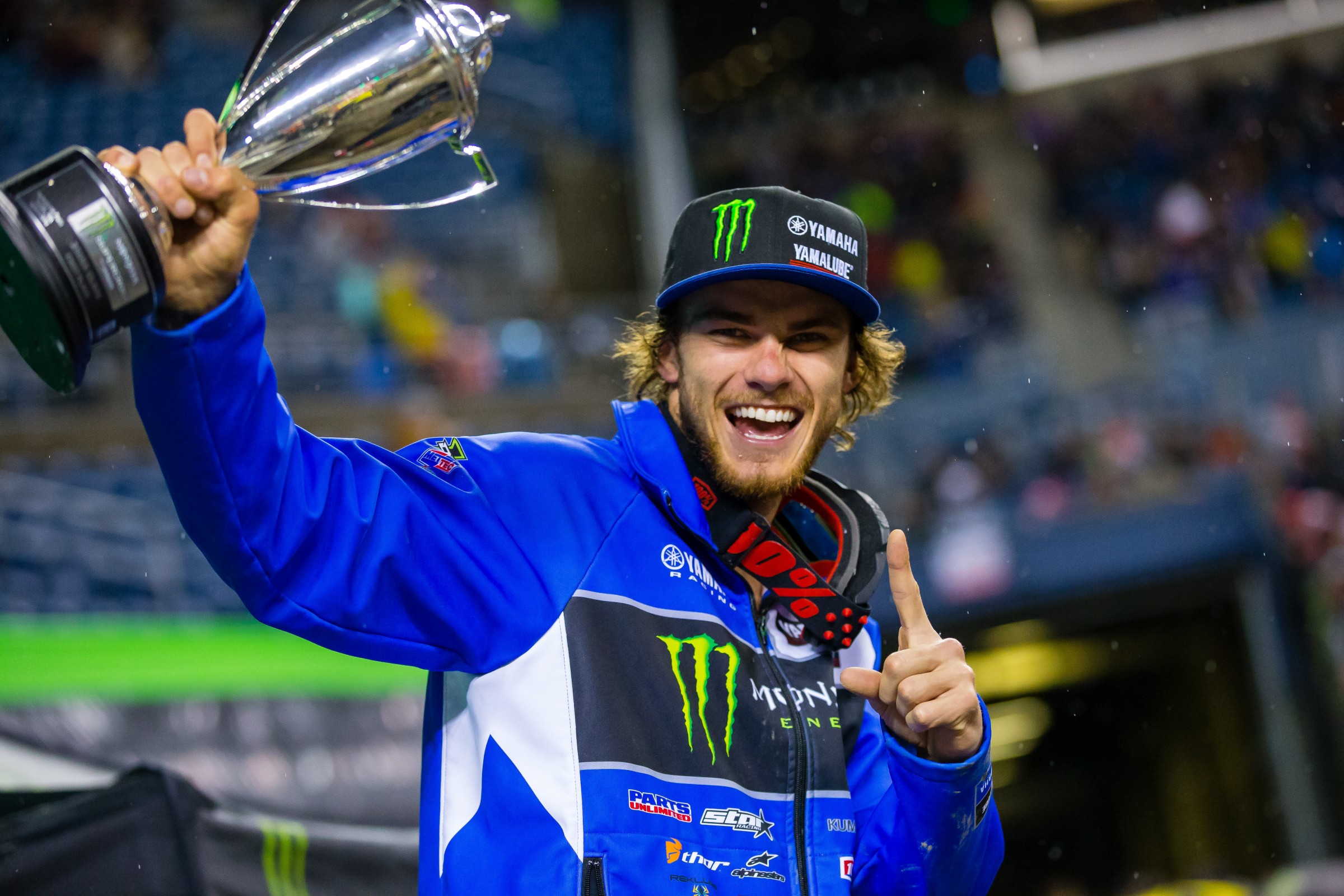 Yamaha crossers to get at least 4 wins in a 125/250 supercross season
West Region
1996: Kevin Windham: 6 wins (champion)
1997: Kevin Windham 6 (champion)
2015: Cooper Webb 6 (champion)
2016 Cooper Webb 5 (champion)
2001: Ernesto Fonseca: 5 (champion)
1991: Jeff Emig 4 (not champion)
2018: Aaron Plessinger 4
East Region
1989: Damon Bradshaw 6 (champion)
1999: Ernesto Fonseca 6 (champion)
2000: Stephane Roncada 4 (champion)
2002: Chad Reed 6 (champion)
Yamaha riders with at least 6 wins in the small-bore supercross
Kevin Windham: 12 wins (2-time Yamaha champion)
Ernesto Fonseca: 12 (2-time Yamaha champion)
Cooper Webb: 11 (2-time Yamaha champion)
John Dowd: 7 (1998 Yamaha champion)
Damon Bradshaw: 6 (1989 Yamaha champion)
Chad Reed: 6 (2002 Yamaha champion)
Aaron Plessinger: 6
HICKS (Matthes)
Well, it's now out. Chase Stallo and Weege are no longer keeping you people from reading about what happened to eighties mini-phenom Eddie Hicks. The magazine feature came out and then we took that, added some more stuff and put it online as well. Then DC and I did a podcast about Eddie (listen here) to talk about the genesis of the story and putting it all together. When I had finished the story, I submitted it for online only when DC read it and said it needed to go in the magazine. And then DC asked if he could add some things to the feature because, as he said, "I was there in '84," and that made it hard to argue, right? I was just some kid in Canada reading about Eddie; Davey was at the ranch when Eddie dominated.
So, hope you all enjoy it, and if you didn't know anything about Hicks, I think you'd still enjoy reading about how the can't-miss kid missed.
Remember to check out PulpMX.com when you can. We need the clicks.
And here's some feedback on the Hicks' opus from some old friends in the moto industry:
Jeff Chambers: He was certainly "Boy Wonder" back in those days. If you didn't have him, you picked guys that could put themselves into contention if something went wrong with Hicks' motos, but that was a big "if." Great article!
Rob Fig Naughton: I raced against Eddie from 1984 through 1987 but I can't say I ever really knew him. What caught my eye in this article is I never knew he was best friends with Rick Hemme. So the connection here is I was best friends with Kyle Fleming who was one of the other kids killed in that car accident. Out of loss of his son and what to do with his time Kyle's dad Carl started taking me Racing and that's basically what started my racing career in 1983. Same accident two best friends died but different outcomes although there are some similarities. I have had some struggles in life related to the death of those three kids but primarily the death of my best friend just like Eddie.
Anyway I wish you well Eddie and at this point all I can say is life is what we make of it.
Rob.
Quick Notes From The Week That Was (Chase Stallo)
BamBam is back. A week after his return was expected to be delayed until round 16 in Salt Lake City, Monster Energy Factory Yamaha's Justin Barcia will be back in action this weekend for the first time since being landed by Tyler Bowers in his heat at Arlington Supercross.
Christian Craig will remain with Honda HRC through Lucas Oil Pro Motocross. Craig has been with the team since Atlanta Supercross.
Ken Roczen underwent successful surgery on April 11 to have the plate and ten pins removed from his right hand. Over the next few weeks, Roczen intends to begin light riding before transitioning into full outdoor training and testing.
Cole Seely will be released to begin walking with the assistance of crutches next week.
Ryan Dungey opened up about a lot of topics to Jason Weigandt in the Racer X Exhaust Podcast.
Here are the riders who will and will not point out of 250SX.
Who has the most wins in AMA Supercross without a title? Find out
20 for Espagne (Andras Hegyi)
Antonio Cairoli was dissatisfied with his own performance at the MXGP of Trentino, as he wanted to win in his home Grand Prix before his Italian fans. But Cairoli fell short of expectations and the Sicilian had his worst result this season so far, finishing only third. Yet Cairoli could be also satisfied and content with his new training partner, the Spanish teenager Jorge Prado, as the 17-year-old KTM rider won his first victory in the MX2 this 2018.
This season, Prado began a new chapter in his career. He moved away from Belgium to Italy, leaving the five-time world champion Joel Smets for the DeCarli team and "studying" under nine-time champion Cairoli. The off-season was very difficult for Prado, mainly because of an elbow injury, and at the season opener, he finished only 11th. But in the second and third rounds, he was runner-up to the undefeated Pauls Jonass, yet another KTM rider. Prado would finally be victorious at Arco Trentino. He got the first moto win, then a runner-up finish to Thomas Covington in the second meant that he earned his fourth career GP win. Now Prado is up to second in the overall standings, behind only Jonass, who had an off day in Italy. The track at Trentino is one of the favorite tracks for Prado, as he got his maiden GP win at this same track last season.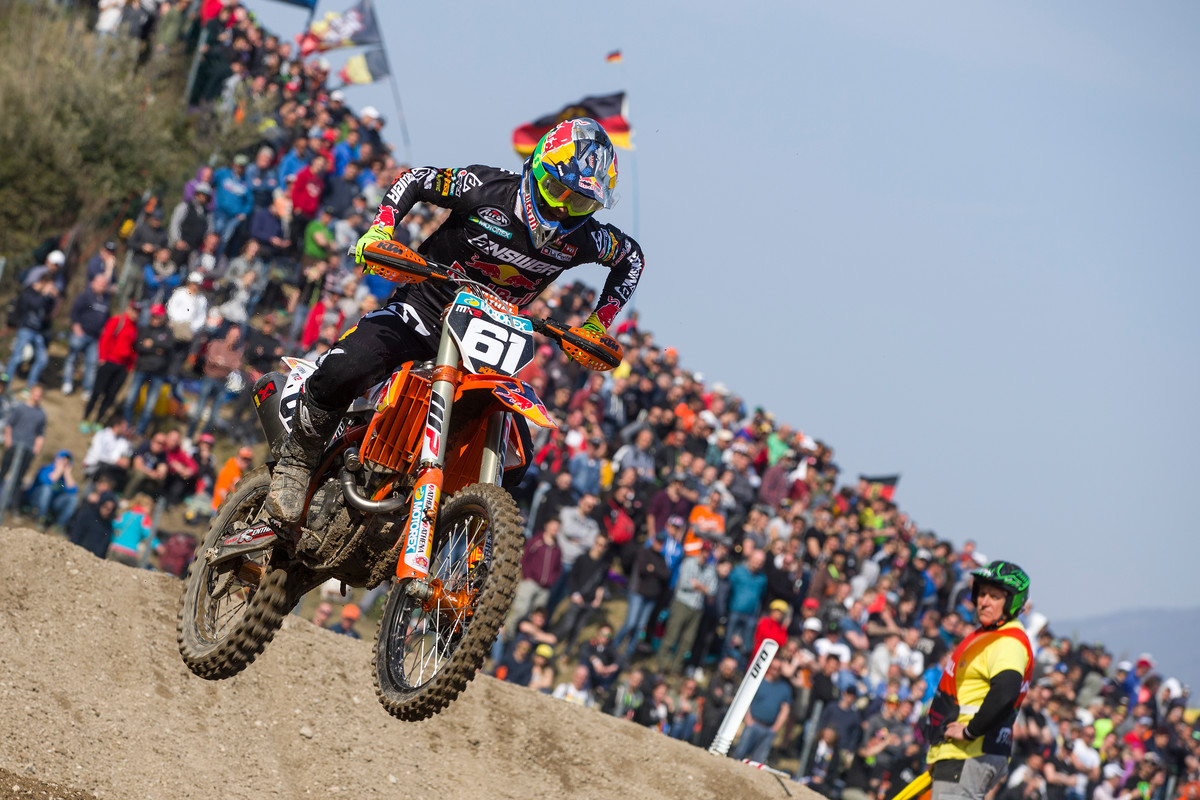 With his victory, the former FIM Motocross Junior World Champion and multi-time MX125 European Champion earned Spain its 20th Grand Prix win in the history of the FIM Motocross World Championship. The very first Spanish GP win came from Javier Garcia Vico in 2002 at the 500cc GP of Russia. Among the Spanish racers, Barragan and Carlos Campano have got the greatest number of GP wins with seven each, though all of Campano's wins (as well as his 2010 FIM Motocross World Championship) came in the waning days of MX3, when it was something of a step down from MXGP and MX2.
Spanish winners in MXGP:
Jonathan Barragan (7 wins)
Carlos Campano (7)
Jorge Prado (4)
Alvaro Lozano (1)
Javier Garcia Vico (1)
Hey, Watch It!
Looking for a really cool road trip and a chance to ride in one of the most beautiful spots in the world? Former FIM World Motocross and AMA 250 Supercross Champion Ben Townley has a new touring package to bring you and your riding buddies to New Zealand to visit some epic spots on dirt bikes. Check it out right here:
Head-Scratching Headlines of the Week
"New study finds snow monkeys get mental health benefits from spa days" —WBAL TV
"Canadian Hells Angels Terrorize Hotel by Posting 1-Star Reviews" —Gizmodo
"Yodeling Walmart Kid 100% In for Coachella" —TMZ
"Bovines online: Farmers are using AI to help monitor cows" —ABC
"Billionaire seeks to split California into 3 states" —Fox News
"Heinz asks if America is ready for Mayochup" —New York Times
Random Notes
Husqvarna privateer Josh Mosiman made the first AMA Supercross main event of his career at the muddy Seattle race. Here's his race report on what was an epic night for him, personally.
Autotrader/Yoshimura Suzuki rider and Massachusetts native Jimmy Decotis was recently featured in the Boston Globe for a preview of Monster Energy Supercross' visit to Foxborough next weekend. You can read the feature here.
Mini Madness at Perris Raceway April 21, October 13
Mini Madness is Back for 2018, Presented by TBparts.com
Join us for two races this year at Perris Raceway, April 21 and October 13. Come out for a great day of old-school mini racing and fun! Classes for all ages and all 4-Stroke minis, including a special pull-start class sponsored by Taco Mini Bikes.
Event Highlights
Dash for Cash
Custom Awards
Raffle Prizes
Giveaways
Team Races and more!
*All riders who Pre-Enter by April 15th will receive a TB Parts Swag Bag and be eligible for our pre-entry raffle, which will be held at the rider's meeting on race day. We will have some great prizes from our great sponsors, including a brand-new VEMAR Helmet!
If you race both events (April 21st and October 21st) you are eligible TO WIN A TACO MINI BIKES 22 ROLLER valued at $800!
Winner will be drawn at the October 13 race. Check 'em out at www.tacominibikes.com.
Pre-Entry forms are available now here. No need to pay until race day!
*See Entry form for details.
Check in on our Facebook Event Page to see all the latest news.
Track Information: www.perrismx.com/
Racer X Brand | RCRX Established T-Shirt Now Available
Check out our new RCRX Established T-shirt available in black and white on Racer X Brand now.
Racer X Brand | 25% Mark-Downs
Head over to the Racer X Brand Sales Rack section and check out some of our items that have been marked down by 25 percent. Hurry though—there are limited quantities left.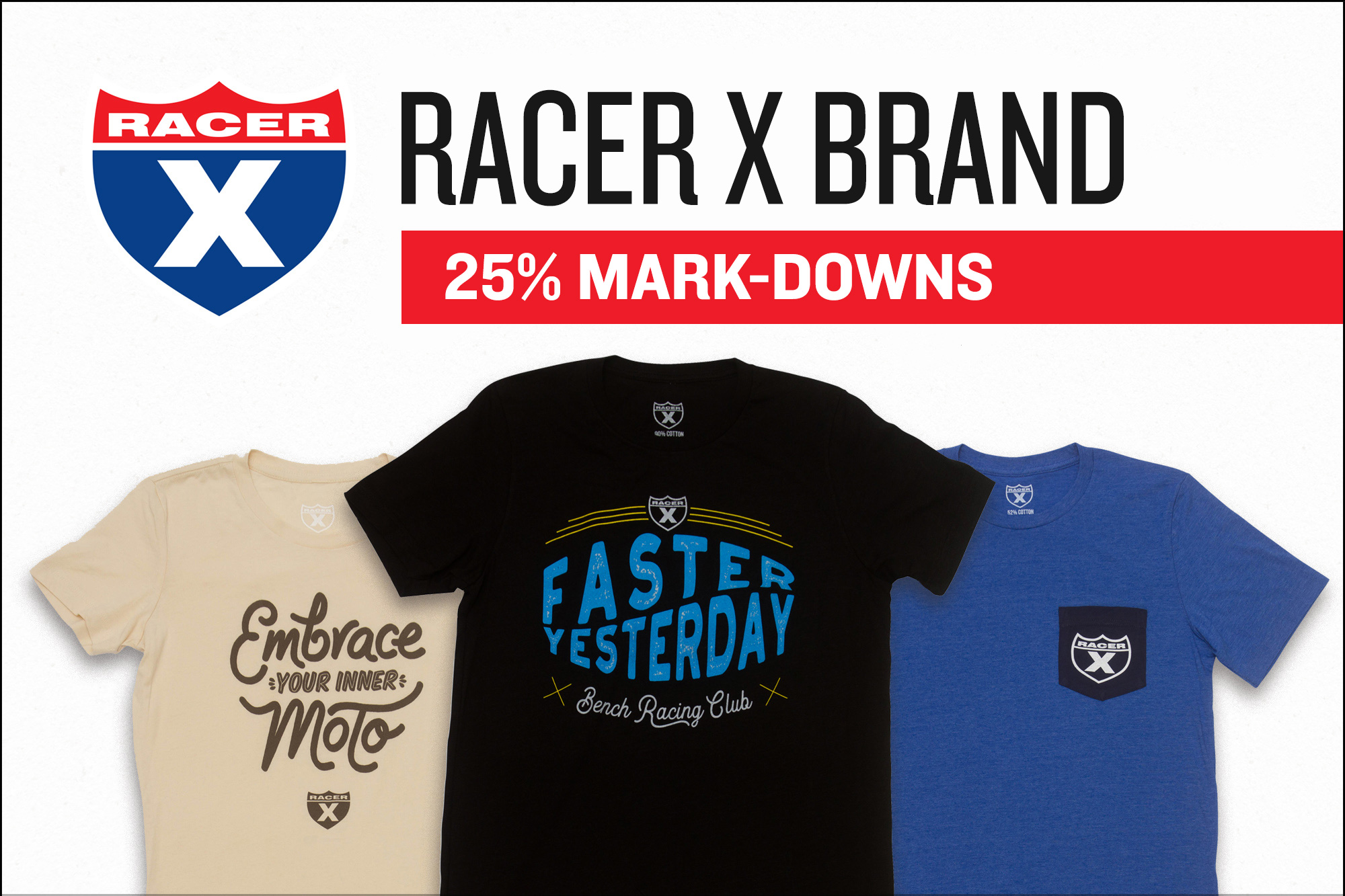 Subscribe Now and Get a Free FXR T-Shirt
Subscribe now for as low as $9.98 and receive a FREE FXR t-shirt, plus access to our digital edition.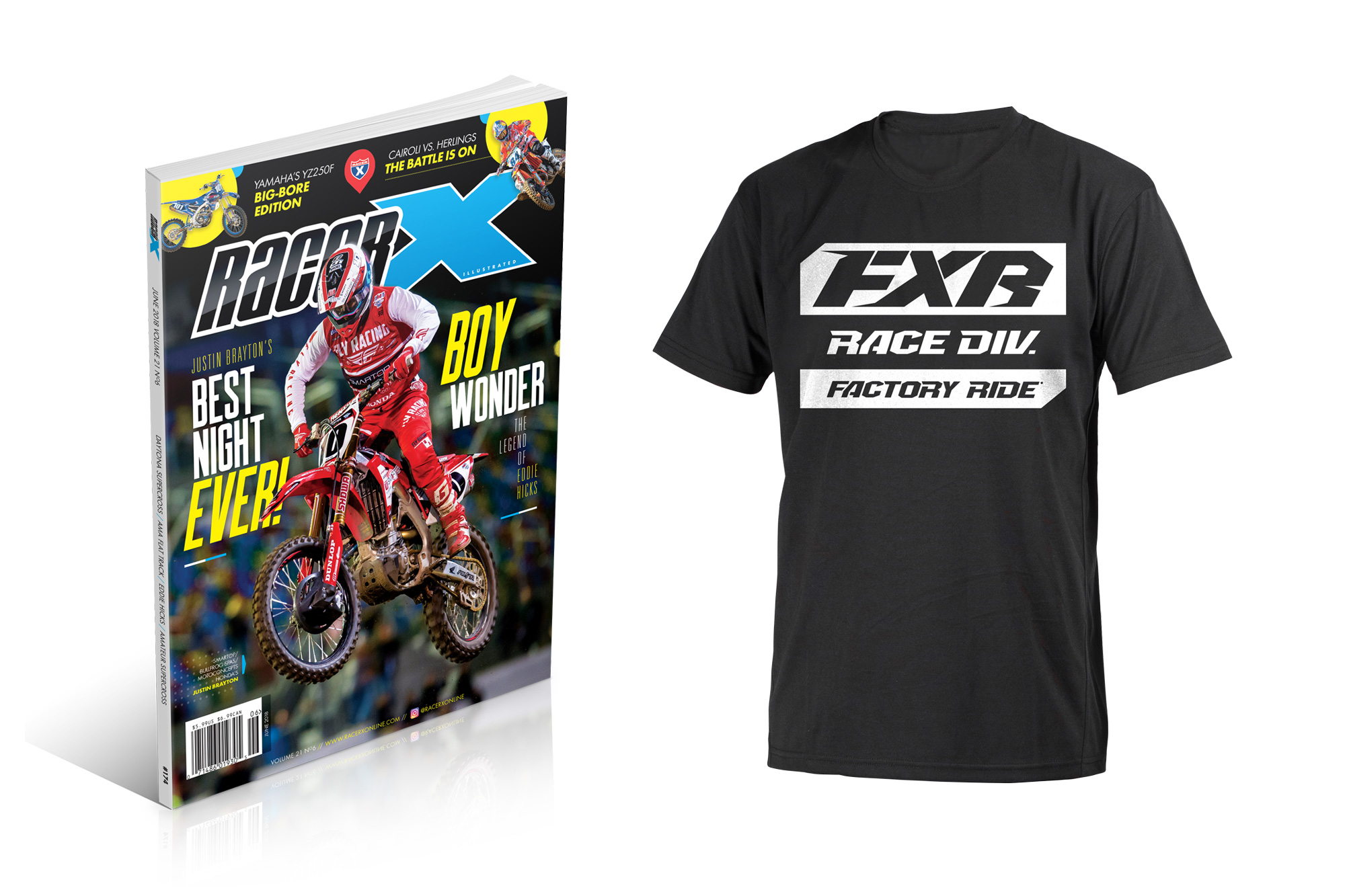 Racer X Brand | '89 High Point Shirts Restocked
We know, we were unfortunately temporarily out of stock in some sizes in the retro '89 High Point Tee. Don't worry, we are fully restocked now so be sure to head over to Racer X Brand and get yours now. Also, take free shipping on orders over $60. *Only valid within the continental U.S.
Last but not least, tomorrow is Loretta Lynn's birthday. She was born April 14, 1932, in Butcher Hollow, Kentucky. She will be 86 years old. Here's a photo of her with my dad at the very first Loretta Lynn's back in 1982.