At the close of each year, there are always a few 250SX riders who find themselves ineligible to continue racing in the class and must go searching for a 450SX ride (point out rules don't apply to Lucas Oil Pro Motocross, as it's a national, not regional, series). This year won't be any different, but before we take a look at who's getting booted, let's take a look at the rules that define this process.
There are several rules, but the following is the one that usually has the biggest impact.
Effective with the 2007 season points, riders earning at least 135 250SX Championship points in a nine-race season, 120 250SX Championship points in an eight-race season, or 105 250SX Championship points in a seven-race season in four seasons of 250SX competition will be ineligible for the 250SX class.
In other words, a rider is allowed to exceed the points threshold three times before he points out. If you do it a fourth time, you're out. This year, 250SX East Region is a nine-race series, which will put the threshold for riders in that division at 135 points. In the West it's a slightly different story, as it's a ten-race season this year. So, what does that mean? Below is the official rule governing this circumstance.
If the number of events in each of the 250SX class regions is different, the number of events used for points will be based on the smaller number (i.e., if there are eight West events and seven East events, the West riders would throw out their worst finish for a maximum total of seven events).
What this means is that even though 250SX West riders have ten races in 2018, the AMA will toss out their worst finish and tally up points from their best nine races. This number is, of course, only used for pointing out purposes and does not apply to official point standings in any way.
Now that you know the main rules, let's take a look at who will and won't be affected.
Christian Craig
The GEICO Honda rider had a great year in 2016, but that happens to be the only season he's gone over the limit. He had a rough go of it in 2017, and since he's been handling fill-in duties over at Honda HRC in 450SX, he's not going to exceed it this season, either.
Jimmy Decotis
Last year was the first time Decotis earned enough points to burn a year. Thanks to an injury suffered this year, he won't be doing it again until next season at the earliest. He's got at least three years of 250SX stardom left.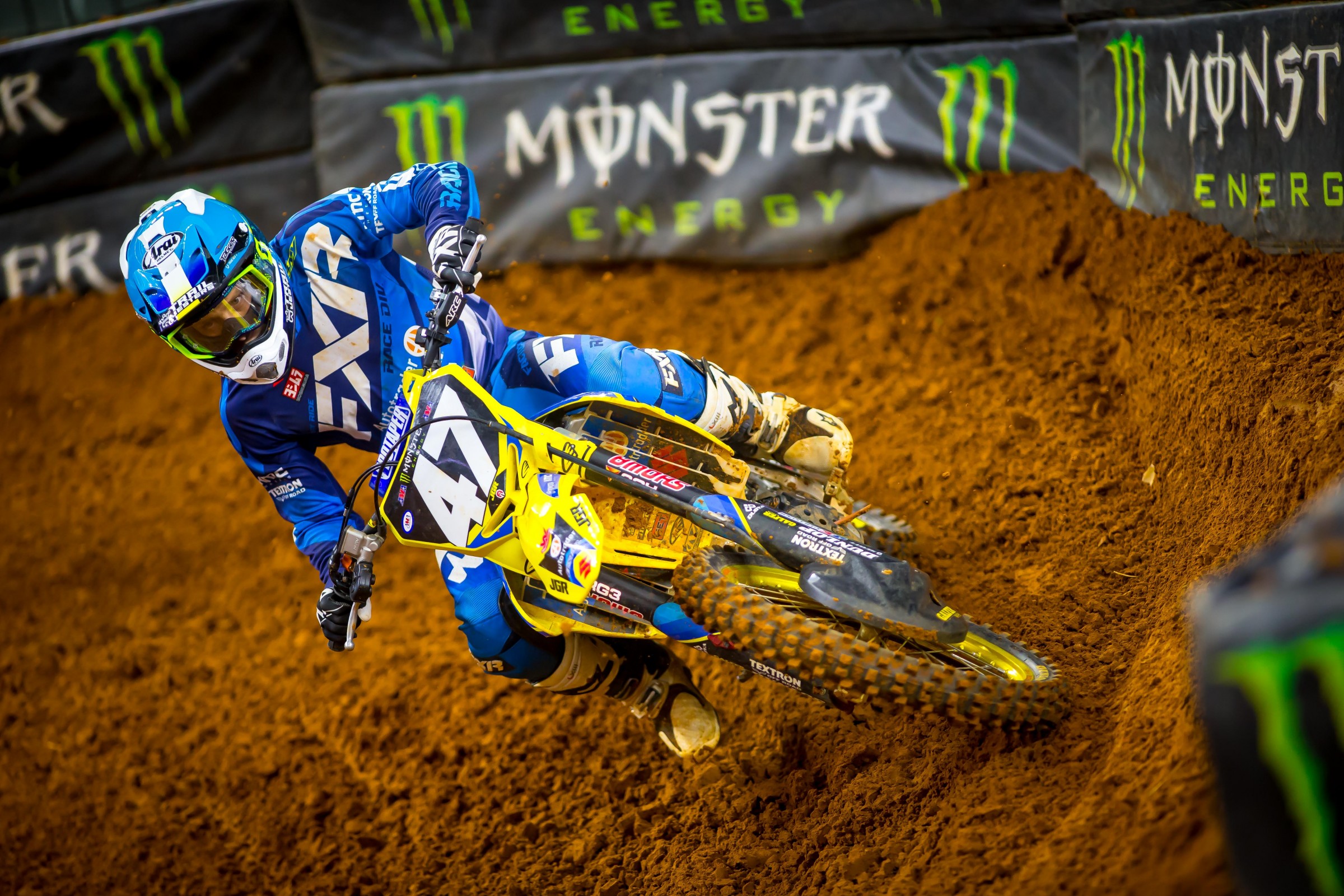 RJ Hampshire
It seems weird to say, but Hampshire has never earned enough points to cross off even a single season of eligibility. A fractured tibia/fibula prevented him from doing it last year, and injuries to his back, ribs, and lungs will prevent him from doing so this year. No ineligibility in sight for Hampshire!
Zach Osborne
Done and done. Not because he's in danger of exceeding the threshold too many times—this will only be his third time doing it—but because the 250SX champ is only allowed to be in the class for four years.
A rider who wins a 250SX Championship will be eligible to participate in 250SX for a maximum of four years total.
Well, Osborne is the current defending 250SX East Region Champion, so that explains that. But wait you say—Osborne won the title last year in his ninth 250SX season. Why was he eligible in the first place in 2018? Well, Sherlock, there is a provision in the rules that allows a rider to defend their title. If a rider has been in the class for four years, wins a title, but hasn't exceeded the threshold four times, he gets one shot at defending that title. That number-one plate is super important to the teams, riders, and sponsors, so it makes sense to give them a chance to wear it.
Justin Hill
Hill's getting bounced, too, but not because of scoring too many points. Hill's only done that twice, in 2014 and 2017. He only needs 16 more points to go over this year, but even if he does, he'd still have another year. He's getting promoted because, like Osborne, he won a championship. Yes, he won it in his fifth year, but because he hadn't exceeded the threshold four times, he was given the opportunity to defend. In case you haven't heard, it hasn't gone very well. Don't feel bad for Hill, though—he's been wanting to move up to the 450SX class for quite some time.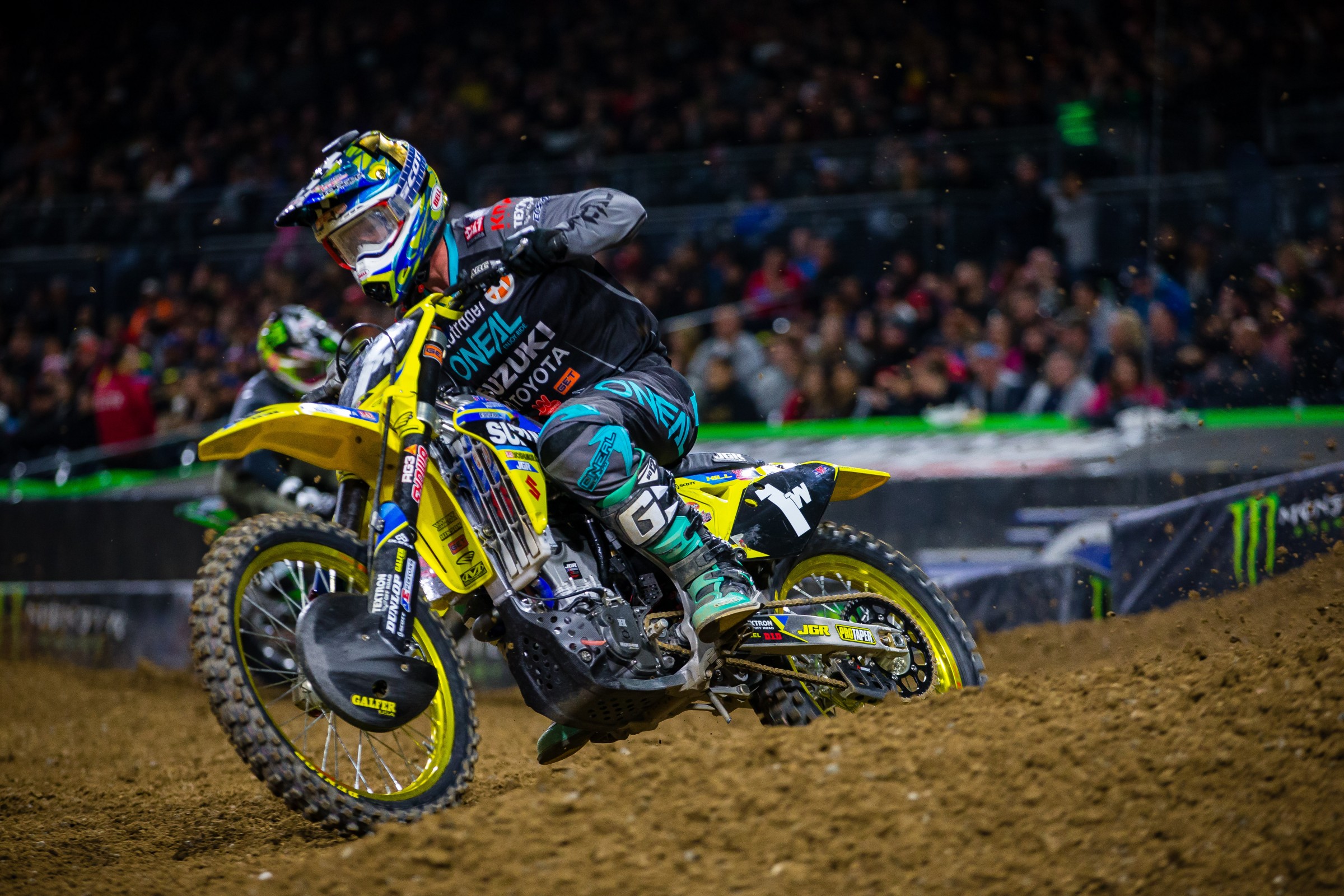 Adam Cianciarulo
Believe it or not, Adam Cianciarulo has only exceeded the points threshold once, and it was last year. Before that, a shoulder injury cut one season short, and he missed a couple other seasons altogether due to injury. He's already over the limit this year, though, even if you take away his worst finish, which means he's got at least two more years of 250SX eligibility. Unless, of course, he wins the title this year, which would make 2019 his final year of 250SX racing.
Alex Martin
A-Mart's been on a 250 for a while, but thanks to strings of injuries, he's never actually exceeded the threshold. The same holds true this year—Martin hurt his wrist in San Diego and hasn't raced since. He won't until Lucas Oil Pro Motocross, either, which means at minimum, he's looking at four more years of 250SX grandeur.
Jeremy Martin
It's kind of weird to think a two-time 250 Lucas Oil Pro Motocross National Champion isn't in any danger of pointing out, but he isn't. He's only gone over the line in 2015 and 2016, and he only needs to score 23 points to do it again this year. If you think he won't hit that mark in the next three races, your brain is getting even less traction than the guys had last Saturday in Seattle. He'll have one more year left to burn after 2018.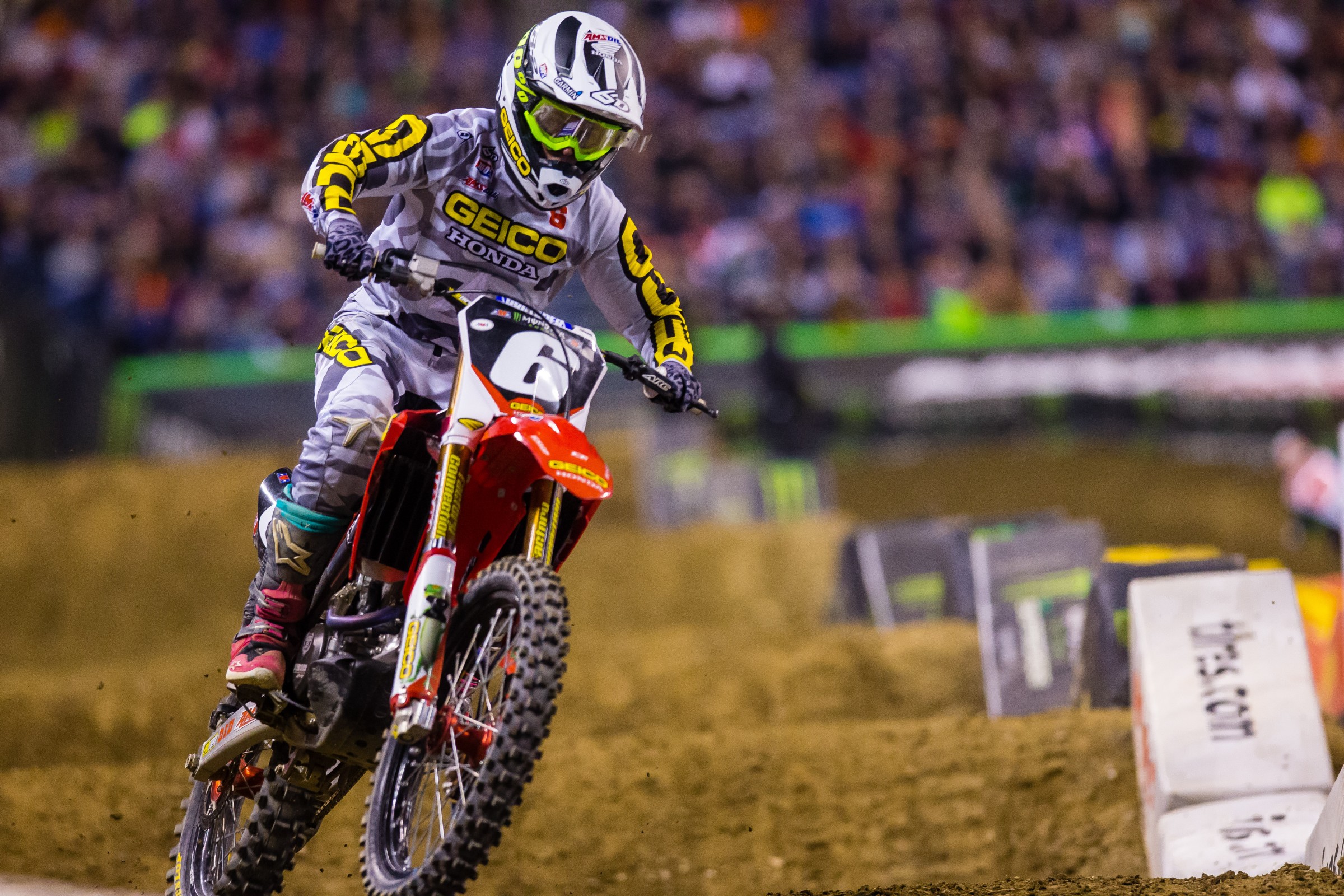 Shane McElrath
The Troy Lee Designs/Red Bull KTM rider just barely squeaked across the line in 2015 by a mere four points, then blew right by it in 2017. Even if you take away his worst finish this year he's already exceeded the threshold, which means he's got at least another year onboard the eighth-liter ripper.
Aaron Plessinger
Plessinger's already over the limit this year, and he went past it the last two years, too. He's looking pretty good for a title right now, and even though this is his fourth season, the rules say he gets a chance to defend the title (if he indeed wins it) in 2019. If he doesn't win, he'll still get another shot at it next year, but barring injury, don't expect him to be eligible in 2020.
Joey Savatgy
Poor Savatgy. After losing the title to Cooper Webb by just one point in 2016, Savatgy lost it the following year to Osborne when Osborne cleaned him out on the final lap of the season. The Monster Energy/Pro Circuit Kawasaki rider was then about to be forcefully promoted after going over the limit for a third time, but the rules were then changed to allow riders four seasons to burn instead of three. That gave Savatgy a new lease on championship life in 2018, but after a disastrous showing last Saturday in the Seattle slop (say that five times fast), his championship picture is looking pretty dark. He's already gone over the limit this year too, which means, barring another rule change, the only time you'll see him race another 250 in supercross is if he does it against the 450s.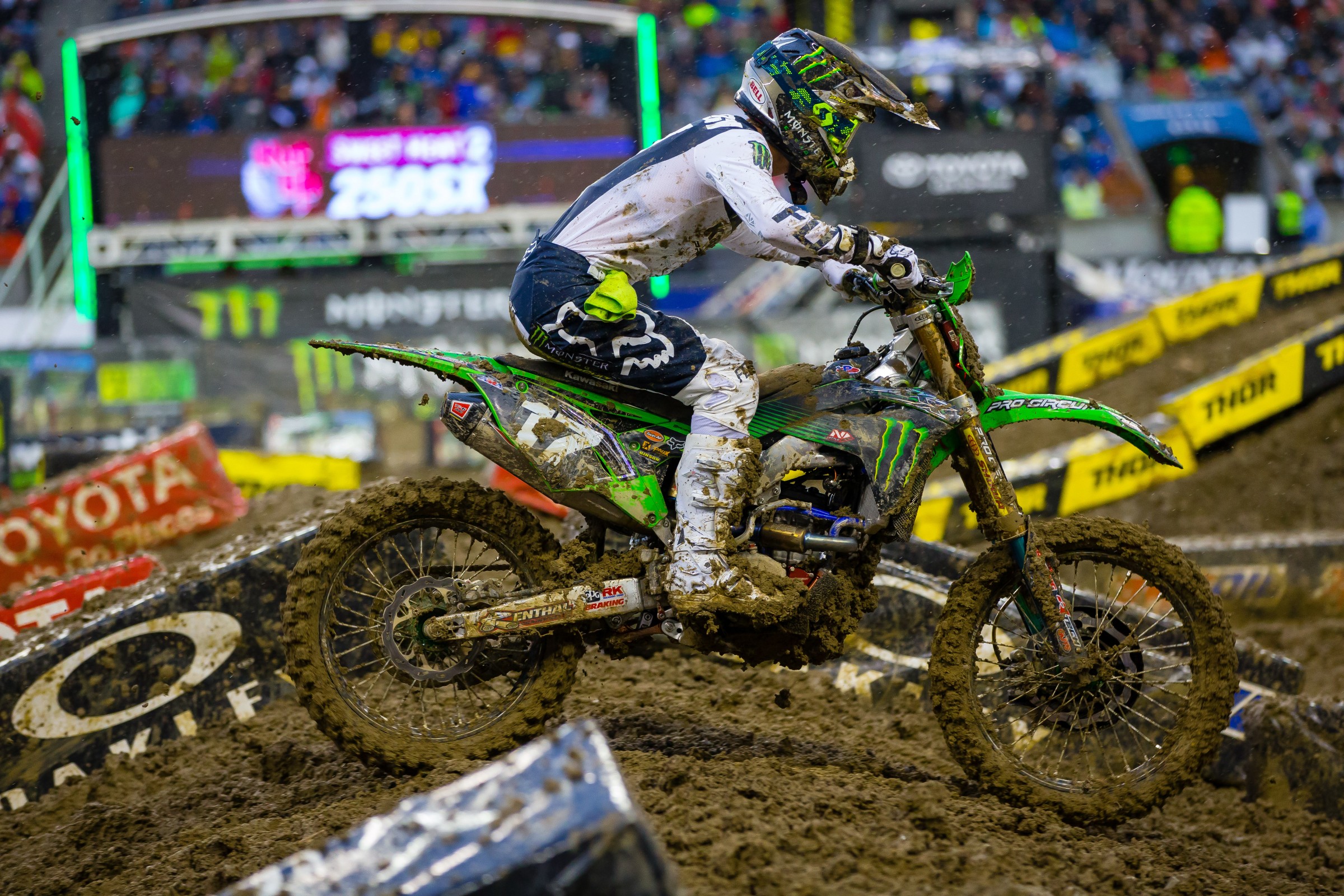 Martin Davalos
Davalos was set to be advanced last year, but was saved when the AMA ended up amending the rule from three years to four. This season Davalos has been dealing with an injury and only has 53 points, making it impossible to reach the 135-point mark. At least one more year for the Ecuadorian.
Jordon Smith
Thanks to injuries, Smith has only gone over the limit once, but he only needs 14 more to cross the line this year, which won't be a problem for Smith. He'll have at least two more years in the class, unless he beats out Osborne and Austin Forkner for the title. If that happens, he'll get one more year to defend.
Here are a few more rules that are worth taking a look at, although they don't apply to any of the above riders.
Riders who have earned an AMA 450 Class Championship, AMA 450SX Championship, or FIM MX1 World Championship are not eligible to compete in the 250SX East/West Championship.
A rider who wins a second 250SX Championship will be eligible to participate in the 250SX class for a maximum of three years total, regardless of what year he/she won their second title (i.e., if a rider wins their second championship in their third year of 250SX competition, they will be ineligible for the 250SX class regardless of points and therefore not eligible to defend their 250SX Championship title).
Riders who are advanced to the 450SX class through points or championships won will not be eligible to return to the 250SX class.
Riders finishing in the top 15 of 450SX points in 2016 or 2017 will not be eligible to ride the 250SX class.
Riders finishing in the top 15 in 2016 or 2017 who have self-advanced themselves to the 450SX class and wish to return to the 250SX class may appeal their 250SX eligibility to the AMA. This appeal must be submitted to the AMA in writing and can take up to 30 days for the final hearing. All decisions of the appeals panel are final. Riders granted a change of eligibility through the appeal process may only appeal their 250SX eligibility one time.
Designated 250SX riders who competed at events outside of their region in the 450SX class in select 2017-'18 events will remain eligible for the 250SX class in 2018-'19, regardless of where they finish in the 450SX class points, provided that after the completion of the 2016 Championship season they are not advanced to the 450SX class through 250SX points or 250SX championships won.
A designated 250SX rider is defined as a 250SX-licensed rider who has declared a region and is actively competing in that region. AMA, in its sole discretion, will determine if a 250SX rider meets the "designated 250SX rider" criteria.