St. Louis, MO
St. Louis
Monster Energy AMA Supercross Championship
After a three-week stretch in the Southeast, we are headed back to the Midwest for a couple of rounds. The series has been anything but predictable as of late, with big crashes and surprise winners stealing the headlines. St. Louis is a popular event with the riders, as it boasts arguably the best dirt of the series. The traction is ideal, but the dirt isn't so soft as to create the footpeg-dragging ruts that riders hate. It's one of the best soil compositions I have raced on stateside (nothing compares to Stuttgart, Germany, for traction) and the majority will be loving that incredible grip on Saturday. For last week's winner Justin Brayton, this is his "home race," giving him a great chance to continue the cele-bray-tion with friends and family from Iowa.
The track this weekend is typical St. Louis. The over/under bridge is back (keep your pants on, Matthes) and it splits the start reminiscent of 2005. The first turn bends into a long left with a short straight mid-turn. These ten yards mid-turn are critical, as riders will try to jockey forward in the fray of turning. Exiting the first turn, there is a long rhythm spanning the length of the floor. This is the typical St. Louis layout, with long straightaway rhythm sections followed by 180-degree bowl berms.
This first rhythm looks to be built for a 3-3 in the first six jumps. The triples are from a small jump (typically three feet tall) to the bigger five-foot backwards ski ramp-style jump. The key here is to not only clear the landing, but to land deep into the "pocket" so riders can pre-load their forks and jump again. Ideally, it's all one motion from landing to jumping again so that the energy of that fork compression is used to propel riders up and over the next triple. If riders land right at the top of the first triple landing, you'll see them have a tough time tripling again. Their forks will compress and then be near the top of the stroke again when hitting the next triple take-off. That will lessen their "pop" off of the jump face and make them jump lower, which, in this case, is not helpful. As they land off of the second triple, I think they will try to jump over the peak of the next combo and then double out. This last bit could change based off of the build and how its final touches are executed.
A bowl berm sends riders into another rhythm, and look for a big triple out of the turn here. If that's hit correctly, there's another triple-triple waiting in the wings. Hitting this 3-3-3 will be crazy fast if riders can pull it off. Look for this to be a make-or-break line in 250SX as riders struggle to get the first triple out of the berm. Any variation other than 3-3-3 will be significantly slower.
The finish line jump is just after yet another bowl berm, then there are several rolling jumps before a 90-degree left. Another 90 to the left sends riders up and over the tunnel jump, which should be difficult to do from the inside. The start straight is next and barrels to the right this time and a bowl berm. The whoops begin right out of the berm, and St. Louis whoops typically break down pretty bad by main event time. There will be some sort of jump rhythm here, so look for Marvin Musquin to figure out a line in the main that sets the trend. Jumping three and four of these deteriorated whoops at a time should be the ideal setup when exiting a turn without a lot of momentum.
Another bowl berm left sets up an interesting set of four jumps before a standard supercross triple. I don't see any way to quad these, so it might just simply be a double-double. If that's the case, look for riders to press hard here to make up time in a relatively easy section. The jumps will be easy, but a rider like Jason Anderson will be very good at being aggressive in a section like this and setting up a scrub-pass over the triple. A 90 to the left has a possible triple out of the berm, but I think the inside might be too tempting and we'll see riders double-single or even roll across the inside and double out. Tripling sounds great, but the required setup by going outside to the berm could deter it from becoming the race line. In either case, that section leads into the first turn and onto lap two.
Questions I Want Answered
Justin Brayton has won races in back-to-back weeks. How's a third sound?
Points leaders Jason Anderson and Marvin Musquin both had rough Daytona weekends. Who bounces back?
The 250 points chase is reset between Zach Osborne and Austin Forkner. Who leaves with the momentum?
Is Jordon Smith ready to join the 250 championship fray?
Will Christian Craig ever not holeshot a race?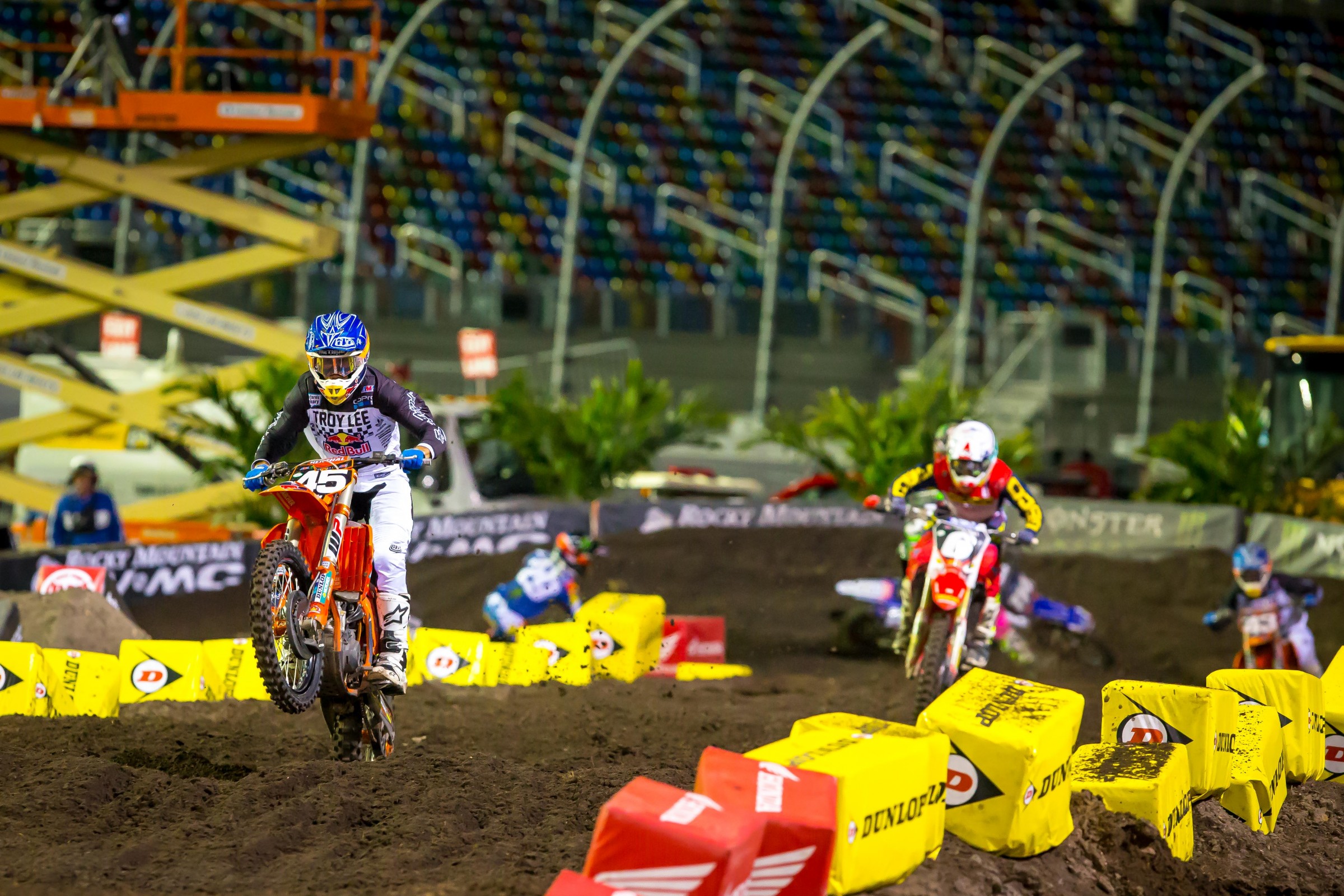 Who's Hot
Justin Brayton won his first ever 450 main event and has moved into third place overall for the series.
Cooper Webb grabbed a podium in Daytona and for a while looked like he might win it.
Eli Tomac put in one of the most impressive rides of the season and didn't even win! Reminiscent of Ricky Carmichael's Pontiac ride back in 2002.
Jordon Smith won his first race in 2018 and finally arrived back on his 2017 form.
Jeremy Martin has some momentum rolling in the last two weeks and could be seeing light at the end of the tunnel after a tough start to 2018.
Who's Not
Blake Baggett's hand is in tough shape after Atlanta's crash. He's going to be managing the damage for a bit.
RJ Hampshire had a huge crash in his heat race and will be out for a while. Get well soon, RJ.
Broc Tickle hasn't had the fire that many expected this season. He's got seven rounds to make his mark on this SX season.
Martin Davalos hasn't been able to practice until this week since his big first turn crash in Arlington. He looked to be the fastest guy entering the season but hasn't been able to show it.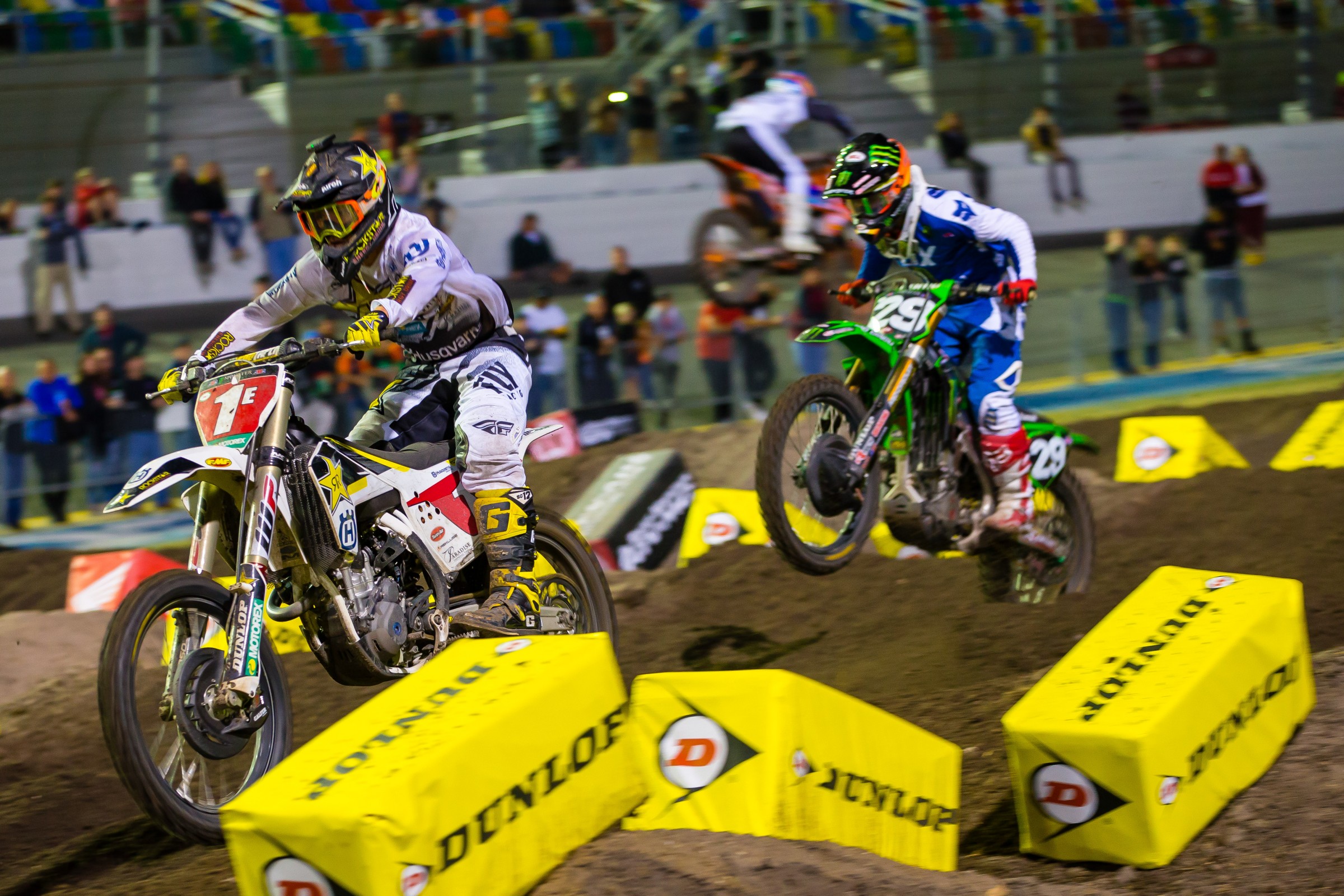 Bold Predictions
Fireworks ensue between Zach, Jordon, and Austin. Historians will later refer to this as the Energy Drink Fiasco of 2018.
Chad Reed sets the record for most main event starts at 231.
Jason Anderson bounces back to win St. Louis.
Martin Davalos has a MARTY PARTY in the heat race.
Malcolm "Mookie" Stewart puts it back into the top ten after a rough stretch.
Monster Energy/Yamalube/Star Racing Yamaha extends fill-in offers to Ronnie Mac, Travis Pastrana, Jim Holley, Stephane Roncada, Robbie Knievel, Peter Fonda, Tyler Evans, Edgar Torranteras, Ken Block, Art Eckman, and one of Baltimore's Wheelie Boyz.
Jason Weigandt is still all smiles and post-coital cigarettes after Justin Brayton's Daytona win.
My Picks
250SX
Austin Forkner
Zach Osborne
Jordon Smith
450SX
Jason Anderson
Marvin Musquin
Eli Tomac