Daytona International Speedway
Daytona

,

FL
Daytona
Monster Energy AMA Supercross Championship
Sunny Daytona welcomes round ten of Monster Energy AMA Supercross. This is the most unique round of the series, as we head inside Daytona International Speedway instead of the typical baseball or football venue. The track is built on the infield grass section of the speedway and has a completely different feel than the other rounds. The track is oblong in shape and will feature the longest rhythm sections, longest and nastiest sand whoop sections, and least amount of turns on the schedule. It's a man's track, and by main event time will be rough and rutty. Those ruts will be difficult to navigate, not only due to the depth of the sand, but also the speedway lighting making vision tougher than a bright football stadium. In short, Daytona is a different animal that usually delivers different results than the norm.
This year's start is reminiscent of 2010. It's angled to the east, which we don't see here very often. It's usually facing west, but as long as it features a left-hand first turn, I don't really see much difference. The first turn is very tight, so look for the inside guys to stay tight and tip-toe through the inside and the middle-to-outside guys to push deep and hope to sweep around them. If any of the guys lined up on the inside time it wrong and push wide, look for fireworks a la Arlington's 250 main event.
The sand whoops immediately follow the start and should be interesting on that first lap. Watch for riders to get aggressive here and try to make moves while everyone is bunched together. Some will try to get on the far inside and far outside and blow past riders all following each other in the middle line. Those whoops dump into a sandy left turn that will have deep inside ruts. A short beach sand section leads to a right-hand 180 and a standard supercross triple. Daytona triples get tough, as the sand exit robs power and can often form a ledge as the sand meets the clay. A step-up follows the landing of the triple, then riders face a dragon's back section into the far west corner toward turn one of the speedway. Dragon's back sections are always tough, and those who commit can make up real time. Blitzing is always faster than jumping up and then off the top, but it's big risk, big reward.
A right-hand 180 sends riders along the speedway racetrack and all the way back across the spectator area. The first rhythm section looks to be set up for a step-on, step-off and 3-3. There are other options possible here, but none look as good as that choice on paper. The simple rule for Daytona is to always go with the most obvious choice, as the rough track combined with the deteriorating conditions demand simplicity. There's a sky shot-type jump next, similar to what we saw in 2014 where James Stewart was sending his RM-Z450 into the darkness in hopes of passing Dean Wilson in the heat race. A simple up-down dragon's back pushes toward the finish line, but that's not the end of the straightaway just yet. There is a small step-up just after the finish and then a triple into a right-hand sand turn.
Another quick beach sand switchback section leads into five similar jumps that will either be a 3-2 or a 2-3. There is a set of strangely configured bumps which seem to always find their way onto a Daytona track, followed by another notorious Daytona section of high-low jumps. Most riders will end up right down the middle of these, trying to jump from the low portion of each takeoff. A 180 right leads into a supercross set of whoops that will get nasty. The mix of sand and clay always leads to whoops deteriorating, making these difficult to find a consistent rhythm through. If you can choose a different rut exiting the corner, this is a great place to make a clean pass. There is plenty of time here to get alongside another rider and make a move without having to get aggressive. There is another sky shot jump to finish the lap, but with a hard right turn back onto the start looming, I look for riders to roll this and get back to the ground as quickly as possible. The quick right-left leads riders into lap two.
Questions I Want Answered
Can J-Mart capitalize on his momentum?
Is Blake Baggett's wrist going to hold up?
Eli has gone 4-2-1-1 in his Daytona history. Can he make it three in a row?
What's next in the Osborne-Forkner saga?
Stew? (Just a never-ending question I want answered.)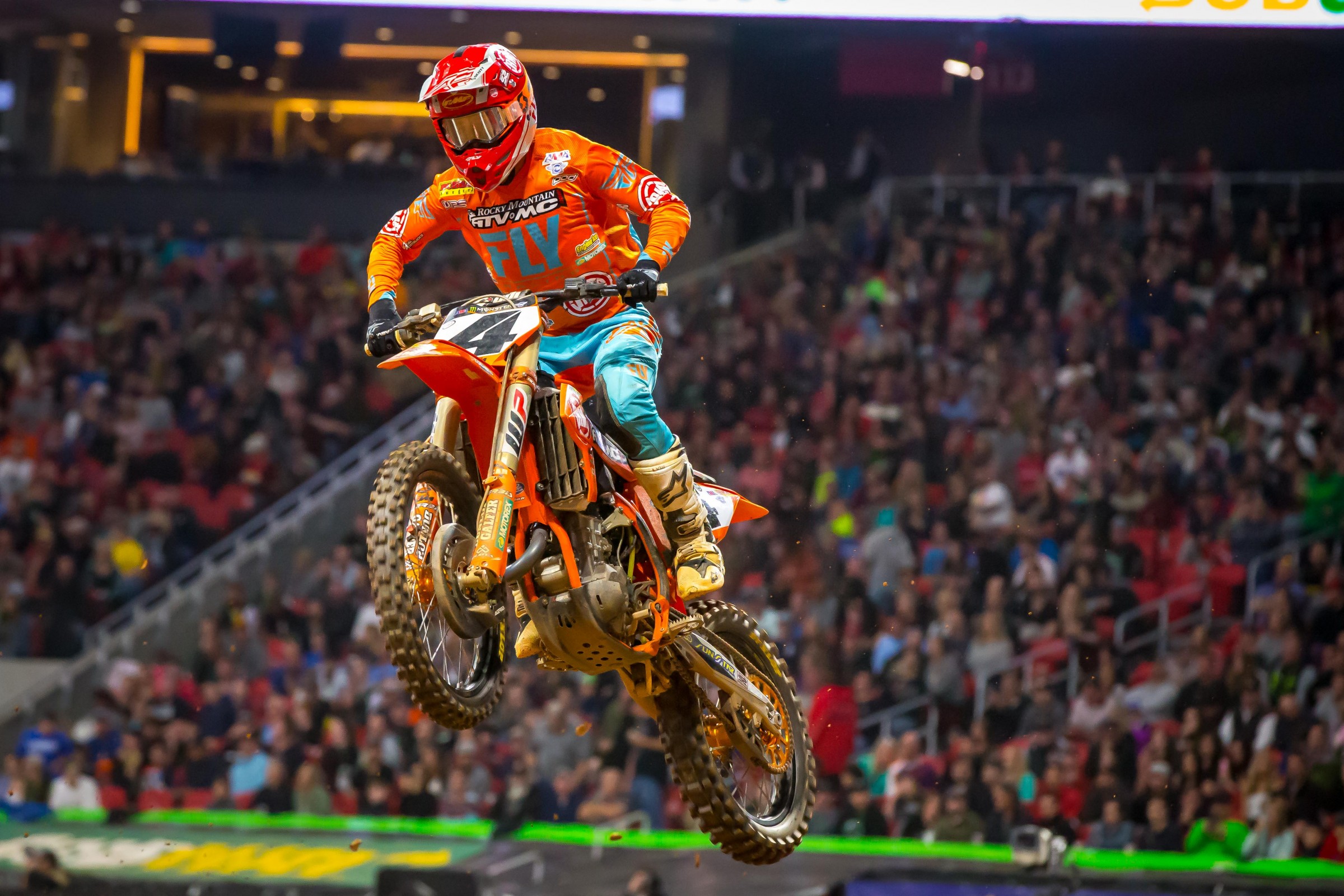 Who's Hot
Austin Forkner grabbed the win with a last-lap pass on RJ Hampshire. He is only two points out of the lead.
Tuff Blox were red-hot in Atlanta, taking down riders left and right with virtually no effort at all.
Cooper Webb almost won the second main event and has been a new man lately.
Who's Not
Broc Tickle crashed every single first lap of all three main events last weekend. Daytona will be better.
Justin Hill had big momentum rolling into Atlanta, but left with a couple of broken toes for his trouble.
Blake Baggett had a get-off in the final main event and is now nursing a wrist injury as we head to Florida.
Martin Davalos is so damn fast, but just can't keep it on two wheels lately. His body should be wrapped in a medic flag as we enter Daytona. It has taken a beating.
Bold Predictions
Martin Davalos holeshots the 250 heat race.
Chad Reed sets the record for most main event starts at 230.
The FIM amends the skull and crossbones flag to the all-new skull and cross-jump flag.
Weston Peick fights a biker gang on Main Street to warm up for the night show.
Christian Craig holeshots something.
Zach Osborne has a motorcycle tuned by Mitch Payton on each side of him for the main event starting grid.
My Picks
250
Zach Osborne
Jeremy Martin
Austin Forkner
450
Eli Tomac
Blake Baggett
Marvin Musquin