Atlanta, GA
Atlanta
Monster Energy AMA Supercross Championship
We decided to switch thing up this week and bring in 51Fifty Energy Drink Yamaha's Kyle Chisholm, who finished 13th in Atlanta, as well as CycleTrader.com/Rock River Yamaha's Alex Ray, who is currently out injured. Also, our regular contributor Ryan Sipes is back.
1. Why was that one triple so gnarly?
Kyle Chisholm: I'm not really sure why that triple got so many people. Yes, the track was a bit soft and rutty, but that triple wasn't a really big or difficult triple to clear. The turn did form a lot of ruts ranging from railing the whole top of the berm to many lines cutting down lower and lower in the berm. And the triple face did have multiple ruts, but none that were really deep enough to drag your pegs. I think it just came down to guys trying to find a smooth piece of track on the edges and carrying maybe a little bit too much speed around the corner and clipping the Tuff Blox on the jump face.
Alex Ray: There was a few crazy crashes on that main triple. I went back and re-watched the race to see why everyone was KO-ing themselves over it. The dirt was soft in practice and the track got chewed up. I noticed a few guys getting cross-rutted in practice. That's always scary over a triple face, and you don't really know which way the bike is going to go. Sometimes you're already sideways or upside down before you leave the jump, therefore creating a cattywampuss effect! Also, it was in between two rhythms, which made it a little bit tighter coming out of the 180. When these guys are pushing the limits in qualifying and racing, they tend to drift out a bit too far into the Tuff Blox. But this weekend was crazy!
Ryan Sipes: I was asking myself the same thing all night. The only reason I can think that guys were drifting so wide is the distance from the corner to the jump. Normally when they put a triple right out of the turn, it is literally right out of the turn. Just enough room for the 250s to barely be able to make it. In those cases, you can't blast the corner like a madman because you know you need to be smooth and get enough drive to make the jump. At Atlanta it looked a little further out, so I think guys were rushing the corner more than they normally would, which was pushing them wide. I couldn't tell on Weston Peick's crash because of the camera angle, but with Dylan Ferrandis, it looked like he hit the corner hard, faded a little wide, then before he knew it, he was on the face of the triple and it was too late.
2. Triple Crown! What do you think of it?
Chisholm: I think it's pretty cool having the Triple Crown at a few races this year. I love the history of the sport and I'm kind of old-school at heart, so I'm kind of torn in messing with the tradition of the sport and stuff like that. But at the same time, I think at some point change is good and it does make for some exciting racing for the fans. If they had Triple Crown formats every week, I don't think I'd be as much of a fan, but just having a few I think is cool. It gives us a new challenge and something different to prepare for, which I personally enjoy. I do think they need some work on the format still, though. From a racing standpoint, we don't get much time in between races if the bike needs any work. I work hard and I'm fine with a short turnaround, but I think it can be tough on the mechanics and teams if anything goes wrong in one of the races to be ready for the next one. But I've also heard the TV coverage has a lot of dead time, but I don't think those gaps could be closed at all since the turnaround is already tight for the teams. I also feel like maybe a two-moto format may be a good option to at least try, but I'm sure they will tweak on it and keep improving it.
Ray: As a rider, I didn't like it at A2, but this weekend as a spectator in the stands, I was on the edge of my seat most of the night. So much tight racing, different winners, and carnage! I think the track this weekend was super tough, but made for great racing. There were bowl turns everywhere, which made for more good passing spots. Then you went through some tough rhythms with ruts everywhere and some steep nicely built whoops, and you got yourself a hell of a race! With three laps to go in the last 250 main, I had no idea who was going to get the overall. Also, it shows some of the riders' strong suits, as in which riders are better sprinters in the shorter mains and who is more consistent.
Sipes: This is how the Triple Crown is supposed to be. More starts, more drama, more chances to see the fast guys duke it out. I think the biggest difference between Atlanta and Anaheim 2 was the track and how technical it was. So, great job to the track crew for acknowledging the weaknesses of the first Triple Crown race and fixing them the second time. I don't want a Triple Crown every weekend, but it is really cool to have once in a while just to change it up.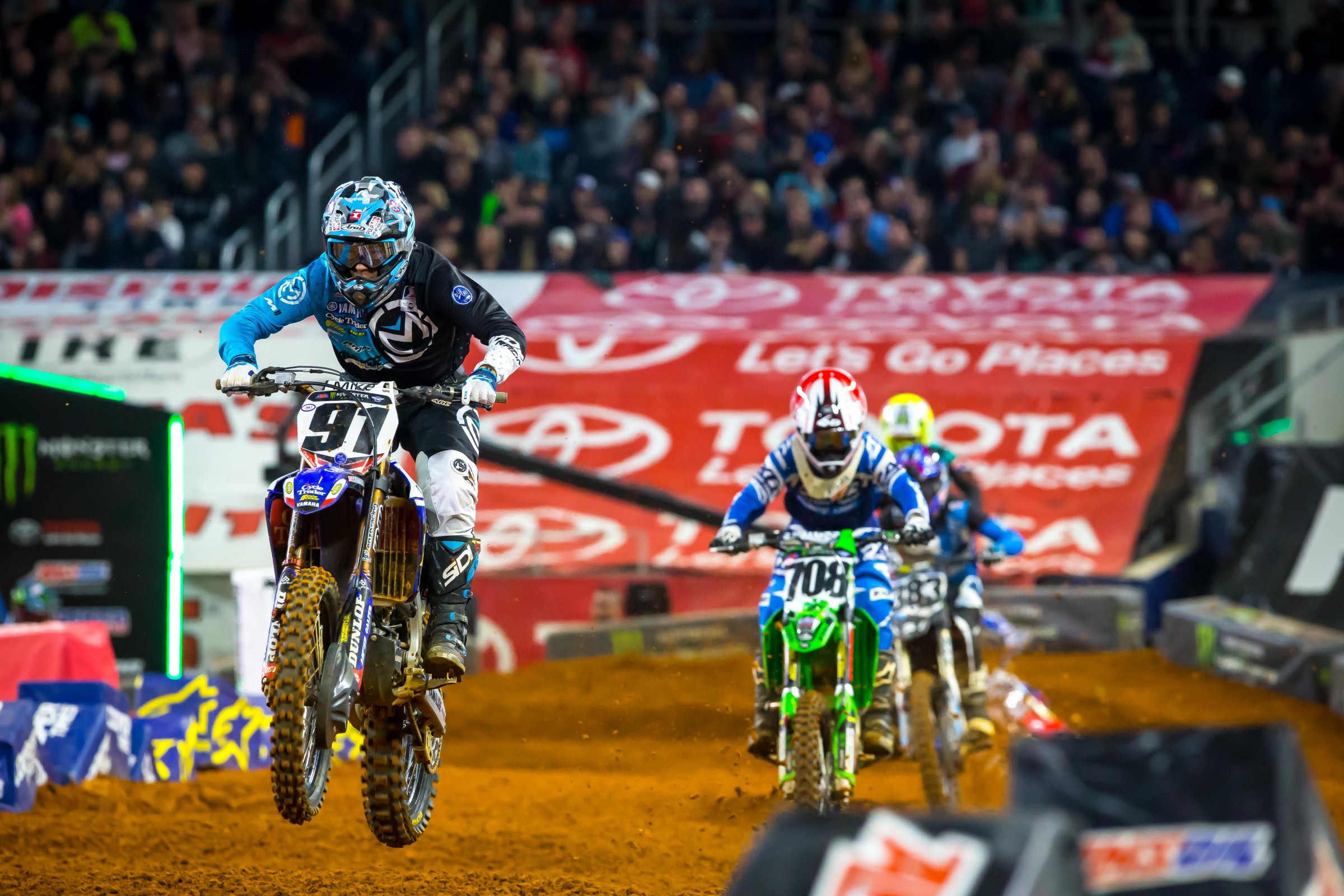 3. How do you approach laps when the track is rutted and beat up?
Chisholm: When the track gets really rutted and beat up, I always like the challenge. I tend to do better the tougher the conditions get. I think it's very important to be very precise and hit your lines and land spots as perfectly as possible, lap after lap. You can't just smash your way through the sections like you maybe could on a more hard-packed track. The ruts slow everything up and make you really have to be mentally sharp the whole race. You also have to really be thinking ahead so you know where to position yourself on the track for the upcoming sections and corners. You have to know what rut or line you're going to hit in the next section before you even get to it. You have to really focus on connecting each section of the track as fluidly as possible to carry good momentum and not over-ride the track. It's also really important to not get stuck hitting the same lines every lap when they get too beat up and aren't any good anymore. You need to keep your eyes open and adapt with the track as it's changing and lines get beat up and worn out. One other thing I think about on track walk, if I know the track will be super rutted, is what will be the main jump combos in the rhythm sections so you know which transitions will get rutted up the most, and then I'll look for another second option that I could hit in order to get into the opposite transitions that other riders aren't hitting so you have fresh track to ride on when the other ones get rutted too deep.
Ray: It's always good to be creative and look around and be aware of what's around you. Maybe do a different combination in the rhythm section, cutting down early in the turns to stay out of the deep stuff, or even trying the edges of the track. I try to stay as consistent as my mind lets me because I have that grip-it-and-rip-it, hold-on-for-dear-life send mode that gets me in trouble! I try to stay straight, hit my marks, try not to look straight down at the ruts, and try my hardest not to end up on my head in an A-Ray fashion!
Sipes: I always liked the rutted tracks because they were less about intensity and more about precision. My strategy on a track like that is just "hit my marks." You can't rush it because it's too easy to get off balance and make a mistake. My thinking was always that I would rather give up a tenth of a second in every corner than give up ten seconds by falling down or squirreling off the track. A laser focus is your best friend in the ruts. You have to breathe and stay balanced. Starting a rhythm section just a little cockeyed can spell disaster by the end of it.