Mercedes-Benz Stadium
Atlanta

,

GA
Atlanta
Monster Energy AMA Supercross Championship
Often when you scroll through the roster sheet of Monster Energy AMA Supercross, you'll see a number of sponsors listed on the right-hand side of the page for each rider. A rider's list of sponsors can range from many to "none listed." 250SX privateer Drayke Sizemore falls into the "none listed" category. A quiet, sticks-to-himself guy, the rider out of Illinois is content with just focusing on the task at hand. While Sizemore has yet to put the #155 machine into the main event in 2018, things were looking promising in Atlanta until the red flag waved in the LCQ. We recently had the chance to chat with Sizemore to find out more about his program.
(The following interview was conducted via iMessage and has been lightly edited for clarity.)
Racer X: Drayke, what's up? Feel like doing an interview?
Drayke Sizemore: Getting ready to head down there. Yeah, I can.
By down there, I assume you mean Daytona?
Yes, gonna try and ride somewhere by Daytona tomorrow.
You're not an easy guy to get ahold of. That's sort of your deal, huh? You just stick to yourself and get things done? No frills.
Yes, I've always just stayed to myself, whether it's at home or at the tracks on the weekends.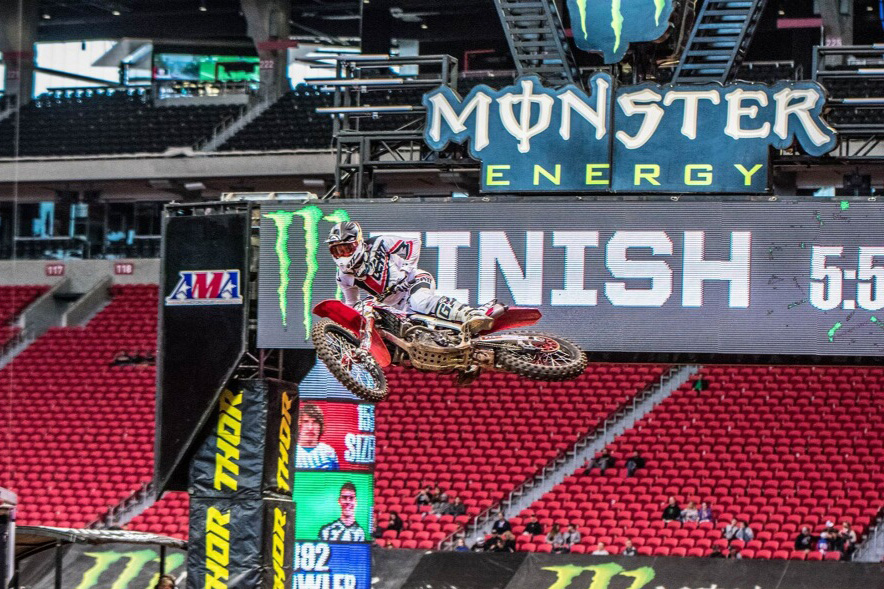 Can you tell us a little bit about your program for 2018?
I took a five-month break and decided to buy a bike in December. I started riding the third week of January. We rode at GPF [Georgia Practice Facility] one day and then MTF [Millsaps Training Facility] the next day, we headed back home and started getting the bike ready for the first round in Arlington. As far as preparation time on the bike, I have less than seven hours. We drive back right after the races Saturday night and we get home Sunday morning. During the week I've been working with my dad three days [a week] for 12 hours a day finishing drywall, then Thursday we do bike maintenance and load up the van and head to the races. I'm lucky to have the family and friends that I do that help get my equipment ready so I can have a full-time job to fund being a full-time racer.
You did get a van? No more Ford Ranger? I know you were scrambling to find a vehicle prior to Arlington.
Yes, we got a Sprinter, but we are keeping the Ranger—it's sticking with us. We got it before I started racing back in 1999; it's basically part of the family now. We did take the Ranger to Arlington, then as soon as we got back, we were driving in my hometown and a local business had it setting out for sale. We was squealing the tires trying to get turned around to go back and take a look. We test-drove it and they made us a killer deal we couldn't pass up. We picked it up Thursday evening, then we loaded it up and off we went to Tampa.
Arlington to Atlanta, how would you rate 2018 so far?
It's far from what I feel I am capable of, but I don't look at it as being anything but positive. The things I've learned so far that I never had the opportunity to is just beyond words, but Arlington went good. I qualified for the night show then struggled a little, didn't make the main. Tampa was the worst so far—I was sick all week leading up to it, then had some bike issues we didn't get resolved until the final practice, but we learned some things and made some major changes during the week to the bike before Atlanta. Atlanta was gnarly, but I felt good riding. I missed making it directly to the main by a few spots. In the LCQ I got a mid-pack start and worked up to the front and felt I was going to get to the top four, then it was red flagged. On the restart there was some carnage and I ended up playing catch-up again, and I've found out with the amount [of] good riders this year, playing catch-up isn't going to cut it.
You were sixth when the red flag came out, right? You've hovered around the bubble of making the main often. What do you feel it's going to take to finally make it happen?
Figuring out how to put everything I learned together. If I can do that, I feel confident that the rest of the year will go as planned.
Speaking of going as planned, what are some of your goals and expectations for the rest of the season?
My first goal, I think that everyone else has too, is to make a main event. After I get past that first one I've been struggling with, I'd like to work towards a top-15 before the end of the season and have some momentum going into outdoors. I've never done an outdoor national, but outdoors has always been all I have rode and it suits me well. For long-term goals, I really want to just be a guy that everyone can count on, week-in and week-out, to be there in the race.
I know your crew is small and you enjoy staying off the radar, but who are the ones helping you out?
It's been small, but we all get along and work well together. We all have a lot of fun and still know when to be serious. I actually just got hooked up with Leatt this past weekend in Atlanta. They are an awesome group of people. There's more gear in my gear bag now than I've ever had my whole life! Also, Kellermans Powder Coating has helped me out more than words can describe. Also Collins Truck Parts, Racer identity, Blu Collar Photography, Ray's Auto Body, Majestic Ridez, Euro Suspension, Sound & Tint Co., Mom and Dad, and my mechanic Joey Crain.