Tampa, FL
Tampa
Monster Energy AMA Supercross Championship
Chad Reed will likely break the all-time AMA Supercross starts record this weekend—he just needs to qualify for the Tampa SX main event to break the one-week tie with Mike LaRocco at the top of the chart.
LaRocco's tireless, Midwestern blue-collar work ethic made him a perfect record-holder. Reed will also wear this crown well. As a young Australian, he grew up with one dream—racing American supercross. To this day, 17 years into his journey in the U.S., it's not an opportunity he takes for granted. That's why his old championship motto—"You have to be in it to win it"—proves so fitting. Chad's story is complex enough to require a book (which we hope he completes one day), but through everything—titles, race wins, copious podiums, team switches, running his own team, and more—there is one constant: Chad Reed simply loves being a supercross racer.
Still does. You'll see that again this weekend.
Now, let's run through some key events en route to the all-time supercross starts record.
The First Ones
For 2002, Boost Mobile/Yamaha of Troy signed Reed to contest the 125 East Region, but the squad gave him a YZ250 to race at the first few premier class races out West. He rode three times with very strong 6-5-8 finishes. He also raced Dallas (a West round in '02) on the YZ250 again, giving him four starts for the year.
The Longevity
"You have to be in it to win it." Well, Reed was in it A LOT. From his full-time premier class supercross debut in 2003 through the first two rounds of the 2010, Chad never missed a race. By our calculations, that's 116-straight races without a miss. Want to know something crazy? Ricky Carmichael only raced 115 premier-class races in his entire career.
By the way, Reed is the all-time SX podium leader with 131. Jeremy McGrath is second with 111, Ryan Dungey has 101, and no other rider is in the triple digits.
Gutting it Out
Sometimes Chad was hurt and gutted out a start anyway. Examples: Injured shoulder before the '03 season but showed up at Anaheim 1 and won. Separated shoulder before the 2006 Daytona Supercross but still raced and finished second. Huge crash right before the 2007 season, still made the podium at Anaheim 1.
The All-Time Start
Here's the best example of riding hurt: In 2008, Reed went over the bars hard in practice in Detroit. It was a gruesome crash, and Chad headed to the hospital while Kevin Windham began eying the supercross points lead. Chad returned from the hospital to compete that evening—lucky for him, supercross had a provisional rule back then that meant he only had to take the gate drop and idle down the start straight in his heat to qualify. He was in all sorts of pain but managed to finish 12th in the main event, preserving his championship. This was perhaps the all-time "just get into the main event and get some points" start.
TwoTwo Too
Reed's 2010 season with Monster Energy Kawasaki was not good. He didn't have any factory offers, and as he approached his thirties, well, this would have been the time many riders would have retired. Instead, he spent his own money to start TwoTwo Motorsports. The next five seasons turned Reed into an all-time fan favorite as he did it his own way, and quite effectively.
Back So Soon
Reed's knee was bothering him in 2013, and he needed a quick procedure to fix it. He missed just one race—Houston—and made it back for the next one at Minneapolis, where he finished fifth. He didn't miss another main that year.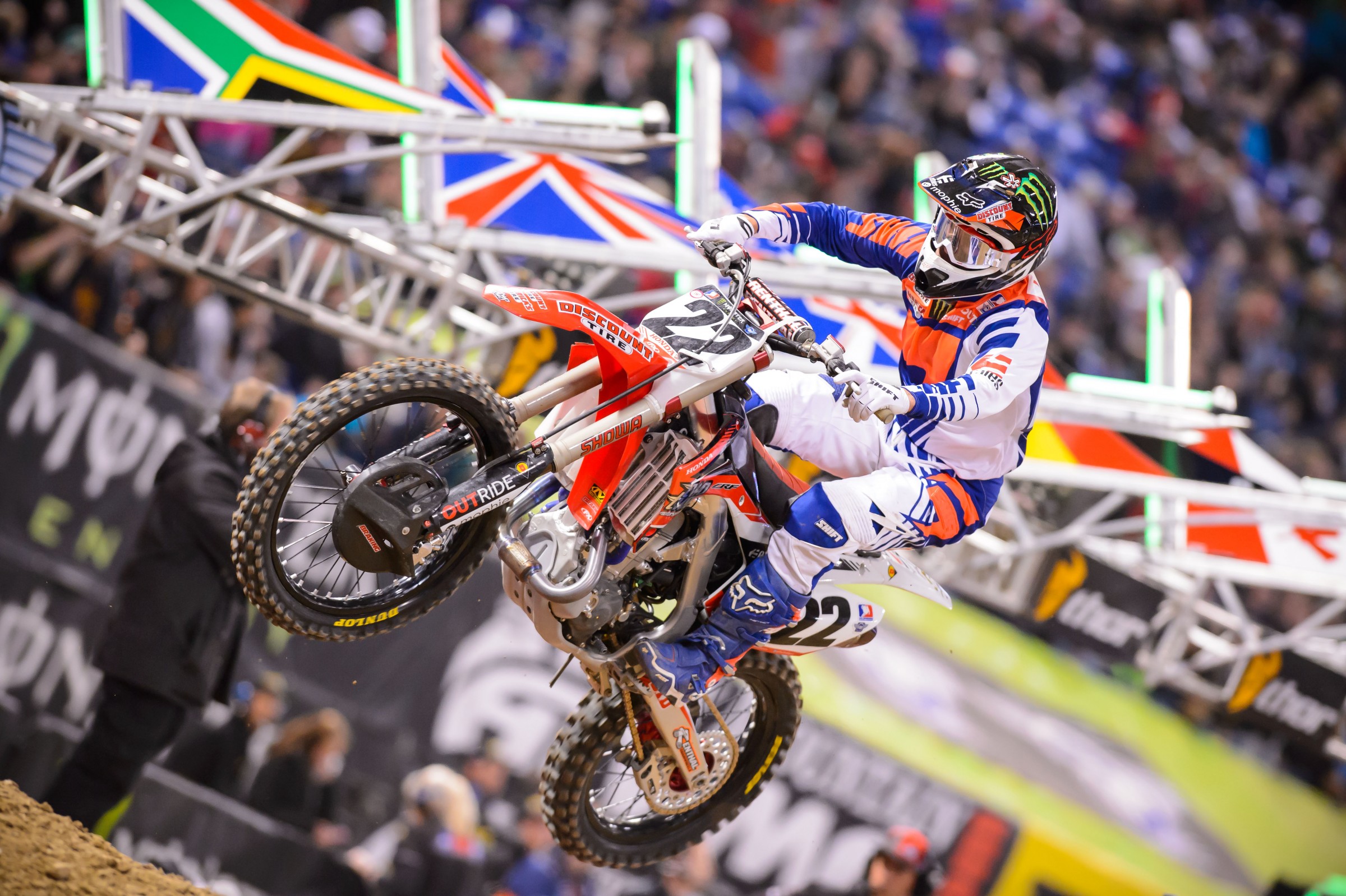 Back Up There
Much of Reed's career has been spent defying the odds. Surely he was considered dead and buried as a title contender by 2014, when he was set to turn 32 years old. There he was, though, winning on an electric night in Anaheim 2, and then doing it again at Anaheim 3. It was a dream season until he crashed into Ken Roczen in the whoops the next weekend. Season over.
Still There
Reed has only won one time since that magical 2014 season, but he has not given up. He made 16 of 17 races in 2015 and made all of them in his two-year stint with Monster Energy/Factory Yamaha in 2016 and 2017. That's 50 starts out of 51 scheduled races over those three seasons.
Gutting Out More
Chad broke two bones in his ankle at Red Bull Straight Rhythm this year. A lesser man would not have made it to Anaheim 1. He made it, and while he's struggling, he's still making mains. A couple of times he's had to go to the Last Chance Qualifier—not where he wants to be, but it's kept him on pace to break the all-time starts record this weekend. It's set to work out pretty perfectly, because Tampa is Chad's adopted U.S. home.
Here's to a job well done, and, it appears, a job that's still not over. While Chad has done many things in his career, there's still one thing he refuses to do—quit.