In 2013, Kevin Windham finished tenth and 11th at the first two rounds of Monster Energy Supercross. He then told me he "wasn't out there to just ride around." When I told him that his positions were fine, he just laughed. Then came round three. After practice, Windham called it a career. He was still capable of top-ten finishes.
Elite riders like Windham, (or Carmichael, or McGrath, whoever you want to pick) just don't ride around in the middle or back of the pack. They just don't. Mark Barnett won a supercross in 1985, finished a bunch of motos in the top five, and couldn't live with himself. He retired. Jeff Stanton would've been national number 8 the year he hung it up. Mike Kiedrowski would've been number 3 for 1996, but was apparently so disgusted with his performance that he retired instead.
This year's Chad Reed situation is weird, I'm not going to lie. I've seen almost every single one of Reed's races here in the U.S., and for three years I was on his team with Yamaha. He's a legend and an all-time great, and right now, he's struggling badly.
An ankle injury suffered at Red Bull Straight Rhythm held him back from training and riding before the year, not to mention that he didn't have a team or bike lined up. Riding a production Husqvarna FC450 (not the race replica) that he bought, Reed showed up at Anaheim with about four hours of practice before the race. He struggled mightily there, but you had to think it was going to get better.
Well, we're five rounds in, and although Reed tied a season best with a 14th place in Oakland, he knows what the situation is. The cards in this deck are definitely stacked against him. That still doesn't make it normal to watch the #22 struggle out there.
"Tonight I felt like that was probably my best that I felt on the bike. The bike was performing good. But, dude, I just don't have the fitness. I'm not even close where you can push through a little bit," Reed said after Oakland, still in his gear from the main. "So as soon as I get tired, the best in the world were throwing it around and crashing tonight. I just have to, instead of backing it down that one second or a second and a half, I feel like I got to back it down like three to five seconds. So, it makes a long night. Positive. Really good changes today."
Reed's stuck in this vicious circle where he needs to ride more to get fitness, but he also can't ride as much as he wants to because the ankle still requires some rest. On Monday, Reed posted that he was finally going to get some testing done on the Husqvarna, but, yeah, the ankle is still the issue.
"Truthfully, my ankle, it's not a pain thing. It's not like the pain just continues to get worse. Right now it hurts, but it's not like it gets worse each time I ride. I'm actually having the opposite problem where, like, the first practice it's the worst. It hurts a lot," Reed says. "Go back and look at all my first practices. I do minimum laps. I just don't feel good, and then I feel a little better in the next one, and a little bit better. Then the heat race, a little better. Last Chance I feel the best, and then I'm worn out for the main event."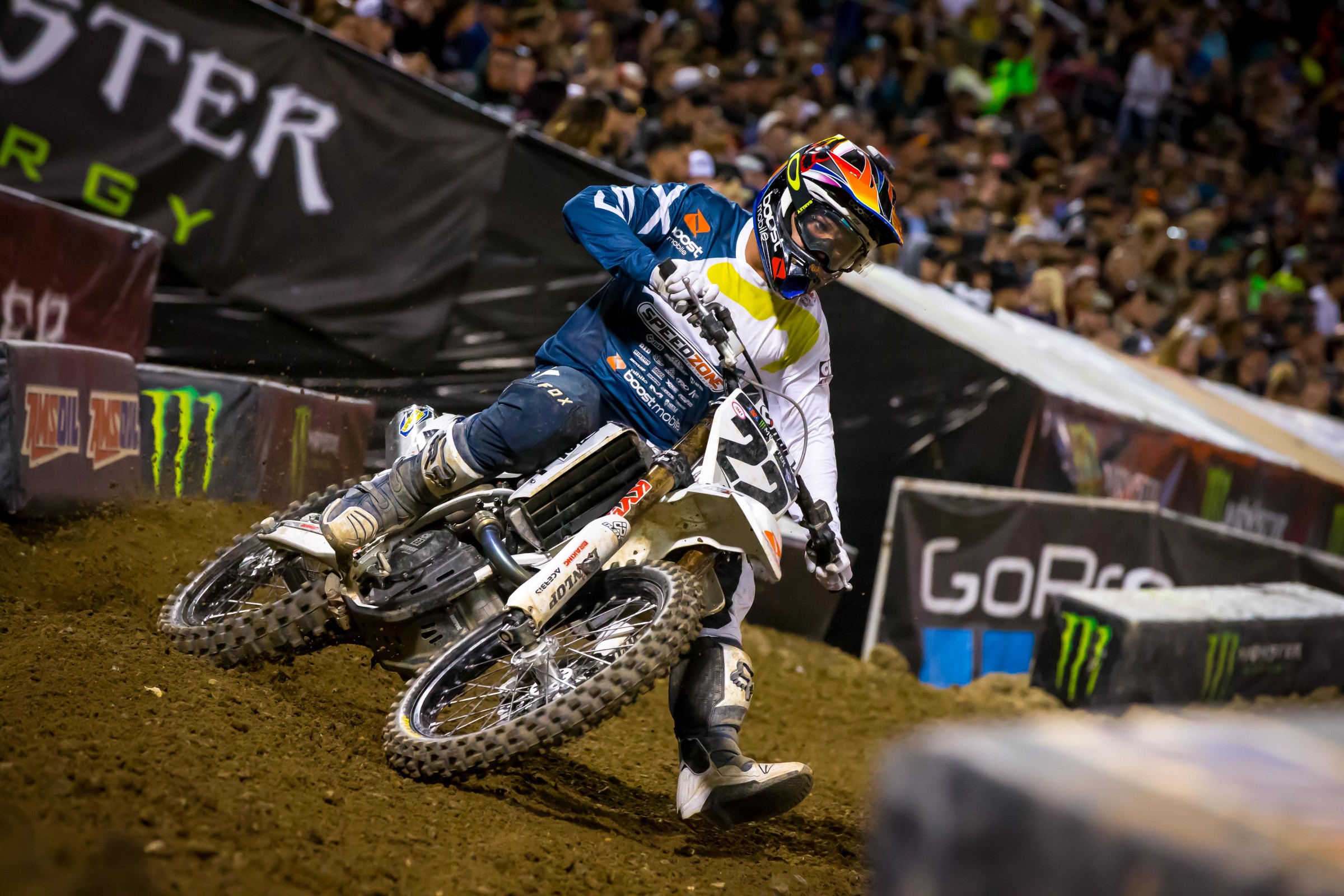 So the real question is, why race at all until you're 100 percent ready to go? I asked Chad that question at the opener.
"I'm committed. I want to go racing. We sold a VIP experience that's better than anything else out there," Reed said. "You take away from that if their rider's not here. I'm here committed. It's going to suck. It's going to hurt, but it is what it is."
I've checked in with him several times this year and his mood remains mostly happy. He's healing up, now he's testing, and I suppose he figures he can get back to challenging for top-fives and podiums at some point. You can't make an omelet without breaking some eggs, and right now, Reed's breaking them everywhere he goes.
Reed has seemingly been there for the fans this year more than ever. He's still hugely popular. Despite his spot in the point standings, he's in every supercross opening ceremony and he gets interviewed before the races start. His autograph line is as long as ever, and perhaps as he winds this thing down, Reed's taking time to smell the flowers. After the races I've witnessed him sign everything the fans give him, pose for every photo, and generally not seem upset about his results. Again, if you go off just about every past legend we've had in the sport, this is rare. Further, when you picture the Chad Reed of the past, a guy who seemed like he was either going to fight someone or cry even if he even finished second, this is a major transformation.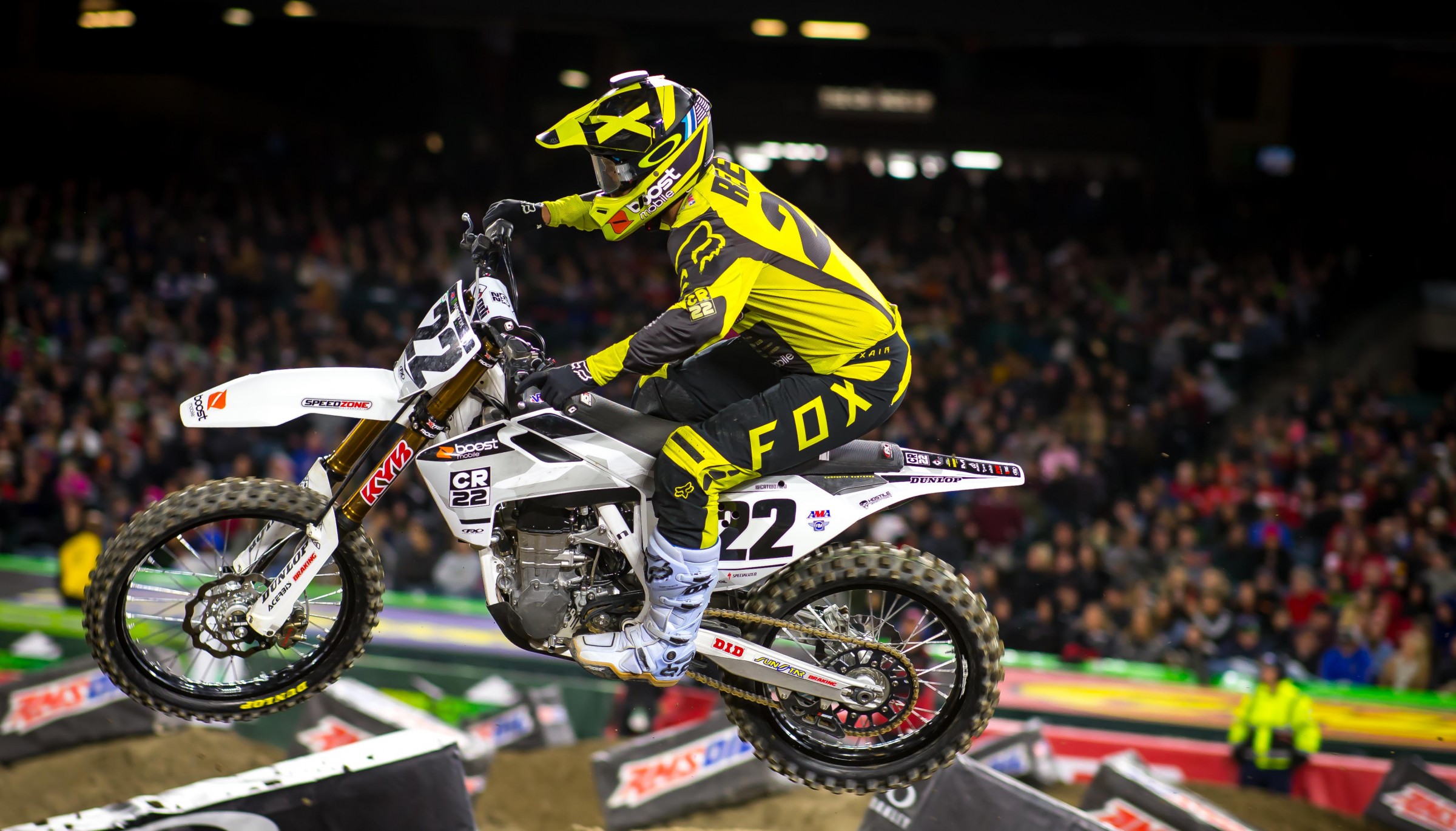 Reed assured me that competitor is still in there.
"There's some things that I'm a little frustrated because you want it to come faster, but that's just being competitive. The hardest thing for me is all the fans are just super appreciative of me being here, but that's not the goal. I'm not just here to be here," Reed said. "But I'm faced with, I just didn't have any time on the bike. I wasn't fit enough. I'm trying to build as quick as I can. I want that to come faster because I just want to get out there and have fun and battle. That is fun for me. Going to Last Chance Qualifier, being 21st-fastest, isn't that much fun for me. So, I definitely need to make an improvement and a step that I think makes it more enjoyable."
It's been rough for Reed in 2018, but as you can tell, he's holding out hope that things will turn around.
Does he have one more amazing comeback in him?