San Diego, CA
San Diego
Monster Energy AMA Supercross Championship
Born in South Africa, but raised his entire life in Zambia, Bradley Lionnet now races Monster Energy AMA Supercross in the United States. This past Saturday night in San Diego, the 20-year-old's lifelong dream of making it into the main event came into fruition, with a never-say-die, last turn pass in the 250 LCQ.
This year's 250 West Region is stacked and making the main is a huge accomplishment. This being Lionnet's very first one, we decided to chat with him about it.
(Note: The following interview was conducted via text message, and has been slightly edited for clarity.)
Racer X: Hey, Bradley, congrats on making the 250 main in San Diego. This was your first time making it into the main in your career, correct?
Bradley Lionnet: Yes, correct.
Walk me through the day a little bit. Did you feel like it was your day, or just business as usual?
No, I for sure felt it through the week. I had a great week of training and all week I had a positive mindset and didn't even put the pressure of making the main on my mind. The day always starts at track walk and normally there are a few things that go through your mind with tough sections but at San Diego when I left track walk I was completely happy and excited to get on the track. That day I rode the best I had ridden in practice/qualifying. I got the track down fast and pretty much moto'd all three sessions until the flag so I had a lot of laps down.
Then in your heat you were only four spots out from a transfer spot, 13th, right? Was that a better heat race finish than normal for you?
Yeah I was actually running in 11th with two guys right in front of me and on the second to last lap I crashed in the turn after the dragon's back section. Lost three spots and managed to get one back before the end. But, yes, it was a better heat race for me.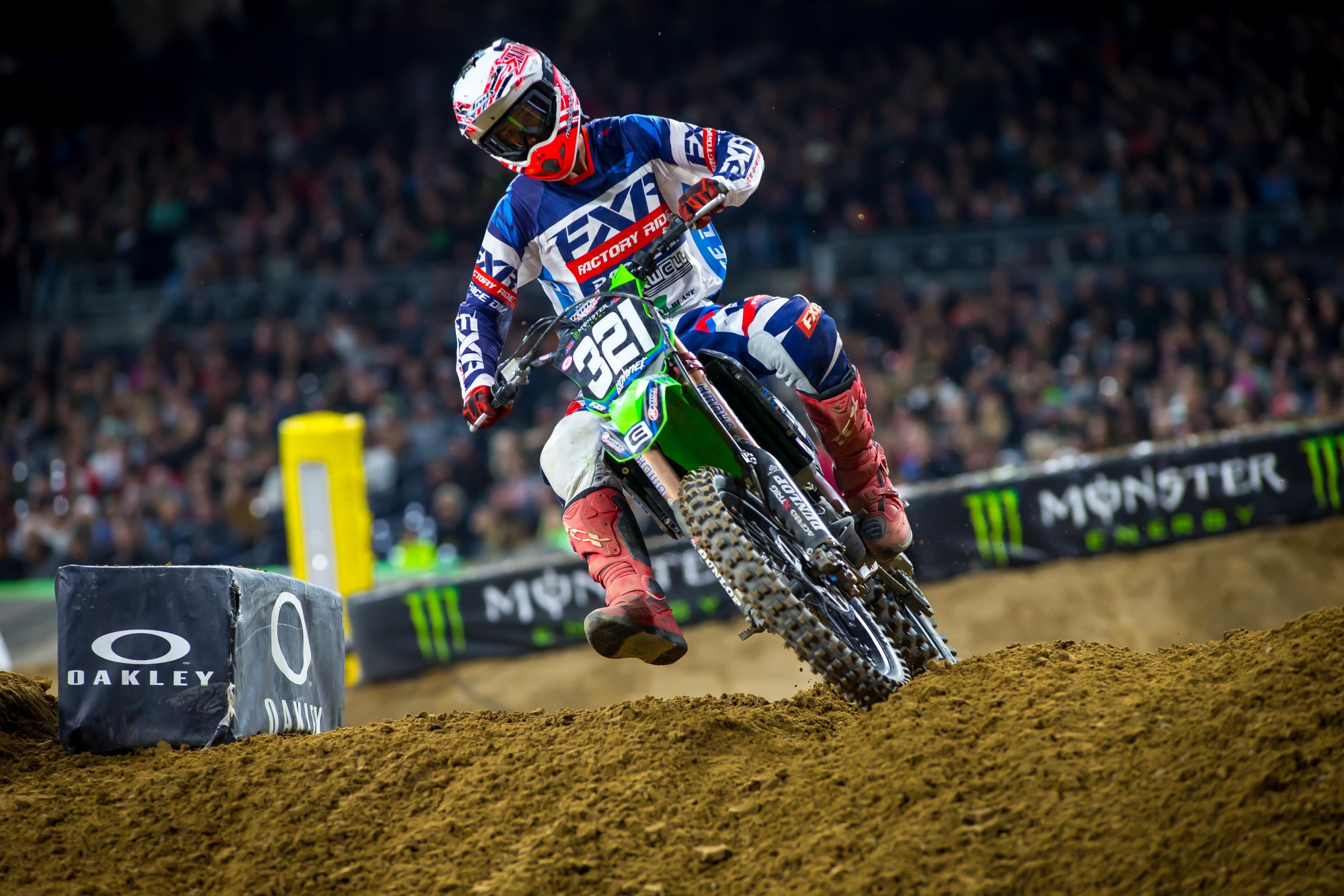 So basically a solid day of improvements all day up to this point, huh?
Yes, it was a good day for sure.
Lining up for the LCQ were you like "I got this" or what was your mindset going into that race?
On the line I thought to myself, "The past is the past you can make the future different, you deserve it more than anyone else. Go kill them." Haha. I was pumped up for sure.
That's such a perfect mindset. You ran 10th for the first couple laps, did panic ever set in? Because you seemed to be charging the entire time.
Yeah from the TV it looked like I was 15 through the first turn and the first lap I was kind of thinking like, "Oh man, not again!" I picked it up and was picking off people fast especially in the whoops and three laps to go I saw eighth on the pitboard, then the next lap it was sixth and then just before the finish on the second last lap I read "5th, 1 lap" with a 2.5 second gap and I just put the hammer down getting my fastest lap time of the whole night! Coming up to the finish I saw the guy in front of me go to the outside and in my head I said "thank you" and charged in!
I was actually watching on TV and saw that pass developing as you guys where coming across the straight; you definitely went for it! Was he upset?
He is actually a good friend, Blake Lilly. I don't know it hasn't come up yet but I can only assume! But hey that's racing and you don't leave the door open in the last turn last lap in fourth in the LCQ!
Describe the emotion you felt when you crossed the line, transferring into your career first supercross main event.
Oh man, I was pumped! I felt so much energy rushing though my body (haha) and it was all coming out in my fist pumping in the air 1000 times! I was so happy and it's just another goal checked off. A relief as well. It got real happy and exciting when I got to my coach Brian Burns and he was just so pumped!
A feeling that all the hard work and commitment was totally worth it…
Oh for sure! Totally worth it. It gives you a fresh start a clearer head and new goals to look forward to.
By the time the main rolled around were you calmed down, or still on cloud 15 and fired up?
I was fired up and happy! Smiling and laughing on the start line.
Did you practice a start on the sight lap, or go with a wheelie down the straight?
I actually had a couple bumps in my rut after the gate so I went slow out and got on the gas on the bumps to try smooth it out! But the sight lap was really cool.
Talk about the battles, and also the experience you gained during the main event.
I started behind Michael Leib and for the first 8-10 minutes I was right behind him trying to pass! Eventually got past him and there was no one quite in reach. The main was long especially after an intense LCQ. I think in the main, start position is key. Everyone seems to separate after about 5-8 minutes in and settle there.
Did you leave San Diego with a newer outlook after making the main?
Yes, I left there with new goals. New goals are to make it to the main through the heat and be in that P15 area, battling the whole race! Definitely a motivator and confidence booster. Would love to go racing this week end but I am also excited I got in this week end because it helps the motivation over the six-week break! I definitely believe I belong there every weekend!
How was the feedback from supporters, fans, and friends?
Right after the LCQ it didn't stop for a whole day! Everyone was messaging me with kind words and pumping me up. It was really great. Especially my family, and my parents seeing the growth it meant a lot.
That's awesome. Congratulations once again. Go ahead and thank the people behind you, and I'll let you enjoy your evening.
Thank you I appreciate it! And of course thank you to the whole Rockwell Racing team including all the sponsors backing them up including FXR and Nuclear Blast! A special thanks to MX University for everything over the years and a huge thank you to my mom and dad who took a risk sending their 15-year-old across the globe to pursue a dream!