San Diego, CA
San Diego
Monster Energy AMA Supercross Championship
At this point, most people know Jason Anderson ran it in hard on Marvin Musquin two weeks ago in Oakland. Even more people know that Anderson and Musquin are trained by the same man, Aldon Baker, which means they're supposed to work together as partners during the week. This is the most dissected dynamic in the sport, because the Baker program has delivered the last seven Monster Energy Supercross Champions, and with Anderson, leads again in 2018.
That success breeds attention and scrutiny. Baker himself has been adamant that there is no friction, tension, or drama between Marvin and Jason this year. I called him on the phone last week and he said there are no issues and that Marvin would not try to get revenge. Then Marvin tried to run it in on Anderson on the first lap of the San Diego main event. Anderson got away and went on to win the race, with Musquin second.
Further, both riders were asked about their relationship in the post-race presser. This is the topic the world never tires of discussing.
Jason and Marvin, there was a controversial pass last weekend. Given that you guys train together, did you guys talk about that at all? What are your feelings on that pass? What is your current relationship like right now?
Anderson: I think we're just competitive, and it comes out on the track. Sometimes we get a little too far ahead of ourselves. In Oakland, it was honestly my bad. I just was trying to go forward. Obviously, it's not good between us. At the same time, I want to be battling with Marv. I don't want to take him down, but I just get ahead of myself in the heat of the moment. It's hard to put it into words.
Musquin: I was in a good position in Oakland and, obviously, I didn't expect it. I didn't hear at all Jason. I was going off the turn and I couldn't do anything. For sure, when you're in a good position in a main like that running third and you go down, it's a bummer. My thoughts, we're both racing. I feel like at the end of the whoops tonight, I could have sent Jason over the berm, but I didn't. It's not really my style. One day if I have to, I will. Definitely the situation is not the same, but we're fighting for the championship. That's the way it is. It's not a big deal.
Anderson: Basically, he owes me one [laughs].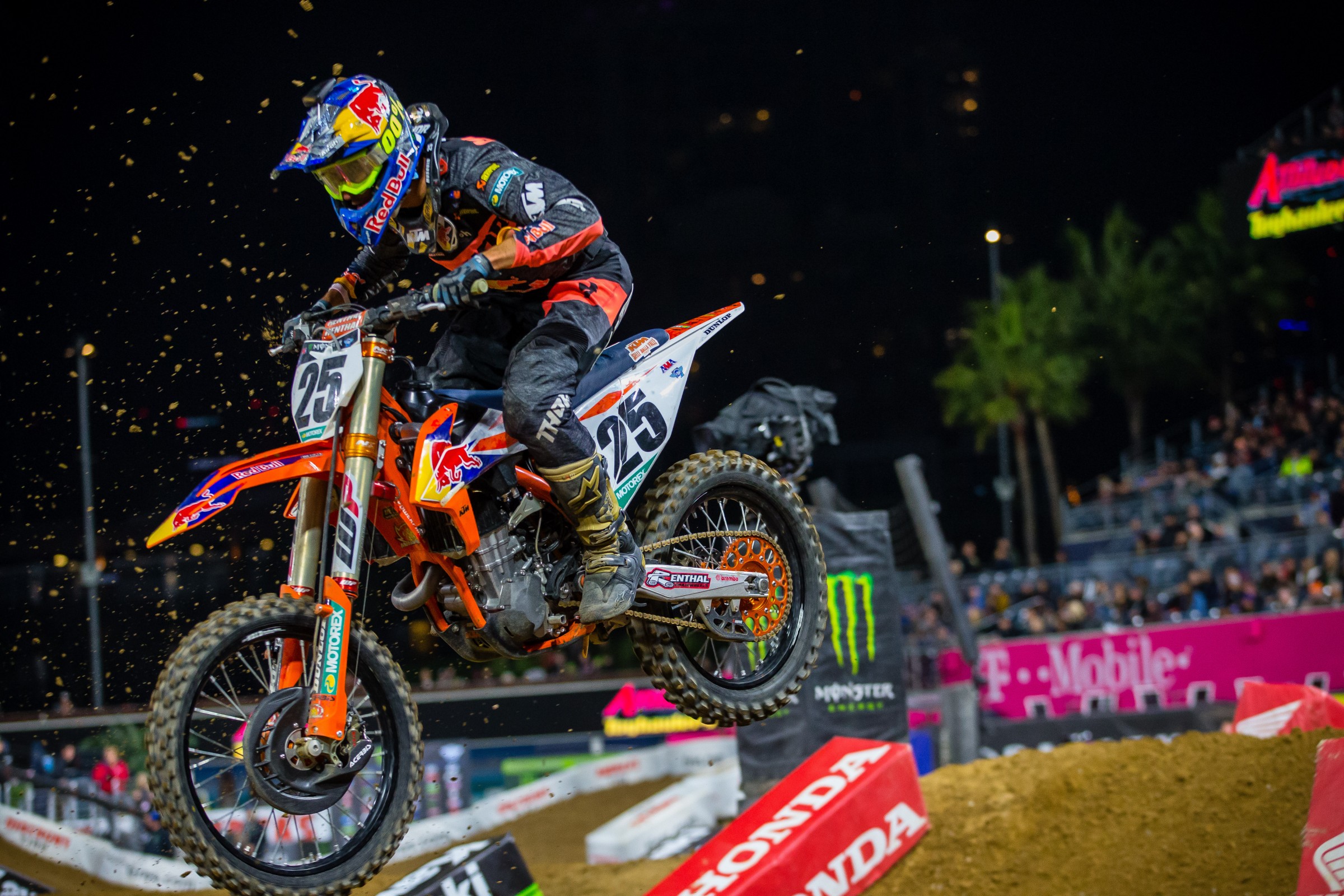 Aldon Baker had said you're still training together in the gym. You're still working out together after that this week?
Anderson: Aldon wasn't in California this week. Usually we kind of do our own things whenever Aldon's not there. We do our own gym program and stuff like that, because Marv lives in Corona and I live in San Diego, so not this week. But once we get back to Florida, I'm sure we'll be…hanging out a little bit [laughs].
Musquin: I ask Aldon to have two separate gyms. [Laughs] No, I'm joking.
To make this soap opera more interesting, Rocky Mountain ATV/MC-KTM-WPS's Blake Baggett happened to be in the same press conference because he finished third. Baggett, who has a checkered relationship with Anderson (and worked with Baker years ago), was more than happy to throw gas on the fire and jack with two riders he wants to beat.
"They're lumberjacks just sawing off front wheels," Baggett said.
"They're not going to dinner later."
"If you guys are going to do it, make sure I'm behind you, though, so I can capitalize."
"Honestly, when I saw these two up there, I was hoping that a little training partner action would take place and I would capitalize on it. We're going back to Florida, so maybe it'll happen soon and I'll be there to pick up on it."
Baggett, among others, doesn't want this topic to go away.