Aldon on Anderson/Musquin: "They Just Ran Out of Room"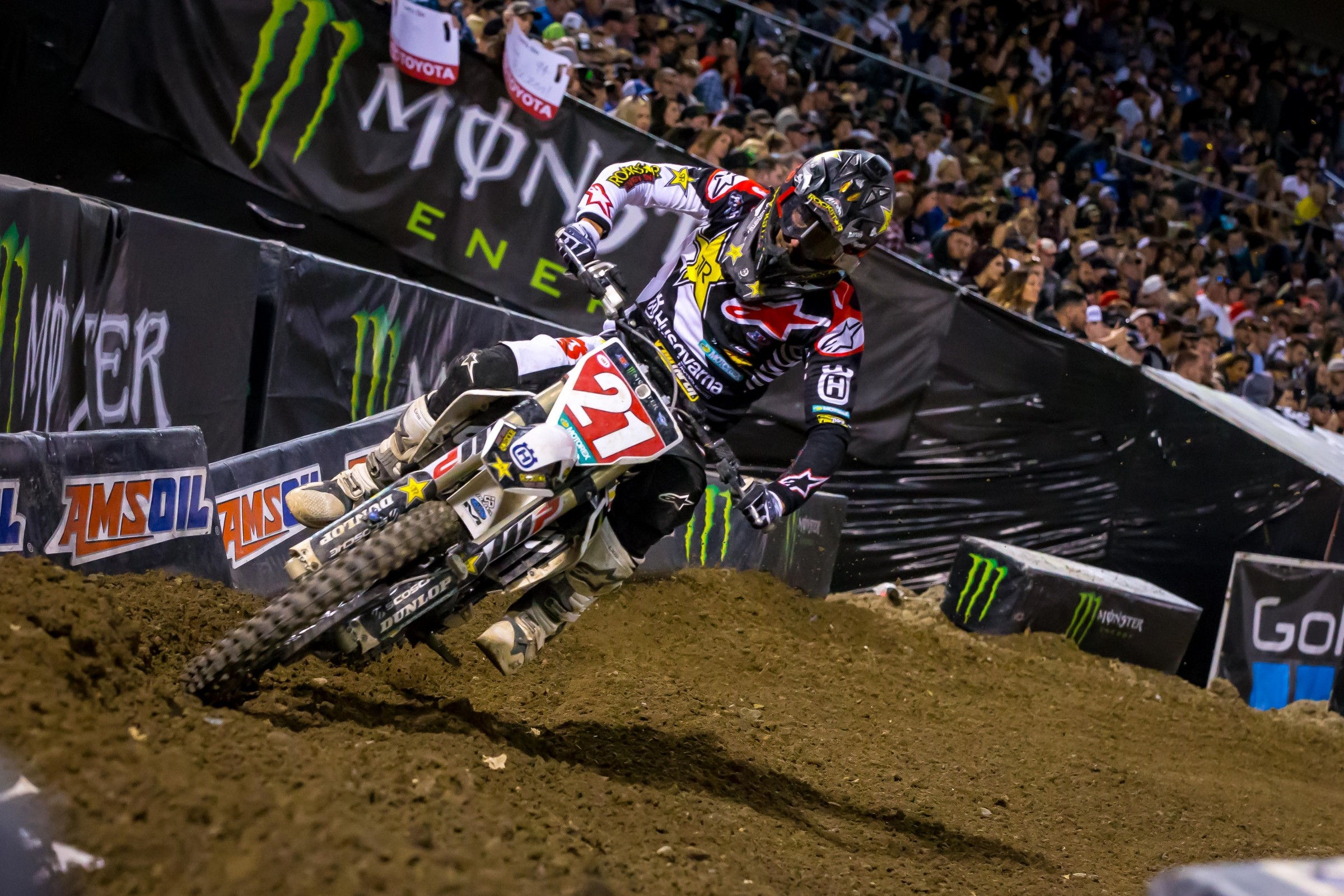 During the Oakland Supercross main event, Jason Anderson ran it in deep on his training partner and friend Marvin Musquin, and when Anderson's rear wheel hit Musquin's front wheel, Musquin hit the ground. Anderson got away and went on to win the race.
We've seen these passes in supercross plenty of times and Anderson, in previous years, has never been afraid to use contact to make a move. This situation is different, though, because of Musquin and Anderson's close ties during the week. Then, after the race, Musquin told us this:
Racer X: Are you a little unhappy with the move that he put on you there?
Marvin Musquin: Yeah, for sure. I feel like it's been two weekends in a row. He's racing hard, which is understandable, but also I'm mad at him because we know each other. It's a bummer to make somebody crash like that. It's not like he's racing me for the championship right now.
Were there any words exchanged from the last time? You guys kind of got together last week, right?
No. Last week, yeah, it could have been a little dirty, but everything was fine and he got me. But I feel like today he got a little hot. Next time it'll be my turn.
Today, four days later, we checked in with Aldon Baker, who is the trainer for both Anderson and Musquin. Throughout this season, Baker has been adamant that there has not been any personal friction between the two riders this year, despite them both gunning for the 450SX championship. As for this week, Baker says everything remains respectful between the two riders. Baker says there haven't been any tense moments this week, and he never had to sit anyone down and make anyone apologize for anything. He said they continued to work together in training starting on Monday morning, just like any other week, and Saturday's incident was barely brought up.
Baker summed up the pass by saying Anderson ran out of room because he ran down the inside of the whoops, which left him on the outside at the exit of the turn. He was in a rush to get to the front and make passes happen quickly—he never had the intention of taking Musquin down. Marvin has been struggling in the whoops, which let Anderson get close. According to Baker, Musquin indicated that he bobbled in the whoops on that lap, which let Jason get even closer.
It doesn't really matter how the two interact during the week at the Baker's Factory. What really matters is if Musquin will try to get Anderson back at the races. Baker says no, there isn't any revenge being planned by Musquin, because that kind of situation isn't good for either rider. Plus, just being honest, Marvin isn't the most skilled take-out artist.
Anderson has worked hard this year to try to keep it clean on the track, and there's a notable change in his on-track and off-track demeanor. Baker has told Anderson many times that riders with dirty riding tactics rarely go on to be 450SX champions, and if you're not fast enough to pass the guy cleanly, you need to figure out a way to do go faster. This year, Anderson has been fast enough to do that. Baker doesn't classify this move as a take-out, just an aggressive attempt for Anderson to get around quickly, and then he "ran out of room."
This is normally the part of the story where we say, "We'll keep an eye on the situation going forward," but according to Baker, there is no situation. We're moving on to San Diego!