San Diego, CA
San Diego
Monster Energy AMA Supercross Championship
When it comes to racing, emotion is a funny thing. It's a motivator during off-season training and a catalyst in the form of pre-race adrenaline, but it can also be a problem if not kept in check. Seasons can be lost when riders lose their temper and allow emotion to influence a situation. Upon watching the crash between Cooper Webb and Ken Roczen, it was clear to me that anger was the biggest factor above all else.
Webb and Roczen don't like each other. Their distaste stems from off-track relationship complications that don't really pertain to supercross. I respect their personal lives, but the issues we saw on Saturday are a direct result of their past and present relationship. They have flung insults back and forth on social media and surely hard feelings have developed along the way. At Anaheim 1, we saw some aggressive riding between the two and it was clear that the emotional pilot light was lit. All we really needed was an opportunity to arise for gas to meet flame. As Kenny came from a first-turn crash and rode up to the rear of Webb's Yamaha, I wondered if things would flare up. I think it's safe to say we saw off-track issues finally surface on the track.
In the turn before the whoops, Kenny took the outside line and Webb cut across the turn in an aggressive move. In normal circumstances, this is a recipe for a block pass, but with so much tension between the two, it was almost a certainty that Webb would ensure a bit of contact. Kenny nearly fell as he ran out of track on the outside, but with his elite levels of balance and coordination, he was able to stay on the track and even accelerate for a good run through the whoops. Not only was he able to accelerate, but he was incensed with anger after Webb's aggression. His inside line also allowed a straight shot for a big block pass at the end of the whoops if he could only close the gap to Webb before the berm. He had to hit the whoops perfectly to do it, and even then, it was improbable because, after nearly crashing in the previous turn, he had some ground to make up.
For Webb, he surely didn't want to be passed by his rival, and I doubt he had any regrets about running Kenny wide. As he was hitting the whoops, he would be able to hear and "feel" Kenny up the inside, too. He would also know that Kenny was now enraged and would blast him into Coronado if given the chance. This would force him to make a decision based on Kenny's location by the time they reached the end of the whoops. If Kenny closed the gap and had the preferred angle, Cooper would be forced to check up and allow Kenny to take the inside and the position. But if Cooper could hold his advantage and disallow Kenny the necessary angle, he could shoot through the danger zone and be gone by the time Kenny got there. This decision had to happen incredibly quickly, and if he got it wrong, he would most likely be lying on the other side of the berm wondering where his YZF450 went. As it played out, Cooper had just enough room and accelerated hard toward the berm to ensure Kenny wouldn't have his chance—or so it seemed.
As they approached the turn, Cooper made it to his line and Kenny missed. This is where the drama should have ended for this particular turn. Cooper should have raced through the furthest outside rut, Kenny should have taken the rut below and both should have raced toward the sand section. That's how this should have gone, and usually does. The difference in this particular scenario is emotion. Emotion turned rational racecraft into an anger-fueled mistake.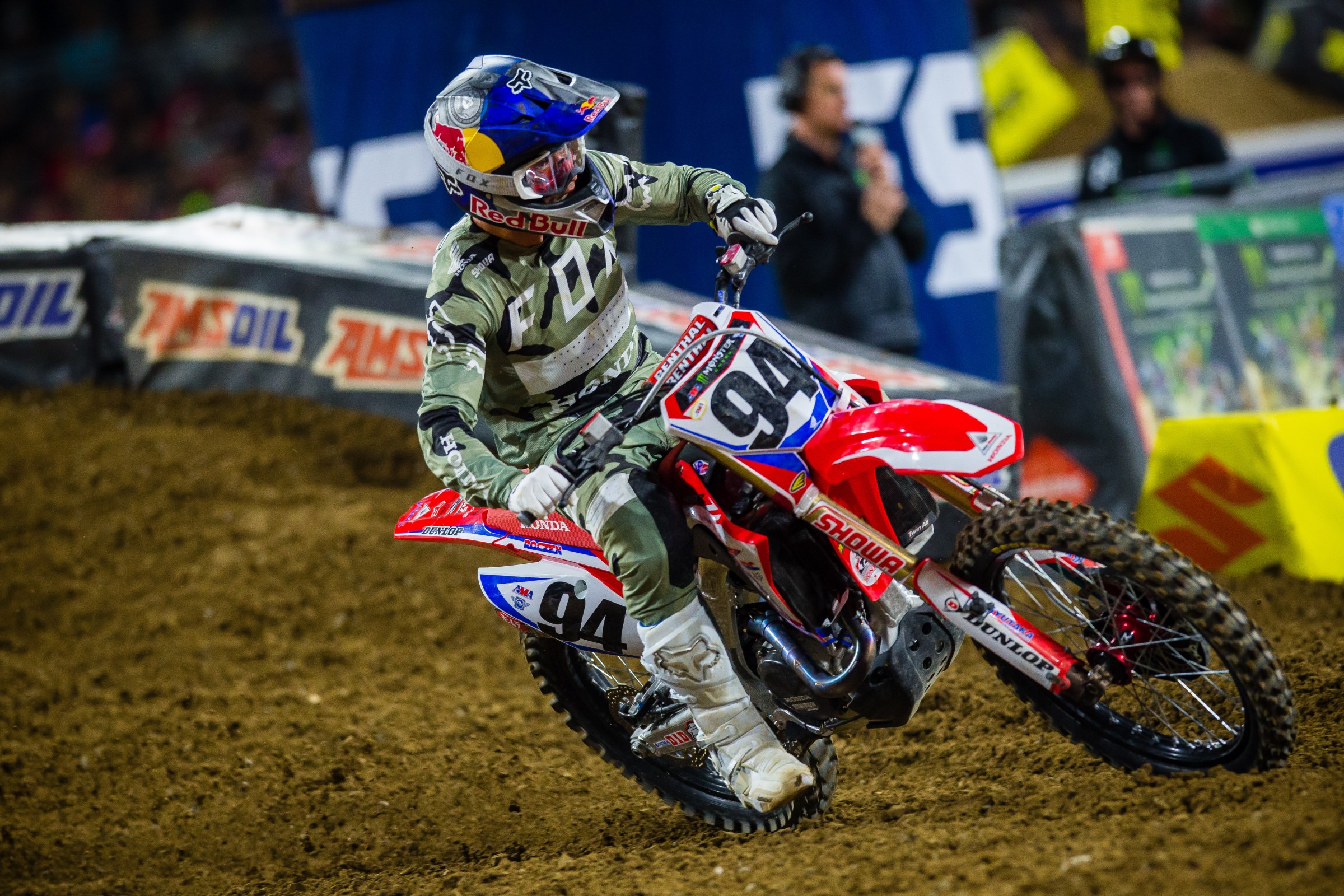 Kenny didn't have the angle to make a pass stick. He didn't even have the angle to make solid contact, if he was so inclined. When he realized that he had missed, the underlying anger and the trigger of Cooper's previous move took over. Instead of taking the open rut and racing forward, he grabbed a handful of throttle and lost control of his CRF450. That handful of throttle spun his rear tire up far too quickly, and when it finally caught traction in the rut, off he went.
His over-exuberance in the turn was a knee-jerk reaction. He was angry, and instead of taking what was available and setting Cooper up for a different turn, he turned his throttle to the stops and lost control. This was not a "ghost ride" into Webb, as I have heard some theorize. The crash was unintentional and nothing more than anger overpowering his rational racecraft. Yes, he definitely wanted to make his move stick on Webb and perhaps even knock him down. What he didn't want to do was lose control of his own bike and tumble into the back of Webb's swingarm. That was a byproduct of impatience and anger.
The result of that carnage left Kenny with a broken hand and facing surgery on Friday. This will effectively end his supercross season chances in a year where it seemed his biggest goal was to avoid a setback such as this. Injuries happen in this sport and are most often just a casualty of riders pushing the edge, a la his crash at Anaheim 2 last season. This time, though, it may have all been avoidable. Clear thinking and rational decision-making are key ingredients in championship seasons. One bad decision can ruin that chance. Emotion can be a powerful tool or a limiting factor. It all depends on how it's utilized. In San Diego, we saw it take down one of the sport's best and dash his chances for this title.