University of Phoenix Stadium
Glendale

,

AZ
Glendale
Monster Energy AMA Supercross Championship
Welcome to the Racer X Race Day Feed, your one-stop shop for the Monster Energy Supercross in Glendale, AZ. We'll be updating this post with news, notes, and results from today's races, so be sure to keep checking back throughout the day.
You can also follow Racer X on Twitter, Instagram, and Facebook to stay up on all the action.
Pre-Race Report
Less drama and more stability for Monster Energy Supercross' fourth stop of the 2018 season. Last week in Anaheim, the series presented the first Triple Crown race, while Eli Tomac, Marvin Musquin and Dean Wilson were still question marks on the injury front. For today's event in Arizona, the traditional supercross format (one main event in each class) is back, and the field is much more solid. Shoulder injuries left the seasons of Tomac, Musquin, and Wilson in doubt just a few weeks ago. Tomac is clearly healed up after somehow winning last weekend (he wasn't even able to compete seven days earlier in Houston) and Musquin lined up and completed two of the three main events in Anaheim after bashing his shoulder in Houston. Wilson, also, made it through the night at Anaheim with his bad shoulder, two weeks after hurting his at the opener.
Plus, Justin Bogle and Jake Weimer return from injury here as well. Both make their season debuts after off-season injuries lingered into January. The cool thing is Bogle's replacement with Autotrader.com/Yoshimura Suzuki, Malcolm Stewart, is staying with the team at least for this weekend and possibly more. This round four field is actually the deepest and strongest we've seen yet this year.
One rider staying out of the headlines is Jason Anderson, who has been a calculated killer through the first three races and already sports an 11-point lead at the head of the 450SX field. With everyone reset, refreshed and refocused, can someone put some heat on the Rockstar Energy Drink Husqvarna rider?
Could it be Cole Seely, now second in points? The resurgent Justin Barcia? Ken Roczen? Tomac? Musquin? Like we said, this field is actually at peak strength right now, so it should be a good one tonight.
The 250SX West Region is even nuttier. Just two points separate three riders, with Joey Savatgy and Shane McElrath tied at the top, and Aaron Plessinger two points behind in third. The 250SX West lineup this year is all-time stacked, and the tight points fight has lived up to the hype.
Stay tuned to Race Day Feed for all of the action. Also have a look at our Ten Things to Watch and Injury Report to get an idea of what's happening this weekend. We'll be ready, and so are the top riders in Monster Energy Supercross.
Untimed Practice
The track has what all the rider's like--long rhythm lanes. This gives time to set up passes before the corners. The dirt is wet and tacky and the riders like it, but no one is sure if it will hold up this way or get dry and slick by the night show. This is a domed stadium but they have opened the hole in the roof, which allows the sun to hit the track in spots. As such, there are a few corners that have become very dry, while the rest of the track stays wet. Right now we're seeing some legit ruts, but we'll see if they're still there for the night show.
Here's a new way to judge if a track will be rutted and technical: ask Aaron Plessinger. He told us, with a huge smile, that it's "Looking pretty good." So there. He also ended up on the top of the lap board in this one.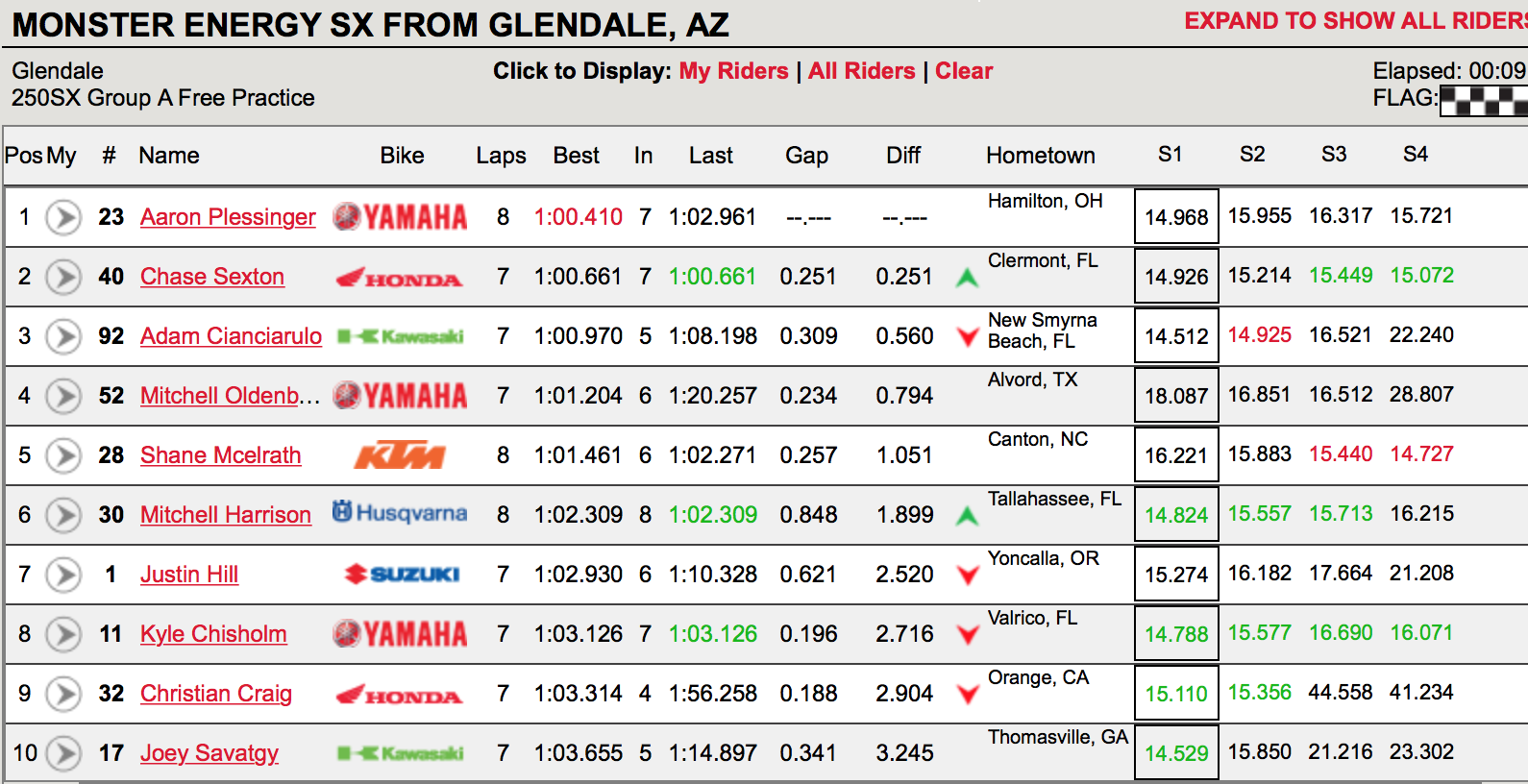 In untimed 450 practice, Jason Anderson was out front early, then it was Roczen and Brayton logging fast ones. Cooper Webb was fourth early and looked more aggressive than the last few weeks right from the get go. Cooper needs to get something going this weekend.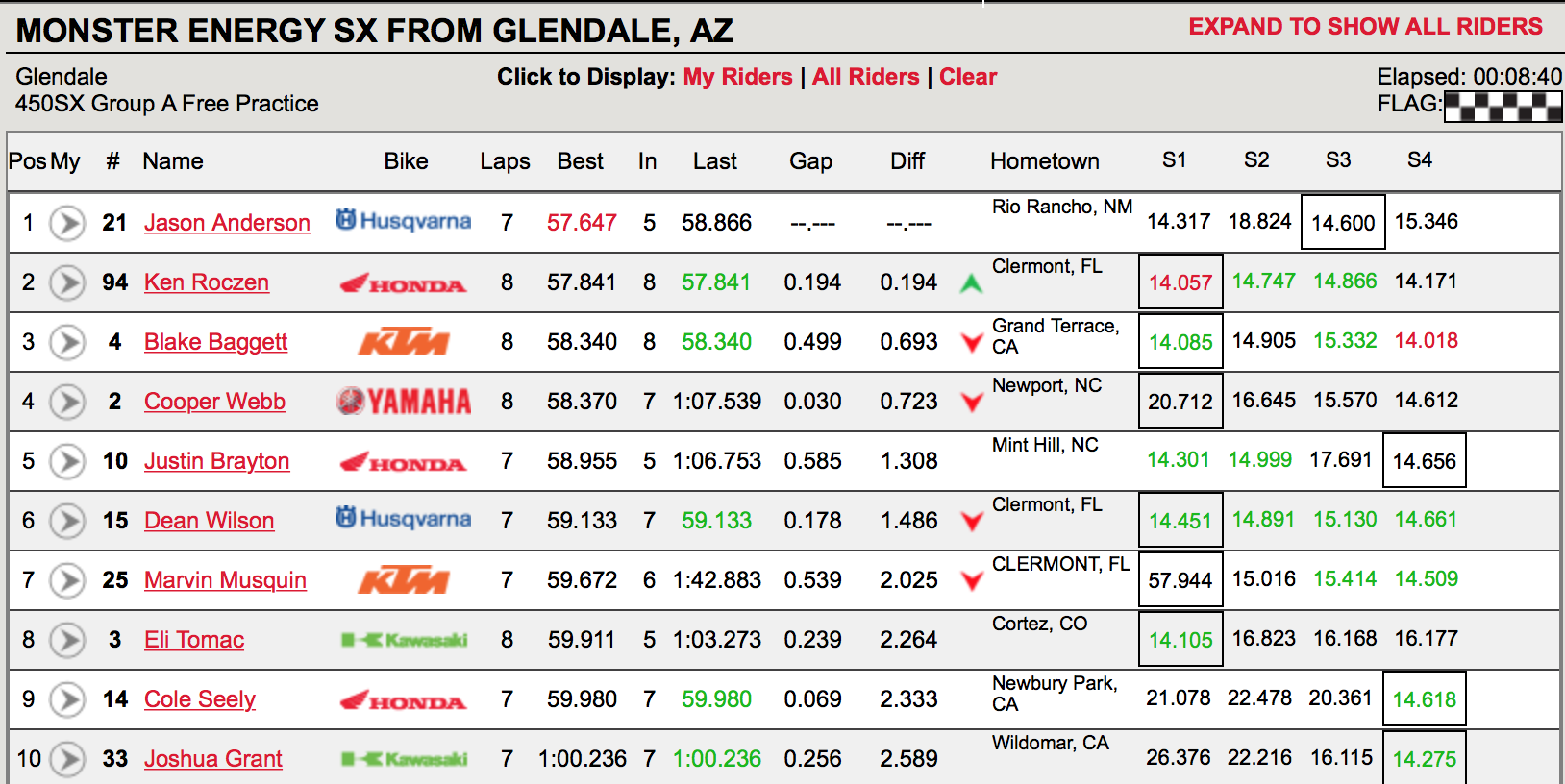 Anderson ended up with the top time in the untimed (doesn't count for qualifying) session. Also, good to see Benny Bloss back for the 450 B practice. The big man stacked it up huge while leading the LCQ at Anaheim 1.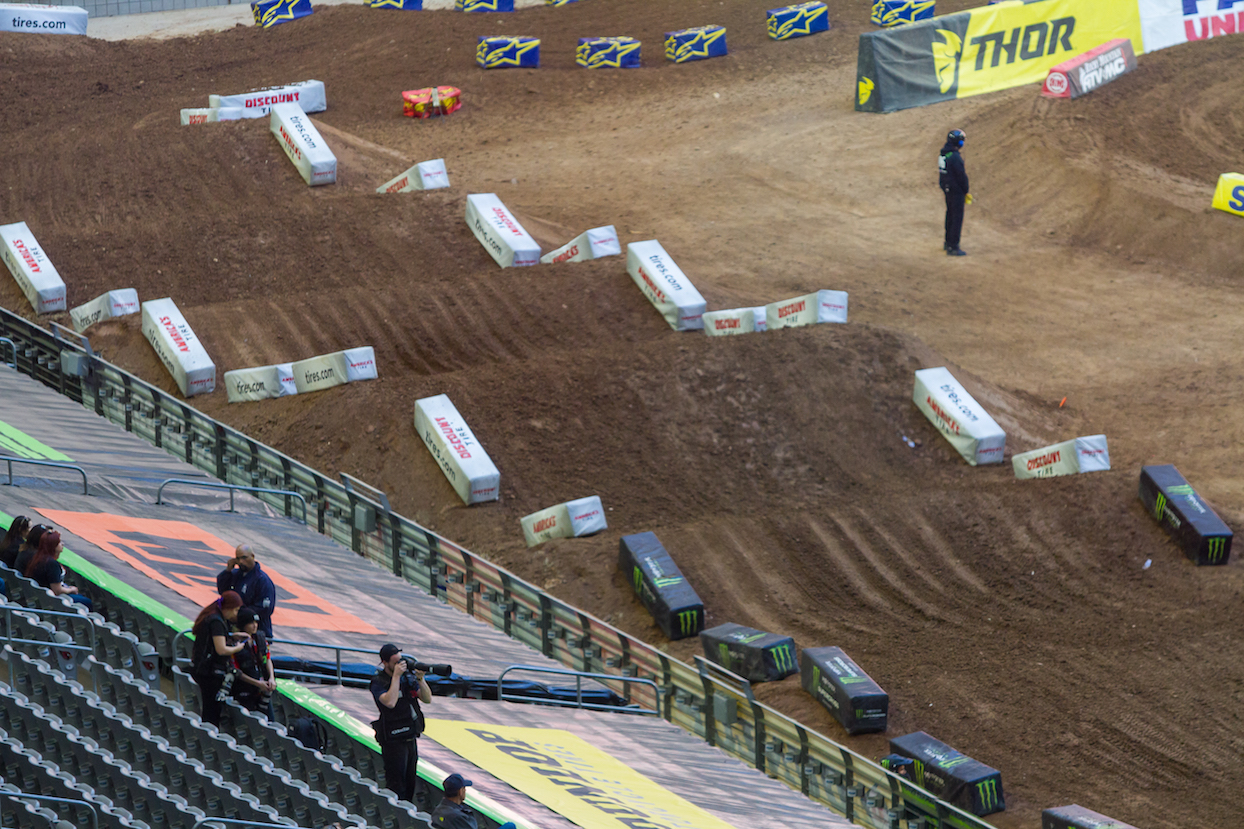 First Timed Practice
The track is getting rutty already. Shane McElrath, sporting the red plate, was out front early with Mitchell Harrison close behind. Then Adam Cianciarulo put up the first fast lap of the day followed by Mitchell Oldenburg and Christian Craig. at least early, the track layout is allowing for some different combinations through the rhythms.
Cianciarulo and Oldenburg stayed 1st and 2nd for most of the session with Ciancaurlo improving his lap time each lap. Ciancarulo was also the only rider to dip into the 56 second range.
Glendale - 250SX West Group A Qualifying 1
Full Results
Glendale - 250SX West Group B Qualifying 1
Full Results
Glendale - 250SX West Group C Qualifying 1
Full Results
In the 450s, Justin Barcia showed his confidence by jumping out on the track first and throwing some big whips, and his number 51 popped to the top of the board early. Anderson, though, continued to roll and went to the top of the board. Justin Brayton continued his hot riding by moving to the top spot, and then Webb, continuing to charge hard, was third.
We'll post 450 times as soon as they're available.
Glendale - 450SX Group A Qualifying 1
Full Results
Glendale - 450SX Group B Qualifying 1
Full Results
Glendale - 450SX Group C Qualifying 1
Full Results
Final Timed Practice
The track has worked in beautifully for these final practices, and we're even seeing some cool options in the rhythm lanes. The hot ticket comes in the corner after the whoops. It's a 180 and with a good drive the 250 riders can jump triple onto a table and then double off. That's the fast way. The slow way is doubling in and then doubling over the tabletop. Our man Jason Thomas said 450 riders were going to triple onto the table and then triple off of the table. He specifically said Blake Baggett would do it....stay tuned for more on that subject.
This final 250 practice had the usual suspects up front. Shane McElrath was quick early, then the Kawasaki duo of Joey Savatgy and Adam Cianciarulo jumped to the top. Then, something happened: A Justin Hill sighting! After struggling all season, Hill looked racy and put his Suzuki to the top of the board. His time didn't hold up, but he logged a late flyer to put himself back into third. Hill was fastest in qualifying at Anaheim 1, but hasn't had any great moments to speak of since then. This was a much-needed shot in the arm and he looked much better than he did in practice the last two weeks.
Glendale - 250SX West Group A Qualifying 2
Full Results
Glendale - 250SX West Group B Qualifying 2
Full Results
Glendale - 250SX West Group C Qualifying 2
Full Results
Glendale - 250SX West Combined Qualifying
Full Results
In the 450s, the track was allowing for even greater jump combinations....and lo and behold Baggett jumped the jump JT said he would! Literally 30 seconds later, Ken Roczen did it. Then Cole Seely did it. Amazing how these riders are all on the same wavelength and know exactly when the track has worked in well enough to pull the trigger.
That said, the triple-on-triple off still seems too difficult to do consistently in the race. This will definitely be something to watch. Lock into the corner after the whoops to get a look when the TV show starts tonight.
Glendale - 450SX Group A Qualifying 2
Full Results
Glendale - 450SX Group A Qualifying 2
Full Results
Glendale - 450SX Group B Qualifying 2
Full Results
But as good at that section looked, it really doesn't matter. Jason Anderson is just rolling right now and ended up on top again. It's high time for someone to put some pressure on Anderson, who is just getting stronger and more confident seemingly by the minute.
Roczen, Seely, Brayton and Baggett were next-quickest.
By the way we chatted with Aldon Baker this afternoon for an update on Marvin Musquin's shoulder, he said Marvin was able to ride more this week compared to last week when he could only give it a shot on Thursday. Aldon says Musquin stretched some ligaments in the shoulder and now it's matter of getting muscle memory back, similar to his knee injury last summer. When you're hurt, the body tries to protect itself by compensating around the injury. Now it's just a matter of rehabbing the shoulder with strength work to try to get that ligament and the assorted muscles to fire like they're supposed to.
Aldon said surgery would not be needed, so Marvin is just going to try to recover with each week and each race.
250 Heats
Shane McElrath bumped ahead of Killian Auberson for the holeshot. Christian Craig moved up to second then Bradley Taft and then Adam Cianciarulo battled with Kyle Chisholm. Late in the race Cianciarulo got around Taft in the whoops, but by then the pack had spread out, with McElrath pulling ahead of Craig. On the last Hayden Melross completed a charge from last to take ninth place and the final transfer spot from Calen Gardner.
Glendale - 250SX West Heat 1
Full Results
Aaron Plessinger grabbed the start in this one! Yes, that doesn't happen that often. Even better, Plessinger explained "I just saw Joey [Savatgy] next to me and moved over on him." Justin Hill—who looked rejuvenated in practice—got an absolutely terrible start and was third from last. Mitch Oldenburg and Chase Sexton started second and third came in next, then Mitchell Harrison and Joey Savatgy. Oldenburg went off the track, then Savatgy was trying to get Sexton in the whoops and went down hard over the bars. He got up slowly but was unable to finish the race. We hope he's back for the LCQ.
Glendale - 250SX West Heat 2
Full Results
450 Heats
Justin Brayton nailed the holeshot in heat one, just edging out Eli Tomac for the holeshot. Then Ken Roczen got past Tomac at the end of lap one. Justin Barcia started fifth then made the move on Alex Ray to get to fourth. They built a big gap while Josh Grant eventually got to fifth. Further back was Marvin Musquin, who did not get a good start. Tyler Bowers even passed Musquin back in the whoops while battling for sixth.
Tomac made a brief run at Roczen in the whoops, but then Roczen pulled back away. Barcia closed on Tomac a bit at the end, but the top four basically spread apart by the end. Up front, Brayton had it under control—he pulled away from Roczen and Tomac to win this one.
Alex Ray clung to a transfer spot just ahead of Justin Bogle, who will race his first main of the year. Ben Lamay just missed and will go to the lCQ.
Glendale - 450SX Heat 1
Full Results
In heat two, Jason Anderson led the pack into turn one, when he got on the brakes for the corner Blake Baggett and Cole Seely bumped into him and went down. Vince Friese was in second, Dean Wilson and Malcolm Stewart got him, and then they put on a huge battle for second. Weston Peick then got to Wilson for third, and nearly caught Stewart for second. In the back, Seely and Baggett had a march through the field. Seely bumped Benny Bloss off the track with a block pass. Then they got to a Friese and Cooper Webb battle, and with Webb unable to get Friese, they snuck past both. Just ahead, Broc Tickle was able to hold them off. Webb eventually cleared Friese and went back after Baggett just before the finish.
Glendale - 450SX Heat 2
Full Results
In the 250 LCQ Savatgy was back to pull a huge holeshot from the outside gate. God bless factory horsepower. The battle raged behind him, Killian Auberson, Ryan Breece and Carlen Gardner. They held those spots to the end.
Glendale - 250SX West LCQ
Full Results
You think people were worried about Savatgy making it through the 250 LCQ? How about Chad Reed racing the 450 LCQ for the second week in a row? Dakota Tedder led everyone into turn one then went way wide, all the way to the berm, and that allowed Matt Bisceglia to take the lead. Tedder still escaped with second, with Reed and Benny Bloss next, then Jake Weimer. Bloss was on the gas, passing Reed, Tedder and Bisceglia to take the lead and then hold on for the win—this will be his first main of the season after crashing out of Anaheim 1's LCQ. Reed fought past both Tedder and Bisceglia and the crowd loved it. Weimer got Tedder for the final spot, then Tedder went down in the sand. Ben Lamay inherited fifth—he was just short.
Glendale - 450SX LCQ
Full Results
250 Main Event
Savatgy had the bad gate pick after the LCQ….and he got the holeshot in the main! He edged ahead of McElrath and then Plessinger. This is the battle everyone wanted to see. On lap two, McElrath got a better drive than Savatgy through the whoops and took the lead, and then Plessinger attacked Savatgy a few turns later. On the rhythm lane on the far side, Plessinger tripled to the inside to get around Savatgy. Also, meanwhile, Christian Craig was half a lap behind the field after a crash.
Halfway through, Cianciarulo put a block pass on Oldenburg for fourth and Oldenburg ended up tipping over. On the same lap, Plessinger got inside of McElrath but McElrath fought him off. The next lap McElrath got back inside again and McElrath tried to get him back, then bumped wheels in mid-air. Plessinger moved over in the rhythm lane to block--that was too close for comfort! McElrath nearly crashed three times in the rhythm lane trying to hang onto the bike, he saved it, but by then Plessinger was gone—and trying to escape with the points lead.
In the final third of the race, Savatgy started digging to catch McElrath for second—big points on the line there. In lapped traffic, though, Savatgy lost some ground and then his teammate Cianciarulo started catching him. Savatgy then bobbled and crashed in a corner—Cianciarulo rode past him. Savatgy got up to take fourth ahead of Sexton, who logged another solid race.
Plessinger hung on to win and then busted out the worm on the starting line. He also takes the red plate back. This 250SX West is great!
Glendale - 250SX West Main Event
Full Results
Off the start it was Tomac, Barcia, Peick, Anderson and Musquin. Peick made a move to grab second from Barcia, while Tomac tried to get away. On lap three Peick started making mistakes, Barcia was all over him. Barcia took advantage and went inside to retake second in the corner after the whoops. Then Roczen scrubbed past Anderson! Anderson started struggling in the whoops and losing ground quickly—he got zapped by Musquin and Brayton.
The battle really heated up. Cole Seely was coming from the back with a bad start, Josh Grant was in the fight, and those two dueled with Brayton, Anderson and Musquin. At one point Anderson got Brayton back, then Brayton and Grant blew past Anderson in the whoops! Further ahead, Roczen eventually got Peick, then Musquin got to Peick and they had a good battle. Musquin finally got him. Anderson then settled back in and logged some solid laps to end the race, he finally broke free of Peick, Brayton and Grant, and then got to Musquin late. He went inside at the end of a rhythm lane to grab fourth.
Up front, Tomac was gone, but with nine minutes to go, Barcia found his groove and started cutting into the lead. He took it from 6.5 seconds to 3.5 seconds in four laps. Then Roczen, alone in third, found his flow as well and started catching Barcia. It was getting closer and closer, but then Barcia bobbled in a rhythm, and Roczen almost went down in the sand. This helped Tomac's lead settle, but with two to go Barcia and Roczen started charging again. They got close, but never got to him. Tomac hung on for the win, with Barcia and Roczen right behind. Only three seconds between them at the finish.
"This feels so good!" said Tomac. "We were behind all day and I was tryng to figure out where we were losing time. That was an unbelievable race pace and I was just doing everything I could. Just had to nail the big jumps in the rhythms. Those guys were riding well."
Glendale - 450SX Main Event
Full Results