Glendale, AZ
Glendale
Monster Energy AMA Supercross Championship
Forget all the injury news that dominated the early headlines of Monster Energy Supercross. The contenders are back, healthy and motivated and it showed during a great night of racing in Glendale, Arizona. The 450SX main event was a model race, with passing, action and a tense fight that lasted to the checkered flag. Further adding to the intrigue, Eli Tomac won for the second week in a row. After DNF-DNS scored to start the season, he's not in title contention—or maybe he is? Combine his win with Justin Barcia's second, Ken Roczen's third, and points leader Jason Anderson's off night with a fourth, and the series looks even more wide-open after round four than it did at Anaheim 1. When does that ever happen?
Tomac may have two-straight wins but they were not easy. Last week he endured the Triple Crown format and only won one of three mains. This time he struggled from his usual standards in practice but used a holeshot in the main to make it happen.
"Took me awhile to get the rhythm," said Monster Energy/Kawasaki's Tomac. "We were struggling to get whole laps together in practice, we were eighth and that was an eye opener for me. Kept our heads up, never thought we were out of it. Got a good start and tried to put the laps together. Demanding track, hard to put those triple triples together. All three of us were hauling the mail."
Indeed. Tomac rode well but Barcia and Roczen came on strong in the second half. Barcia went from nearly seven seconds back to about three, but then a few bobbles through a very difficult rhythm section let Tomac inch back ahead. Barcia really sent it on the final two laps to get close again, but Tomac had enough of a gap to control it. Barcia's back on the podium for the third time in four races, a good rebound after last week's run of bad starts.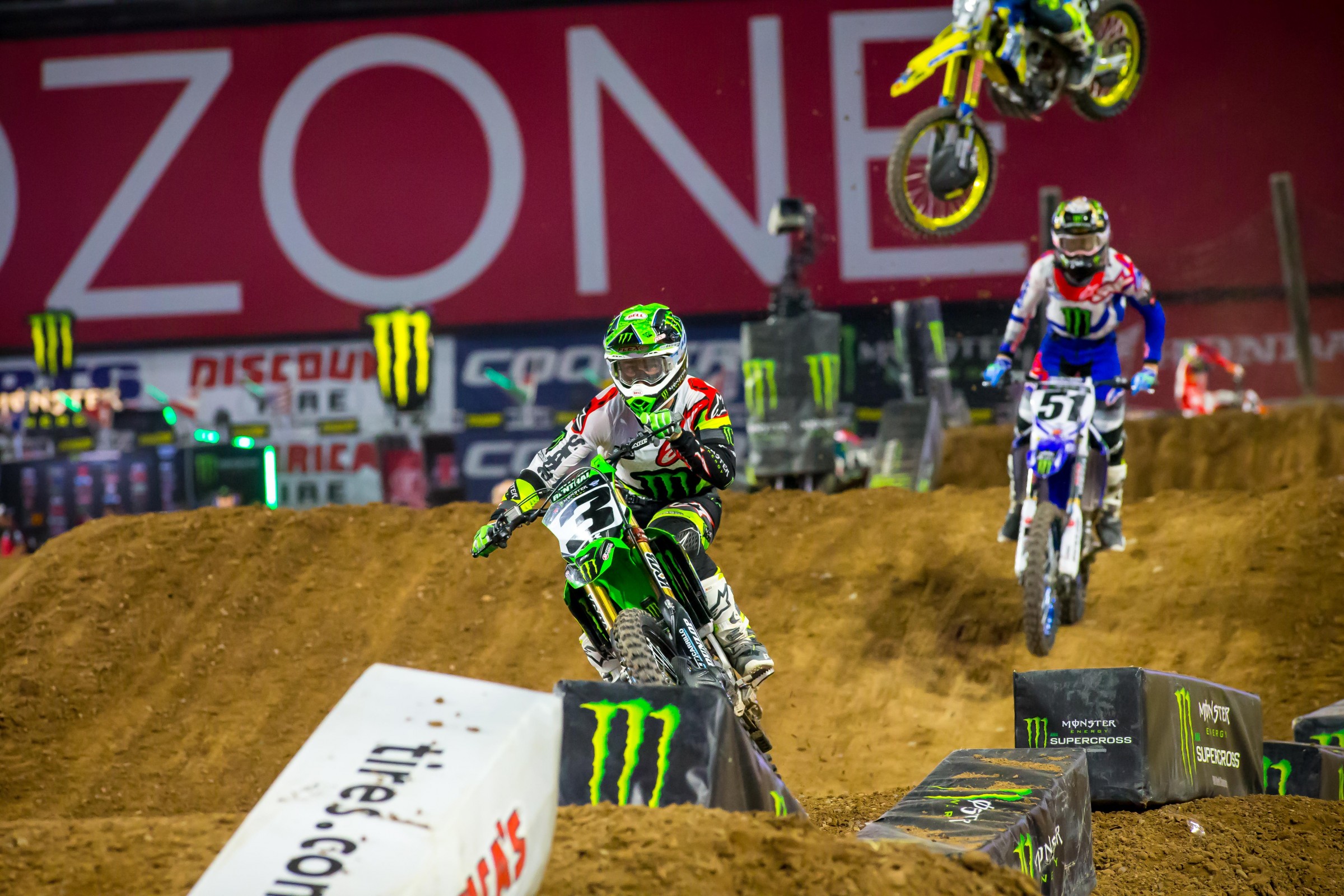 "Yeah for sure definitely a good rebound, kind of showed that I'd be up in the top five and battling for this championship," he said. "Last week was just bad starts and kind of damage control. Ken [Roczen] was putting the pressure on. Made some mistakes like that rhythm before the finishline. All-in-all happy with how the night went, just made a few mistakes."
Barcia got a laugh out of the press room after the event when asked to describe last week's post-race argument with his teammate Cooper Webb (Barcia threw an aggressive pass on him, and Webb wasn't happy). Barcia explained that he and Webb lost their cool, but then a few minutes later he and Webb calmed down. Barcia admitted he's done some stupid things on the track to everyone at some point—including Roczen and Tomac who were up on the press conference stage with him—and both nodded, which got the room laughing. Barcia, of Monster Energy/Knich Yamaha, said he's trying really hard to rebuild all of these relationships and ride aggressive but clean these days
For a few laps, Barcia was putting the press on Tomac, then Roczen came to life and nearly caught him from third. "I found myself in fifth or so and I had to make a couple of passes happen," said Honda HRC's Roczen. "The front two guys, there were going good. I'm obviously not going to inch up a second a lap. The track was more technical tonight by far—track was good and I liked it. Had fun racing too. Good rhythms and quite a few jumps out there. Towards the end we were all kind of closing up again, but I didn't have enough speed to make it happen."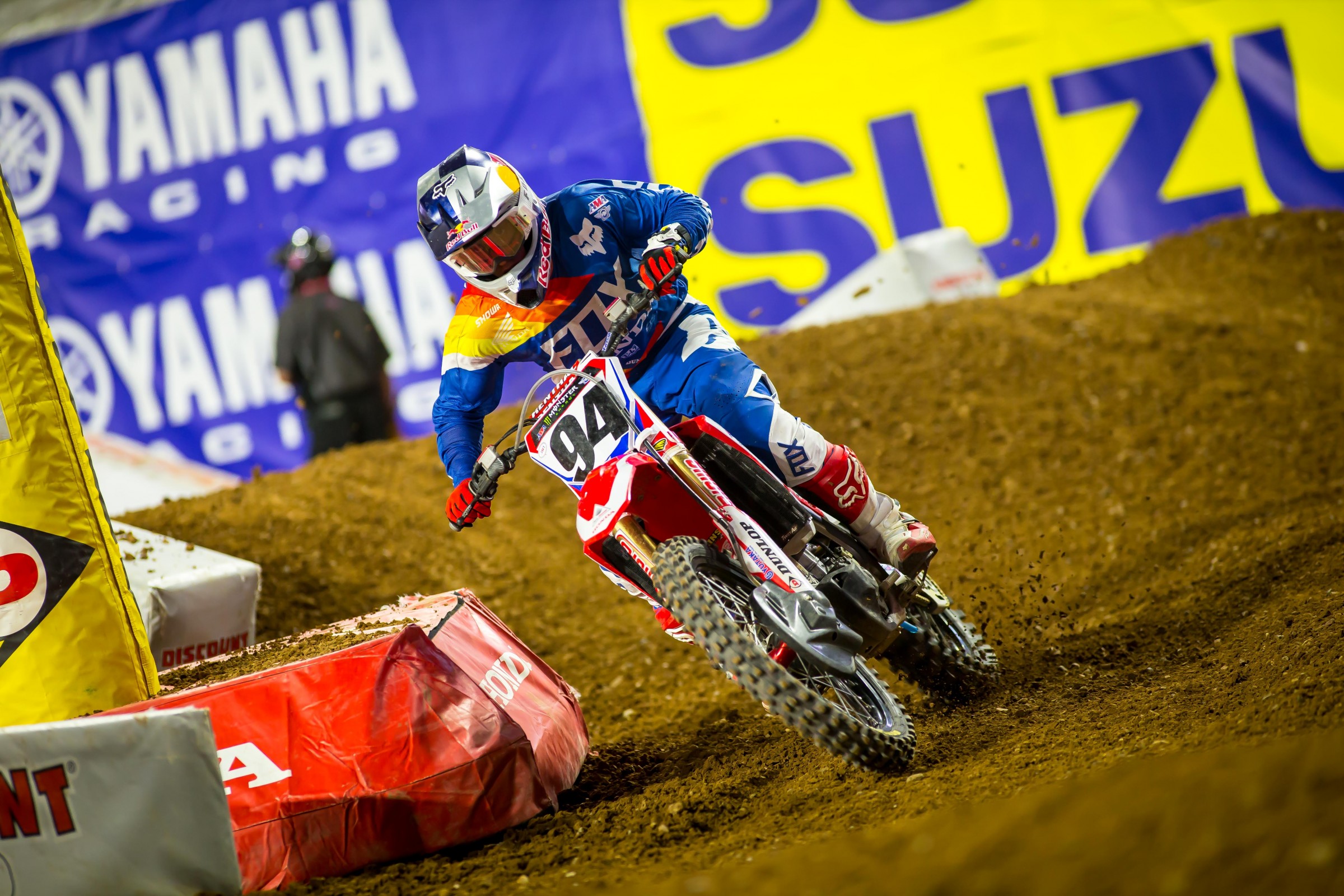 Roczen, Tomac and Barcia all praised the difficult and challenging whoops and obstacles. In particular, a rhythm after the whoops, which could be jumped in a three-on-triple-off, changed the race. No one was able to use the best rhythm on every single lap, and Roczen, later, gave up and was content to move further inside in the corner and just three-on-double-off.
"It was just a really big line," said Tomac. "The further you got onto the table the easier it was, but you really had to seat bounce it to get it. Then even the landing, you would get down in there and get kicked." Ultimately Tomac was able to get that section the most consistently down the stretch, and that's what helped him preserve his lead.
The whoops, meanwhile, led to Anderson's undoing. It was really strange—he started well but struggled big-time in the whoops early and lost a bunch of spots. His troubles actually started in the turn before the whoops, and mistakes there would just kill his drive into the section. Weston Peick was ahead of him and pulled away, Justin Brayton passed him, then Anderson passed him back only to have both Brayton and Josh Grant blow by. Then the series points leader figured it out, and came all the way back to fourth! It was a solid points run, but Rockstar Energy Drink Husqvarna's Anderson definitely was not as sharp in the main as he was in previous rounds.
Anderson was able to pass Marvin Musquin late, but Musquin, only two weeks removed from a shoulder injury, was still happy with the fifth. Musquin, of Red Bull KTM, said his shoulder strength is pretty weak right now, but he is happy to leave Glendale with a fifth considering how little time he has had on the bike in the past two-weeks. The re-occurring topic with Musquin was shown again tonight with his whoop speed, which set him back from the competition. With his weak shoulder and the long set up hard-packed whoops, it was a night for salvaging the best finish he could.
Behind that, it was just nuts. The whole race featured basically a nine-rider battle, with combinations of Peick, Anderson, Musquin, Grant, Brayton Cole Seely, Cooper Webb, Blake Baggett, Broc Tickle and more in the hunt. Peick started the race third, sliced to second early but then made some mistakes and went back to sixth. In many ways it was his best race of the year, but it's actually his worst result after 5-5-5 finishes to start 2018. Smatop/Bullfrong Spas/MotoConcepts Honda's Brayton had a spectacular heat race and pulled away from Tomac and Roczen to win it. He was okay in the main but ended up a distant seventh. Cooper Webb had a terrible heat race when he went backwards, it was so bad that he had to "just laugh it off" but then came back well in the main event to take eighth. Baggett came from way behind on his Rocky Mountain ATV/MC KTM to get ninth. Grant rounded out the top ten, then Tickle, and then Seely, who had a terrible start, roared through the pack to catch Anderson at one point, but then faded to 12th. He had almost caught Anderson, who finished fourth! It was that kind of battle with this group.
Grant, of Monster Energy Kawasaki, explained that he was happy with his whoop speed, and he was able to pass Anderson and Brayton. He was catching Peick at the end of the main when he had two big close calls in the sand section on back-to-back laps. One time he got so sideways that he nearly took a ninety degree turn off the track. He launched outside the tough blocks and nearly hit a race official before correcting and getting back on the start straight without missing a beat. He lost two spots from these at the end of the race leaving him in tenth. Grant has kept it in the top ten every race so far this season, which is exactly his goal and made him happy enough to go grab a couple drinks after the race.
Coming off a podium from last week's Triple Crown race, Cole Seely was looking confident and fast. He and Blake Baggett tangled off the start in the heat and they both went down. In the main he got another bad start and had to use a lot of his energy to get towards the front. When he got up there he was bunched up with Peick, Grant, and Anderson. Seely told us he was already pretty taxed from his push to the front when he had a close call in the sand section and knocked the wind out of himself. From there on he started going backwards trying to salvage as much as he could. He toughed it out though and finished 12th. He wasn't too stoked on that after the race.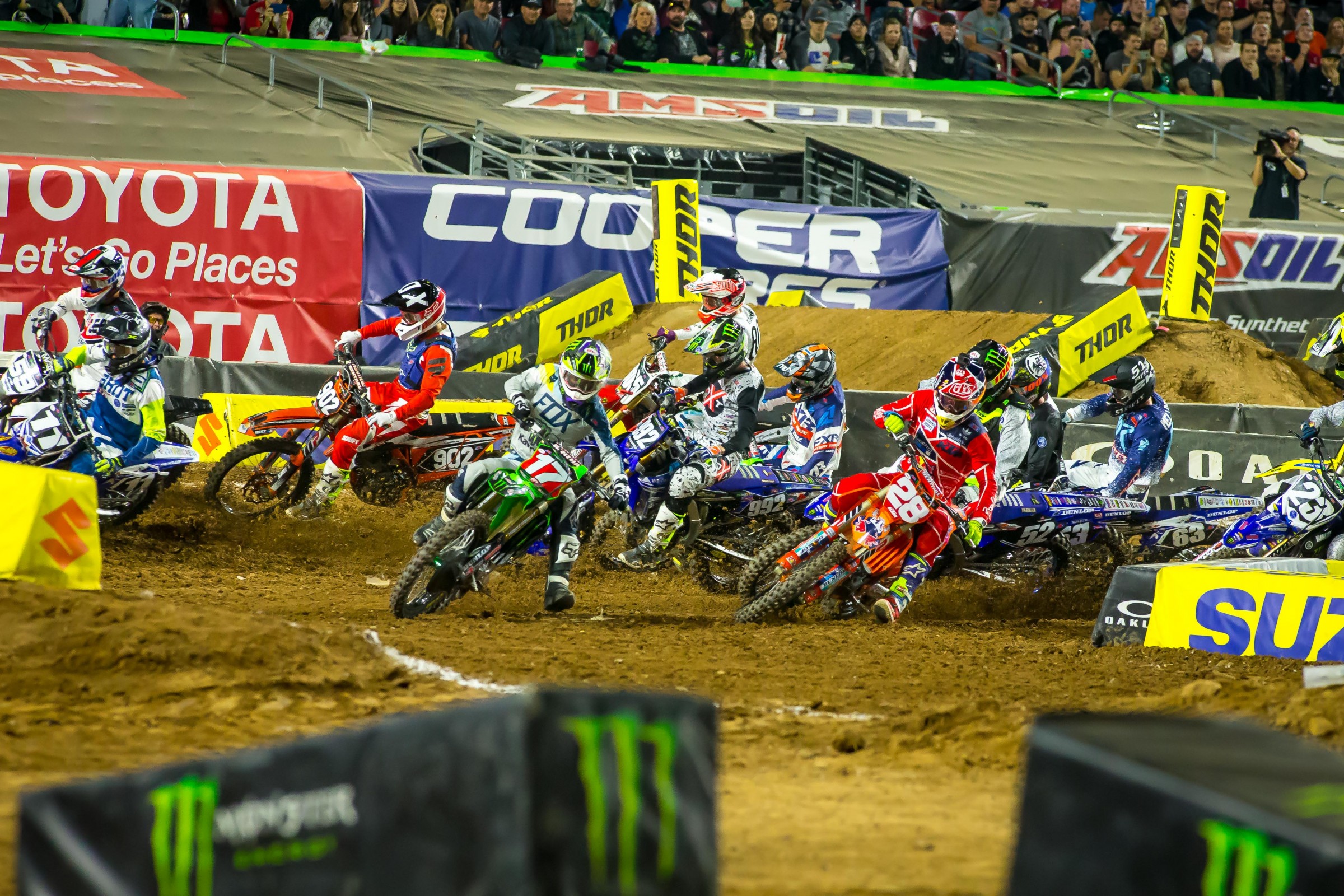 The 250 race was just as good. This time Aaron Plessinger got a decent start on his Monster Energy/Yamalube/Star Racing Yamaha, and that's really all he needs. Well, for him a technical track helps, too. He didn't have to be 12th-to-first good like he was in Houston, but he was darned strong again in taking the measure of Shane McElrath to get the lead and pull away to his second win of the year and also re-take the 250SX West points lead.
"I've been working on my starts, that's pretty much all we did this week," said Plessinger. "It paid off this weekend, like Shane [McElrath] said it was a fitness thing. You had to hit your marks over and over again for 15 minutes."
McElrath admitted Plessinger was quicker on this night, especially in the first rhythm lane after the start. He tried his best to ride defensively, so the first time Plessinger attacked him he squared the Yamaha rider back up to hold the lead. The next time around Plessinger tried again, but when McElrath tried to come back, Plessinger moved over and they almost collided. Plessinger's move over was on the dirty side, as he crossed over right in a rhythm lane, and Shane nearly crashed.
"I've been racing Aaron since I was on little bikes. I know that's not something he's known for," said Troy Lee Designs/Red Bull KTM's McElrath. "For a good lap I was just boiling but then I had to focus ahead and block that out. "
"I honestly did not realize it was that gnarly of a pass," said Plessinger. "I saw him out of the corner of my eye and I did not realize he was that close."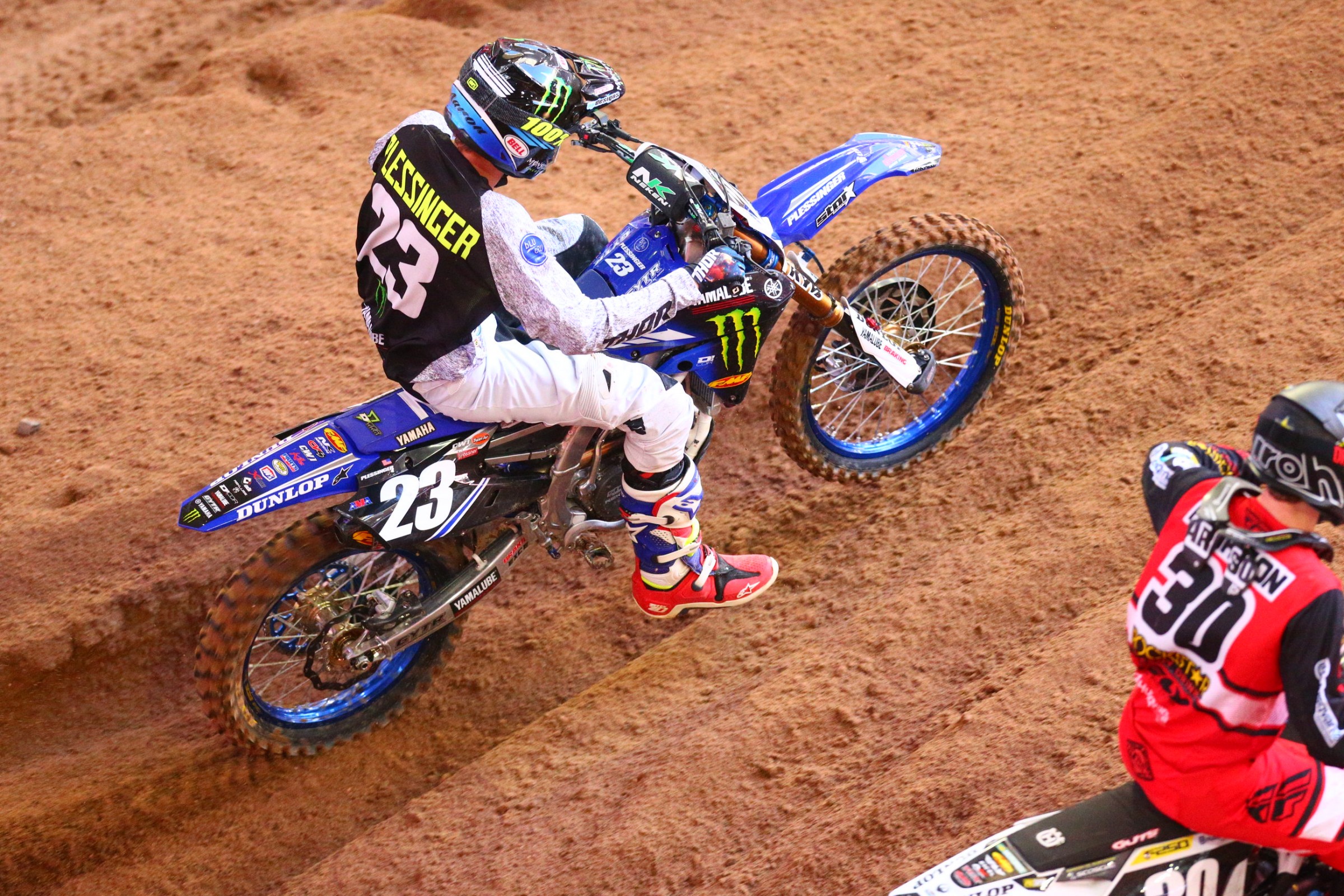 It would have been fair for McElrath to be mad after the race, but that's just not how he rolls. "It was a fun race, it was a good race track," he said. "I thought last week was good and safe and good for the faans, but this track was asking a lot out of us, and that's where fitness comes into play. It's good to see we're all battling and you don't know who is going to win. I'm really happy with it—Aaron was just the better guy tonight."
Monster Energy/Pro Circuit Kawasaki's Joey Savatgy, sharing the points lead with McElrath coming into the race, went down hard in the whoops in his heat race. He recovered to win the LCQ and then nearly pull the main event holeshot despite a bad gate pick. He spent most of the race trying to get McElrath, but then in the late laps his teammate Adam Cianciarulo started pressing him. Savatgy bobbled in a rhythm lane and crashed, sending him back to fourth.
Cianciarulo is tired of getting sub-par starts, and explained to us he's just doing one dumb thing: sliding too far back on the seat, outdoors-style, when he shifts. "I felt great tonight but I didn't feel like otherworldly where you can come from tenth to win the race. I got a terrible start and I was so bummed—my sight lap start was so good!" he said after finishing third. "That was a holeshot 25 times! It's literally the definition of insanity doing the same thing every week and expecting different results. That's my starts."
Chase Sexton had another solid night on the GEICO Honda for fifth. Defending series' champion Justin Hill looked much better in practice on his Autotrader.com/Yoshimura Suzuki, but completely blew the start in both the heat and the main. After the race he was in really good spirits and talked about just wanting to improve the 250 program for JGR and that he's confident he'll get a win when he gets a good start.