Anaheim, CA
Anaheim 2 (A2)
Monster Energy AMA Supercross Championship
One week after sustaining a shoulder injury in his heat race in Houston, Red Bull KTM's Marvin Musquin returned to action at Anaheim 2. No, it wasn't the same Musquin we saw win the season opener, but that wasn't the goal. The goal for Musquin was to salvage as many points as possible, and despite pulling out of the third main event early, Musquin finished 13th overall and scored 10 valuable points. After the race, Musquin wrote on Instagram that as of Thursday last week, he thought there was "no way" he was lining up Saturday. With a DNS in Houston, Musquin is still fighting an uphill battle as he sits 34 points back from Jason Anderson after three rounds.
"Tough weekend. Good and bad. Good because Thursday there was no way we could line up at A2. But we were able to come out and race. 2nd qualifying time was great. Bad because I wasn't able to get a start... not even one good one so I didn't make my job any easier... shoulder wasn't too painful but it wasn't strong enough, it was weak. But I did everything I could. We were able to grab 10 points and that's the reason why we went out there. We made big improvements in a week of work and therapy, and I know this extra week will make it feel even better. Thank you for all your support and for all the fans who came by the KTM tent this weekend to show your support!"
Rockstar Energy Husqvarna's Dean Wilson was back in action for the first time since injuring his shoulder at the opener. Like Musquin, Wilson wasn't 100 percent and said post-race that his shoulder was "hurting" throughout the day. Wilson finished 14-14 in the first two main events but was forced out of the third main event when another rider hit him, resulting in a snapped footpeg.
"It was great to be back racing," Wilson said in a team statement. "My shoulder was really hurting throughout the day. I made really great improvements to be back at the races, but I never had the strength to hold on. I managed to get 14th from a dead last start one race, but got hit in the first lap of another race and I wasn't able to finish. I was still out there, and I tried and that's all that matters at this point. I'm focused on getting my body healthy so I can get back up there and battle in the front."
Prior to Saturday night, many opined that SmarTop/BullFrog Spas/MotoConcepts Honda rider Justin Brayton could benefit from the new Triple Crown format. Brayton had been riding great and is known as a good starter. He indeed was able to take advantage of the three-main event format, finishing 2-6-3 for fourth overall (he tied Jason Anderson for third, but Anderson took the final spot on the podium due to a better finish in the third main event). Brayton was well aware of the overall points going into the third race.
"I think it's crazy when I hear riders aren't thinking about that," Brayton said. "You've got to be smarter than that. We were sitting third overall and we had a couple points on JG and a couple points on Anderson. I was doing some math in my head on the last few laps of that last main. I didn't know where Seely was, I didn't know if he had crashed or something, and then when I saw a Honda behind me I thought maybe it was him but it turned out to be Kenny. Still, fourth overall, nothing to hang our heads on. Bummer to lose the tie-breaker, but all-in-all it was a good night."
Brayton told Jason Weigandt that regardless of the format, he's feeling as good as he's ever felt and thinks a win could be in the cards. Brayton is currently sixth in points, just five back of Justin Barcia in third.
"When I feel this good on a bike, I feel like a 20-minute main is good for me, too, but I just haven't gotten a good start in a 20-minute main yet," he said. "Tonight our starts were on point. The way I feel, I honestly feel like I could win one of these things, and I know that feeling is hard to come by. Keep doing what we're doing and go to Phoenix."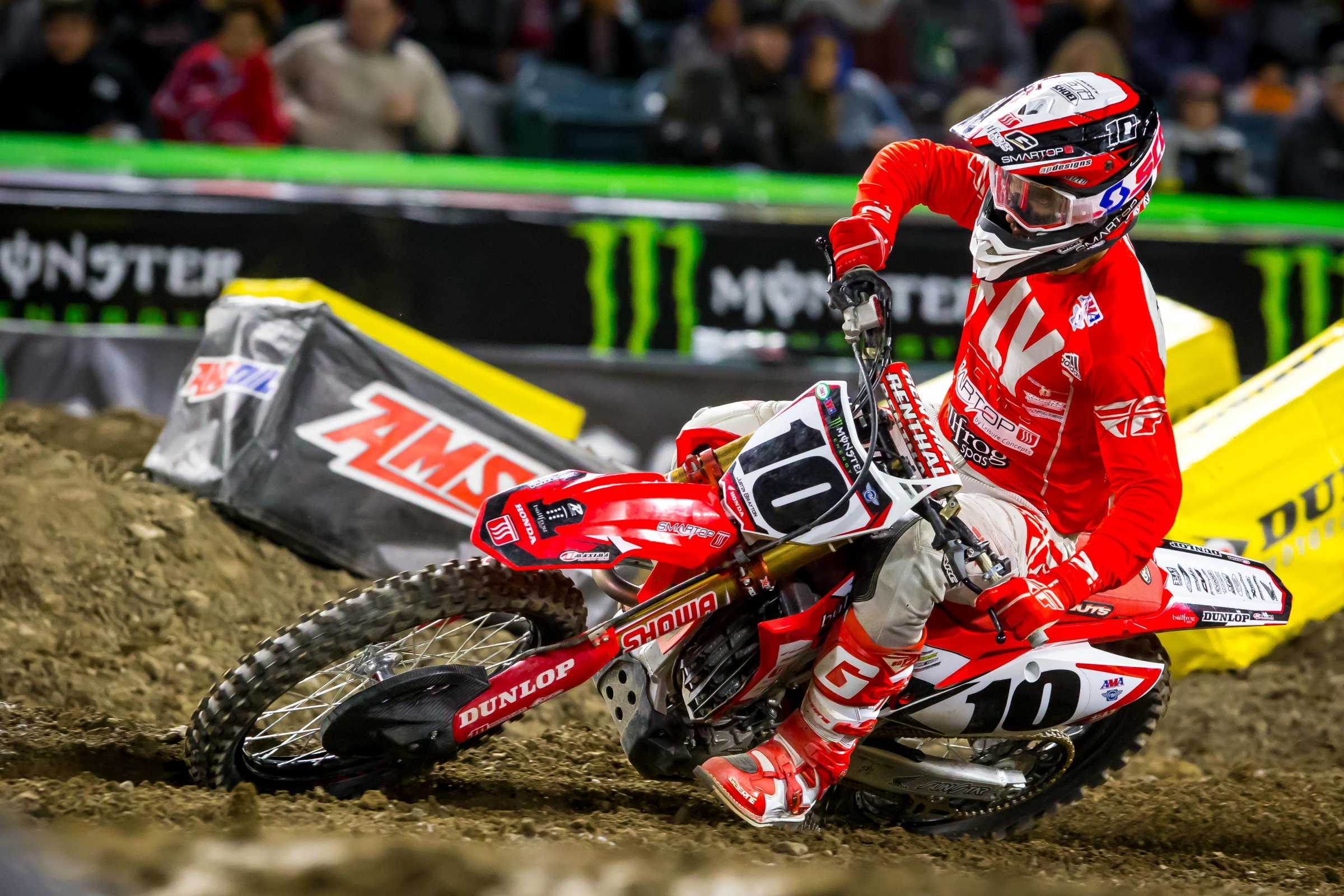 Weston Peick (Autotrader/Yoshimura Suzuki) continued his hot start to the season with a third straight fifth-place finish. After the race, Peick said the track was "way too easy," a common complaint among riders.
"The new Triple Crown format was definitely interesting," he said in a JGR press release. "The pace was crazy fast in the first main of the night, with everyone basically sprinting to the finish. The night came down to getting good starts, and my Suzuki RM-Z450 was awesome. I wouldn't want the Triple Crown to be an every-weekend deal, but it's something cool to throw into the mix every once in a while. In my opinion, the track was way too easy for everyone. So many guys were doing the same rhythms, and the track was really fast. They could have done a better job with the design in order to separate the riders out.
"I felt good for most of the night," he continued. "I was passed by Jason Anderson halfway through the second main event, but I fought hard to pass him back. Then I got around Justin Brayton, but shortly after that, I tucked the front end in a tricky section of the track. I ended up smashing my bad hand, which caused it to go numb for the rest of the race. I wasn't able to make up any positions due to my hand, so I just rode the rest of the race in ninth. The plan right now is to ride one day this upcoming week and otherwise let my hand heal up."
Monster Energy Kawasaki's Josh Grant had his best night of the young season, going 6-4-8 for sixth overall. "Tonight was crazy," Grant said in a team statement. "The three-race format is definitely chaotic. I felt great all day today on my KX450F and it showed. I actually had a lot of fun tonight and I'm happy with my results."
Prior to the start of the season, talk from the test track was that Rocky Mountain ATV/MC-WPS-KTM's Blake Baggett was flying. Sure, we hear that often and in reference to many riders, but after the season Baggett had in 2017—both indoors and out—it wasn't all that surprising. After a somewhat slow start to the year, Baggett showed why many people had him on the "race win" radar entering the year, going 3-10-6 for seventh overall.
Autotrader/Yoshimura Suzuki announced today that Justin Bogle will return from a three-race absence this weekend in Glendale. What does that mean for fill-in Malcolm Stewart? Today's JGR press release doesn't even mention Malcolm, but we've heard rumors he's still going to be racing with the team this weekend in Glendale. Beyond that? We'll keep updating the Malcolm story as we know more.
Here's what Malcolm had to say about his 11th place finish at A2.
"Overall, the day was great! I had a lot of fun. The Triple Crown was very interesting. I knew that it would provide good racing, because nobody had done it before. I got 11th overall after the night was over. It was good for me to have more gate drops so I could get used to the Suzuki RM-Z450 and raise my intensity level. I couldn't be happier with how I'm riding, given that Saturday night was only my fifth time riding the RM-Z450. We will keep moving forward and focus on making more improvements next week."
Jeremy Martin's foray in 450SX has come to a close. The two-time 250 class champion in Lucas Oil Pro Motocross will now return to the 250 to begin preparations for the 250SX East Region with GEICO Honda. Martin showed some flashes in his three 450SX races and finished 12th overall at Anaheim 2.
"I struggled in practice the entire time, so the whole GEICO Honda crew and I were working hard to make the right adjustments for the slippery West Coast style track conditions," Martin said in a statement. "I went down in the first main off the start and clipped a Tuff Block in the first turn in the second main so I was stoked on the three-moto format to redeem myself with a 10th in the third moto. Really enjoyed my time on the 450 but I'm ready to get to work on what really matters, which is the 250."
Tough night for Red Bull KTM's Broc Tickle, who went down early in the first main event and never really got going after that, finishing 22-13-12 for 16th overall.
"Overall, tonight it was bad starts and putting myself in a bad position to get the laps in that I needed during the main events," he said in a press release. "Obviously with the schedule and the way it was formatted, it was kind of tough to work your way back from a bad start. So, I'm definitely going to work on starts this week—that's the main focus at this point. It's not like I'm riding badly; you just have to put yourself in a good position. It will come, I work hard to be the best I can be and I'm confident that we'll get there. We'll build each and every week and get back on our feet, after this weekend it was a tough one to swallow."
Popular privateer Adam Enticknap started the year by making back-to-back mains, but he missed it under the new format at A2. "Coming into the season, I was excited about the new format but I knew qualifying would be huge," Enticknap said in a Rocky Mountain ATV/MC/Team SKVI press release. "With only one gate drop after qualifying, there's no margin for error. The start is everything in the LCQ, and today, we didn't get it," said a dejected Enticknap. Enticknap completed lap one in 12th and fought his way up to 8th but his day would ultimately come to an early end.
"It's tough to go out this way but it's a good learning experience for when we do this again later in the year," said Enticknap. "You never really know what the format is going to be like until you do it. Now we know and we don't plan on having to go home early again. On to Arizona."
As different as the Triple Crown racing experience was for the 450s, it was just as different—and interesting—for 250SX. Joey Savatgy, who won the overall with a pair of wins and one second-place finish, said the unique format made starts even more important than ever.
"Starts were pretty critical with this format, and we were able to get three really good ones," Savatgy said. "The win feels really good. It's been a long road to get back here, and we've put in a lot of work. I've been in this position before [holding the red plate] and I just need to find a flow and focus on staying consistent."
The win is Savatgy's first of the season, and it also handed him the points lead. Well, half of it anyway. He's tied with Shane McElrath, with sixty-eight points, for the overall lead. Savatgy's teammate, Adam Cianciarulo, had another up and down day, going down hard in practice but still managing to almost get on the overall podium and even challenging Savatgy for the final 250SX main event win.
"It was a rollercoaster day, but I'm glad I was able to put in three solid motos," Cianciarulo said. "I finally started feeling really good in that third moto and chipped away at the lead. I was so close to getting on the podium, which is great after having a rough practice session with the crash."
TLD/Red Bull KTM didn't have as many riders on the track, thanks to Alex Martin's fractured collarbone, but the night was still pretty positive. McElrath, who won the second main, overcame a mediocre start in the final main event and made a pass for fourth on the final lap, which tied him for second overall with Christian Craig. McElrath won the tie-breaker because of his superior finish in the third race.
"I had a lot of fun out there," McElrath said. "It was crazy with the different format and I had to fight for that last one (main event finish). This season has had a lot of injuries and I'm just thankful to be here and healthy. I didn't realize right away that we got the red plate back, but I will do my best to hold on to that next weekend."
Martin is going to try riding for the first time since the crash today, but his status for Glendale is still uncertain.
GEICO Honda had a pretty good day too, with Craig grabbing the final podium spot behind McElrath, and Chase Sexton rebounding after a tough first main event to eighth and third in the final two. Despite it being the best finish of Craig's season so far, he wasn't really buzzing about it afterward.
"Yeah, I'm not happy," he said. "I'm not going to complain about fifth [place finishes to start the season], but with the off-season that I had, I was just so confident coming into this season, and to get fifth, I was pretty bummed. Third is good and something to build on, but obviously I want to be where Joey [Savatgy] is and winning. I still have a lot to go. I need to make something click here.
"We're going to Glendale [next week] which I got my first win there," Craig said, regarding the venue where he won in 2016. "I'm excited. The class is wide open. Obviously, there's a bunch of dudes that are flying right now. A lot of them, obviously, are on the podium. But you just never know. You literally have to bring it every Saturday night and just hang it out and hope for the best."
After starting the first race in dead last after a crash, Sexton found himself leading the final main event.
"This was my first holeshot in probably two years," Sexton said. "I think I also had the most crashes today—I think I fell six times, including practice! I thought it wasn't my night, but it's good to turn it around and lead some laps and get a third in that final main event. Honestly, since I was thinking it wasn't my night, when I got that start I just wanted to see how many laps I could lead, but after probably halfway I thought, 'Man, I have a legitimate shot to win this!' Then I made a mistake and hit a Tuff Block, got a little tight, but it was fun to lead laps. I've never led laps in a pro race."
51Fifty Yamaha's Hayden Mellross tied a career-high with a seventh-place finish in Anaheim. Mellross was strong all night, finishing inside the top ten in all three main events.
"I had a great week of training leading into Anaheim 2 and was feeling awesome on the bike all day," Mellross said after a 7-10-8 night. "I felt with three solid starts, I could run up front with the top guys. I'm extremely happy with seventh, but I know I have more to offer."
Mellross' teammate Kyle Chisholm finished 11th overall. "The format was cool and overall it was a solid consistent night for me and the team," Chisholm said in a team press release. "We ran up near the front all day and we were definitely in the mix with the factory teams. I was stoked to get the start in that final main, but also disappointed to finish just outside the top ten overall. I know what I need to work on for the future and looking forward to getting back out there."
The night wasn't great for some other teams, including Autotrader.com/Yoshimura Suzuki, whose star 250SX rider, Justin Hill, finished tenth overall and simply cannot seem to regain the form that saw him claim the 2017 250SX West Region Championship.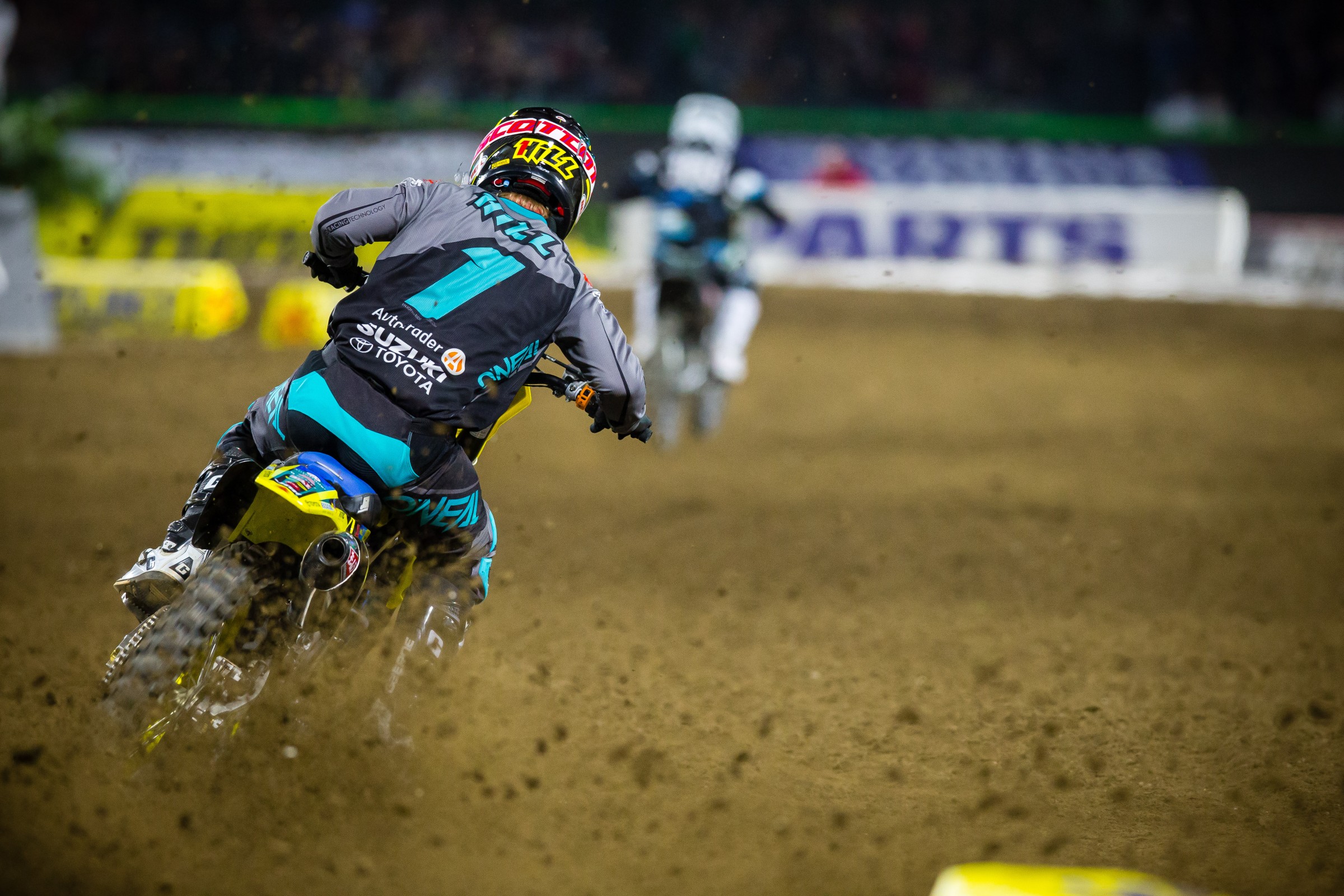 "Truth be told, I actually felt really good in comparison to Houston last weekend," Hill said. "I think I could have put in a really fast lap if I would have gotten a lap in qualifying where the track wasn't so hectic. The Triple Crown format made starts all the more crucial, but I was awful off the gate.
"This week I'm going to work on bringing more intensity, so that when I'm racing, I feel better out of my comfort zone," Hill continued. "I'm the type of rider who likes to feel dialed, which can be good or bad. The tracks haven't been very tricky so far this series, so I need to bring some raw heat to the races. I was better this weekend and things are beginning to click. I don't feel like I belong where I have been finishing, so I'm going to work on raw speed to get up in the mix. We'll get it figured out."
If Hill wants to retain any shot at a title, he's going to need to get it figured out soon, as he's in eighth place and 26 points out of the lead after just three rounds. Things were slightly better for his teammate, Phil Nicoletti, considering he was racing with one broken rib and two displaced ribs suffered at A1. Nicoletti ended the night in ninth, just ahead of Hill.
"The first two races went well for me," Nicoletti said. "I was up where I belong, and I can make improvements on that. The final race was tough because I couldn't find a hole through the first turn. My starts were off all night long. I found myself in a bit of a slump in the third race and couldn't pass a couple of riders that were right ahead of me. I did enjoy the format, though. It was nice to get away from the traditional format for a change. The track was one of the more mellow layouts that I've ever ridden. Maybe they did that because of all the laps put in between the two classes. My ribs still hurt, as does my shoulder blade. I'll probably ride twice this week, because it's hard to show up to a supercross race without having put in any laps during the week."
Rockstar Energy Husqvarna's Mitchell Harrison's night wasn't fantastic either, although Harrison, who finished 13th overall with 18-12-12 scores, still managed to look for the positives of the night.
"This was a new experience," Harrison said. "I felt great in practice, but I was definitely tested all day. I felt like myself earlier in the day and felt like my arm was feeling great again. I was in my element, but I had a really hard fall and it might have set me back a little bit. I still felt like I rode great, and a few things here and there will make me better next week."