Anaheim, CA
Anaheim 2 (A2)
Monster Energy AMA Supercross Championship
SUPERCROSS HISTORY WAS MADE THIS PAST SATURDAY NIGHT! Round three of Monster Energy Supercross marked the first race ever with three main events of different lengths. The overall (scored with Olympic style scoring) would award the winner 26 points, the same amount a regular main event would pay.
Oh yeah, and both of the classes had three mains! (We've seen the three-race format at Monster Energy Cup, but that race doesn't offer a 250 class.) As someone that's beaten the drum of change over and over for the series, I was stoked. We're doing three races like this in 2018 and I couldn't wait to see how it all turned out.
I LOVED IT!!! Change is in the air and, man, it smelled great! We had five winners in six mains, and unexpected results. We've got to work on the entertainment side of the sport (this just in: four strokes have not helped supercross) and format changes can do just that.
Now, it wasn't perfect, of course. What would an Observations column be if I didn't complain about something? I would make the mains the same length of time, or at least change the first eight-minute one (for 450SX) into a 12-minute race (like the second main) because there's too much at stake for the riders and teams to make an eight-minute race count for so much. Also, as stated by me over and over and over, I'd put the LCQs at the start of the night.
The program dragged along, but according to Weege's super precise math, there were only six minutes less racing than a normal night. Even so, the gaps between the racing were huge. Yeah, I saw all those tweets about the commercials and stuff, and believe me, it wasn't much better at the stadium. Then again, the teams and riders have to have a certain amount of time to recover and make bike changes.
The folks at Feld will figure it out and tighten things up— I would bet you see improvements as soon as the next round. I really like this format. It was exciting, it produced parity, and it made heroes of more riders, which is a good thing.
For me, the Anaheim 2 Triple Crown race is sort of like dating a super model that can't stop nagging you about everything. I mean, she's SO hot but I can't stand her 80 percent of the time. She just yells at me and gets annoying. By this, I mean I love the format, but the track… can we talk about the track? Wow. It was bad. Not sure if it was because of amateur day on Sunday (and I hope not, because Feld is going to do a lot more of these in 2019) but it was so simple, so easy, had short lanes which didn't allow riders to do anything, and was uninspiring. And the whoops… well, what whoops?
Heck, Ryan Dungey was interviewed during the night show and said, "This track is hard to pass on," and was he ever right. So… did the racing rule because of the simplicity of the track, or the format? What came first, the chicken or the egg? I mean, maybe the track had something to do with it—I can't be sure. But it wasn't good, and every single racer I spoke to outside of the 722 hated it.
Plenty of whispers from teams and riders about the drastic whoop cut-down from Friday to Saturday. Having two top riders competing with shoulder injuries doesn't match up well with big whoops, so after press day the track crew came in and pretty much reduced to nothing. In fact, I swear I saw one of the Dig Dugs (track workers) blitz them in his tennis shoes. I don't know why they went from big to small, but I do know they weren't good afterward.
Okay, since I went on and on about the format and track, let's get to the actual real results of the race, yeah?
250SX Results
1st | #17, Joey Savatgy | Thomasville, GA | Kawasaki KX 250F | 1-2-1
Well, I've been typing each week how good Joey's been to start the year and also how calm he was about getting caught and passed by Aaron Plessinger last week. This week there was no doubt he was the best guy, and his starts were so on-point. He's got the red plate now (third guy in three races!) and so far has avoided any of the big mistakes he had last year.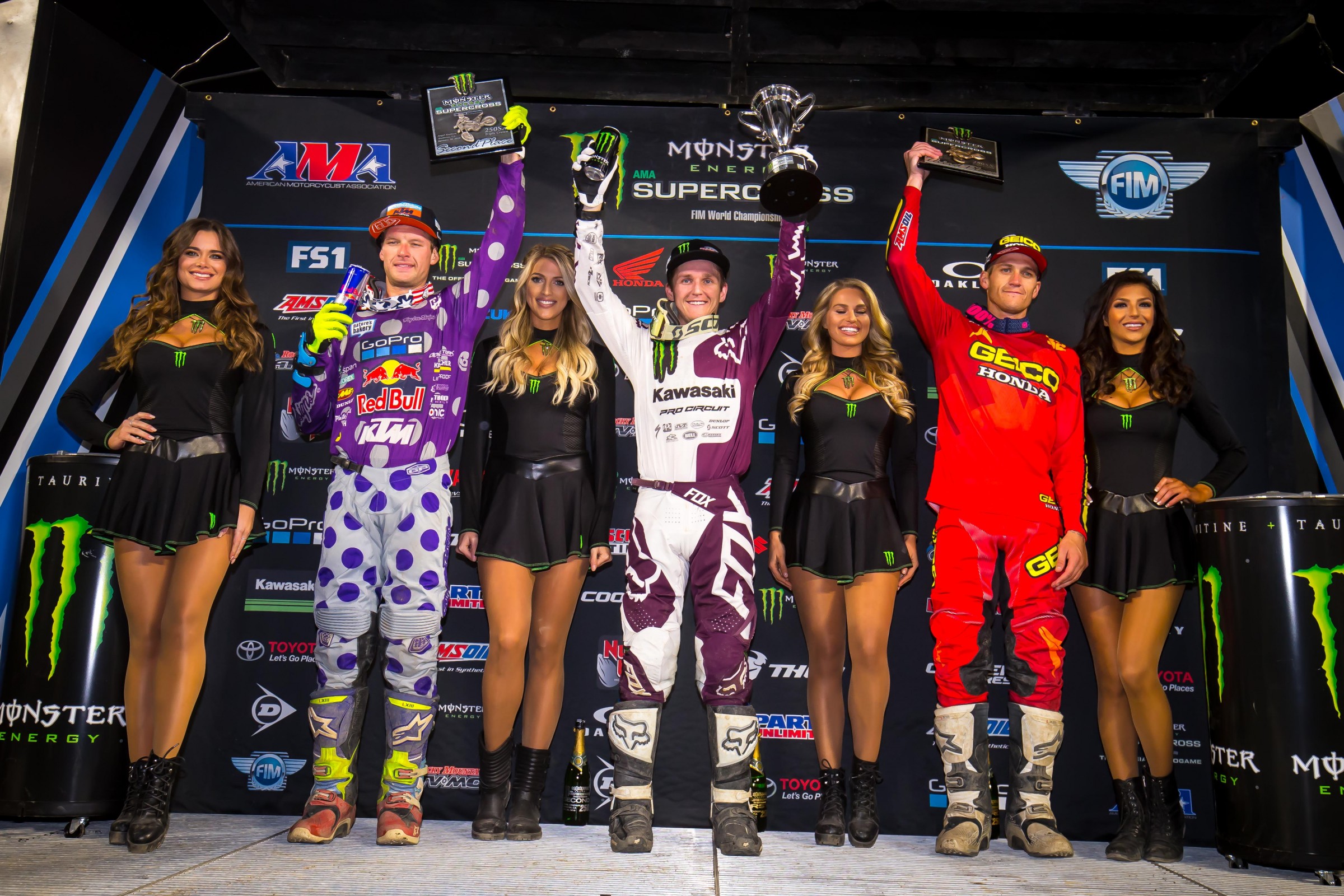 2nd | #28, Shane McElrath | Canton, NC | KTM 250 SX-F | 5-1-4
Savatgy was the fastest guy, no doubt about that, but Shane was just a tick behind him. He moved up in two of the three motos and won the other one. He just didn't get the starts that Joey got, but there was nothing wrong with his night at Anaheim. Savatgy won with a total score of four and McElrath had a ten, but that results in just three points' difference in the title chase. McElrath and Savatgy are tied in points heading into Glendale.
3rd | #32, Christian Craig | Orange, CA | Honda CRF 250 | 2-3-5
Craig was bummed that the big whoops that were there on Friday were mowed down, but in the end, he still did pretty well with his first podium of the year. It's interesting to see the dynamic on the GEICO team play out as Chase Sexton is coming on a bit here while Craig is looked at as "the guy" on the team. Both Chase and Christian have been racing each other hard the last two weeks.
4th | #92, Adam Cianciarulo | New Smyrna Beach, FL | Kawasaki KX 250F | 4-5-2
AC had a horrific crash in practice where he appeared to be out cold and could then barely stand to get off the track. I thought for sure he was out for the night. But he passed all the tests needed to race and suited up. And he was good! Especially in that third main. He admitted that everything was a bit foggy, but if he pulls out this title, A2 is going to be key for him. I don't get guys like JT and others implying that he shouldn't have raced. To me, it's black and white. The doctors saw him, gave him a test he passed, and cleared him to race. We've seen plenty of riders be held out of racing, so why now would there be some sort of grand conspiracy?
5th | #52, Mitchell Oldenburg | Alvord, TX | Yamaha YZ250F | 3-6-6
There it is! Freckle's third place in the first main was a reward for all of "us" who always believed in the speed we saw at the first few rounds. The other two mains, not so much, but I'm telling you he'll put it together one of these races. I'm Team Freckle.
6th | #23, Aaron Plessinger | Hamilton, OH | Yamaha YZ250F | 6-4-7
Plessinger was SO good in Houston. And last weekend, it was nothing but bad starts and a track where everyone was going the same speed. So that was it for AP on this night. He couldn't do much, and that red plate on his bike was very temporary, it turns out.
7th | #63, Hayden Mellross | Clermont, FL | Yamaha YZ250F | 7-10-8
Mellross was great, worked his way forward in all three mains, and was right there with the big names. Maybe Hayden's best race in his American SX career? I went to his truck to talk to him, but he was gone. I know I'm mega-biased, but if I'm Hayden's manager and he has that kind of night, I'm dragging him to the press conference to talk to the media and get some exposure for him, the team, and the sponsors. Instead, he was gone.
8th | #40, Chase Sexton | Clermont, FL | Honda CRF 250 | 15-8-3
Sexton went down in the third turn in the first main and got up in last place. But in the third race, he led for a while before a mistake took him out of his rhythm and allowed him to get passed. Still, it was impressive, and maybe, just maybe, the rookie can grab a win this SX season.
9th | #54, Phillip Nicoletti | Bethel, NY | Suzuki RM-Z250 | 8-7-11
No drama for Phil. Just good—not great—starts, steady laps, and riding forward as best he can. He saw his teammate Justin Hill in front of him in the third main and admitted that he was pushing hard late to catch and pass him. Nothing wrong with that.
10th | #1, Justin Hill | Yoncalla, OR | Suzuki RM-Z250 | 11-9-9
Third week in a row that Hill hasn't been very good for the JGR Suzuki guys. In fact, I'd say it's getting progressively worse. Seeing a guy with #1 on his bike this far back is a weird sight. I remember in 1998 watching Jeff Emig go backward in about every main with the #1 plate. I don't know, man, let's hope Justin and JGR can figure this out.
11th | #11, Kyle Chisholm | Valrico, FL | Yamaha YZ250F | 9-11-10
CHIZ GOT A START!!! It had been a while, but in the third main, Kyle ran second for a while and looked pretty good. He dropped back (probably farther than he would've liked) to his usual spot. After the race I wanted to chat with him, but he was deep in discussion about his suspension.
12th | #59, Cole Martinez | Rimrock, AZ | Husqvarna FC250 | 10-14-13
Martinez's first race of the season after injury and he acquitted himself quite well, all things considered. He's a veteran of the class and jumped in with no issues as a privateer.
13th | #30, Mitchell Harrison | Tallahassee, FL | Husqvarna FC250 | 18-12-12
Oh man, Harrison crashed hard in practice. Then he crashed in the first main. It's not been a great start for him, and I wonder if the Rockstar Husky guys look at Oldenburg, who was thisclose to being on the team, and wonder, "What if?"
14th | #217, Ryan Breece | Athol, ID | Kawasaki KX 250F | 12-17-16
Good job for Breece, who didn't make the Houston main but scored well in the other two.
15th | #992, Jean Ramos | Corona, CA | Yamaha YZ250F | 16-16-14
Jean Carlos Ramos is currently starring in I've Made All Three Main Events, which is a blockbuster for him and his sponsors.
16th | #53, Bradley Taft | Nixa, MO | Yamaha YZ250F | 13-13-20
I don't know, bro; Taft hype was high coming in, but he had a practice crash this week and wasn't himself at the race.
17th | #68, Justin Starling | Deland, FL | Husqvarna FC250 | 17-15-15
Starling may not have won the race, but he was nominated for a LIT KIT award for his efforts. What a night!
18th | #902, Killian Auberson | Corona, CA | KTM 250 SX-F | 19-20-17
I'm mad at Auberson and don't wanna talk about him right now. #FantasySXProblems
19th | #81, Chase Marquier | Newcastle, OK | Husqvarna FC250 | 20-18-18
20th | #42, Dakota Alix | Jay, VT | KTM 250SX-F Factory Edition | 14-21-21
Alix hurt his wrist in a fall in main two (Tuff Block victim!) and after the race looked like he might be out for a bit. Stay tuned on this.
21st | #388, Brandan Leith | Eagle Mountain, UT | Kawasaki KX 250F | 21-19-19
22nd | #67, Justin Hoeft | Castaic, CA | Yamaha YZ250F | 22-22-22
Bummer for Hoeft as he crashed out of main one and couldn't start the last two. He's been my pick for the rider who would have most of the fans asking, "Who is that?" each week.
450SX Results
1st | #3, Eli Tomac | Cortez, CO | Kawasaki KX 450F | 5-1-2
Well, after not racing last weekend, I was surprised that Tomac won this thing. I mean, a format with three separate warm-ups and cool-downs doesn't seem good for a shoulder injury, yeah? Nice work for Eli to bounce back after his horrific start to the year, and this has to have everyone under the green tent exhaling a bit. I don't think he can win this title, but going out and winning most of the rest of the races should be the goal. I was thinking that his shoulder had to be sore out there in the third main when he let Anderson catch and pass him, but he said that was not the case in the post-race presser. I'd guess, judging on his ride last year at Glendale, that he feels pretty good about his chances this weekend with even more rest.
2nd | #14, Cole Seely | Newbury Park, CA | Honda CRF 450 | 1-2-7
Seely had it! He had the overall seemingly in the bag with a three-point lead on Tomac going into the last moto. All he had to do was continue pulling starts and riding great. That's it! Even if Tomac won, Seely just needed a third for the overall. It seemed like a no-brainer. Then he blew the start in main three and that was all she wrote. But again, Honda and Seely got to celebrate a main win in the first one and everyone probably felt good about their night when they left. That's what I'm talking about!
3rd | #21, Jason Anderson | Rio Rancho, NM | Husqvarna FC450 | 7-3-1
Anderson's night started off poop. After a bad start and getting hung up with some dudes that were down in main one, there wasn't much he was going to be able to do in such a short time. The other two races were fantastic, and afterward he made a comment in the press conference about wanting to be a bit like Ryan Dungey. Well, 2-1-3 finishes and the red plate is exactly something Dungey would do.
4th | #10, Justin Brayton | Mint Hill, NC | Honda CRF 450 | 2-6-3
Great night for Brayton, who tied with Anderson for third overall and rode great in two of the three mains. The Triple Crown format is perfect for Brayton and his SmarTop/BullFrog Spas/MotoConcepts Honda team to show what they've got. It was a bit weird how much he kind of fell apart in main two while running second. He told us on the PulpMX Show he clipped a Tuff Block (same one!), had to settle down, lost his rhythm and couldn't get it back. But rebounding from that to grab third in the longest main was impressive.
5th | #34, Weston Peick | Menifee, CA | Suzuki RM-Z450 | 4-9-5
Another great race for Peick. He and Baggett were going at it in the third main of the night. Wow, it was a serious battle. In other JGR news, I asked Jeremy Albrecht and Buddy Antunez if either of them ever thought they'd be working together at Anaheim Stadium back in 1988 when they were friends as kids. Buddy corrected me and said they first met when they were 11 years old racing against each other in '86. Pretty cool that lifelong friends are now managing the factory Suzuki team.
6th | #33, Joshua Grant | Wildomar, CA | Kawasaki KX 450F | 6-4-8
Brayton and Grant are two guys that this format would suit a bit better, I would think, and they both showed it Saturday. JG's a good starter and he has the skills to hang with just about anybody. A good night for the #33 and for Kawasaki in general.
7th | #4, Blake Baggett | Grand Terrace, CA | KTM 450 SX-F Factory Edition | 3-10-6
As I told manager Michael Byrne after the race, Blake was probably the fastest guy at Anaheim 2 with no results (unless you think he and the team were happy with seventh, which they weren't). Baggett was very good in working up in the third main, in getting third in main one, and then charging hard when a Tuff Block got him in main two (it also got 74 other dudes, but that's another story). Byrner said there were some bike changes made to help Blake out, and that's what made the difference.
8th | #51, Justin Barcia | Greenville, FL | Yamaha YZ450F | 8-5-9
Man, Barcia wasn't as great as he was the first two races, but in the second main he rode really well. It's just that fifth place isn't going to get anyone to notice him that much. The third main was also very good for him. Yeah, it's no podium, but he didn't have his customary good starts on this night and he did show good speed working his way forward. The rumor in the pits is that he's already been signed for the rest of the season at Yamaha. Stay tuned for more on this.
9th | #94, Ken Roczen | Clermont, FL | Honda CRF 450 | 11-12-4
Roczen wasn't himself at Anaheim 2 and admitted that maybe it was the thought of him crashing here last year that got to him. He was great last week, so I've got to think that was the case. He told us on the PulpMX Show that he's done talking about his injury with media/fans and wants to focus on his season. Anaheim was definitely not the Roczen we're used to seeing, so this weekend will be a big one for him to try to bounce back.
10th | #2, Cooper Webb | Newport, NC | Yamaha YZ450F | 10-7-11
Not a good night for Webb and, uhhhhh, this season isn't turning out the way many of us thought it would. Hey, one great finish and we'll stop talking about him struggling, but until then…. By the way, who had 2.5 and over on "number of races before Webb and teammate Justin Barcia get into it?" I got a text from someone after the race that saw this: "After the race Barcia said sorry, then Coop gave him the finger so Bam Bam smashed into him in the mechanic's area, which turned into a massive fight. Lol"
11th | #27, Malcolm Stewart | Haines City, FL | Suzuki RM-Z450 | 16-8-14
Steady ride for Stewart this weekend, and it was supposed to be the end of his deal because Justin Bogle is coming back, but the team is getting him to stick around, which is awesome. Coy Gibbs told me that he's more than happy to have Mookie on the team all year if sponsors cover the cost of it.
12th | #6, Jeremy Martin | Millville, MN | Honda CRF 450 | 15-15-10
J-Mart's 450SX experience is over and I think it went well. It didn't go "BALLS-OUT AWESOME," but it also wasn't anywhere near a disaster. And you know what? It just might help Martin's 250SX East Coast attack as well. I think it will and can't wait to see at Arlington if I'm right.
13th | #25, Marvin Musquin | Clermont, FL | KTM 450 SX-F Factory Edition | 9-11-21
Well, to be honest, one week after Marv's shoulder came out I was pretty impressed with his practices and first two mains. The fact he rode off in the third main due to pain/weakness wasn't a big surprise. I do like that Musquin rode off through the tunnel then popped back in about two minutes later to pick up his mechanic Frankie and give him a ride back. Very thoughtful! Musquin's A1 win probably seems like it was two months ago.
14th | #22, Chad Reed | Dade City, FL | Husqvarna FC450 | 12-17-16
With the Triple Crown format, Reed was forced to the LCQ after he didn't make the fast 18 in qualifying. The fact that some people on Twitter didn't think Chad "Effing" Reed was going to be one of the four guys who raced their way into the main event was mind-blowing. The guy's a racer, bro! Of course, he won that race easy and then was decent in the main event. At least he's riding during the week now.
15th | #69, Tyler Bowers | Lake Elsinore, CA | Kawasaki KX 450F | 13-16-17
I dunno, maybe I'm just blinded by The Bear. I like Bowers, I think he's a good rider, and I like his attitude about racing. I was watching him in practice and he was launching the single before the whoops, touching down, blitzing a few, and pulling a wheelie then was out of them. It looked awesome! Then I saw his lap times and he was, like, 20th. Quite an eagle eye I have! Anyway, good night for Bowers—look at all the dudes ahead of him, what they're riding, what they make in salaries, and realize this is good. Sounds like the Kawasaki guys hook him up pretty good.
16th | #20, Broc Tickle | Holly, MI | KTM 450 SX-F Factory Edition | 22-13-12
Tickle was pretty much a half-lap down after the third turn in the first main. And it didn't get any better from there, bro.
17th | #55, Vince Friese | Cape Girardeau, MO | Honda CRF 450 | 18-19-13
After Baggett, Vince might be the guy who was the fastest with the least results. He qualified eighth! Yeah, I know the track was easy, but still. Friese holeshot the second main and was in second when he dumped it in a rut. That was all she wrote for the #55. His usual good starts haven't been there quite yet this year.
18th | #15, Dean Wilson | Clermont, FL | Husqvarna FC450 | 14-14-22
Wilson said he had a footpeg sheared off his bike in the third main? Wow, that was quite a hit, I'm sure. So, in the ranking of shoulder injuries, I'd put Tomac's the least gnarly, then Dean, and then Marv.
19th | #39, Kyle Cunningham | Willow Park, TX | Suzuki RM-Z450 | 17-20-15
KC's been doing well. Nothing against Kyle, but at one point he went by Reed in the whoops and I had think that Chad was probably just thinking "FML" at that point.
20th | #91, Alex Ray | Milan, TN | Yamaha YZ450F | 19-18-18
Couple of things about A-Ray's night. One is that he rode himself right into the fast 18 out of qualifying practice, and two, he washed his front end out three turns into the very first practice, which had to be a terrible way to start your day.
21st | #90, Dakota Tedder | Surfside, CA | KTM 450 SX-F Factory Edition | 20-21-19
Teds is on a roll to start the year. Who had Dakota riding his way into the first three main events of the year with no problem? Teds, LaMay, and Ray are getting set to have a battle royale all year long.
22nd | #907, Ben LaMay | Wasilla, AK | Honda CRF 450 | 21-22-20
LaMay got into the main event with the last-lap-last-turn stuff of Matt Bisceglia in the 450 LCQ. It was amazing. He set it up perfectly and no doubt used his AX skills he sharpened over the last few years to work it all out. From there, his night was poop. But hey, he got in!
Well, that's it. Thanks for reading, and email me at matthes@racerxonline.com if you want to chat about this race or anything else.