Angel Stadium
Anaheim

,

CA
Anaheim 2 (A2)
Monster Energy AMA Supercross Championship
Welcome to the Racer X Race Day Feed, your one-stop shop for the Monster Energy Supercross in Anaheim, CA. We'll be updating this post with news, notes, and results from today's races, so be sure to keep checking back throughout the day.
You can also follow Racer X on Twitter, Instagram, and Facebook to stay up on all the action.
Pre-Race Report
An already shaken Monster Energy Supercross Championship is about to get stirred. The traditional single main event format for points-paying AMA Supercross races is taking a breather, as the Triple Crown format, with three main events in each class, debuts for round three here at Angel Stadium in Anaheim, California. That's three main events in each class, with math used to determine overall winners in each division. Championship points are paid exclusively based on the overall finishes.
For more on this format, check out our FAQ here.
The Monster Energy Cup uses a similar format, but that race doesn't pay points. What strategies will prevail with the Triple Crown? Will title contenders play the consistency game? Will other riders go for the gusto and hang it out like never before? Can anyone nail three good starts in one night? No one knows.
Such intrigue is dropped into a 450SX championship that already looks strange. Pre-season favorite Eli Tomac (Monster Energy Kawasaki) crashed while leading when supercross last visited this building 14 days ago. The resultant shoulder injury kept him out of last weekend's race in Houston. He'll try again here—but can he hold on? Can he score any points?
Similarly, Marvin Musquin (Red Bull KTM) is dealing with a shoulder injury. The winner of the Anaheim 1 opener crashed last weekend in Houston. After a week of heavy rehab, he rode on Friday and will try to give it a go in practice today. No one knows how it will go for the former series' leader.
Jason Anderson (Rockstar Energy Husqvarna), Justin Barcia (Monster Energy/Knich Yamaha), and Ken Roczen (Honda HRC) have been the most consistent riders so far this year. Anderson looks smoother and more patient than ever before, he leads the series with 2-1 finishes in the first two rounds. Roczen holds a fourth and a second after two races, and Barcia a pair of thirds. It was this race last year that led to Roczen's undoing (he crashed huge, ending his season) so just surviving the craziness of the Triple Crown would probably be a goal. Barcia, though, hasn't won a supercross since 2013. One would think he would like to strike while he's hot. Plus, his starting skills are back on point, and that will help in a three-race format.
Meanwhile, the stacked 250SX West division rolls into town with Aaron Plessinger (Monster Energy/Yamalube Star Racing Yamaha) leading the standings, but a ton of young, hungry riders capable of winning tonight. We've never seen a 250SX event with three main events, so it's anyone's guess what happens with wide-open young talent in this scenario.
For more Anaheim 2 storylines, check out 10 Things to Watch.
Race Day Feed will keep you on top of the action all day and night.
Free Practice
The news you need to know: both Marvin Musquin and Eli Tomac rode this practice. Tomac looked much better than last week and had the sixth-fastest time. Musquin was only 16th.
Jason Anderson was fastest and Josh Grant was second, followed by Barcia, Baggett, Brayton Tomac, Seely, Tickle, and Webb. Roczen was 11th.
This Anaheim track would best be described as "busy." It's tight, with lots of obstacles. There were huge whoops here yesterday for press day, but they've been cut down a bit today. It's a long section, though, so they could still get tough if they break down.
Timed practice is coming up next.
First Timed Practice
Adam Cianciarulo has been aces in qualifying this year, he was fastest in every session last week and came in late to grab the top time here. Mitchell Oldenburg was on top for most of the session and Oldenburg was also fastest in the untimed session earlier. Oldenburg's time held up for second. Joey Savatgy was third fastest and looked sharp.
Anaheim 2 (A2) - 250SX West Group A Qualifying 1
Full Results
Eli Tomac! Wow. After not even being able to race last week, he came out with a late fast one to grab the fastest time here. He looked very happy after this one, saying how excited he was to get it back after so many struggles with the shoulder the last two weeks.
Before Tomac logged his fast time the top of the qualifying board was changing rapidly. Justin Barcia's confidence keeps growing, and it shows in a variety of ways. He made sure to jump out on the track first and log the first fast laps of the session--we only see things like that from riders that know they're going to bring some heat. Indeed, halfway through the session, Barcia still stood at the top of the board, with Justin Brayton second. Jason Anderson picked up a sweet new line by nearly singling off into the whoops in a rhythm lane, but then the Honda boys of Roczen and Seely took over the top spots. Then came Tomac's late fast lap.
Marvin Musquin completed the whole session at least, so his shoulder must be doing better. He hovered around the top ten in times for most of the session. So far, so good for the man who led the points just a week ago.
Anaheim 2 (A2) - 450SX Group A Qualifying 1
Full Results
Anaheim 2 (A2) - 450SX Group B Qualifying 1
Full Results
Second Time Practice
Shane McElrath held the top spot at the end of this one, he said it's his first time as top qualifier, which sounds hard to believe. Adam Cianciarulo, fastest in the first timed session, was second on the board but then suffered a big crash in a rhythm lane. His bike went flying and Adam hit the ground pretty hard--and when he tried to get up, he actually went back down to the ground. He was eventually helped off by the Aplinestars Medics. They helped him to his feet but he could barely walk. It didn't look good. We'll update his status when we know more.
Anaheim 2 (A2) - 250SX West Group A Qualifying 2
Full Results
Anaheim 2 (A2) - 250SX West Group B Qualifying 2
Full Results
Anaheim 2 (A2) - 250SX West Combined Qualifying
Full Results
So, did Tomac and Musquin really get hurt? Was that just a bad dream? Tomac held top spot again for a lot of this session before Anderson took it away late. Then Marvin popped in there to take the second-quickest spot!
We talked to Marvin before this practice and he said the shoulder felt pretty good--it wasn't torturous pain out there. His real worry is that the shoulder will fatigue once he has to hammer multiple laps in the races, but overall he's really, really happy with the progress he has made.
Anaheim 2 (A2) - 450SX Group A Qualifying 2
Full Results
One of the interesting things about the Triple Crown format will be the LCQs. The top 18 make it into the night show on times, everyone else goes to the LCQs at 4 p.m. here. Chad Reed, not normally a master of timed qualifying and struggling to start this season with an ankle injury, was out of the top 18 in both timed sessions. He's going to the LCQ. While Chad hasn't been on the top of his game the last two weeks, he's used his veteran savvy to easily advance to the main through the heat races. That's not an option this week--he was 20th fastest and he'll have to go to the LCQ.
Anaheim 2 (A2) - 450SX Group A Qualifying 2
Full Results
LCQs
In the 250 LCQ, Justin Hoeft and Chris Howell were battling for the lead early, but Howell went down. Hoeft held steady from there.
Anaheim 2 (A2) - 250SX West LCQ
Full Results
The 450 LCQ was stacked. Chad Reed was on the line in this one, and in our memory he has never failed to make a main event that he's attempted to qualify for. Chad did what he needed to do, he grabbed the holeshot and ran away with it.
Behind him the battle raged, with Dakota Tedder second, then Matt Bisceglia trying to hold off Kyle Cunningham and Ben Lamay. Cunningham made the pass for third, then on the last lap Lamay was hustling to get up to Bisceglia for the final spot. In the last turn, Lamay sliced underneath in a classic LCQ move, bumping Bisceglia and muscling his way into the final transfer spot.
Anaheim 2 (A2) - 450SX LCQ
Full Results
250SX Main Event 1
Joey Savatgy and Adam Cianciarulo led early in this first main but Christian Craig jumped past Cianciarulo to get up to second. Chase Sexton and Justin Hill tangled a few turns in and got up last and next to last. On lap three Craig started to work on Savatgy, but then Savatgy started to pull away. A tough block got kicked onto the track and Cianciarulo hit it—he got passed by Shane McElrath for third—and then Mitchell Harrison hit it and went flying. Late in the race McElrath was all over Craig for second, which could be critical for the overall later tonight. Mitchell Oldenburg then went by Cianciarulo for fourth. McElrath tried to get Craig and lost the front end and crashed in the first turn, Oldenburg and Cianciarulo went past him.
Up front Savatgy had it under control to score the win. Craig and Oldenburg came through next.
Anaheim 2 (A2) - 250SX West Main Event 1
Full Results
450SX Main Event 2
Justin Brayton got the holeshot in this one but Cole Seely took it away then it was Weston Peick and Blake Baggett. Josh Grant, Eli Tomac, Cooper Webb, Ken Roczen, Justin Barcia, Marvin Musquin, Chad Reed and Jason Anderson came through next.
On lap three Roczen tried to get Webb, Webb stood him up and Barcia snuck past Kenny. Just ahead of that, Tomac went past Grant for fifth, with Seely leading Brayton, Peick, and Bagget. Anderson got around Musquin for 10th. Then Roczen bobbled and got passed by both Anderson and Musquin. With two minutes to go, Baggett got around Peick for third…with Seely Brayton and Baggett top three, the Triple Crown format was making its case. Mixed up results!
Just before the white flag came out, Anderson made a move on Barcia, but it was merely for seventh. Quite the mixed up results here.
Seely made history—and exactly the type of story the Triple Crown was supposed to create—by taking the win. He got a start, he didn't make a mistake, and he held on. The idea was to see new guys get a chance to grab the podium, and it happened, as Brayton and Baggett held on for second and third. Peick was fourth. Tomac made some early moves to get to fifth, but didn't really make up much ground after that. Grant was sixth. Anderson slowly worked forward to salvage seventh, ahead of Barcia, Musquin and Webb. Roczen struggled and took 11th.
Anaheim 2 (A2) - 450SX Main Event 1
Full Results
250SX Main Event 2
Chase Sexton was last at the start of the first race, he holeshot the second. McElrath quick make a block pass for the lead. Savatgy, Craig, Plessinger and Cianciarulo were next. On the third lap Sexton made a quick bobble and lost three spots. Savatgy was now up to second ahead of Craig, Plessinger and Cianciarulo.
Not much action in this one—McElrath had it well under control the whole way. He's going to regret going down while trying to get Craig for second in the first race, because he'll need some help to get tonight's overall.
Savatgy holds a 2-1 for the overall lead right now, ahead of Craig's 2-3.
"I was a little disappointed after that first one, I just got a little impatient," said McElrath.
Anaheim 2 (A2) - 250SX West Main Event 2
Full Results
450SX Main Event 2
Vince Friese with the holeshot, ahead of Tomac and Baggett. In the second tur, Tomac got inside of Friese, and Friese pushed the front end and went down.
Tomac led Seely, Brayton, Grant, Baggett, Peick, Reed, Anderson, Webb Stewart….then Baggett hit the deck. Barcia made a bobble and went off the track, he didn't get a good start and found himself even further back.
Halfway through, the battle started heating up. Grant passed Brayton for third, Anderson passed Peick and then went after Brayton. Then Peick came back! Got Anderson, got Brayton, then Anderson passed Brayton also. Behind them came Barcia and Webb. Then Peick tucked the front a lap later and Anderson went back around him, as did Brayton, Barcia, Webb and Stewart.
Seely was not letting Tomac off the hook, he stayed close until a bobble near the halfway mark which let Tomac get away. Seely recovered though and started to close back up.
Barcia was also making moves, following Anderson through traffic to get to fifth. With two minutes left, Seely was back to Tomac's rear wheel. He couldn't make it happen though and had to settle for second.
Two to go and Anderson made a big block pass—no contact though—on Grant for third. Then came Brayton, Barcia, Webb, Stewart, Peick, Musquin, Baggett and Roczen, who is struggling tonight. Baggett then passed Musquin—despite an early crash Baggett showed some speed to move back forward.
Tomac held on for the win over Seely, but Seely's second puts him in position for the overall. Anderson, Grant, Barcia, Brayton, Webb, Stewart, Peick, Baggett Musquin and Roczen rounded out the top 12.
Anaheim 2 (A2) - 450SX Main Event 2
Full Results
250SX Race Three
Another good start for Savatgy, but Sexton muscled past him, and Kyle Chisholm took advantage for second. Yeah Chizz! Savatgy slid back past for second. Craig then moved passed Chisholm for third, putting him back in contention for the overall behind Savatgy. Terrible start for McElrath in 11th.
On lap three Savatgy cased a jump and Craig nearly snuck by, but Savatgy fended him off. Then Cianciarulo got win the mix, right behind Craig.
Halfway through and Sexton was looking un-rookie-like out front, riding steady ahead of Savatgy. Cianciarulo was all over Craig who was close to Savatgy, and then there was a big gap to the rest of the field.
With five minutes left, Cianciarulo finally made a move on Craig….then Sexton bobbled, he knocked a tough block into Savatgy and Cianciarulo. Everyone made it out okay, barely.
With a minute left, the damn finally burst and Savatgy got past Sexton, then AC followed his teammate through a few turns later. Craig was now right on his buddy Sexton for third with two laps left.
The last lap was tense, as Cianciarulo pressured Savatgy right to the end, and McElrath pulled off a pass on Craig to steal fourth.
Savatgy earns the first ever 250SX Triple Crown win.
Was Savatgy thinking about the overall and being consistent?
"No!" he said on the podium. "You have to treat each race as itself. I was able to get three good starts and that helped a lot."
Anaheim 2 (A2) - 250SX West Main Event 3
Full Results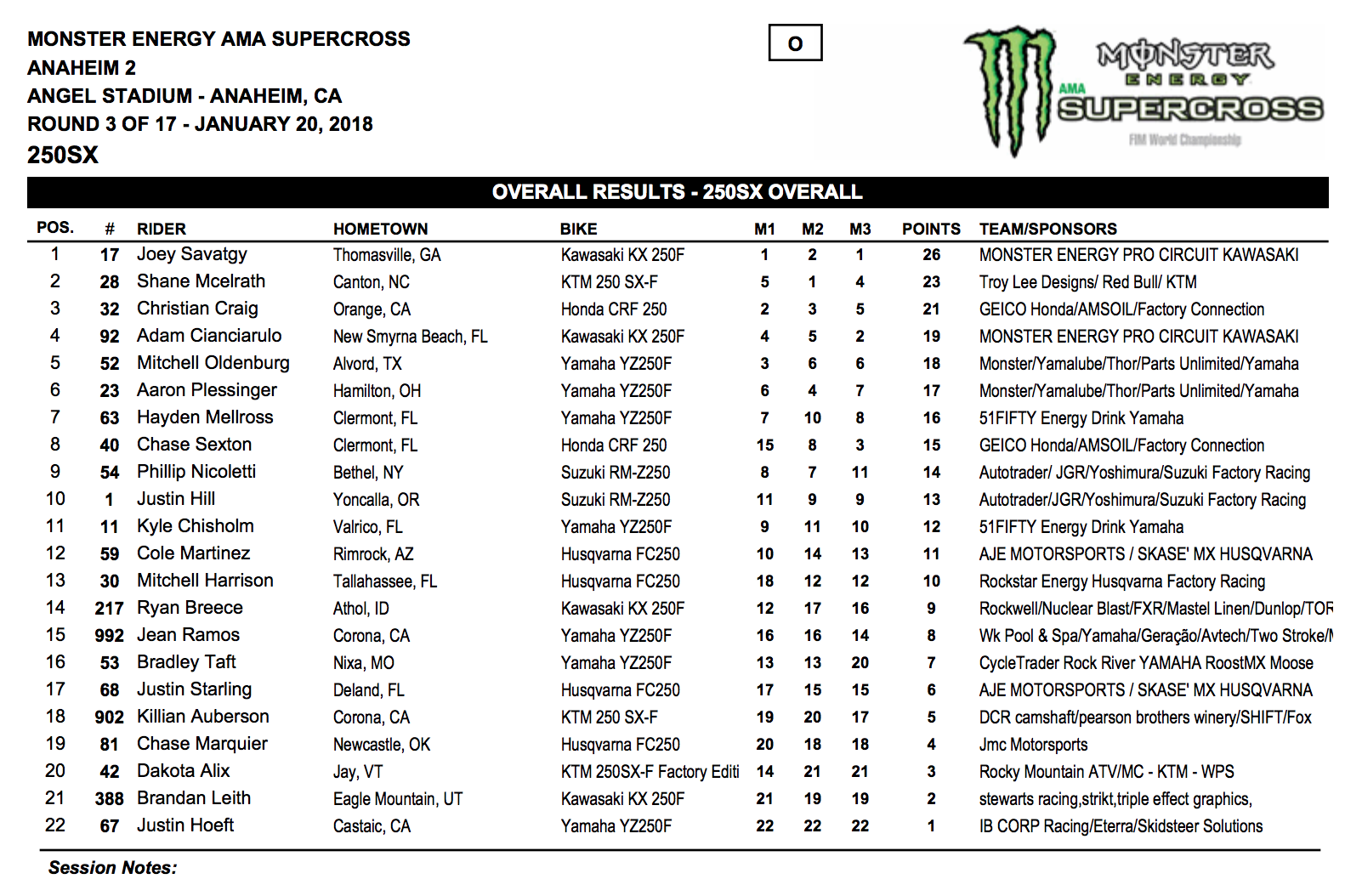 450SX Third Main Event
Tomac, Anderson and Brayton battled through the first few turns, but Seely was way back. He was 13th behind Seely. Seely made a bunch of passes happen early, though.
Tomac, with the early lead, was back in position for the overall but Anderson was putting heat on. Meanwhile Roczen finally came to life and made a pass on Peick for fourth behind Brayton…then Anderson passed Tomac! Moments later, Marvin Musquin pulled off the track, likely due to shoulder fatigue.
The race turned stagnant, Anderson pulling away from Tomac, with Tomac in position for the overall. Seely was not able to make up more ground and was stuck in eighth behind Grant. With two minutes left, Seely got close to Grant and then made a pass on the outside of a berm. It was an impressive pass, but he still had to work on Baggett and Peick. Baggett and Peick were going at it, lap after lap for fifth and sixth.With Seely unable to get them, Anderson won the race but Tomac's 5-1-2 was enough for the overall. What a bounce back!
"Back on track," said Tomac. "I can't really believe it right now. A week ago I couldn't lift my arm halfway above my body. This is good redemption from that crash last time we were here.
"It was tough tonight. The first one you're going out cold turkey so you don't know what to expect. The next two, you have to grind it out," added Tomac.
Anaheim 2 (A2) - 450SX Main Event 3
Full Results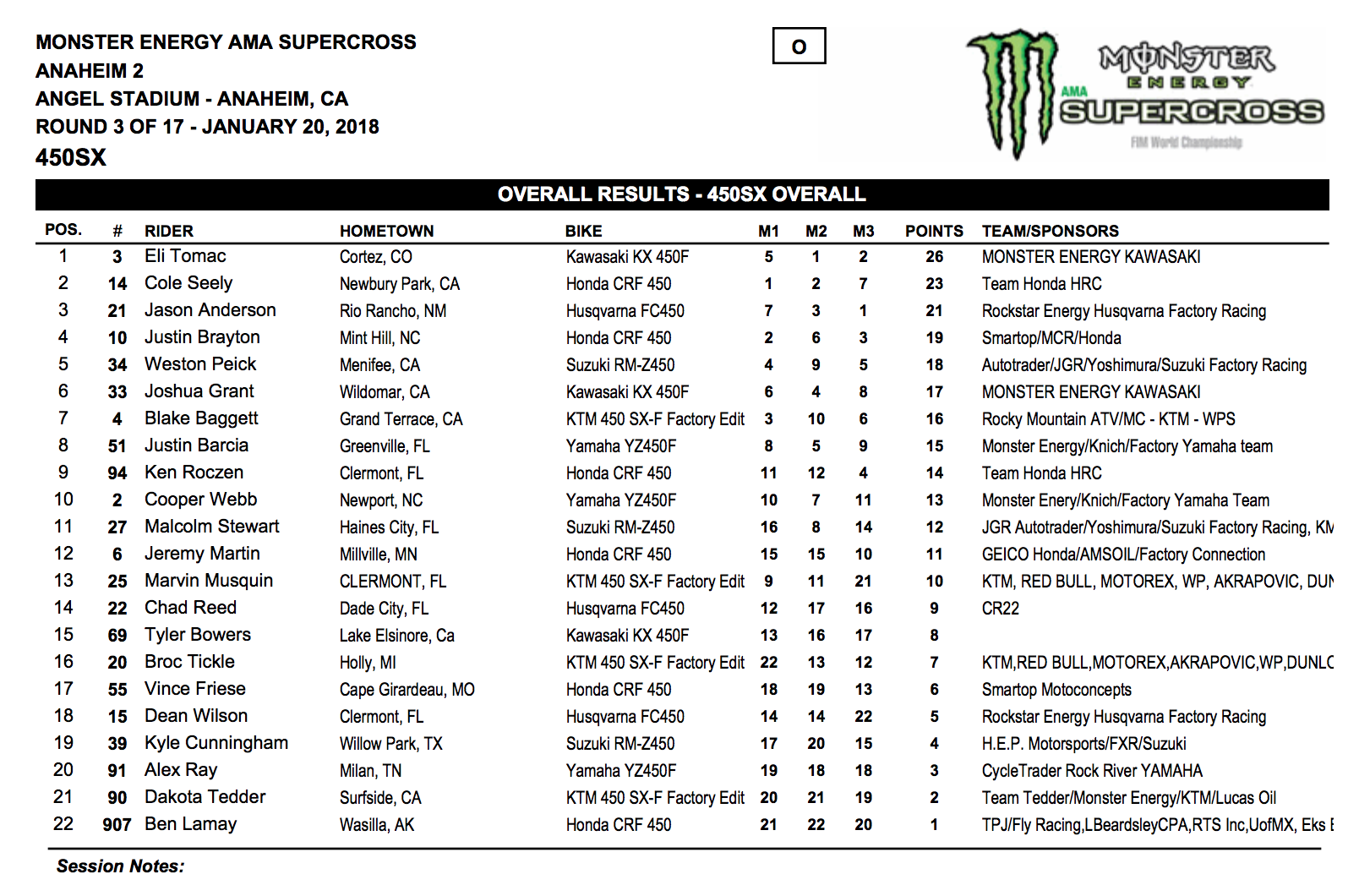 "I felt like I was on fire at first coming through the pack, but then I just ran out of steam," said Seely.
Anderson extends his points lead, Seely ends up second in the standings now ahead of Barcia.
"Those first couple of races I put myself in bad positions," said Anderson. "All in all it was a good night. I think the Triple Crown did what it was expected to do--create a lot of chaos and battling. It was a lot of racing, a lot of intensity,"