Welcome to Racerhead, and a whole new world as far as supercross goes. The Houston Supercross happened without the primary preseason title contenders: Monster Energy Kawasaki's Eli Tomac couldn't go because of his Anaheim 1 shoulder injury, and then series points leader Marvin Musquin of Red Bull KTM went down hard in the whoops in his heat and couldn't go, either. It threw an absolute wrench in probably every fantasy-league points battle, just as it did for the actual Monster Energy AMA Supercross Championship.
How long has it been since a points leader did not line up for the next race in AMA Supercross? Was it David Vuillemin in 2002, after a crash during a magazine photo shoot left him with a bum shoulder and unable to race Daytona? Or was it James Stewart on January 19, 2008, when he was tied with Reed but pulled out due to a knee injury?
Actually, it was Monster Energy Kawasaki's Ryan Villopoto on April 28, 2012, in Salt Lake City. One week earlier in Seattle, RV put his foot down early in the main event and buckled his knee, requiring season-ending surgery. That was the bad news. The good news was that he'd already clinched the championship. Musquin was at the wrong end of the spectrum when he crashed himself out of Houston, just as Tomac—seeming like the de facto points leader at the Anaheim opener based on last year's results and most preseason prognosticators—was definitely on the wrong page of the calendar when he got hurt. And though there's never really a good time for an injury, one in the very late stages—like RV had in '12 (and also one like he said he had in '14, despite winning the last four rounds)—is the way you want to go down.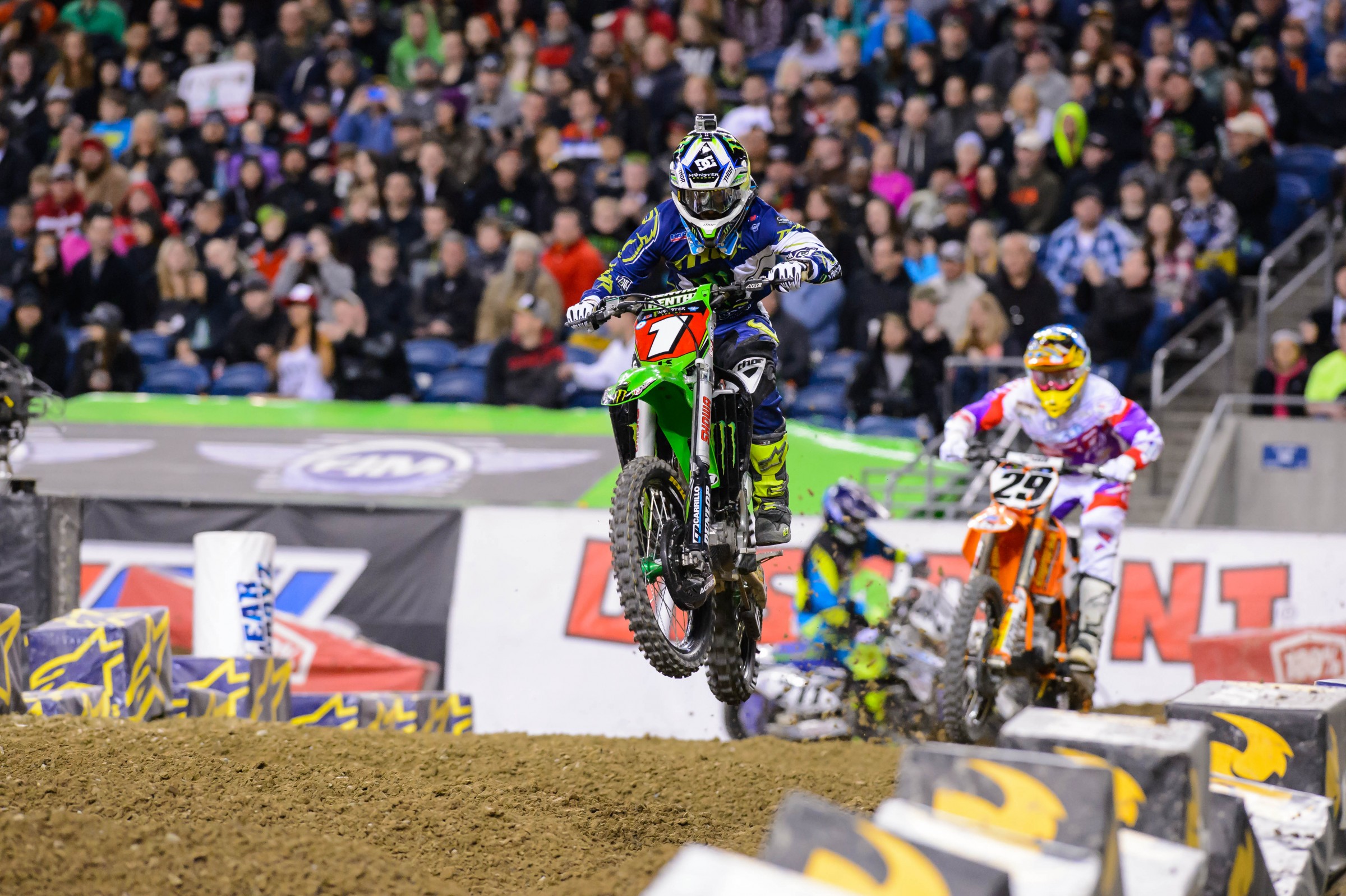 But injuries don't have schedules, as practically every team in the paddock can tell you after just two rounds. Think about it. Kawasaki has lost Tomac, KTM lost Musquin, Rockstar Energy Husqvarna lost Dean Wilson at Anaheim 1, Autotrader/Yoshimura Suzuki lost Justin Bogle long before Anaheim, Monster Energy/Knich Yamaha lost Davi Millsaps (but is no doubt thrilled with Justin Barcia), and Smartop/MotoConcepts Racing saw Jake Weimer get hurt early in the off-season. Only the Honda HRC factory team has been relatively unscathed, but they're just getting Ken Roczen back up to speed after last year's Anaheim 2 crash.
Ours is a dangerous sport, and we're reminded of it on a seemingly weekly basis. Let's hope we're not reminded again this weekend.
DICK MILLER (DC)
Before we go any further, the motocross world and publishing world is all mourning the passing of Dick Miller, the legendary editor of Motocross Action from 1973 to '82. He helped shape the sport as we know it through the pages of MXA, which was truly the bible of our sport during those days before live TV, social media, and the internet. A former racer himself, he had a great ear for language and an eye for photography, and we at Racer X are extremely fortunate to have acquired his archives from him a dozen years ago and continue to share them online constantly.
I was lucky enough to meet Dick through my parents in the early eighties and to sit next to him on a flight to Europe in 1986 for the Veronica Beach Race. I picked his brain for hours about publishing, and that undoubtedly helped me shape the early idea that became The Racing Paper, and then Racer X Illustrated.
Our publisher, Scott Wallenberg, was friends with Dick from even before he went to work at Hi-Torque Publications in the mid-seventies. Scott shared this on his Facebook page:
I am saddened to report that my good friend and mentor Dick Miller has passed away today. He had been suffering with Alzheimer's the last 10 years and it has been incredibly difficult to deal with, especially someone as strong willed and determined as Dick! We first met when I was riding the Nationals. It was at Mid-Ohio and I was also working at a Midwest-based publication called Cycle Times. He was very encouraging to what we were doing for the sport in our area. We saw each other again at some press launches and when my name came up in November 1978 for a possible candidate to join Hi-Torque's advertising dept., Dick and Rick Sieman "Super Hunky" both gave then-owner Bill Golden a recommendation to hire me. Dick became my go-to guy for advice and consultation. We traveled the world together and there was no one I could be more sure of to get through a situation than him. Yes, he was stubborn, opinionated, and at times confrontational. You always knew where he stood. I was there listening when he badgered and bullied the AMA and team managers to enter the 1981 Motocross Des Nations again after apathy (kept Team USA home in '79 and '80). It would take hours for me to go into detail all the cool things he did for me but more importantly to the sport of motocross that I so dearly love. Highlights include his years with Edison Dye and Husky preparing the Inter-AM Series, his years with DKW and his teaming with Preston Petty to Honda's first win on a CR125 in the Baja 1000. Rest in Peace my friend.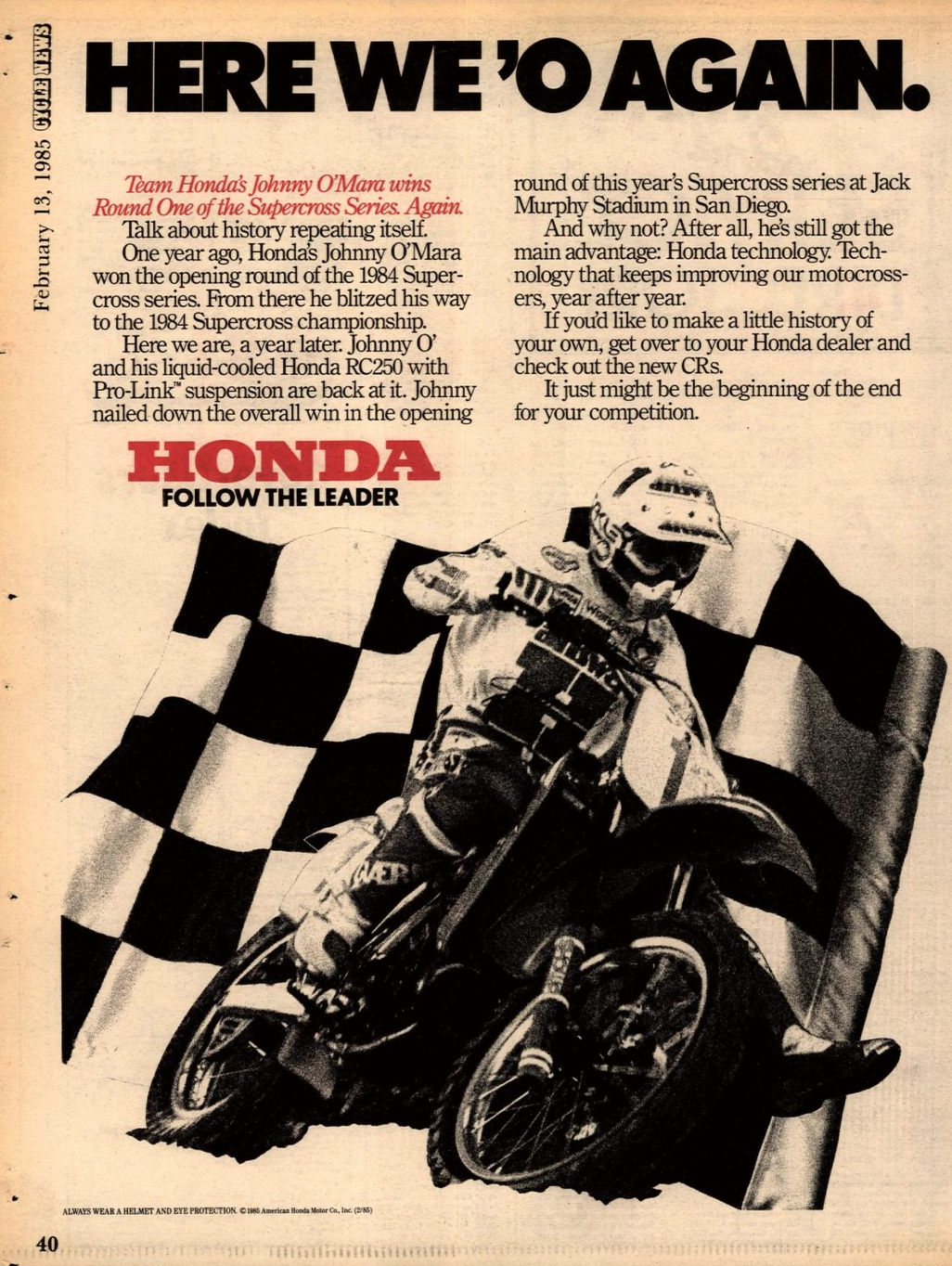 1985 (DC)
The new three-main-event format that will debut tomorrow night as the first Triple Crown race hasn't been done in AMA Supercross since 1975. However, in 1985, for one year only, the AMA/Miller High Life Supercross Series had a two-moto format, with ten laps per moto. The first race was held at Jack Murphy Stadium on January 26, and the moto winners were Broc Glover and Rick Johnson, both for Team Yamaha. However, if you look in the AMA records books or in the Vault, they are listed as finishing second and third. That's because Glover went 1-3, while RJ went 5-1. The overall winner was Team Honda's Johnny O'Mara, who went 2-2 on the night. (Ironically, had the AMA used a scoring system like it does now—26 for first, 23 for second, 21 for third—Glover would have had 47 points to O'Mara's 46. Instead, they used basic Olympic scoring, where a 1-3 and a 2-2 both equal four, with the second-race result breaking the tie.) The change was not popular with all of the riders, according to Cycle News' Kit Palmer:
The San Diego Supercross marked the beginning of a new supercross format which many of the riders did not care for. Besides minor qualifying changes, the most significant change is having two 10-lap mains instead of one 20-lap main, which is the change that is not going over too well with the riders, especially Team Yamaha's Ricky Johnson. He voiced his opinion over the P.A. system saying the spectators are left 'feeling stupid' because they didn't know who finished second or third overall directly after the second moto. Many riders felt the same way. Nonetheless, the crowd was treated to two very exciting 250 mains, and a nail-biter 125 Support main.
That 125 Support main, by the way, was the very first 125cc supercross, and it was won by Kawasaki Team Green rider Todd Campbell over Tyson Vohland, Chad (Trampas) Parker, Bobby Moore, and Brian Manley.
One week later at Anaheim, Glover went 2-1 and got the overall win while Johnson went 1-8, again having a problematic moto that ruined his shot at an actual overall.
The whole '85 season ended in controversy when Ward went down at the last round (in August) at the Rose Bowl in Pasadena and had to briefly ride backward on the track. Yamaha wanted him disqualified, as he had just edged Glover in the points. But the AMA did not penalize Ward, and Glover would lose his best chance at an AMA Supercross Championship to add to his six AMA Motocross titles. (Check out the description from the Cycle News Archives of the whole debacle below.) O'Mara, winner of the first round, would also win that last round at Pasadena, ironically with a 3-1 moto tally.
One year later, the AMA scrapped the two-moto format for supercross.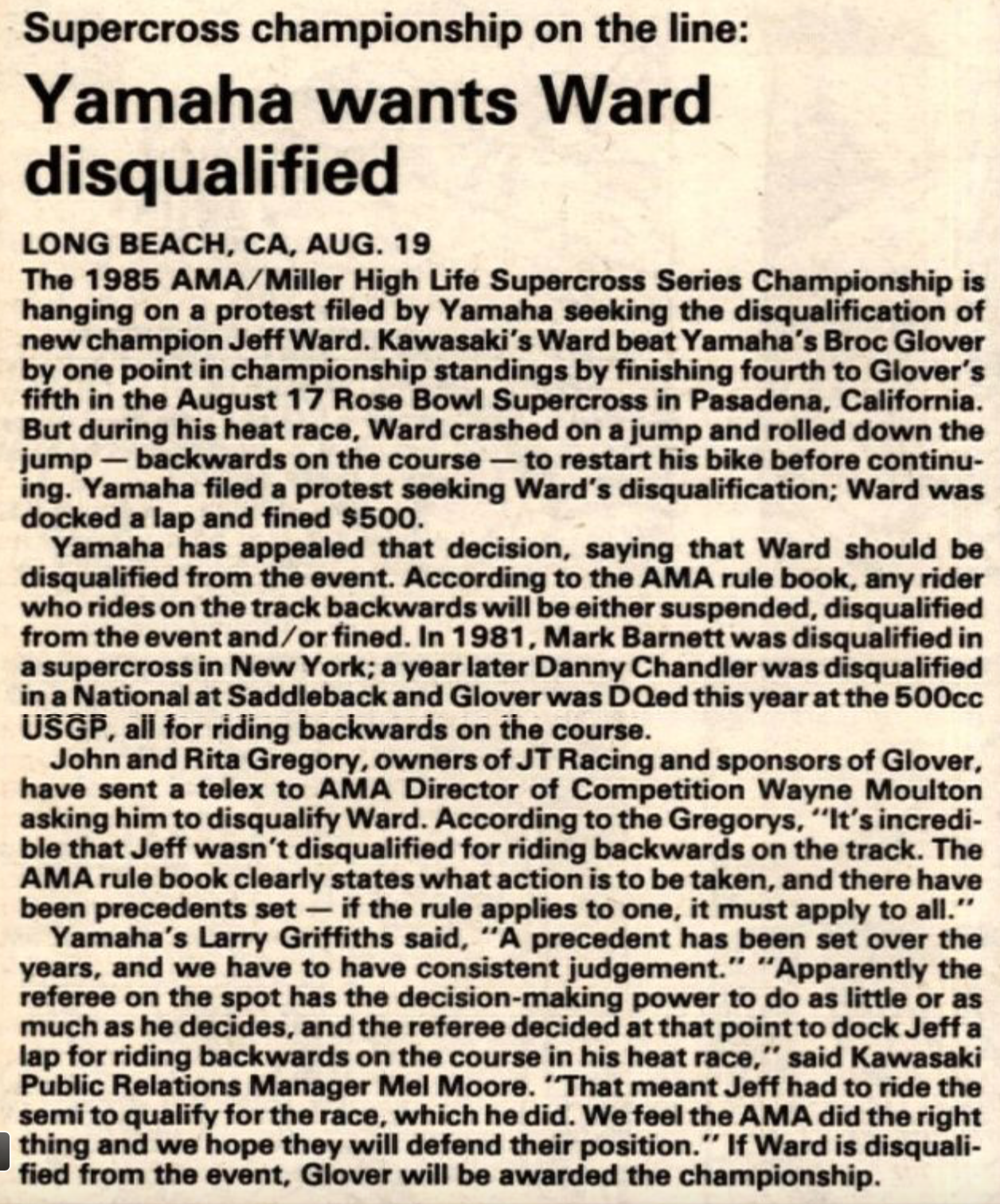 Bad(Ass) Hombre! (Andras Hegyi)
After two rounds in 450SX, the man of the moment is the Rockstar Energy Husqvarna's Jason "El Hombre" Anderson. The man from New Mexico is leading the points after his big win at Houston.
The 2014 250SX West Region Champion debuted in 450SX in 2015. Three years ago, he was second and sixth in the first two rounds. In '16 he was first and fifth, and then in '17 he got two fourths. This year he was second in the season opener, then in the 50th Houston Supercross, he took the win—his fourth career 450SX win. He will now wear the red plate at Anaheim 2, the deepest a Husqvarna has ever led the AMA Supercross points in the premier class. Anderson has also won in three consecutive seasons.
Besides Jimmy Ellis and Ryan Dungey, he is only the third rider to win in at least three consecutive seasons in the saddle of a non-Japanese bike. The 1975 AMA Supercross Champion, "Captain Cobalt" Ellis, was winning between 1975 and '77 in the saddle of the Canadian Can-Am, while Dungey was winning between 2012 and '17 for KTM.
HISTORY (STEVE MATTHES)
It's kind of neat that this weekend our sport is going to experience some history, and I'll be there for it. Forty-plus years of supercross and we've had only a few seasons that didn't have a schedule that called for a 20-lap main event. In 1974, they ran three motos at Daytona and two each night at Houston. In 1985, it was two motos (as DC just explained), and last year, of course, the timed mains came into play. That's it. And now we're going to see three mains in each class! As anyone who's heard or read my stuff over the years knows, I'm a proponent of change. MotoGP, F1, IndyCar, NASCAR, and the big four stick-and-ball sports all fiddle with rules and formats to try to make their sports more entertaining, so why not supercross?
In 2018, very few people sit down in front of the TV and just watch a sporting event from beginning to end. There are too many distractions. Gotta try and grab that short-attention-span generation somehow. Three main events might just do it. I'm not sure, but hey, at least we're trying! I'm stoked for the change and can't wait to see what happens.
As we talked about in our wrap-up pod, I'd like to see the LCQs start the night show off, as they're often the best race of the night. I'm glad that Race Day Live will have them online, at least. Make sure you tune in. Four guys in each class are getting a golden ticket to the mains, and it's gonna be chaos.
Some other news
I talked to a Yamaha team member and inquired what would happen if Davi Millsaps comes back from injury and Justin Barcia, who was on just a six-race deal, is still riding this well. His response? "Well, I guess we'll build a third bike," which sounds about right. You can't let Barcia go at this point, not with how he's been riding. From what I hear, the odds of Millsaps racing again seem remote (he crashed and knocked himself out before the season), but it'll be interesting to see Yamaha expand on its original deal.
If you're looking for a surprise winner in one of the three main events, check out Smartop/MotoConcepts Honda's Justin Brayton. He's generally a good starter, he can go the speed needed for eight minutes (the first main event-time), and he's been pretty good to start the year.
I'd look for Eli Tomac and Dean Wilson to ride this weekend; Marvin Musquin will attempt practice, according to the team.
One thing we do at the PulpMX Show is help the privateers. Whether it's the thousands we've given away with jersey auctions or the sponsorships of helmet stickers, I've tried to help these guys out. Our raffle for Nona was so successful that we tried it again. Thanks to FLY Racing and Flyin Kolors (official helmet painter of the NYK), we've got a brand-new FLY F2 helmet painted up in PulpMX logos and some sort of crazy dinosaur to give away. Tickets are $20, and 100 percent of the money goes to a privateer who scores the most points in the LCQs. Supercross has the Triple Crown; well, PulpMX has the Quadruple Crown! For four races, we take the points from the LCQ riders who haven't made the main, and the winner gets all the cash! We couldn't determine who a privateer is, either, so this is perhaps the best way.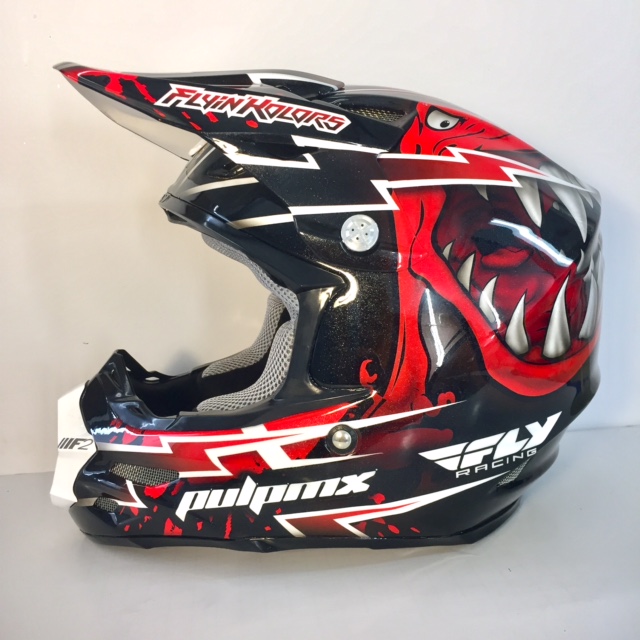 Check it out here and get a $20 ticket. Maybe win a sweet helmet and help out a privateer!
Other PulpMX.com News
Moser "interviewed" Tyler Enticknap about being JUST SHORT for Houston, and Tyler is now the rider on the circuit who's come closest to never making a main event.
Former factory rider and nine-time SX and MX winner David Vuillemin had some thoughts on Houston here.
Kris Keefer looked at Marvin Musquin's crash in the whoops from a few different angles here.
BEING HUMAN (DC)
When Dungey posted this along with a photo of Eli Tomac's #3 Monster Energy Kawasaki sitting still on Instagram, it caught my eye:
It sucks seeing some of the riders we have lost this early into the season. Very few people, and I mean few, know what title contenders put themselves through, mentally and physically, to endure a Championship series. The workload is absolutely ridiculous and only for the obsessed. As I browse social media, it's sad to see what is being said about these athletes from so called "fans." One thing a lot people fail to remember is that these riders aren't superheroes. They are ordinary human beings who have dedicated themselves to perfecting their craft. They are prone to mistakes just like you and I. A majority of the time the mistakes are so nominal but they trigger a series of events that have a 50/50 chance of being harmful or harmless.
Putting it into perspective, imagine being at your office job and every time you made a typo your chair took off and slammed you into the ground. That error that took 1 millisecond to make is what these athletes deal with every time they throw their leg over a bike. 9.9 times out of 10 it's not due to a lack of preparation, pressure, or mental weakness - it's due to being human.
But it wasn't Ryan Dungey posting; it was his brother @blakedungey (whose opportunities to be hired by different brands had to have gone up when Ryan retired!). And Blake is spot-on here.
New Leader (Andras Hegyi)
The GNCC-raised Aaron Plessinger has opened a new chapter in his professional career. The son of Scott Plessinger, multi-time off-road champion both in GNCC and hare scrambles, had already made a name for himself racing SX/MX. He debuted in 2015 and won Rookie of the Year. In 2016 and '17 he became a title contender, winning races. In '16 he finished second in the East Region, while last year he was third in the West Region. Now the Monster Energy/Yamalube/Star Racing Yamaha rider has started the season as a title contender and is wearing the red plate for the first time in his career, and he celebrated with a dance just like he did the first time he won, back in Indiana at Lucas Oil Stadium.
In 2015, Plessinger began with two fifth-place finishes. In '16 he started with a third and a fifth, while in 2017 he opened with a second and third. This year, the 22-year-old has collected his best start ever after two rounds. In the season opener at Anaheim he was second, then he won in Houston. Plessinger suffered a terrible start and needed to come back from way back, which he did for his third career supercross victory. He joins an elite Yamaha group as only the fourth Yamaha rider to win in three consecutive 250SX seasons. Before his success in Houston, Plessinger won in Indy in '16 and Seattle in '17.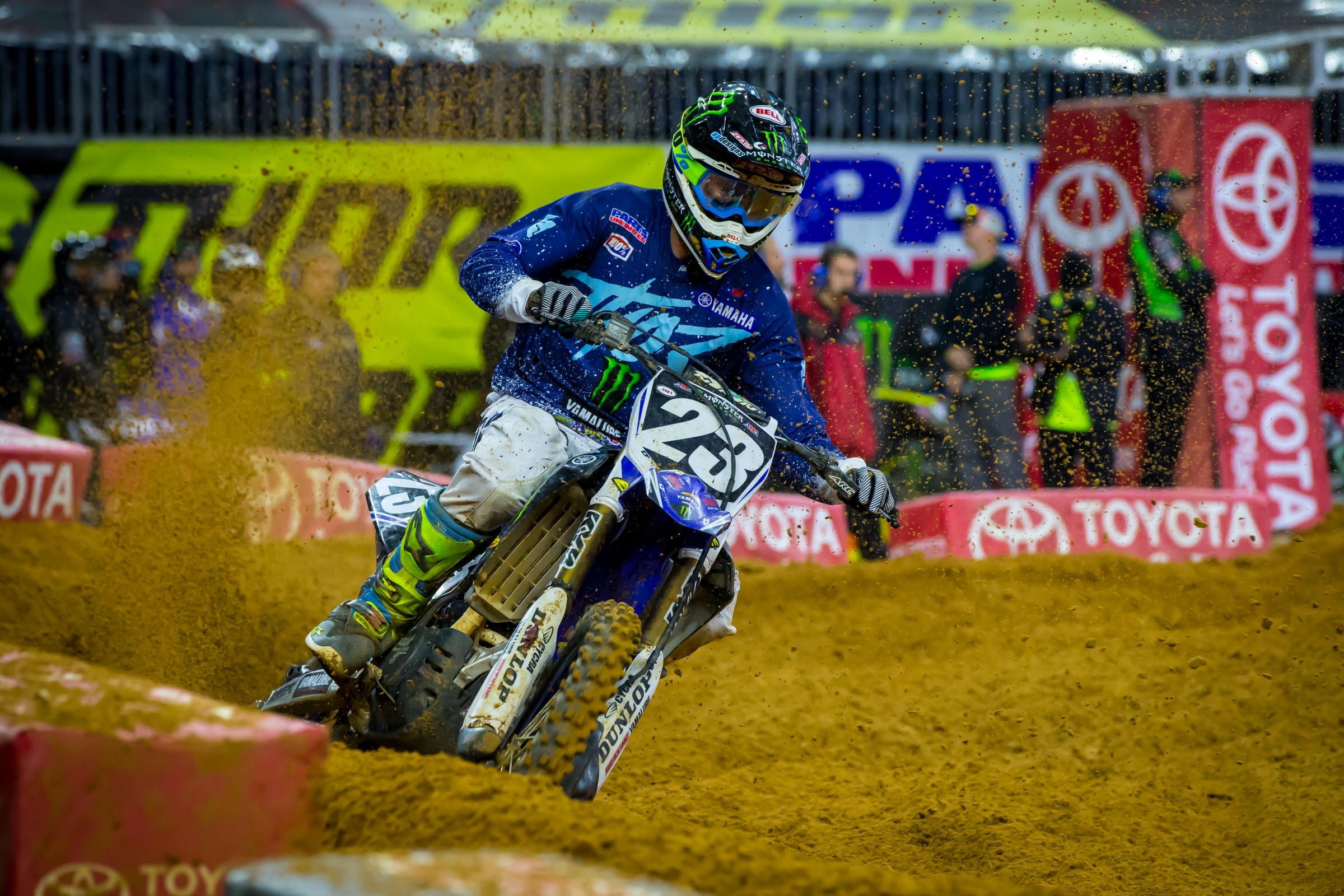 Here are the Yamaha riders to win in this class in three consecutive seasons:
John Dowd (1996-1998)
Ernesto Fonseca (1999-2001)
Jeremy Martin (2014-2016)
Aaron Plessinger (2016-2018)
POINTS PROPOSAL (DC)
Here's an interesting note and concept that I received this week from my friend Rick Conley out in Lincoln, California:
I'd like to see points given for heats races as well. Maybe five for first, four for second, etc, so that a rider can make up points, for a bad previous race, and to also make the racing better in the heat races. This would give the riders something to race for, other than a better gate pic for the final. Also, I would like to see points given in qualifying. Two points for top qualifier, one point for second. Right now, the points system for this year is 26 points for a main event win. If a rider hit the Tri-Fecta in a given night: Top qualifier, wins the heat race, and wins the Main event, that rider would have rcvd the maximum points for the night of 33 points. Riders in bottom half of top ten, or riders just outside of top ten standing, could move up late in the year, and get that top 10 overall for the season, and have more leverage when talking new contract. Same as Outdoors, give same points payout for qualifying there as well. I know the AMA gave points in heat race Supercross before, I think back in the mid '80's.
I'm not sure how I feel about adding extra intensity to the many times the riders are out on the track, but I figured I would share Rick's proposal here to see what others thought. Let us know in the comments!
HEY, WATCH IT
Simon Cudby caught up with Monster Energy/Pro Circuit Kawasaki's Adam Cianciarulo earlier this week:
Dirt Day with Dakota Tedder:
Head-scratching Headlines of the Week
"Aziz Ansari Is Either Guilty of Assault or a Really Bad Date." CNN.com
"Eagles Fan Arrested for Punching Police Horse, Officer Outside Falcons Game" Bleacher Report
Random Notes
What's in the March issue of Racer X Illustrated?
Pick up your copy now and read about the rider we used to call the fastest man on the planet—James Stewart—plus Trey Canard and the highs and lows of his professional career, and France becoming the favorite of the Motocross of Nations. Also read about Monster Energy/Pro Circuit Kawasaki and their 2018 SX title chase, the 46th Annual Thor Winter Olympics, and how Justin Cooper became one of the top prospects in the 250 class this season.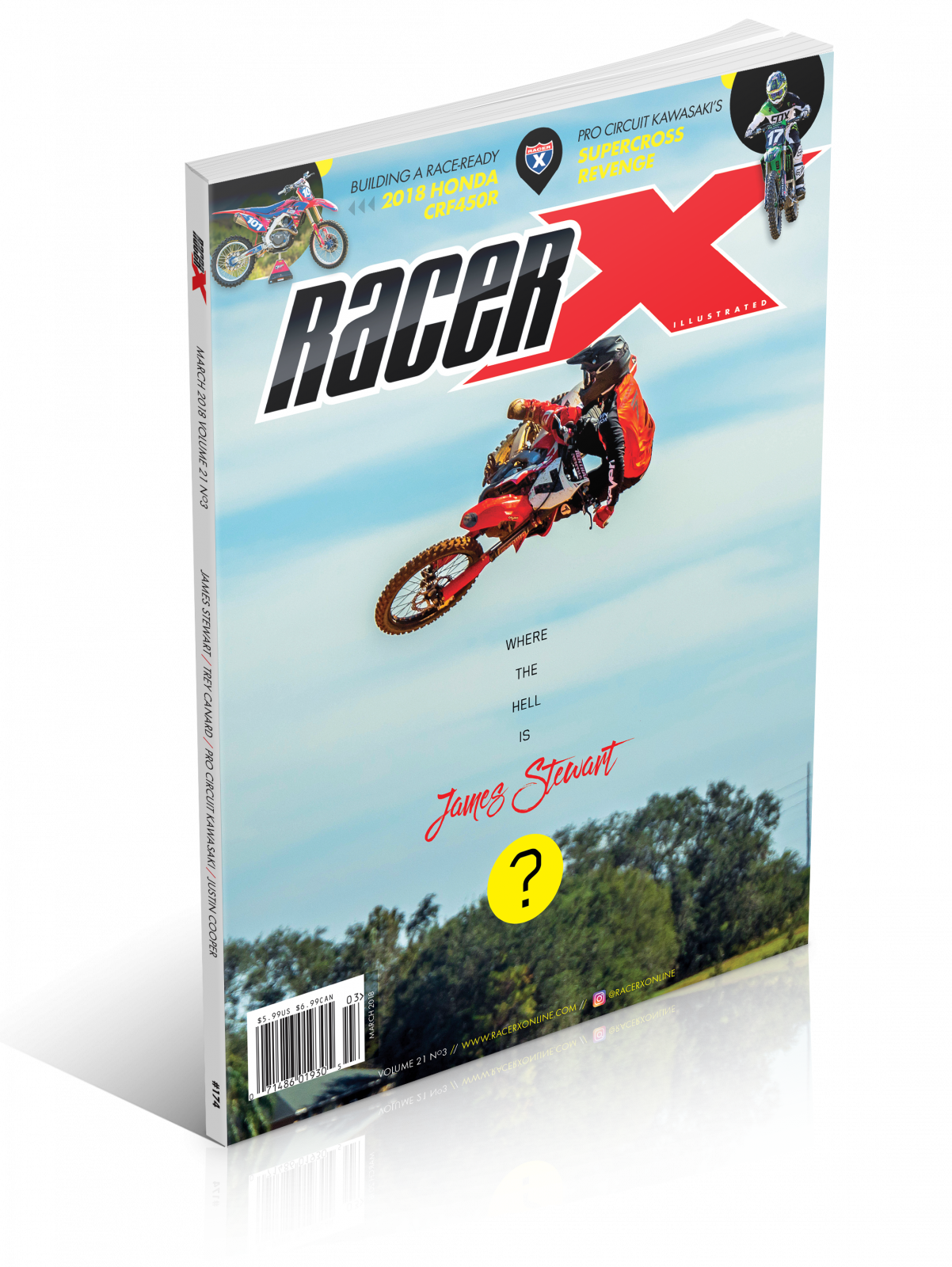 Where the Hell is James Stewart?
We used to call him the fastest man on the planet—is he so fast that he retired from racing without us even noticing? We do our best to find the man everybody's looking for.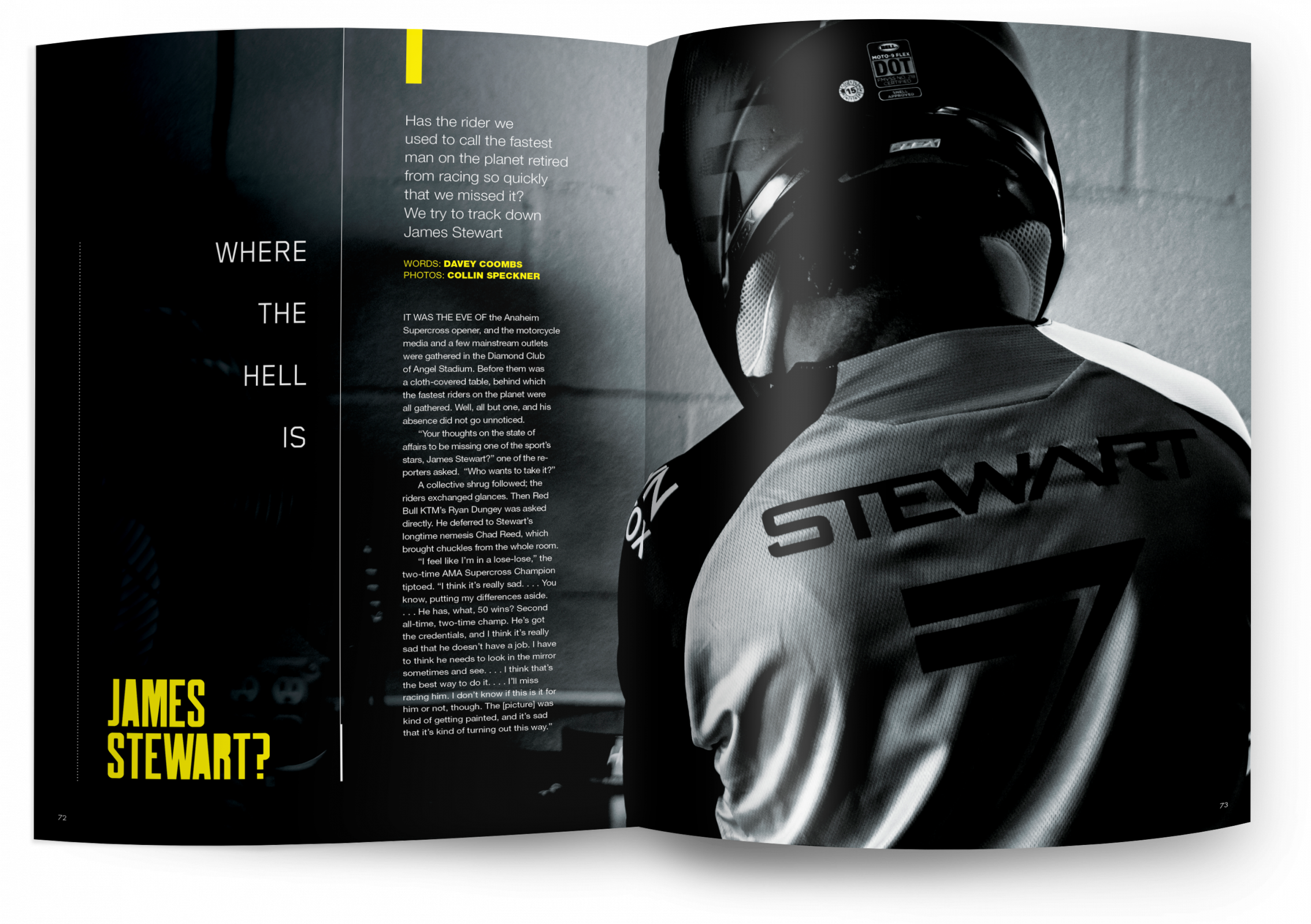 Danger Things
Having announced his retirement at age 26 this summer, Trey Canard candidly discusses the highs and lows of his professional career.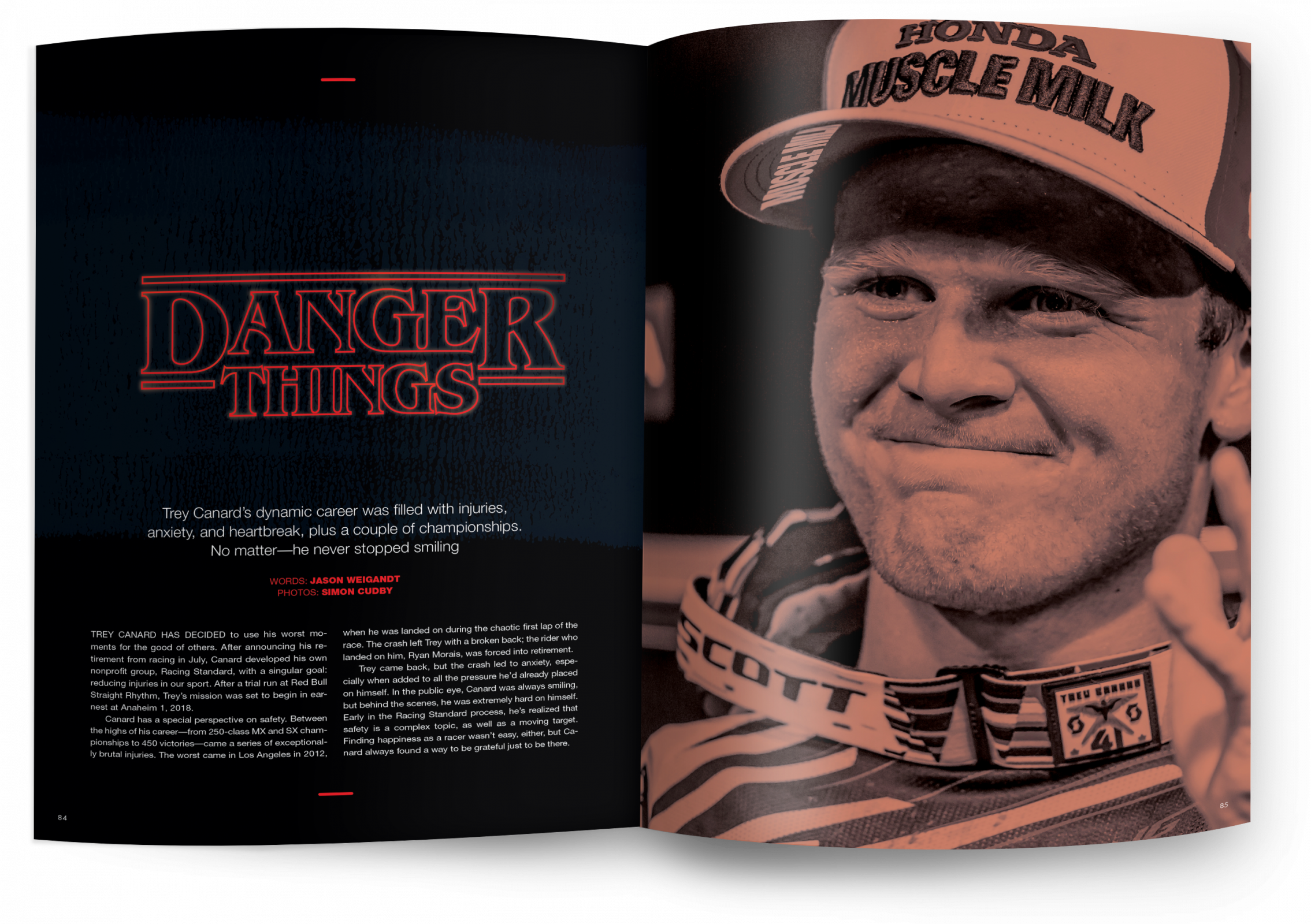 Why France? Why Now?
The era of American dominance at the Motocross of Nations officially ended in 2011, and Team France has become the event's newest perennial favorite. What's the secret?
One More Step
The formidable Monster Energy/Pro Circuit Kawasaki trio of Joey Savatgy, Martin Davalos, and Adam Cianciarulo have all seen titles just barely escape their grasp. Can that change in 2018?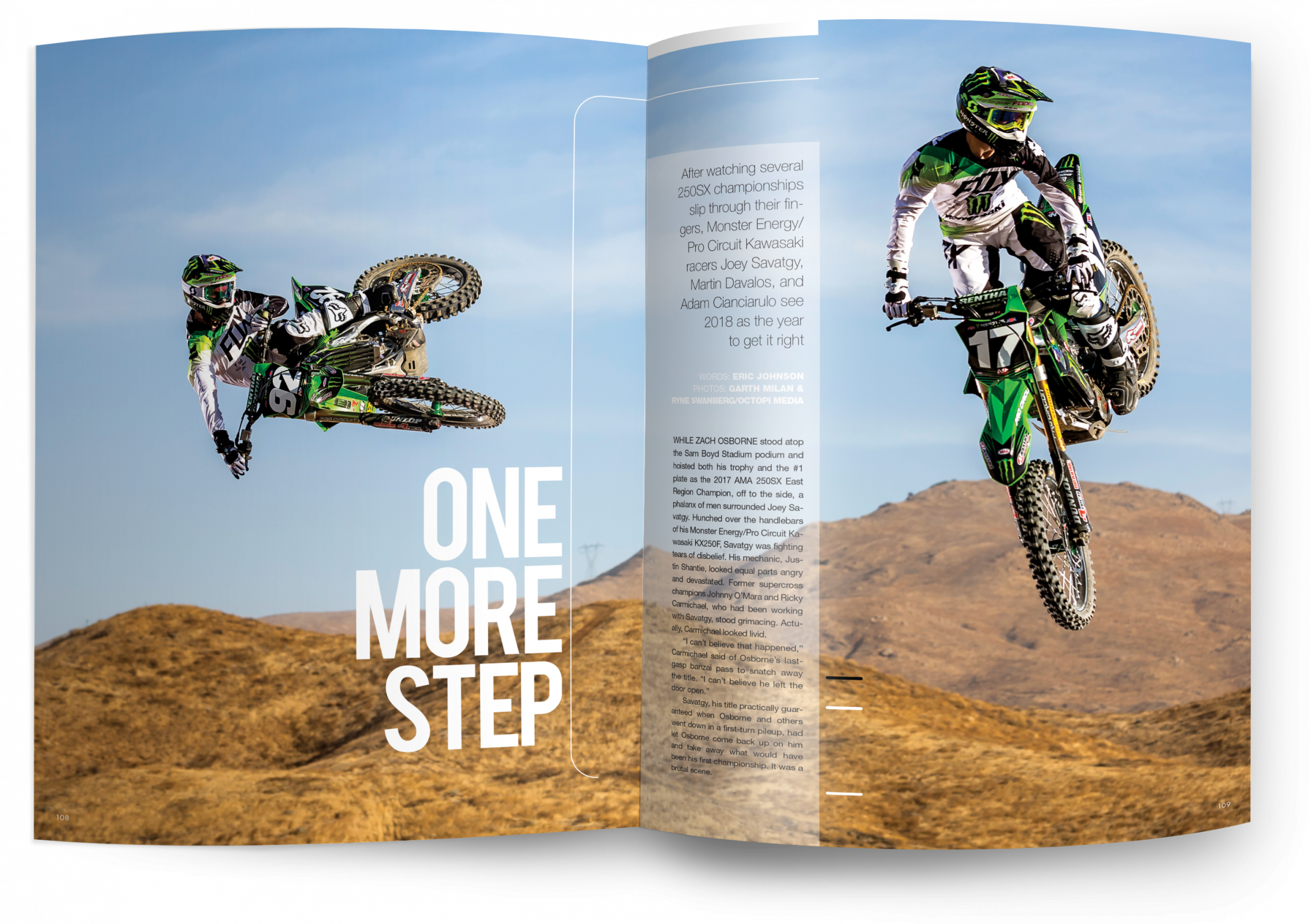 Amateur Hours
We head south for the 46th Annual Thor Winter Olympics—truly one of America's great Thanksgiving traditions.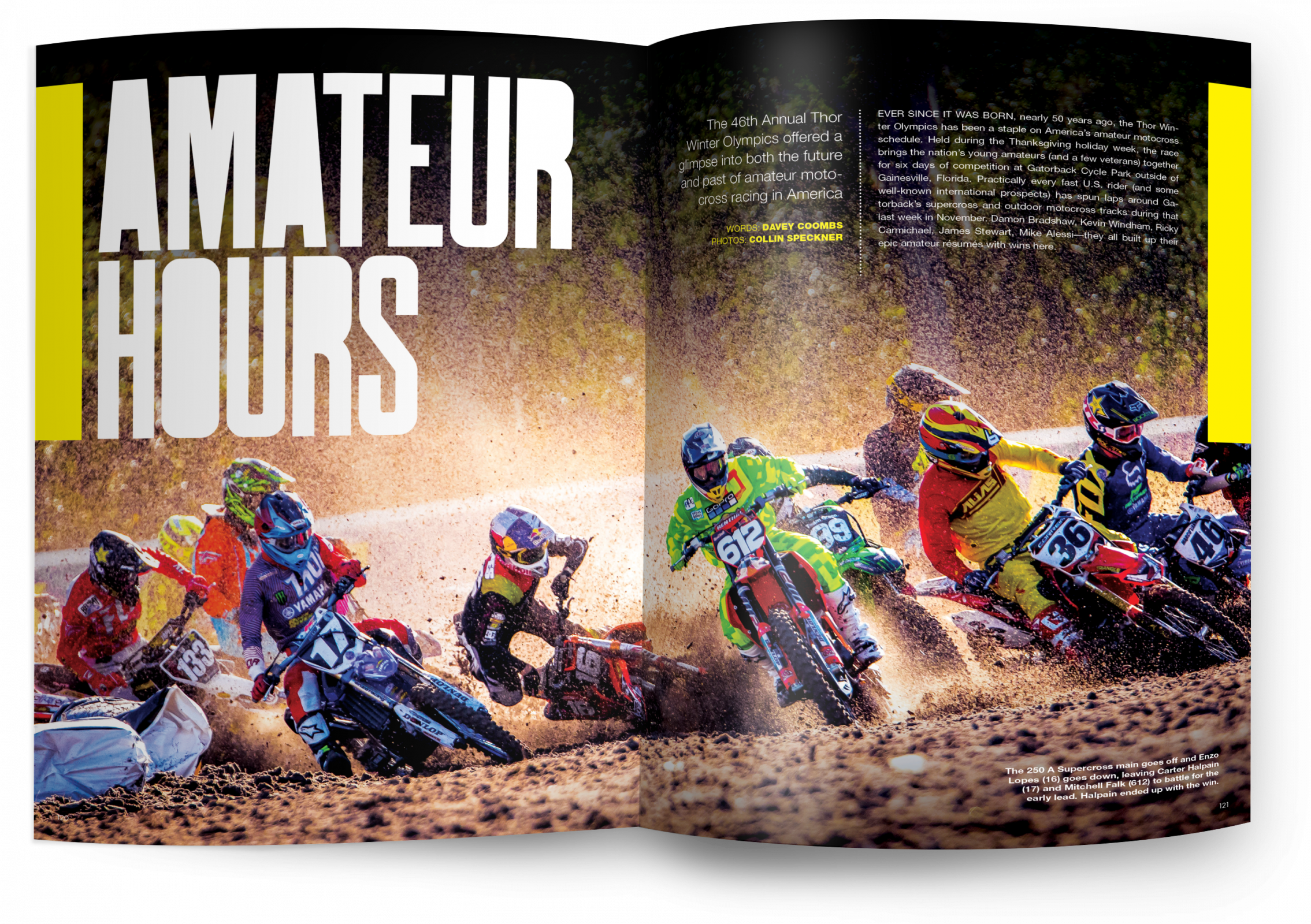 Out of the Blue
How Justin Cooper—a Long Island college kid with a public-school education—became one of this season's hottest rookie prospects.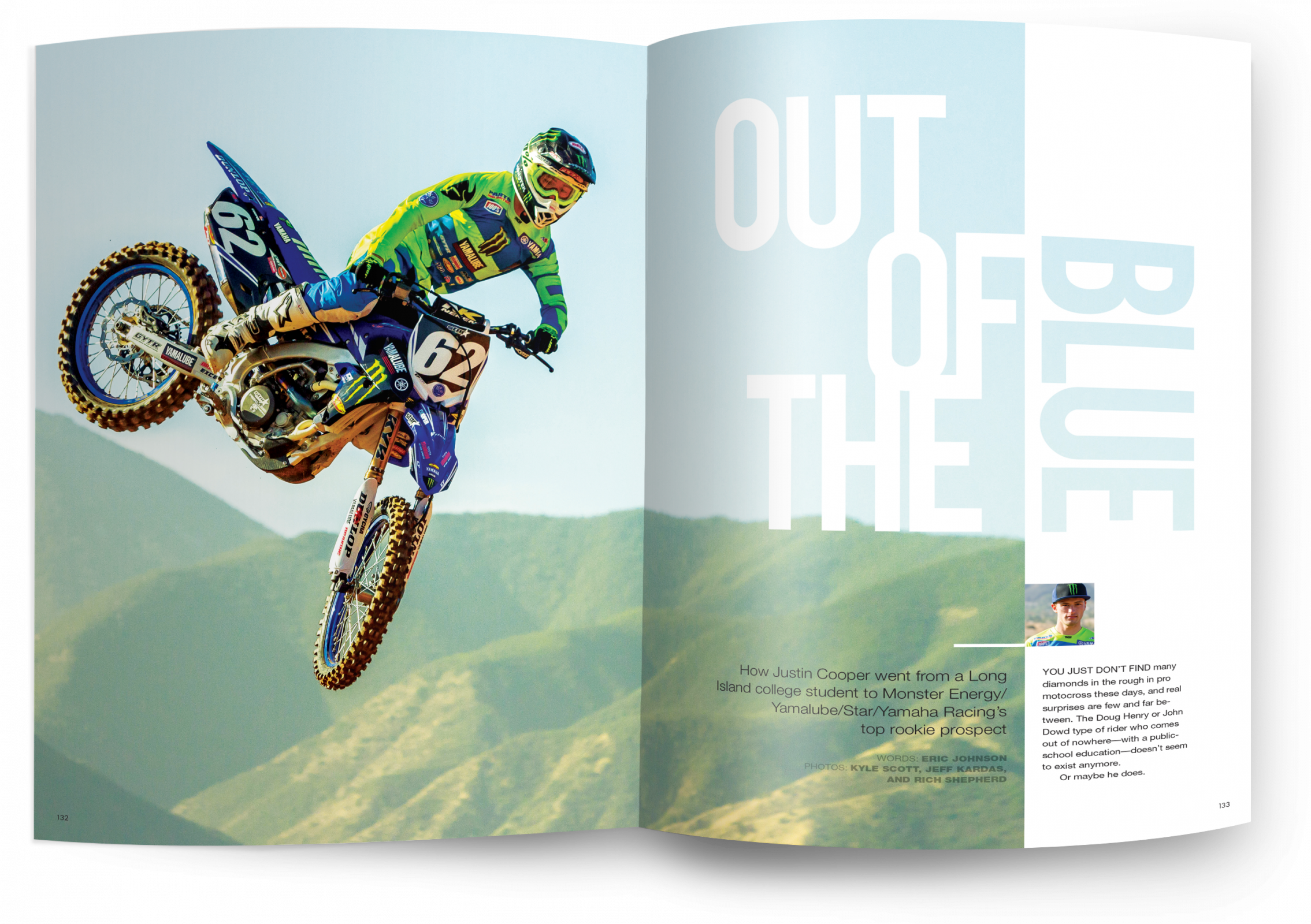 Subscribe now for as low as $9.98 and receive a FREE EVS Gift Pack plus access to our digital edition.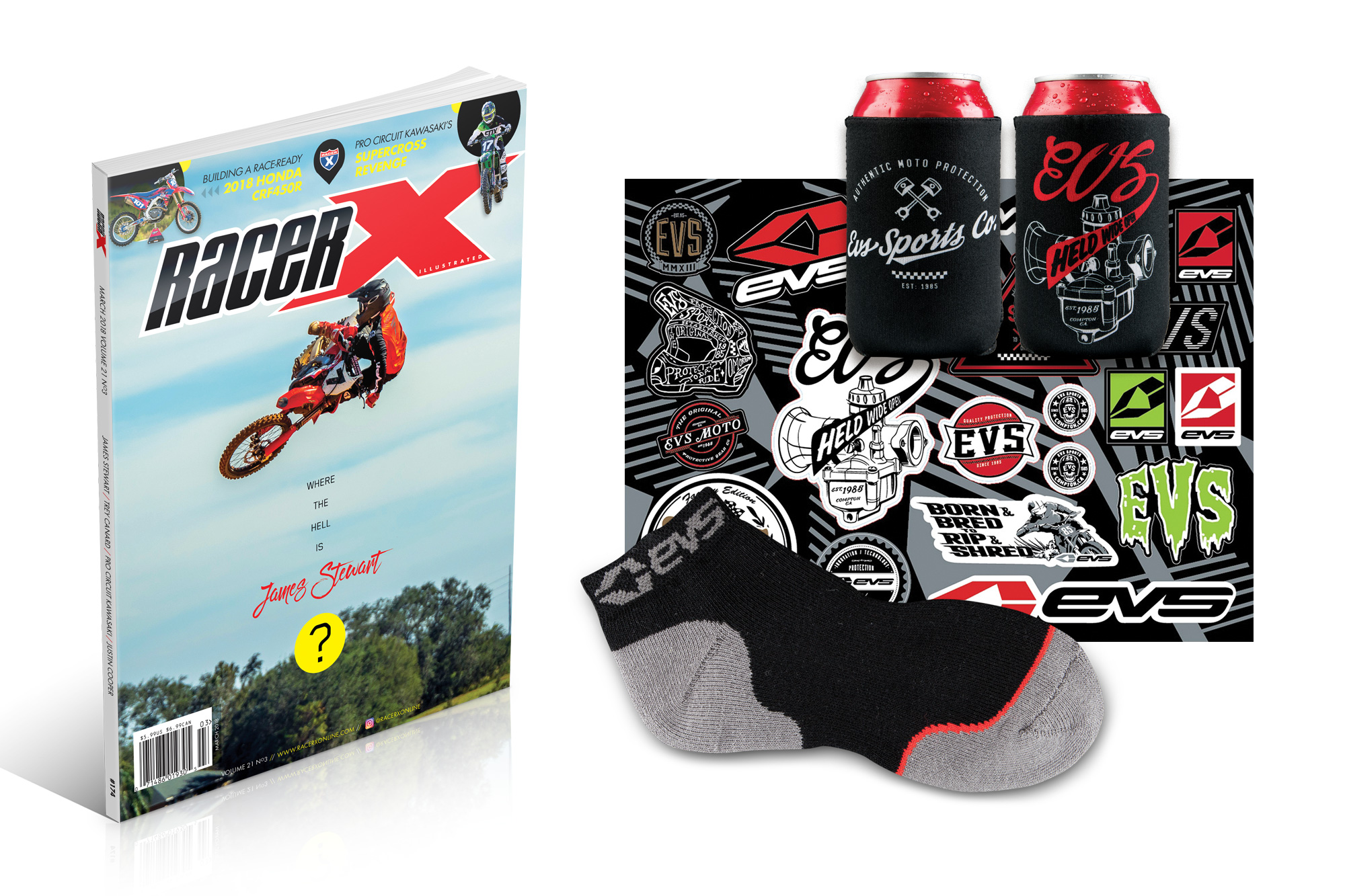 The Legend and Heroes Tour will honor our very own David Pingree this weekend at Anaheim 2. Check out the press release regarding the announcement.
The Legend and Heroes Tour, the only traveling motocross and supercross museum in the country, is pleased to announce that they will honor supercross and motocross legend David Pingree this Saturday night at round three of the Monster Energy Supercross series in Anaheim, California. The Tour stands behind the belief that "We Don't Leave History Behind" and has kept the founding fathers and mothers pure in their thoughts by honoring the men and women who shaped supercross and motocross into what it is today. Each honoree receives a special commemorative plaque during a special podium presentation on the stadium floor before opening ceremonies.
Finally, and sadly, a farewell to Honda of Houston. The iconic Texas dealership is closing its doors for good, according to the press release we received:
Honda of Houston is closing its doors after nearly 24 years of supporting and encouraging Honda customers.
Opening in 1994, Honda of Houston charged into the metropolitan-Houston marketplace with creative ideas, huge displays, and a Texas-sized desire for customer service. Not content with satisfying Houston customers, Honda of Houston Racing ventured as far west as California, as far east as Florida, and as far north as Tennessee and Missouri. The Texas dealership jumped headfirst into amateur motocross support with such fantastic young riders as Josh Grant, Wil and Tommy Hahn, Jake Weimer, Tanner Krannenbuhl, Adam Chatfield, and many more. The dealership crew even found enough time to run the Lake Whitney Motocross Park for ten years. Lake Whitney was one of the greatest tracks in Texas motocross history. Today's stars and many of the past champions of American motocross all did laps at the Honda of Houston version of the Lake Whitney Motocross Park. This Texas dealership has always been committed to the Honda customer, the Honda Brand, and to the powersports enthusiast.
As a Honda-only dealership, Honda of Houston again jumped headfirst into American Honda's Powerhouse Dealer concept. Honda of Houston was always and truly "All Honda, All the Time." The dealer principal and the entire staff of Honda of Houston are extremely proud of their legacy and what they gave to the powersports community. Honda of Houston hopes that they are leaving an industry and a community just a little better than they found it in 1994.
Support your local dealer.
#28
Honda of Houston long sponsored riders and racers. They had a wonderful impact on a lot of families and racers, and they will be missed at the races.
Thanks for reading Racerhead. See you at the races.