Winchester, United Kingdom
Motocross of Nations
Motocross of Nations
Well, it's all over but the crying. As we all know, Team USA lost the Motocross of Nations for a sixth straight time this past weekend in England and like Lommel a few years back, it wasn't even close.
We all know the ins and outs of this team, how Eli Tomac turned it down, how Jason Anderson, Blake Baggett, and Cooper Webb were hurt and all that. Zach Osborne, Cole Seely, and Thomas Covington were the ones that stepped up for the red, white and blue and tried their best. But, sorry not sorry, it was always going to be a stretch for this squad to win the event. After Saturday when Osborne rode amazing, Covington rode very well, and Seely did what he did, I was predicting podium for USA and with some luck, maybe a win.
But when the rain came Saturday night and then it drizzled for most of the race day, the Matterley Basin track turned into a rutty, slippery mess, and it was over for the Americans. They just simply aren't as good at that stuff as the European racers. The same thing would be the case in reverse if a bunch of world class MXGP racers showed up at Anaheim SX—they simply aren't as good at that stuff as the American guys are.
This was the 10th consecutive year I've attended this race and, I must say, the weather really changed things this year. It wasn't a fun experience for anyone, really. The pits were muddy and flooded, it was cold, everyone was working hard to stay dry, get the bikes ready and prep everything. Also, the media and pits were on a different side than where most of the fans were and you felt a bit disconnected from the whole thing. It reminded me a bit of Latvia a few years ago.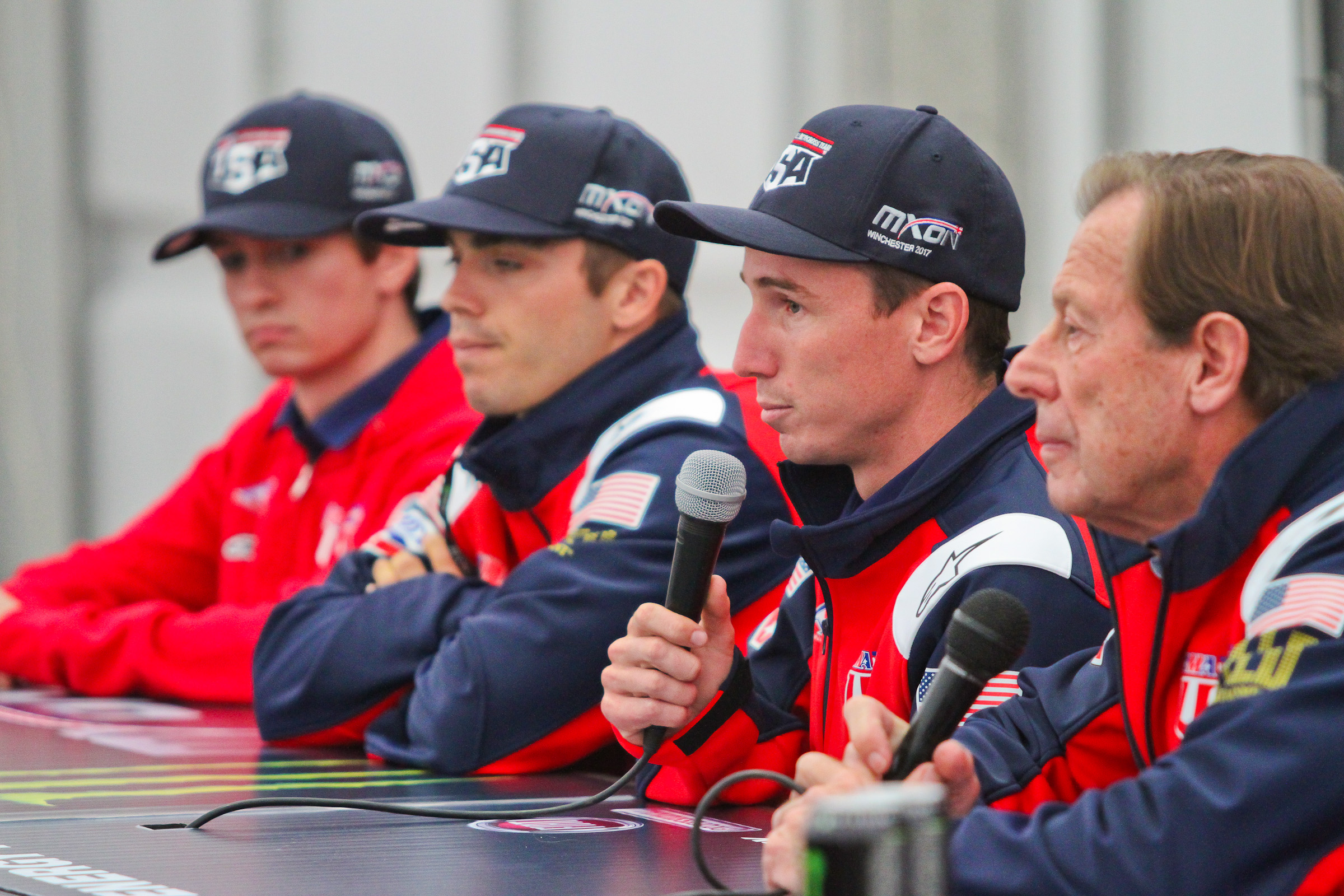 Osborne was the star of the USA squad with a couple of gritty rides to come through the pack. First moto he got a decent start but had goggle issues right away. From there he rode well to finish third in MX2 and 10th overall. Second moto he was third overall and first in MX2 after working his way from around 10th or so. He was swapping spots with Australia's Hunter Lawrence and then benefited from Lawrence crashing late in the race. Osborne came up one point short of the overall win and was very good.
Up until lap five of his qualifying race on Saturday, everything was going fine for Thomas Covington. Despite never racing a 450 as a professional, he was fourth in practice and then riding well in fifth in his qualifying race. He had even passed Dean Wilson. Then the dreaded lap five struck, he tore his ACL and started dropping back from there to ninth. Of course we didn't know this at the time but he was getting his knee heavily taped every time out. His races didn't go so well, he fell in the first turn one moto, he started way back in the other and crashed, and all in all, it wasn't a good race for the rookie.
But it could've been worse. He could've been Cole Seely! The Honda rider looked out of sorts all weekend long and admitted on the Pulpmx Show that he just couldn't find his flow and get it going in the mud. He went backward in the one moto he got a good start in, but both motos his shock spring came off when mud packed in there and forced the retainer clip that holds the spring to come off.
The two DNFs were almost a bit of a break for Seely as he didn't ride well in the mud and to his full credit, he owned that. He would've been way back in both of his motos had he not been forced into the pits. Seely rode great at Unadilla in the muck earlier this year but this was different—it wasn't a total mudder with water everywhere, it was the perfect amount of rain to make it really tough.
Props to Honda for releasing this statement about what happened on the bike. I mean, I kind of figured it out on my own, but not everyone has the advantage that I have as a former wrench. It's a very transparent and open way of treating the fans of the sport respectfully.
So USA had one great ride, one guy tear his ACL on Saturday, and two DNFs. It's a wonder the team finished inside the top 10, right? If you're counting, this is three years out of the last four that a member of the team got injured (Jeremy Martin broke his foot on Saturday a few years back, Jason Anderson broke his foot and then got landed on last year). It's as if the moto gods are getting the USA back for those 13 straight wins. There were plenty of times in that streak where USA was fortunate to win with other countries running into trouble. It's all coming back around now for the red, white and blue.
I don't care who wins this race. At all. I'm Canadian. I just want to see some good racing and let the chips fall where they may. If the USA sends its three best riders, something that's only happened once in the last six years, then they are the odds on favorite to win this race (unless it rains!). It's that simple. Until the American teams, riders, and sponsors start putting importance on this race, then I'm afraid I see this USA winless streak extending for a while. Next year the race is at RedBud and if it's ever going to stop one would think it's right there— depending on who goes.
Great racing is what we saw though in a couple of motos. Max Anstie rode amazing to go 1-1 in his motos and what a feeling it must be to do that in front of your home country fans. I don't know what got into Mad Max but whatever it is, he's got to try and bottle it and sell it. He beat World Champs Romain Febvre and Jeffrey Herlings in the last moto with a fall!
Anstie's work was enough to get Great Britain on the podium for the first time in 20 years. Yes, you read that right. I was surprised at this stat; I knew they hadn't won since '94 but there have been some great GB riders over the years that hadn't gotten on the box. Dean Wilson was good, Tommy Searle had a tough time, but with Mad Max coming through, the Brits did it in front of their home fans. Congrats to them. Also, Wilson's O'Neal Union Jack stuff was the clear winner of the Lit Kit.
Oh yeah, France won again! Four years in a row is impressive and the team has done it with four different line-ups. Gautier Paulin has been there for all four, Romain Febvre has been there for three and after that it's been Steven Frossard, Benoit Paturel, Dylan Ferrandis, Marvin Musquin, and now Christophe Charlier, who gave up motocross to become an enduro racer and in fact won the ISDE for France earlier this year. Yes, despite that, they won. I'm serious. Great job for these guys and man, I thought the loss of Musquin and Ferrandis and then Paturel along with Febvre's very down season was going to be enough for them to be dethroned.
The Dutch were second for the second year in a row led by Herlings going 1-2 in his motos and Glenn Coldenhoff and Brian Bogers being very consistent. Bogers and Charlier are a couple of guys in MX2 that really outperformed expectations. That's what this event is all about, you see it time and time again. Riders get a start and make their mark at the MXoN. Pretty cool to see and it's what makes this race special.
With the track and weather conditions it was amazing to watch Anstie, Herlings, Febvre, and Paulin out there. These four guys looked to be riding as if the track was dry. Everyone else was struggling. They definitely separated themselves from all the other riders and it was impressive. Yeah, they got great starts so that helps but still, these four dudes were so good.
It doesn't matter who lines up for the Belgians, they're good at this event. They were missing two out of their original three riders selected and there they are, fourth place. That's just what they do. Produce solid results at this race year in and year out.
Oh man, Australia has been a country that's been a bit snake bitten at this race over the years. Other than a third a few years ago, the Aussies have had some bad luck mixed in with some great rides. This year Hunter Lawrence was the story. He's been great for the last month and a half and took the MX2 overall. Kirk Gibbs had a fantastic moto in the first one with a fifth and Dean Ferris, well he's always great at this event, right? Well, not this time. Ferris had an off weekend and told me he wasn't feeling it with his settings and couldn't get going. His second moto start was so bad. He was on the inside and the gate dropped, bounced a few times and it seemed then he let the clutch out. Gibbs crashed in his second moto and combined with Ferris's bad day, the Aussies just managed a sixth. Oh what could have been.
My country, Team Canada, had a decent day with a 13th and I'm fine with that. My only desire for Canada is to walk into the A main every single year and then let the chips fall where they may. Last year Kaven Benoit rode amazing to help the team to a 10th, this year they didn't have that standout ride and got a 13th. Not great, not bad—kind of like peanut butter cookies. You don't hate them but you're also not in love with them.
Thanks for reading everyone, appreciate it and email me at matthes@racerxonline.com if you want to chat about this race or anything else.