Winchester, United Kingdom
Motocross of Nations
Motocross of Nations
1. Which country is your favorite to win?
Jason Thomas: Tough question and this has changed a few times for me in the weeks leading up to the event. Before they lost Dylan Ferrandis, Marvin Musquin, and then Benoit Paturel to injury, France was my heavy favorite. They had won the previous three years and looked ready for a fourth.
They still might have the edge going in but Christophe Charlier is now the big question mark. If he can put even one solid moto together, they might be standing at the top of the podium once again. I will take France as the favorite simply because they have won three in a row and have two championship worthy MXGP riders at the helm.
For the USA, we went through several scenarios before we landed on our current team. We all know the riders we don't have available but the riders that did accept the challenge are ready. Zach Osborne is the anchor and will need to post low scores in both motos for any chance to win. Cole Seely and Thomas Covington are both wild cards in new situations, but with other teams dealing with their own uncertainty, USA is much more in the running than I initially thought.
Team Great Britain is in their homeland and probably would be the favorite if Vegas were laying odds. Dean Wilson is in his best form in years, Max Anstie has been on fire in recent MXGP rounds, and Tommy Searle always seems to raise his game for the event.
Steve Matthes: I think my favorite with slightly better odds than USA and France is the hometown guys of Great Britain. We've seen the Americans rise to amazing heights when this race is in America; we've seen the French put on a clinic in front of their home fans two years ago (sadly the Latvians weren't able to use the fans to their advantage a few years ago) and I think the same will happen this weekend in England. Wilson, Anstie, and Searle are all really solid and Searle's never had 450 success like he's had on the small bike, which he's on this weekend. France and USA trail slightly behind GB in my eyes to win this race.
(Side note: I don't know why I'm not taking The Netherlands more seriously as a race winner; maybe I'll be shown what's up. Could be Glenn Coldenhoff's massive glasses.)
David Pingree: I'm going with the USA on this. I know that might seem crazy since we don't have our "A" team going—yet again—but I'm still a believer. The top teams have been decimated with injuries, which opens the door for a surprise winner. So, why not our guys? Covington is winning races and he's done well at Matterley Basin before; Zacho is a beast and I can't see him not winning MX2; and Cole is a good starter who can step up when he needs to. I think our guys get it done.
2. Which country could surprise?
Thomas: I think The Netherlands could be the wild card here. They have arguably the best rider in the race— Jeffrey Herlings—and he might be able to throw a 1-1 on the board. If Glenn Coldenhoff can nail the starts like he did at Maggiora last year, and they sneak a solid moto out of Brian Bogers, they could shock the world. I don't think they are going to get the same "buzz" as some other countries, but they have a legit shot to win this.
Matthes: I think the country that could surprise can't be the Dutch like JT says—they got second last year! Look for the Aussies to be sneaky good at this race. MX2 rider Hunter Lawrence has been on a roll the last month or so and will be very good. Dean Ferris has had a good year and Kirk Gibbs has a good name—like an action hero or something. The Aussies didn't have a good event last year but I think they rebound and surprise this year. Enough to get on the podium? No, I don't think so, but they'll be good.
Ping: I think GB will be really good. Deano is firing right now, Anstie has been fast all year, and if Searle can post even one good moto they could win it at home. God help the local pubs in town if that happens.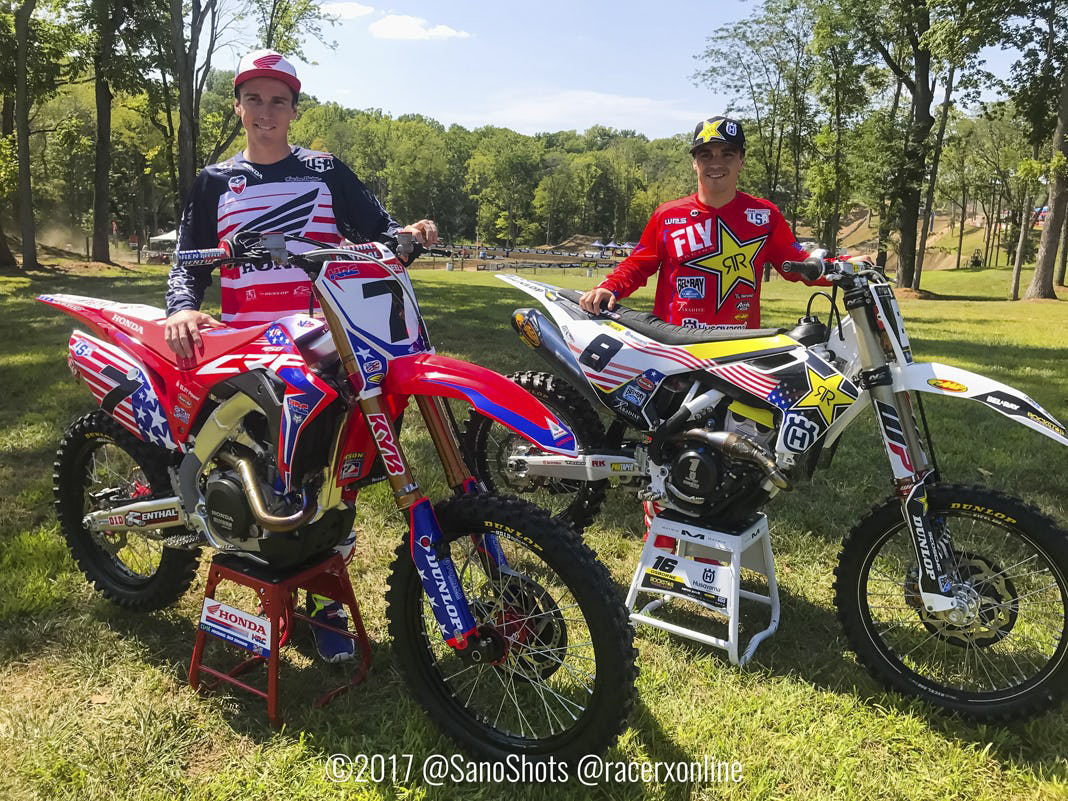 3. Name your podium
Thomas: I am still struggling with this but I guess that makes any guess a good guess for now. It also means we should be in for a real doozy this weekend. Not knowing who will win is what makes racing great.
1.) France
2.) Great Britain
3.) USA
Matthes: Ok, fine. These picks are subject to change at any time so don't hold me to it.
1.) Great Britain
2.) USA
3.) France
Ping: The Duthmen get on the board here because I'm pretty sure Herlings wins both of his motos, Coldenhoff could put solid scores up, and if Bogers (whose name I just love saying) can pick a good spot on the gate and pull out one strong finish, they could be solid. Sorry for the nose-picking puns.
1.) USA
2.) Great Britain
3.) Netherlands