Jacksonville, FL
MXGP of USA
FIM Motocross World Championship
I didn't go to the MXGP of the Americas in Charlotte last fall; my only USGP journeys have been to Glen Helen the last few years. That includes visits to Glen Helen when the track pulled out of the Lucas Oil Pro Motocross Championship and held USGPs back in 2010 and 2011. I never made it to all those fabled ones at Unadilla or Carlsbad back in the day—heck, I never even went to Budds Creek in 1999 as my rider then (Tim Ferry) had no interest in riding it and I know the team (Chaparral Yamaha) had perhaps less than zero interest sending the truck all the way out there for it.
Basically, my experience of USGPs consists of a bunch of Glen Helens and that's like being a connoisseur of great Italian food and only going to Olive Garden your entire life.
I ventured to WW Motocross Park outside of Jacksonville, Florida, for the latest USGP and I have to say, it was the most successful one I've ever been to for a variety of reasons. Keep in mind I didn't go to Charlotte last year (it looked pretty good), but WW Ranch was a light at the end of a dark tunnel of USGPs in the last 20 years. There just might be life in the patient after all, doctor.
I love the fact that this was a brand new track for most everyone there. Glen Helen did seem to give the U.S.-based riders quite an advantage. Also, I love the fact that you couldn't shoot a bazooka through the pits without hitting any fans (that's what the ones at Glen Helen felt like.) Crowd seemed good, riders seemed happy with everything, and although rain soaking the pits sucked badly, it looked like the event "worked."
(By the way, one thing I love about the GPs is the wash bays to prevent the pits from getting soaked and I was excited to see them in Indiana last week. This week, no wash bays! I'm so confused now.)
The track … yeah, the track at WW Ranch, I'm not quite sure about it. I got mixed reviews from the riders and certainly the massive rain on Thursday and Friday helped turn it into a deep sand track. As I said, I love that no one had really ridden it before, which made for a cool angle, but it seemed like until the second motos everyone had trouble passing. It was one of those tracks where guys were pinned and just sweeping in and out of the turns like it was road racing or something. There truly wasn't a lot of passing going on out there.
Second motos the track got rougher and lines switched from insides to outsides and back again and the oppressive Florida humidity took its toll on some dudes so things were a bit more hectic, but with sweeping turns the guys were pinned most of the time. And the jumps—wow there were some big jumps out there! Safe for the most part (although Gautier Paulin would beg to differ after he crashed bad off this massive quad that wasn't designed at all to be a quad until Jeffrey Herlings did it first), but the jumps were huge. If the race is back there next year, I'd like to see less jumps and some better designed corners to help with the passing.
Well, Jeffrey Herlings did it again. He didn't quite go 1-1 like he did last week but his 2-1 captured the MXGP overall win and prevented his quasi-teammate Antonio Cairoli from clinching his ninth World Championship. Herlings didn't get out of the gate quick enough in moto one to do anything with Eli Tomac, but in moto two he stalked Cairoli until the #222 tipped over and he squeezed by with the win. Would he have passed the Italian without the fall? Well, Herlings hinted that he would've with his late race strategy plan but it's hard for me to believe that. Tony wanted to clinch the title and he's got the experience and fitness to hold of Herlings in this situation, in my opinion. We'll never know, but that's what I think.
Answer, Cairoli's gear sponsor, had a big party planned for him if he clinched and I bet it would've been really fun! Unfortunately it didn't happen. Damn you Jeffrey Herlings!
I think it's amusing to see people Tweeting me, leaving voicemails about the state of American motocross and how Herlings' two wins in two weeks indicates that "our" riders are in trouble or the MXGP guys have surpassed "us" in moto supremacy. Some of the European press doesn't help things out as they look for the sensational headlines from current and retired riders about who's better and all this junk. Heck, there are media that take what I say and make it the news! Must be a slow time for those guys over there. And then people start Vital MX threads or tweet me about how the American MX guys are in trouble and all that and the whole stupid dance of the idiots starts all over again.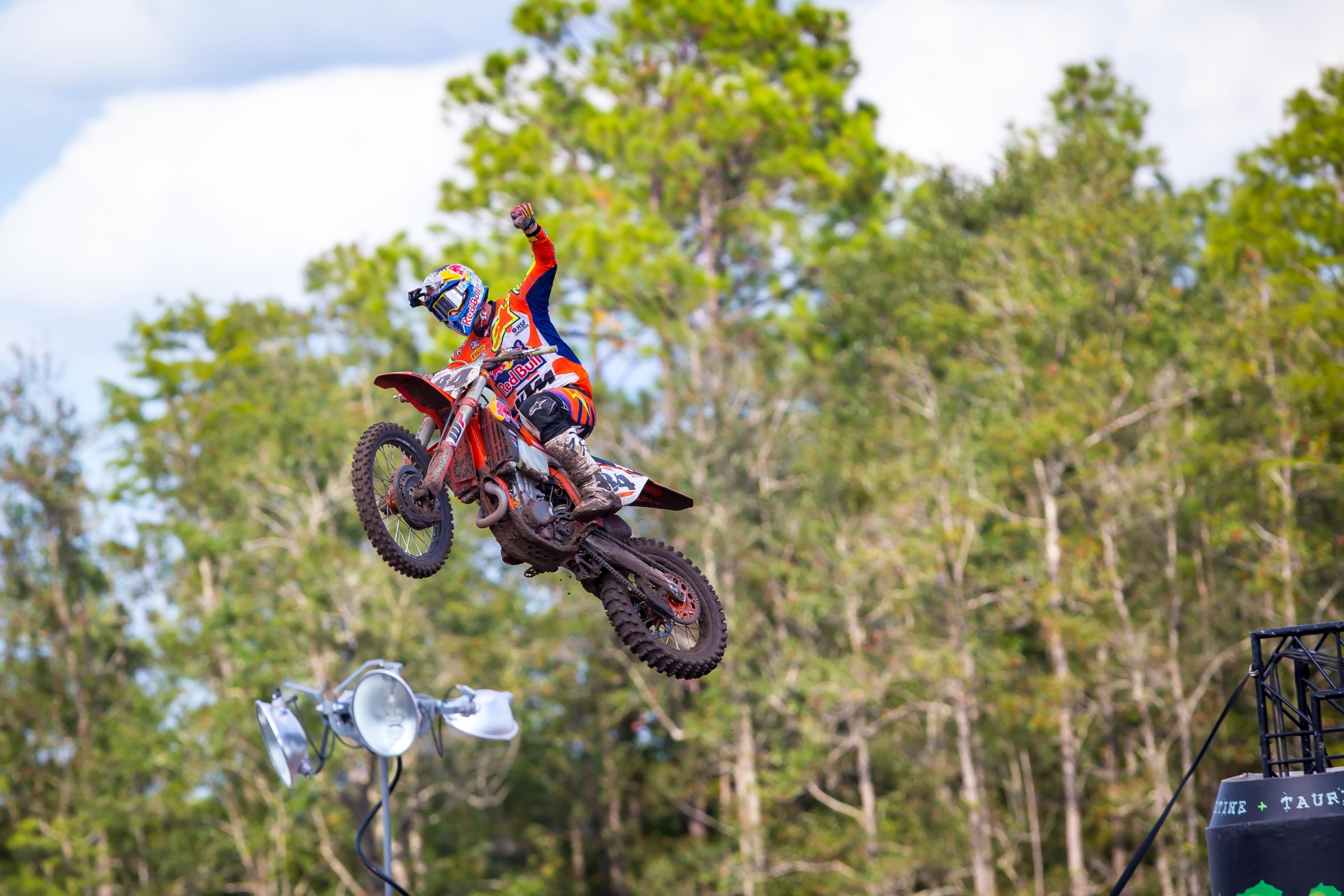 Herlings winning here doesn't mean a thing outside of that he's ONE of the world's best riders in motocross. But, I mean, we all knew that, right? I've been to more MXoNs and GPs than any American-based media member in the last 10 years and let me show you something I wrote after a visit to Lommel, Belgium, for a GP there in 2011.
"Look, I don't care where the race is—America, Belgium, South Africa, or the moon—Cairoli is one of the very best riders in the entire world on a motocross track. His speed, tenacity, fitness, and heart are as good as any rider's in the United States."
HERE'S the link if you want to go read the story yourself, but the point is: yeah, these guys are good! Have any of you seen the results from the MXoN the last five years?
On the flip side did you guys see Eli Tomac go 1-1-1-1 last year at two USGPs and Cooper Webb run down and beat Herlings in Charlotte? Has that been totally forgotten already? To go even further back to a time when there was no doubt America had the best riders in the world, Stefan Everts won a USGP at Budds Creek in 1993 and somewhere around then Yves Demaria also won at Budds! In 1990 Honda's Eric Geboers came to Glen Helen and beat Rick EFFING Johnson, Johnny O'Mara, and Jeff Mataisevich at the USGP. I don't think the sky fell at any of these events did they?
Calm down, everyone. No one series is better than the other one. The very best riders in either series can win on the other's tracks on any given day, it's that simple.
I'm sure that will stop the hysterics, right? Insert eye-rolling emoji here.
HOT TAKE ALERT: By the way, my assertion that motocross and supercross are two different sports and therefore Ricky Carmichael being called the GOAT is silly because of Jeremy McGrath's way superior SX win record seems to be validated by the fact that I'm 100 percent sure Tomac, Marvin Musquin, and a bunch of others U.S.-based racers would absolutely crush Herlings, Cairoli, and company indoors. So therefore, in MX we see how close the two sides are by all the above evidence, but in SX we know it would be way different and once again, Jeremy McGrath is also the GOAT of SX. If you don't have both win records, it's hard to call yourself the "Greatest of All Time", correct? Again, I'm sure this evidence won't end any argument but I'm throwing it out there. Flame on, bro.
Anyhoo, Tomac looked pretty terrible on Saturday with his practice times and then an underwhelming qualifying race. It seemed that the team was caught a bit off guard with how soft the track was (made softer with the rain) and after going back to the Southwick set-up for Sunday, the #3 was much better. He got the start in the first moto and crushed it for an easy win to stretch his GP win streak to five motos in a row. The Sunday Eli Tomac was much different than the Saturday one and yeah, set-up definitely mattered in this case (something I've railed against a few times) but we were talking about going from most-likely an Ironman set-up to something like sand which does make a difference. FYI, this does not mean that when a rider tells me his set-up was off from Anaheim to San Diego SX that I'm buying it.
Second moto he got hung up a bit by not getting by Gautier Paulin right away, but I'm not sure it would've mattered. Herlings and Cairoli had better lap times pretty much the entire moto, but perhaps had Tomac gotten into third quicker he could've seen some lines or pushed himself into their pace. Again, I'm not sure it would've mattered. Tomac gave no excuses and said after the race he didn't have as much in the tank as those top two—never mind the speed. Second overall for ET is nothing to be ashamed of. He rode well and after Saturday it was a bit of a surprise.
Yeah RJ Hampshire! The Florida kid went 1-1 in MX2 with a couple of great rides. He blew up his bike again in Saturday qualifying and had the fourth last gate pick (American Dakota Alix wasn't allowed to race on Saturday after missing the time he needed to be in the Park Ferme. The Euro's don't fool around with their schedules!), but thankfully there were only 32 entries so 28th gate pick didn't sink him too bad.
In the first moto, Alix almost pulled the holeshot from the far right side in moto one after getting out of the gate and moving right to get on the harder dirt. Hampshire made note of that, and that's what he did in moto two and it worked to perfection. In the first moto Hampshire stalked early leader Thomas Covington and then made a nice pass to get into the lead. From there he spread it out until a late fall almost threw it away. And Hampshire falling isn't that shocking—he's been so fast this summer but bike issues, untimely falls, or small mistakes have held him back from winning a moto.
I was watching moto one with an ex-pro rider who shall go nameless, but he once coached Hampshire and won a race called Summercross (beating Jeremy McGrath in the process). He told me early in moto one, while Hampshire was in second, that he was going to catch Covington and win the moto because RJ and Covington were amateur rivals and that Hampshire "knew" he could beat Thomas. With that mental belief behind him, that's what Hampshire did—catch, pass, stretch out, and even with that fall, won the moto. Second moto he got caught late by Hunter Lawrence (who was putting in a great ride), but he held on for 1-1 on the day and his first professional win.
I suppose it's just another case of a young rider needing to be a bit stronger mentally to close the deal. He KNEW he could beat Covington, but he doesn't know if he can beat Zach Osborne, Jeremy Martin, Joey Savatgy, and company. And I bet this win will be what RJ needs to win at a USA SX or MX in 2018 if he stays away from injury.
A few other news and notes from the MXGP of USA:
Lawrence rode great and tied a career-best finish with second overall. He's back at Suzuki for a shot at the MX2 title next year, but to see him in America (that's what he told me he wants to do, follow in the footsteps of Reed, Byrne, etc) in 2019 would not be a shock at all. He's got an American-based agent shopping him around.
The Kawasakis of Clement Desalle and Jordi Tixier have a lot of the same parts as the Kawasakis of Eli Tomac except for suspension components (Tomac runs KYB and Josh Grant runs Showa's like Desalle, but not the same model of fork) and Desalle has a hydraulic clutch on his 450 that looks pretty trick. Word is it will be on the production model in 2019 for the KX450F.
Dan Betley was there running the GEICO Honda team. The move (Dan is taking Mike LaRocco's spot running the team) was announced a while ago, but I didn't know it would take effect at the USGP. So, with Hampshire's win, this means Dan now has a perfect record as a manager! Also, I found out Dan will be going back to his old job at Factory Honda for the MXoN with Cole Seely just to help out with the transition there before going back to GEICO.
I asked Hampshire after the race if he got a bonus from Honda for winning the USGP and he said he didn't know. I checked in with him on the Pulpmx Show and he said that he checked and nope, no bonus. Same as the Troy Lee Designs KTM guys a couple of years ago. And there's no purse money in the GP series, so the guys were running the race for free. To me that's weird, but if it's not in the contract, it's not in the contract and I suppose you blame the agent of the riders for not putting it in there. And knowing some of the qualifications to be an agent in this sport, it's not surprising. I'm about as qualified to be an astronaut as some people are to be agents.
I don't know who had a worse weekend, Justin Hill or Justin Barcia. Hill was way back and looked like he didn't want to be there. He actually got DQ'd for cutting the track somewhere. Barcia on the other hand looked to be trying hard, but it wasn't working for him as he just didn't have much going on and finished well out of the top 10.
Justin Cooper's bike blew up in the second moto and teammate Mitchell Harrison got knocked down with two turns to go to lose fourth overall on the day, but otherwise both riders rode pretty well.
GEICO Honda's Chase Sexton was very good at Indiana and it all came down to him getting some starts. Quietly the rookie has been solid, but hasn't shown it because his starts haven't been there. He's been a lot like his old manager Mike LaRocco on his #559 Yamaha in 1989. Well, he was back to his usual ways this weekend with starts outside the top 10 and for reasons I explained above, he had trouble getting through riders. A 6-8 on the day is okay, but with some starts I think he would've been with Jeremy Seewer and Covington.
I hear all this buzz about KTM's Jorge Prado and sure the young star has impressed this MX2 season with three moto wins, but overall he's seventh in the points. He's been good, don't get me wrong but I keep hearing he's coming to the U.S. real soon and is going to be SO good, etc, etc. This isn't from Prado or his parents, just from "people," but to me, look at what Herlings and Ken Roczen were doing at his same age and they were much better. Not saying that Prado has no future or whatever, but color me as "meh" for him taking over MX. He's got to be way better in an "age ruled" MX2 class week-in and week-out for me to get excited. He struggled this weekend with the heat (an issue for him at other races) and DNF-DNS the motos. Weird that he's from Spain and this is an issue for him, right?
Talking to some riders and team people about the MXGP series and it seems as depressing as it is over here for available riders. Four MX2 teams are reportedly folding up at the end of the year according to people I spoke to and riders like Jordi Tixier (world champion not that long ago), Evgeny Bobryshev, Kevin Strijbos, and Max Nagl are going to be riding for very low money or none at all. The injured French rider Benoit Paturel has aged out of MX2 and has nothing in MXGP as of now. It's really tough for the teams in the paddock on both sides of the Atlantic.
2015 MXGP World Champion Romain Febvre has had a rough 2017, although he finally won a moto the other week and seemed to be coming around. He knocked himself out in moto one and I guess this is numerous KOs he's had this year. Scary for sure and not sure if it's going to hold him out of the MXoN, but I'd bet it keeps him from riding the last two GPs. Febvre's fall from grace from two years ago, when he won the MXGP World Championship and beat everyone at the MXoN, has been stunning.
Thanks for reading, people! The USGP was back and it went well! Email me at matthes@racerxonline.com if you want to chat about this race or anything else really.