With a couple of weeks off in the AMA series, I had no idea what to do with myself. I couldn't just stay home, could I? What would I do without air travel, hotel rooms, and the sound of a four-stroke for that long? So I did what any moto journalist would do in the same situation: I went to a race! Only this was a little different than the usual thing. I headed on over to Belgium to catch a World Championship Grand Prix race at the legendary Lommel circuit.
I guess I need to get a life.
The Lommel track has been around for a long time and actually was where Team USA won its very first Motocross des Nations in 1981. It's in Belgium, not far from the Holland border and also not far from the other GP track in Valkenswaard. The track is sand. Like, endless sand. It's not for the meek of heart or for the out-of-shape. It's a tough track to be sure, and I have no clue how a bunch of long-haired hippie American riders came here and cleaned up in 1981, besting the European riders who grew up in the area.
After returning from this trip, I texted then-Honda and MXDN team manager Dave Arnold and expressed my disbelief from above to him. He replied, "Having worked in Europe as DeCoster's mechanic the year before, I had total respect for the European riders and tracks. When I went back the next year, I didn't think we had a snowball's chance in hell to win but luck and fate dictated otherwise."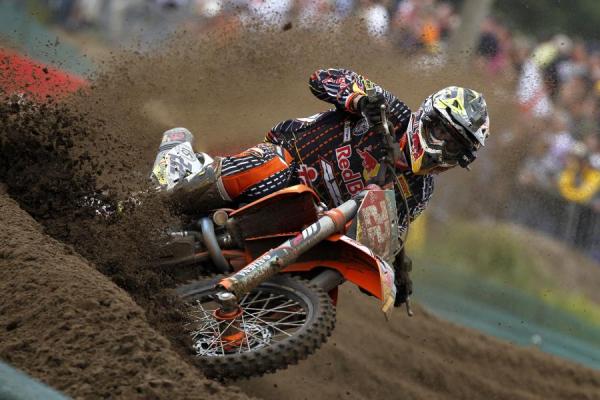 Cairoli went 1-1 for the overall at Lommel.
Photo: Ray Archer
Many of today's riders also live in the area and ride at Lommel during the week. With the weather the way it is, sand is the one surface you can pretty much ride no matter what it's doing outside. Therefore, this race had sort of a home-track feel for many of the riders. It was a little weird to have so many people tell me that so many different guys live right around here. After a while I just assumed that everyone outside of myself and my traveling partner Allan Brown lived there.
Antonio Cairoli is not a four-time (soon to be five) world champion by accident. The Italian has been the man over in Europe, first on a Yamaha in the MX2 class and now on a KTM in MX1. Americans have seen him race the MXDN at Budds Creek (not good) and at Lakewood (pretty good, but his ankle was jacked and he wasn't as prepared as he would have liked) but they still haven't seen the Antonio Cairoli I've seen, first at Teuschenthal in 2009 and now this past Sunday at Lommel.
Look, I don't care where the race is—America, Belgium, South Africa, or the moon—Cairoli is one of the very best riders in the entire world on a motocross track. His speed, tenacity, fitness, and heart are as good as any rider's in the United States. In Lommel, Cairoli fell one time in both motos but charged back to the front almost instantly, took the lead, and won both motos with ease. Near the end of the first moto when he needed to, he busted out a 2:15, which was the same time he was doing earlier in the moto on a track that was getting rougher and rougher by the second.
He's been coming on in recent races, and his main rival, Clement Desalle, is battling a shoulder injury from a few races ago. The lead in the standings for AC is 52 with four races left. He put on what I would call a riding clinic. Here's the point where I get sucked into the endless debates by fans on both sides of the ocean in saying that I still believe Ricky Carmichael is the fastest sand rider I've ever seen (and RC has actually ridden at Lommel, as Team USA went there to break in their bikes before the 2003 MXDN at Zolder. I was a mechanic on that team, and while RC broke in his bike, my bike just broke in typical Matthes fashion), but AC has to be right up there.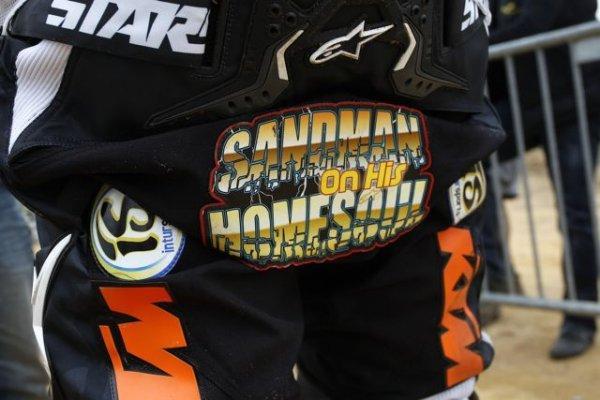 Herlings butt-patch for the weekend.
Photo: Ray Archer
One rider who could be giving AC a run for his money in a few years is one of KTM's killer kids, Jeffery Herlings. The Dutch speedster is a beast in the sand and was the favorite for the MX2 win by a large margin. But then Herlings fell on some metal or something while "jogging" (ha!) and hurt himself just days before the race. Herlings wasn't sure how the injury was going to affect him, and I'd say it wasn't that much of an issue, as he went 1-1 to close up to rival and teammate Ken Roczen in the points standings. He's 21 points back and this championship looks like it's going down to the wire.
Herlings got a bit of a gift in the form of a nasty last-lap crash by Ken Roczen while Roczen was leading. It was pretty amazing to see the German kid beating Herlings, but there doesn't seem to be anything Roczen can't do right now.
With Roczen off to America next year, Herlings is immediately the favorite for the 2012 MX2 title. Those two were over a minute ahead of third place in Lommel—the future is bright for KTM and these two kids.
Heartbreak, thy name is Rui Goncalves. The Portuguese had never made an overall podium at a Grand Prix but was poised to do it at Lommel. Rui rode a great race both motos in coming from the back and was looking great. Everything was set for the Honda World Motocross team (Martin Honda) to go 2-3 on the day overall, with Goncalves teammate Evgeny Bobryshev in third, when a couple of things happened.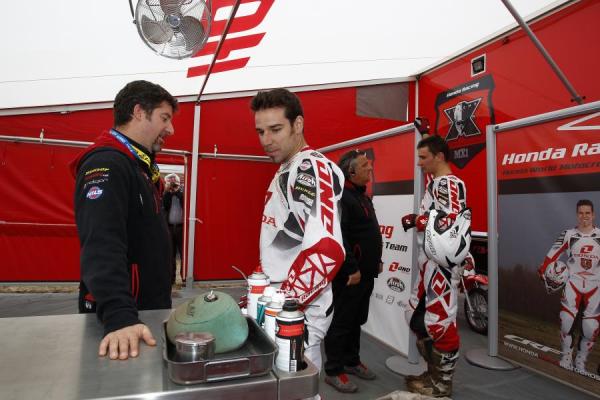 Tough break for Goncalves at Lommel.
Photo: Ray Archer
With about four turns to go, Rui's Honda CRF450R gave up the ghost. It was a massive mechanical failure (crankshafts aren't supposed to be seen from the outside, right?) and he was done. He was so close! And a lap earlier, Russian Bob got passed by Max Nagl, and poof—there went Honda's 2-3. Devastating day for those guys.
If there is a breakout star this year in the GPs it's Bobryshev. Roger Harvey, head of Honda Racing over in Europe, told me they were hoping Bobryshev would get a sniff of a podium here and there this year. The leap he's taken has been a big one: he's won a GP, won some motos, and this weekend in Lommel he showed everyone he's for real. The big Russian fell in the first turn in the first moto and fought his way back. In the second moto he led for a bit before tiring and slipping back. His ride in the first moto probably wore him out (and he admitted as much in the post-race podcast I did with him).
Clement Desalle might be known to Americans as the guy who came over here for Washougal a couple years ago and then last year gave Ryan Dungey fits at Unadilla in the first moto. The Belgian rider was slated to give Cairoli the stiffest competition for the title this year, and early on, with AC slowed by some injuries, Desalle shot out of the gate with some impressive rides. Then Clement suffered a dislocated shoulder, and it's been time for him to battle through that. He ended up second on the day in some good rides, but he wasn't on Cairoli's level and is now 52 points back in the title hunt.
The CLS Pro Circuit team went into the season with some high hopes. They brought some GP riders back from America in Tommy Searle, Max Anstie, and Ben Townley, and on paper they looked to be a formidable squad. It hasn't quite worked out as well as everyone would have hoped. Townley came into the year hurt, made a couple of races, got hurt again, and is now out for the year—and he may even hang it up for good. The Kiwi certainly has been star-crossed for much of his career. Searle has been pretty good but is not on the level of Roczen and Herlings right now, and Anstie has been a bit of a disappointment (although he rode great at Lommel, coming from the back both motos for 4-4 finishes).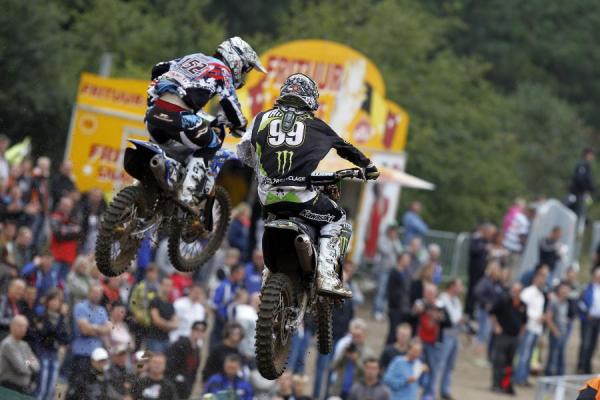 Anstie was solid at Lommel, going 4-4 for fourth overall.
Photo: Ray Archer
Searle should be better next year, and he (and injured American Zach Osborne) should be Herlings' main competition in 2012. To replace Townley, the team signed wayward Frenchman Christophe Pourcel after his disastrous stint at MotoConcepts Yamaha over here. That hasn't worked out either, as Pourcel has yet to make it through a race, citing suspension problems. He was supposed to come back for Lommel, which clearly would have been a bad idea, so he'll return this weekend in Loket.
In talking to some people on the CLS team, they think Pourcel figures he's coming back to America to race supercross next year. My idea that he will stay on CLS, race the GPs, and ride for Pro Circuit next year in SX was shot down. One thing that is happening is that Pourcel is making teams on both sides of the ocean shake their heads in amazement at his thought processes.
Weird deal after the race, as I wanted to get interviews from Cairoli and he had to go to FIM Doping Control, which is a test for performance-enhancing drugs. It's not every race but some random ones. I asked AC's girlfriend Jill where he was and she took me to this building where I went underneath the stands and saw Cairoli (still in his gear), Stephen Frossard, and Bobryshev all standing there drinking water, milk, and jumping up and down like they were at a rave. Seems that after a long race like that, the urine required to fill a test tube isn't all there.
With Zach Osborne injured, America's lone hope in the GPs is Husqvarna's Michael Leib, who is having a really tough time of it this year. On a bike rumored to not be on par with his competition's, Leib has struggled to score points when he's been healthy. It's not a good deal for either the team or Michael, and I'm pretty sure he'll be looking for a new ride over there or over here next year.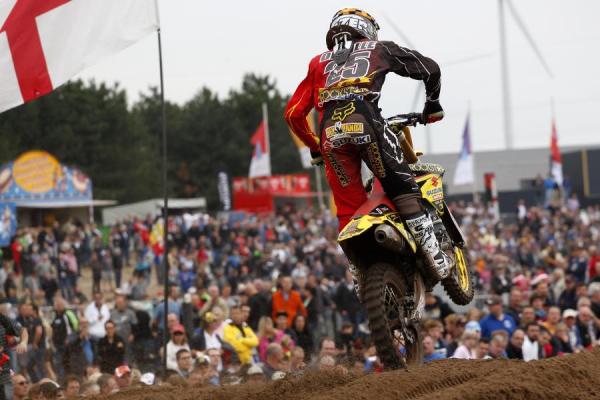 The championship is slowly slipping away from Desalle.
Photo: Ray Archer
From reading Motocross Action in my youth, I always thought that in Belgium everyone spoke Flemish. Turns out most people speak French or Dutch (or English, even). Everyone I asked over there about Flemish just stared at me blankly. Anyway, my travel partner Allan is from Canada (and is also the Star Racing team manager) and grew up in Ontario on the Quebec border and speaks French fluently. But you know what's weird? The dude never spoke French one time!
I kind of forgot about his speaking prowess until he was telling me on the LAST DAY of our trip what some people standing by us at the airport were saying. I can't believe he at no point broke out the francais to make our lives easier ordering food, asking for directions, checking, in at hotels, etc. I asked him about it and he just shrugged and said, "You were doing fine." Some people!
Scary moment in Saturday's qualifier when former World Champion Steve Ramon went down hard on the first lap and was transported to the hospital. The race was red-flagged, as it was pretty serious for a while, with Ramon not having feeling in his extremities. Turns out he's okay, but for a while there I thought we had a tragedy on our hands. Get well soon, Steve!
I've always thought highly of former MX1 champion David Philippaerts, as he seems to be in great shape, charges hard all moto, and is a little underrated (at least to me), but this weekend he was off the pace a bit. Maybe he's an Italian who isn't good in the sand?
Holland's Marc De Reuver was once considered the "world's fastest sand rider." The people who were at the MXDN in (I think) 2005 still talk about how he handled Stefan Everts in Leiop on a KTM 250 two-stroke. He's had an up-and-down career since, then but he's always, always quick in the sand. Anyway, he fell in the second moto and was riding well to catch up to eleventh from pretty much last. In the first moto he DNF'd while up around the tenth spot or so. He was a couple seconds behind Bobryshev as they both charged through the pack together and then he disappeared.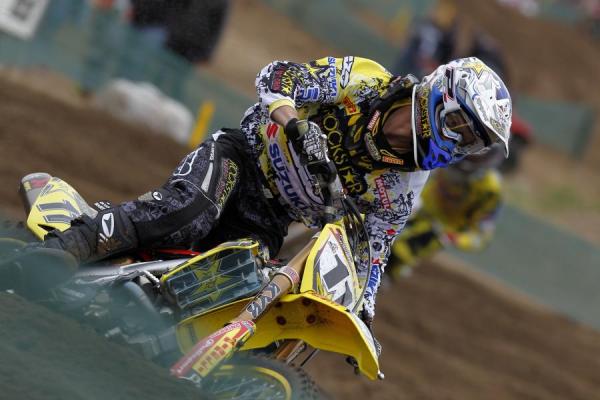 Ramon is expected to make a full recovery after a hard crash at Lommel.
Photo: Ray Archer
One rider who never gets much press is Estonia's Tanel Leok. he's been solid for a long time and put in some good rides at the MXDN over the years, but the Estonian Express never really gets mentioned much. Maybe it's because he's now riding a TM (which at Lommel had a ridiculous "ball breaker" enduro gas tank on it), but whenever I see him, he impresses me. Maybe he just waits for the races that I'm at?
Been to a bunch of MXDN's and a few GP's now and I can safely say that without a doubt:
-  I love the wash bays the GPs have. It's a good idea to get that mess away from the spectators and not have corporate guys worried about getting their loafers all jacked up.
-  I like how the GPs run on time almost without fault. The AMA races are getting better in this regard, but they run a tight ship over there.
-  I like the works-bike rules. I'm not sure from a cost-feasibility factor if this would work in the USA, but as a fan of the sport, I'm enthused to go over and check out the bikes over there. From Gauthier Paulin's EFI Yamaha YZ250F to Leok's TMs to the KTMs and Suzukis, the machines are works of art.
-  I do not like having a World Championship series not open to more riders. How can you have a series and drop a forty-man gate with only thirty-three starters, like in the MX1 class? Limiting entries to just selected teams is a little weird to me.
-  No purse money? I don't care how anyone explains this to me—it's not right to not pay the riders for their efforts. There's money being made there, so spread the wealth.
-  I don't like the age-limit rule on the MX2 class. It doesn't help guys who can't adapt to a 450 or can't find a team to get on. The MX2 class runs right alongside the MX1 guys, and to me it's as prestigious a class. To limit the age rule makes it seem like it's not for the "real" racers or whatever. I don't get it—make it open to everyone. Guys like Xavier Boog weren't ready to go up, but oops, sorry about that, Boogster—you hit the age limit. Good luck in 450s!
-  And while I'm complaining, can you take that rule out for the Motocross des Nations? Again, it's the three best riders a country can find, not the three best riders with one being the appropriate age.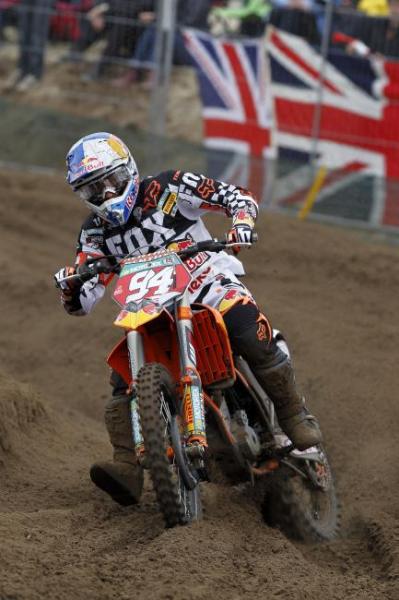 Roczen was unable to challenge his teammatel, Herlings, in the deep sand.
Photo: Ray Archer
-  The media stuff the riders have to do blows me away and makes me want to pack up and move to Holland to cover the GPs and eat fries and mayo. After the racers come off, snot and dirt everywhere, they are interviewed right there for TV. Then it's a podium interview for the fans, and then they get the MX2 winner and the three MX1 podium guys to STAY ON THE PODIUM TO GET INTERVIEWED FOR THE TV AGAIN. I cannot state my amazement any more without a Caps Lock Lock button.
-  THEN, if all that wasn't enough, the top three riders get hauled into a press conference to give the media their thoughts on the race. I say all this in complete and utter amazement. +1 for the GPs on this media stuff. I asked Cairoli if he was okay with all this and he looked at me like I asked him if he liked spaghetti and replied, "It's no problem, why?" Sigh.
All right, thanks for reading. I enjoyed my time over there, and I want to say hello to all the cool people I met on my trip. As always, you can email me at steve@racerxonline.com to share your thoughts and stories.