WW Ranch Motocross Park
Jacksonville

,

FL
MXGP of USA
FIM Motocross World Championship
1.) A lot of riders were really tired at the end of this one, including RJ Hampshire, who could barely stand after the race, and Eli Tomac, who admitted he didn't have much in the tank for moto two. Many of the MXGP regulars struggled, as well. What was it? The heat and humidity? The track conditions? The two-day format? The final MX2 moto basically came down to a battle of wills. How come?
Jason Thomas: I believe it was a combination of factors affecting people in different ways. For the U.S.-based riders, the heat was probably tough but didn't have that big of an impact. Tomac may have suffered more being because he trains in Colorado during the summer, but Hampshire trains and rides in that misery everyday. I think they were feeling the effects of the higher workload over the course of the weekend. Their typical day before a National is spent with their feet up relaxing. The MXGP of USA had them riding two practices and then a 25-minute qualifying race on a brutally tough racetrack. That extra work on a tougher than normal track had to take a toll by Sunday afternoon.
For the FIM Motocross World Championship riders, the heat and humidity was certainly the story. Europe in the summer is mild and although they had a hot race at Ottobiano, their daily training conditions are nowhere near what they saw in Florida. Humidity is tough to acclimate to and the only rider I could see with a real chance of accomplishing that was Herlings. He spent the time in between the MXGP of Sweden and MXGP of USA not only racing the Ironman National, but also putting in motos at Aldon Baker's facility just outside Orlando. Overall, though, you can bet the Europe-based field was suffering in those conditions. Jeremy Van Horebeek admitted to vomiting after both motos due to the heat and Jorge Prado didn't finish a moto all day. It wasn't even a hot day for Florida standards, but was nonetheless way out of their comfort zone.
Steve Matthes: I think it was a tough one for all the reasons you listed, Mr. Smarty Pants. I know the Euros I spoke to said the humidity was really tough on them and some Americans said the two-day format was taking a toll on them. This track was tough, also.The rain created some deep sand and it's funny, I had some riders tell me it was the roughest track all year while Tomac laughed and said no way, Southwick was worse. So, like bike setup talk, I'm confused by the differing opinions from the guys. But there's no confusing that plenty of riders were worked at the end of their motos. Tough race!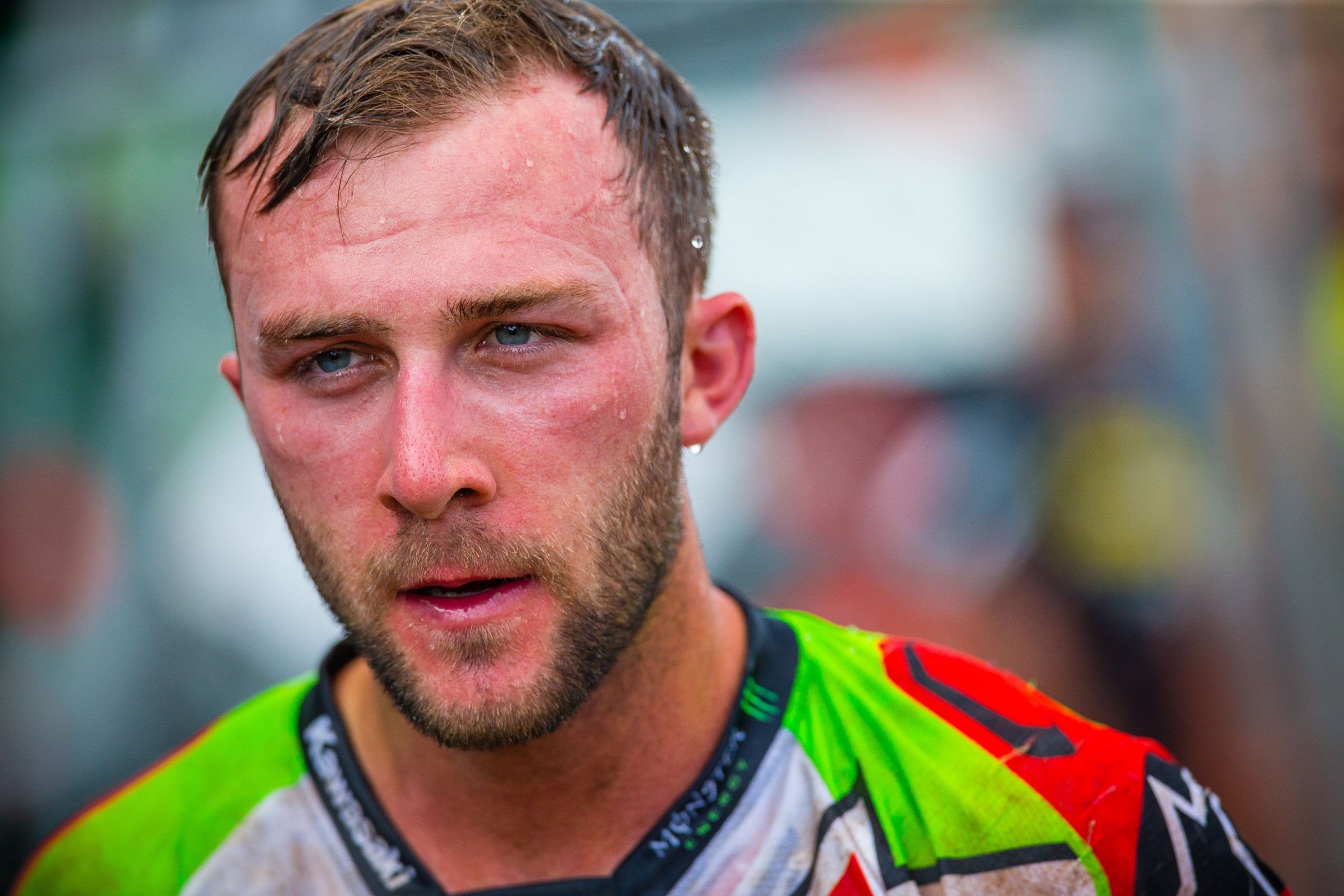 2.) How was the crowd, atmosphere, buzz/hype, etc. throughout the weekend?
JT: I thought it was great! I haven't seen the attendance numbers, but the fences were lined with people several rows deep and the traffic to get into the facility was substantial so I assume those are good signs. The crowd went nuts anytime an American got into the lead and a Florida native won both MX2 motos right on cue.
The rain put a serious strain on the crew both on and off the track but by Sunday, all was well. I thought it was a great touch to have the football games on a big screen and then a concert to entertain the fans on Saturday night. I'm sure there were some questions and concerns coming into the weekend with the venue change and a passing hurricane, but I was impressed by everyone's efforts to make the event a success.
Matthes: It seemed pretty good. As I wrote in my acclaimed Observations column, it was way better than the previous USGPs at Glen Helen that I've been to. The pits seemed full, but I couldn't get a chance to see the crowd as the pits were on the other side. I did hear the parking lots were packed, though. That's all a good thing and staying away from the West Coast for future USGPs is probably good thing. Go to these markets that are a bit underserved for moto and watch the fans show up.
3.) So much talk about Herlings and Cairoli lately, but what are your thoughts on some of the young MX2 riders in the GPs?
JT: I knew that Pauls Jonass and Jeremy Seewer are very good from watching them this season. They have been winning races and going fast around the globe since springtime. Hunter Lawrence made the biggest impression on me, though. I knew a little about him from previous races, but he wasn't a standout by any means. He, just like several other MX2 riders, was still young and in that crucial make it or break it period that these kids go through. His podium in Germany was a bright spot, but he wasn't consistently up front like his Suzuki teammate Seewer, points leader Jonass, or even Red Bull KTM prodigy Jorge Prado. His performance in Florida was a breakout, though, and on the perfect stage. He's already said he wants to make the jump to the USA in 2019 and to ride like that in front of USA brass, I would say that's going to be all but a certainty now. If nothing else, he made himself a lot of money on his stateside contract even if it doesn't start for another year.
Matthes: JT covered the big news that was Hunter Lawrence who had a career best day at WW Motocross Park. I'm sure he'll be over here in 2019 with some team if he keeps up his results. I'm not a fan of the age rule in MX2 at all as its intent is to artificially fill the gates in MXGP and not in the best interests of the teams and riders. There are just smaller guys that can't ride a 450 as well a 250—why force people out not due to performance, but because they simply reached a birthday?
Although he had issues at WW Ranch, Jorge Prado has been winning motos this year so he'll be very good in the next two to three years if he stays over there. To flip this a bit, I'm a fan of Kevin Strijbos going out there in moto two and getting a fifth. He's a great dude and a veteran of the series that's losing his ride at Suzuki next year. He showed in the second moto that he's not quite done yet.