Jacksonville, FL
MXGP of USA
FIM Motocross World Championship
Fredrik Noren | TiLube Honda | 11-30 for 16 overall in MXGP
Racer X: Bummer you crashed out of the second one, but first moto, man, you were like 20th and just slowly and steadily picked guys off to end up 11th. Nice work.
Fredrik Noren: Thank you. It started out kind of rough that first moto. Actually, I had a pretty good start. I think I was around 11th, and then I did the worst type of lap you can do on the first lap. Going off the track twice. I'm not really sure how strict they are with things here, so I went slow off the track. I think my pit board said 22nd, 23rd. I was like, here we go. Let's do it. Then I charged pretty good, I feel like. I passed some really fast riders. I got some help. Some people kind of crashed out, as you know. But I was happy with 11th.
You were like first dude with no factory bike.
Yeah. Just got to do it. The van life, pretty much. Just switch the clutches inside out, that's what we do. But considering how low a budget we have, we've done pretty good I think. Obviously, I wanted to do a lot better, and I think I can do a lot better with the right support and everything, but it's been a pretty good year considering everything.
Second moto, you were in that first-turn crash. Were you all right?
I'm all right. I just feel like an 80-year-old guy, or probably how an 80-year-old guy feels. Charlie-horsed myself somehow. My clutch lever went through my pants. My bike got a little tangled up. I tried to ride, just I hate, hate pulling off. So I tried to ride, but it was not so good, so I decided I'm going to go off and then just go back.
I saw you talking to Joel Smets here. If something opened up in Europe, would you go over?
Oh yeah, for sure. This is a great opportunity to kind of see all the Euro guys and for me to get my name out there as well, so I'm happy I had a good first moto. Then hopefully some more people can kind of get their eyes open for me. I've been trying to talk to some people and letting them know that I'm open to come to the GPs and do that. It seems like a pretty cool thing. They do a pretty cool job around here. For sure, I'd love to do that if something comes up. If you know anyone that has a ride, let me know.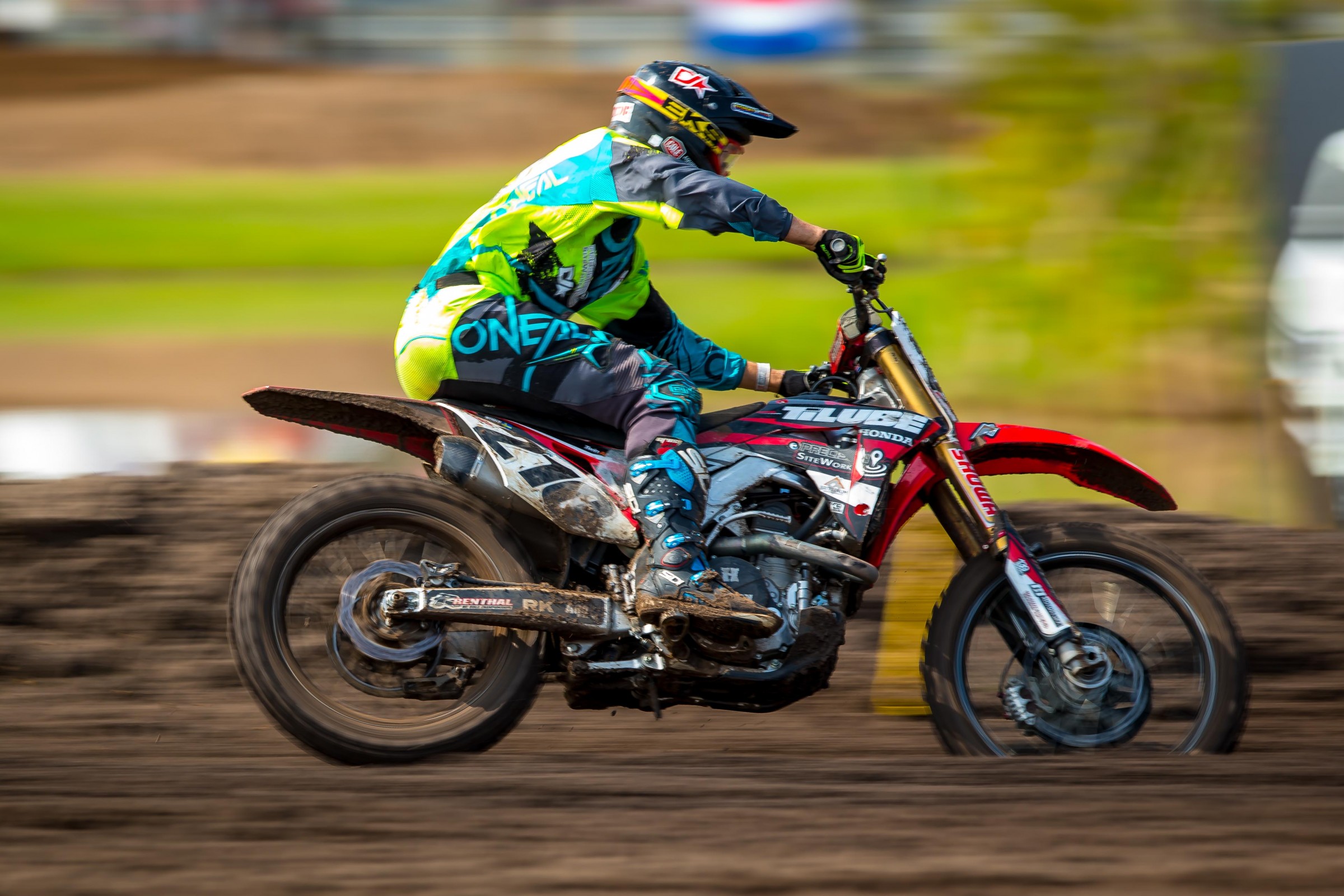 Talking to teams and riders the last couple days, it seems like it's almost worse in Europe than it is in America. Seriously, some teams are folding up. It's tough.
Yeah, I've heard that too, over the weekend. There's quite a few big names guys that don't have anything lined up yet. It's difficult. It's difficult for the riders and the teams. It's hard, but we'll keep on charging.
What'd you think of the track today? I'm getting very mixed reviews from riders. What did you think?
I thought it was pretty good. I thought they did a pretty good job, considering it rained pretty good. It was kind of heavy, and take-offs were heavy, so it was a little sketchy. But I thought it was pretty good. It had a pretty good flow. It got kind of rough, got rutty. It's a great facility here. I don't know how it is as far as the spectator, but I liked the track. I thought it was good. It's a dirt bike track. Just ride it, I guess.
We'll see you at Monster [Energy] Cup maybe?
Yeah, I'll be at Motocross of Nations and then hopefully if I can get something figured out for Monster Cup, I'll be there too.
Motocross of Nations, another spot where you can put your name on the map, right? Can put in some good rides.
That's the plan. Podium's the plan. Why not win?
Look what Kevin Benoit did last year from Canada! You're better than him and he holeshot and led. There's no reason why you can't do that.
Yeah. I've been working on my starts too and I actually like this metal start. I had pretty solid starts today. I was eighth, 10th in both starts. Obviously that's not super great, but being on my old privateer bike against factory bikes … I'm pumped.
---
Michael Byrne | Team Manager | Rocky Mountain ATV/MC-WPS-KTM
Racer X: [Benny] Bloss and [Dakota] Alix, mixed success today, but what'd you think of it overall?
Michael Byrne: Yeah, we knew it was obviously going to be rough, not having Blake [Baggett] here that's for sure. But obviously he got his thumb fixed. For these two guys, we were committed to do the race to help out the other KTM guys who were coming over. Benny had a good first moto going and then he had an asthma attack, so he had to pull off. Dakota's had a pulled groin for the last three Nationals, so were just kind of hoping that he would get through it, but we weren't sure. We just wanted him to have some fun and get back on a 250. He pulled the holeshot the first moto from the outside gate. Obviously [RJ] Hampshire took note or had that on video because he did the same thing in the next one. It was good for him to get out there. Then he fell and kind of injured his groin a bit more, so we didn't really send him back out there. There was not really any point. Then Benny was 13th in the second moto and he was just kind of at the back of that really long line of guys. He's still coming back from injury, so obviously he's not in the same shape as everybody who's been racing all year. It was a good experience for him, and now it's time to have a few weeks off and then start prepping for next year.
What'd you think of the facility, WW Motocross Park here and the track itself and everything else?
The track seemed pretty gnarly the way it developed. Obviously, the pits aren't that great. Everything's flooded. But the track itself I think it ended up coming around pretty good. It's always good to watch it, but you never know how it races until you're actually on the track.
It seemed like it was tough to pass at times.
Yeah, some of it seemed pretty one-lined. It seemed like if you made it over the big tabletop you were fine all the way to the finish line. A lot of those insides started coming into play, which made it a little bit more one-lined once it dried out a little bit. I think yesterday when it was a little bit more wet everyone was using outsides and sweeping a little bit more. I'm just glad the weather held off. I don't know if this place could have handled much more rain.
Considering we're standing in it, probably not.
Yeah, we're standing in water right now. I think all in all it went off pretty good. A lot of the guys who were helping were struggling with the heat for sure. It's not really that hot, but I'm sure it's hot for them.
I want to get your take on the MXGP race. Tomac finished 12th yesterday [in the qualifying race], wins the first moto [on Sunday]. Doesn't get the start he needs [in the second moto]. Gets third. Herlings, 2-1 overall. What'd you make of all of those guys?
Obviously, I thought Eli was his normal self, what I would call him. Looked like he was riding at Southwick the first moto. Lots of sprint and just go, with a good start. But I don't know if he just had nothing left for the second moto or what, but obviously Herlings and Tony [Cairoli] are amazing riders and they're in great shape. I don't know if they were being smarter in the first one to save it for the second one, but they were definitely a step above everybody in that second moto.
What do you think it is? Corner speed, momentum, lines?
Their momentum is just always so good. They just float across the bumps. They don't bury it in the turns or hit the bottoms of the holes. They're always on top floating the bumps. Their bikes just work so good in that too. They ride motocross. That's all they do. It would be like them trying to do a supercross race and then watching their setup compared to ours, I feel like. I feel like we always in the U.S. we have a lot of work to do on our motocross bikes because they really just ride glorified supercross bikes, I feel like. But obviously Eli made it work that first moto. They're definitely top notch on the Europe scene.
---
Chase Sexton | GEICO Honda | 6-8 for sixth overall in MX2
Racer X: We talked Indiana. Your starts were better. Today you were back to not doing well on starts.
Chase Sexton: Actually, first moto it was on me. My reaction time was not good. I actually fell on the sight lap in the first moto, like bad. My shoulder is a little sore. I fell in the first corner. But second moto, I could have sworn I had the holeshot. I was out in front of everybody. Had no one next to me. All of a sudden, everyone just starts going by me. I'm like, well, there goes that one. So, I started around fifth, and three corners later I did like a side-saddle for a little bit down the straightaway and got passed by a couple people. I was having a hard time passing out there. I felt like it was a little one-lined.
It's funny you say that. I heard that from a few guys. Everyone's going fast, wide open, and it was hard to set up a guy up.
Yeah for sure. Especially the second moto, everyone was taking the same line, I feel like. They were going fast, so it was hard to pass for sure. I feel like that's what happens when you get a man-made track where everything obviously is man-made, so I think they make the track a little more one-lined. But the track was fun. There were definitely some big jumps out there. They put some big old faces on them. It was a good track. I think it could have been a little better for racing, but it was good. I think it was overall a pretty good weekend. Yesterday was pretty rough for me and RJ [Hampshire], but we got it figured out today. Got sixth in the first moto after coming from 12th or something. Then the second moto I made that mistake and I passed maybe one or two people and just kind of rode where I was. I had a hard time getting around some people. Overall it was pretty good. I don't know what I got overall, but we'll see.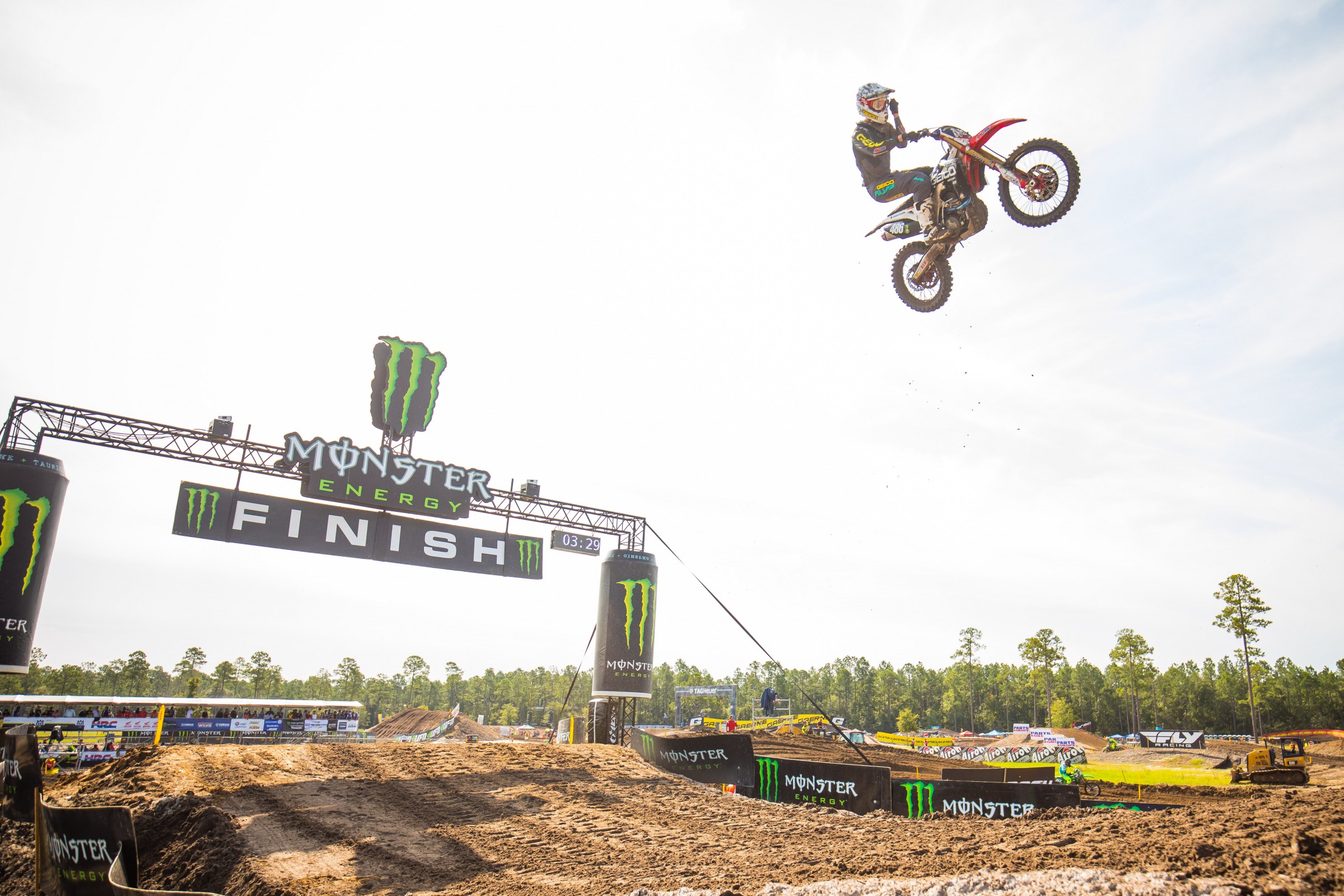 What'd you think about starting on the grate?
I liked it actually. I got a good start yesterday in the qualifying moto and then not so good in the first moto. I thought I had a good start in the second moto. My jump was good. I was out in front of everybody, but got passed in the dirt. It was good though.
What else did you learn about this weekend? Just whatever, it was nice to get out and race I guess?
Yeah, it was good to get out and race different people. It was nice to see not the same people every weekend. The GP guys, they're fast. They only race motocross. This is what they do. They're definitely good riders, and the track was gnarly. Gnarliest I think I've raced this summer.
RJ said it was rougher than Southwick, he thought.
Yeah, for sure. It was definitely rougher. I think it's probably one of the roughest tracks we've raced this year.
Crazy, right?
Yeah. The rain didn't help that, I think. But I liked it. The track, I feel like the rougher it is the better it is for me. I kind of hit a wall that second moto though. I don't know why. I train in this heat. I don't know what happened, but I kind of hit a wall and just stayed where I was.